Lake Tahoe family vacations are year round amazing. Come in stunning fall and winter when it's less busy. Spring's great for early paddling before the crowds arrive. And summer's simply gorgeous, great fun and the weather's wonderful Take a look at our beginners guide to falling love with Lake Tahoe family vacations.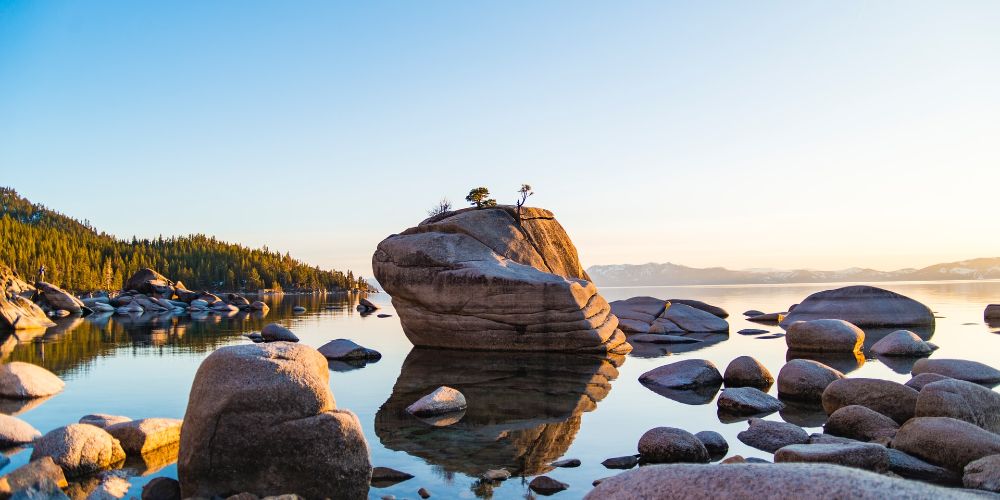 Why go on Lake Tahoe family vacations?
Lake Tahoe is a wonder of nature. It's the second deepest lake in the US (Crater Lake in Oregon comes in a bit deeper). A surface area of 191mi² makes it the largest Alpine lake in the country – so large the surface can appear convex on a still day. And an elevation of 6,225ft above sea level makes it the highest US lake too. A cross-border California/Nevada resident, with a shoreline that runs over 70 miles round, Tahoe's surrounded by the Sierra Nevada. So as well as being a geological superstar, its good looks will take your breath away.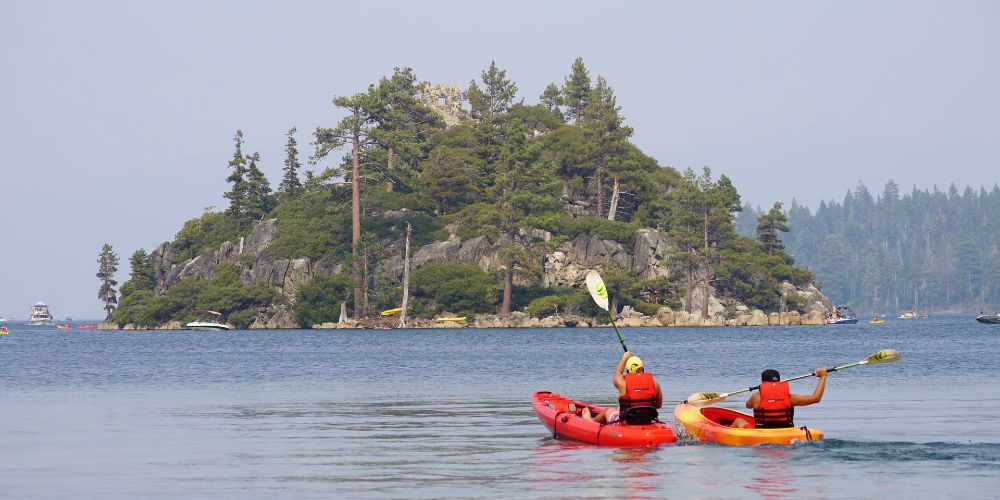 Where to go to get the most out of Lake Tahoe on vacation?
Lake Tahoe straddles the California/Nevada state line from west to east. Like we said its shoreline is more than 70 miles around. But almost everyone simply says: North Lake Tahoe or South Lake Tahoe.
South Lake Tahoe is the livelier area with plenty of shops, restaurants, night clubs, and bars.
There are no fewer than nine State Parks in the Lake Tahoe area.
In winter, Heavenly Ski Resort is a great reason for Lake Tahoe family vacations.
East Peak Trail is a fun hike with kids, and includes a gondola ride. Head to Heavenly Village Gondola Center in South Lake Tahoe (California side). Hop the gondola and the easy 1.6 mile East Peak Trail is waiting for you up top.
Don't miss Emerald Bay for another great hike with kids. This one includes a castle and incredible views. From the Emerald Bay parking lot take the paved walkway down to the shore where you'll find a replica of a an 800AD Norse castle. It's called Vikingsholm and was actually built in 1929.
Tahoe Meadows is a perfect beginner trail for little feet. It's stroller and wheelchair approved. The walk's over meadows, forests and streams. And don't forget to film plenty here, the scenery's astonishing.
Baldwin Beach in South Lake Tahoe, is ideal for families thanks to easy access from the parking lot. Plus it's large and water close to shore is quite shallow.
The best bits of Zephyr Cove on the Nevada side of South Lake Tahoe are beautiful sandy shores. But the water's also crystal water. Kids will be up for activities like pedal boats. And Emerald Bay is where to catch the MS Dixie II for an old fashioned lake cruise.  and a steamship cruise.
Head north for Lake Tahoe family vacations and enjoy the peace. This is the less travelled side of the lake and the place for wilderness hiking, camping and outdoor adventures with older kids.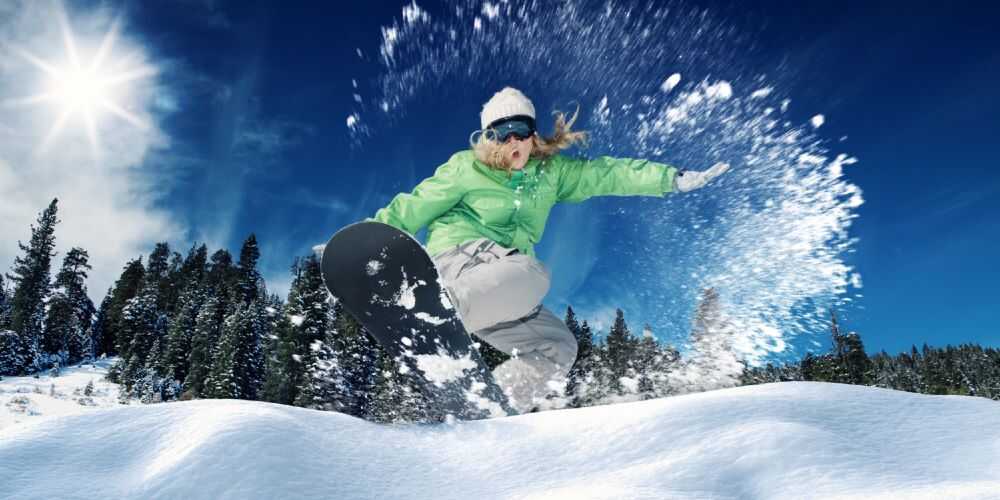 What to do on Lake Tahoe family vacations with kids?
Lake Tahoe's an Alpine lake. So it's pretty glacial year round and you won't be doing a ton of swimming in winter. But with summer temperatures a pleasant 70°, those cool waters are a lot more inviting. And of course there's lots to do that doesn't involve getting wet at all.
Rather experience Tahoe on the water? Steamboat rides are available from Zephyr Cove. Kayak rentals can be found from several outdoor adventure outfits around the lake. Parasailing's another popular activity, as are stand up paddle boarding, boating and fishing. So even if you don't want to swim, there's fun to be hand and then some.
If you're heading to Lake Tahoe for winter sports, you're in luck. There are six ski resorts open from mid November to early April. Check conditions at Ski Lake Tahoe. Top resorts for families are Heavenly, Northstar and Squaw Valley.
Take the Aerial Tram to High Camp 2,000 ft ride above Squaw Valley and soak up views of rocky cliffs and the gorgeous lake. If you want to stick around, enjoy High Camp's swimming pool, hiking trails or Olympic Museum.
Head to Genoa, the oldest town in Nevada, and take a dip in David Walley's 1862 Hot Springs. Sierra Hot Springs is within a few miles of Lake Tahoe too.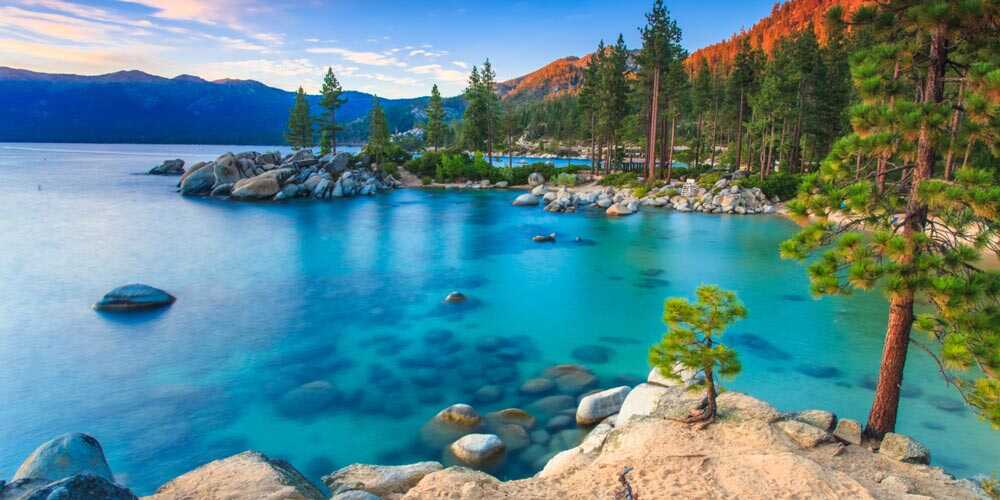 How to plan your next lake vacation?
Lake Tahoe lies right between Sacramento and Reno airports. Fly in on a clear day and you can often see the lake from the air. Do your bit for the environment and Keep Tahoe Blue by catching the excellent local buses that go round the lake. They run all year round, operate airport shuttles and serve all six Lake Tahoe ski resorts.
Looking for more family adventures to have with kids? Explore Kentucky road trips tailor made for families. And don't forget to follow Family Traveller on Instagram and Facebook for even more family vacation inspiration.