Sponsored Content
Looking for great family trip savings? That's exactly what
getaroom
offers families: the most competitive room rates at 1000s of top US hotels. So if you want a low-cost kid-friendly vacation anywhere from New York to New Orleans, take a look at 10 last minute getaroom deals to book right now.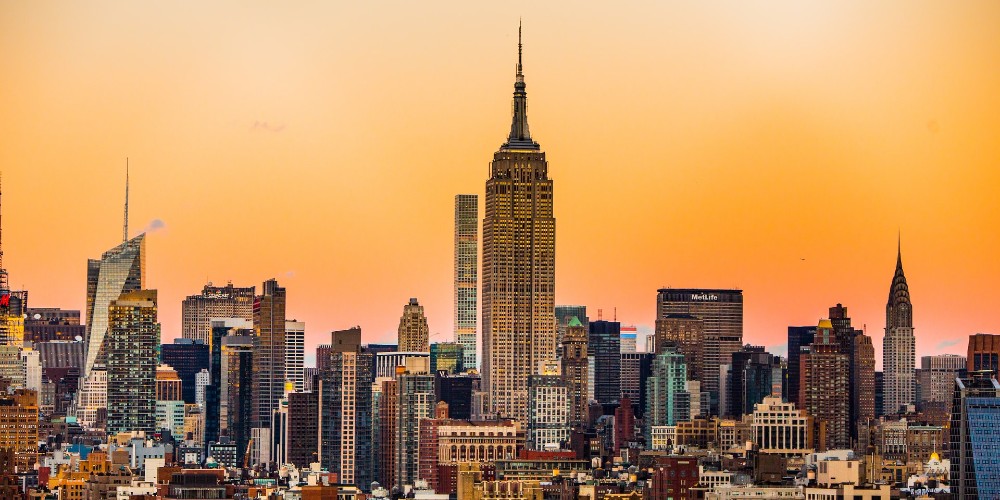 Discerning travelers choose getaroom for best family trip savings
Find great family trip savings with getaroom and because you pay less for top hotels, you've more to spend on having fun with your kids. And finding you luxury accommodations at the lowest possible room rates is what getaroom does best.
Originally established by former hotels.com founders and executives, getaroom has been successfully negotiating low room rates at exceptional hotels worldwide for several decades. So when you book, you book with a skilled team who're dedicated to finding your family the perfect balance of luxury and competitive rates.
Experience is one reason discerning travelers trust getaroom. But families also like the convenience of fast, accurate online booking. Plus, being able to bag last minute, low cost trips appeals to all busy parents. And on the subject of impulsive vacations, we have 10 stunning hotels with incredible family trip savings through getaroom and you can book them now.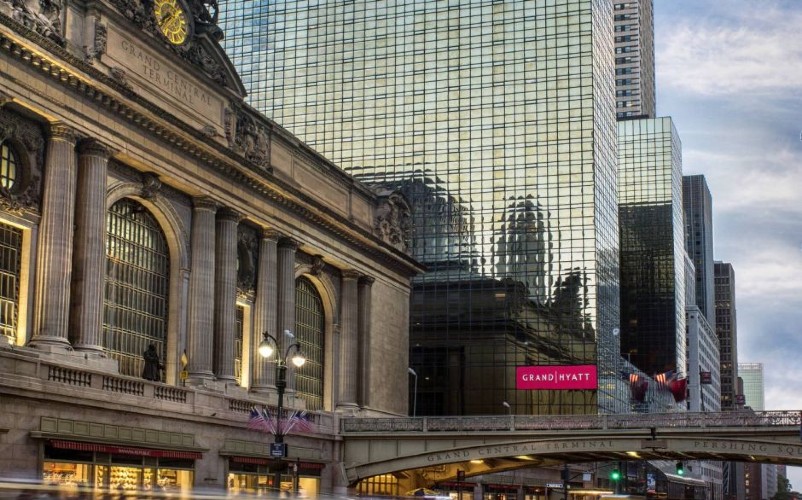 Hyatt Grand Central New York: Family trip savings of 15%, rooms from $190pn
Hyatt Grand Central New York is the only hotel connected to Grand Central Station. So it's a good choice if want to explore further than Manhattan on a New York family vacation. But if you want to stay local, the hotel's Midtown location also means iconic landmarks like Fifth Avenue and the Empire State Building are within easy walking distance for kids.
Why families book Hyatt Grand Central New York?
Interconnecting family rooms available.
In-room spa treatments and hotel fitness center.
All rooms have flat-screen HDTV, complimentary WIFI
Blackout blinds and cribs available on request.
Savings of 15% on room rates with getaroom.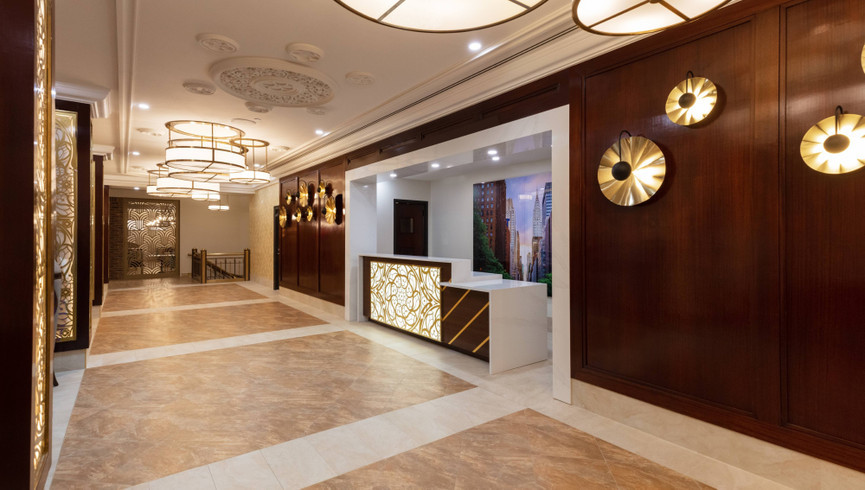 Westgate New York Grand Central: Save up to 35% on your New York family trip
The Westgate New York Grand Central sits close to Times Square and only a block away from the United Nations. Recently renovated, its historic Art Deco exterior contrasts with all modern elegance in the interior. Plus, Central Park is nearby if kids want to blow off some steam.
Why book family city trips at Westgate New York Grand Central?
Newly renovated to combine Art Deco elegance and ultra-modern amenities.
Triple glazed windows block out traffic noise – great for younger kids.
In-house dining at Tudor City Tavern. Starbucks coffee and quick bites at Marketplace.
Close to Broadway, guests get theatre ticket discounts.
Book with getaroom, save up to 35% – family rooms from $209pn.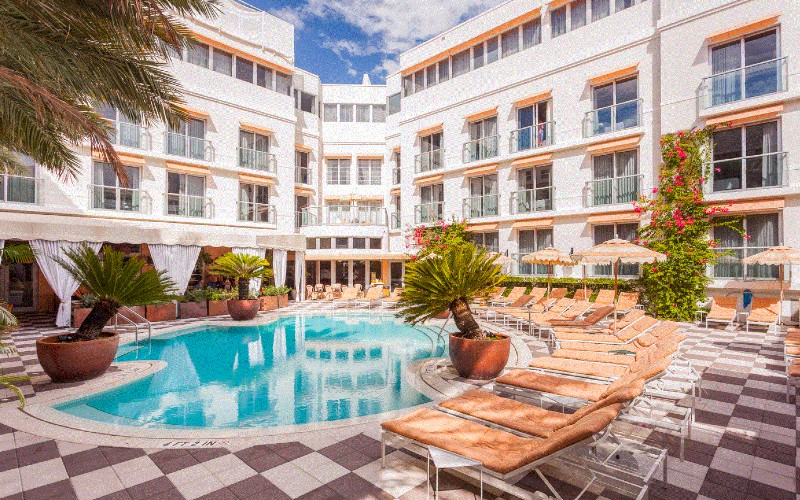 The Plymouth South Beach: Family trip savings of up to 20% in Miami
The Plymouth South Beach is a classic Art Deco Miami hotel. The style's boutique and beachy but with a family-friendly atmosphere. Kids can try watersports at the private beach. There's also a 1940's Art Moderne pool complete with cute cabanas. And if you want to explore or shop, The Bass Museum of Art and Lincoln Road are both near neighbors.
Why families book The Plymouth South Beach hotel?
Itavi Childcare provide date-night babysitting at The Plymouth South Beach.
The hotel beach offers complimentary sunbeds and beach towels.
Kids can enjoy beach games and a wide range of watersports
The hotel restaurant is renowned Blue Ribbon Sushi Bar & Grill.
Book with getaroom and save up to 20% – rooms from $134pn.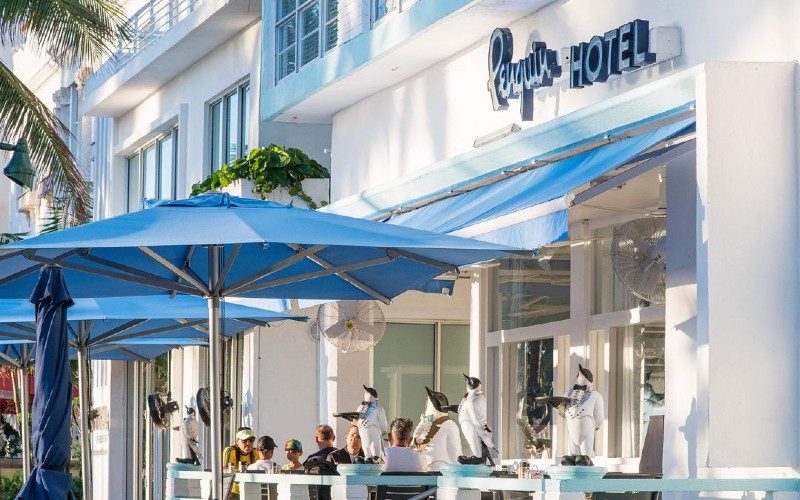 Penguin Hotel: Miami family trip savings of up to 40% with getaroom
The Art Deco Penguin Hotel sits opposite South Beach. It's one of the most famous vintage boutique hotels in this exciting area, and a great base for a Miami family vacation.  Española Way, Lummus Park and Miami Beach Boardwalk are all within two minutes' walk. And if kids want to swim, they can take a dip in the rooftop pool at President Villa, the Penguin's sister hotel.
Why families like the Penguin Hotel?
Great beach location and close to South Beach restaurants and shopping.
Access to neighboring President Villa's rooftop pool.
Hotel has a homely feel – expect kids to  be on first name terms with the friendly staff.
Playful guestrooms feature colorful full-wall canvases and crystal chandeliers.
Family trip savings of 40% through 2022 – family rooms from $139pn.
Exclusive getaroom 50% off 50-day American Plan rates.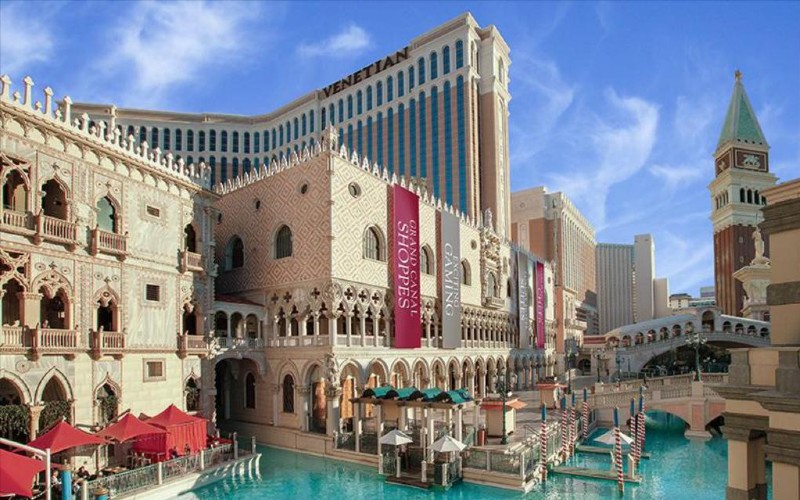 Venetian Resort Las Vegas: 25% off family rooms in Las Vegas
Venetian Resort Las Vegas offers more than  7,000 suites spread across its gleaming towers. This lavish Las Vegas Strip resort has everything from world-class restaurants and a fantastic spa to international stores and a 12,000 square foot casino. But kids might like its vast five-acre pool deck most of all.
For family trip savings of 25% at Venetian Resort Las Vegas, take a festive break between now and 26 December 2021. Just don't forget to book by 23 December 2021.
Why families book Venetian Resort Las Vegas?
Designed like mini-Venice right down to gondolas, a full-size campanile and a glittering Grand Canal.
The Grand Canal Shoppes offers a range of 80 international stores.
Canyon Ranch® spa + fitness, plus more than 20 fine restaurants.
Live entertainment, family theatre and an on-site Madame Tussaud's
Cool, splashy kid fun at the five-acre pool deck.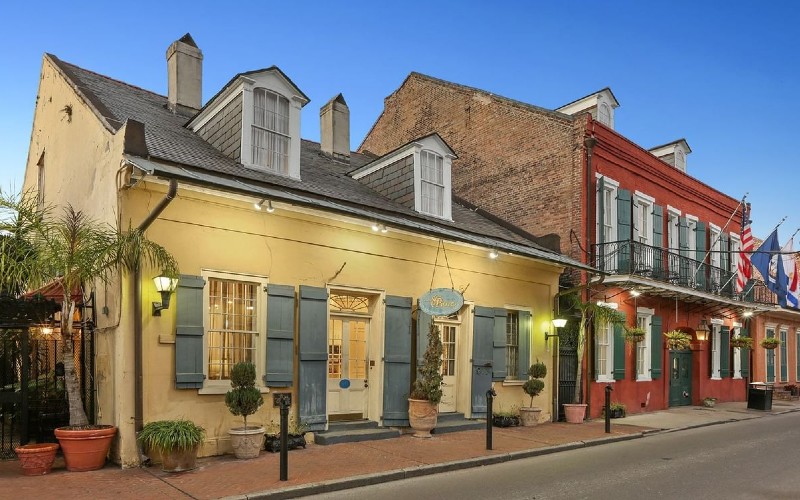 Hotel St. Pierre: New Year family trip savings of 20% in New Orleans

Hotel St. Pierre is located on a quiet street in the French Quarter. A cozy, family hotel, it's designed around three beautifully restored 18th century Creole cottages. Homely guestrooms and sun-dappled courtyards ooze old fashioned New Orleans' charm. Take a stroll round nearby Jackson Square then cool off with a dip in one of the hotel's two swimming pools.
Book Hotel St. Pierre between now and 31 January 2022 and get 20% off with getaroom. This amazing offer excludes 30 and 31 December 2021 and 1 January 2022. Don't forget to book before 26 December 2021.
Why families love Hotel St. Pierre?
In the heart of the atmospheric French Quarter and close to Bourbon Street.
Good range of family rooms, rollaway beds are available.
Guestrooms blend historic features with modern comforts.
Several rooms have jacuzzi bath tubs and private balconies.
Hotel St. Pierre is pet-friendly.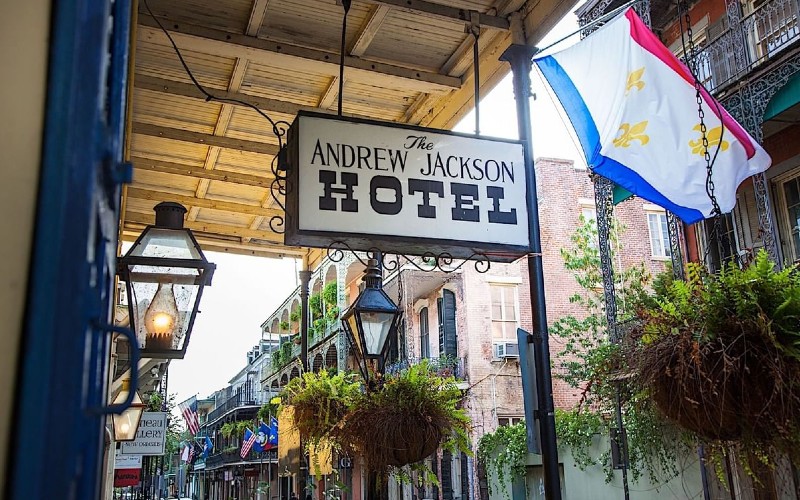 Andrew Jackson Hotel: Save 20% on family trips to New Orleans in January
Andrew Jackson Hotel is a bijoux boutique New Orleans' delight. So look forward to elegant wrought-iron balconies and historic features a plenty. With only  21 guestrooms and suites, this petite property dates back to the 18th century. It's designed around a lush Creole courtyard, so it feels beautifully peaceful, although Bourbon Street is just a short walk away.
Book Andrew Jackson Hotel between now and 31 January 2022 and get 20% off with getaroom. This offer excludes 30 and 31 December 2021 and 1 January 2022. But don't forget to book before 26 December 2021.
Why families like Andrew Jackson Hotel?
Historic 18th century property  in the French Quarter.
Close to Bourbon Street and a wide range of New Orleans' attractions.
A variety of family accommodations include spacious junior suites.
Shady Creole courtyard, four-poster beds and views over historic Royal Street.
All guests also have access to the St. Pierre Hotel swimming pools.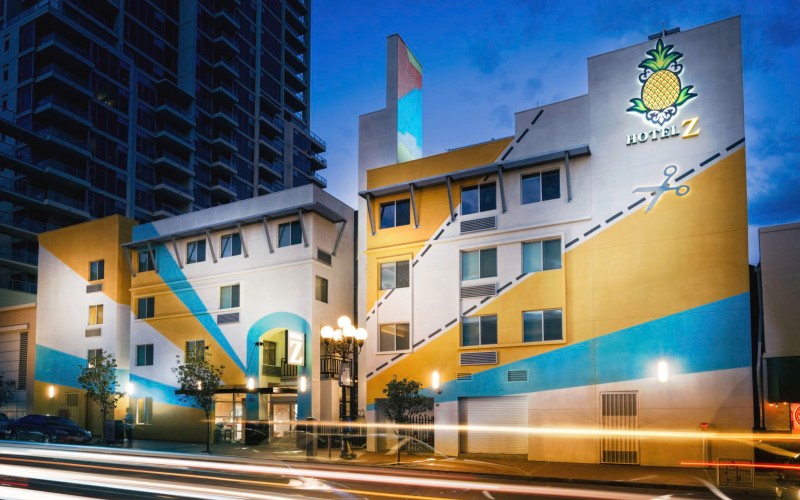 Staypineapple at Hotel Z: Fun family vacations in San Diego from just $137pn
Staypineapple at Hotel Z is a fun boutique hotel in the heart of San Diego's atmospheric Gaslight Quarter. It's surrounded by stores, restaurant and bars. Petco Park is close by and the fascinating USS Midway Museum is only a mile away. But if you need something right away at this hotel, simply press the in-room 'Everything Button' or hail an 'Everything Person'.
Why families love Staypineapple at Hotel Z
Contemporary boutique hotel with choice of larger than average family rooms.
A $20 daily fee gives you access to a range of amenities including high-speed WIFI, $10 credit for Pineapple Quick Bites and Bevvies Cooler, and beach cruiser bikes.
'Everything People' are guests' go-to for anything from directions and restaurant tips to family attraction recommendations.
Pet friendly – they even offer a Pineapple Pup Package.
Book with getaroom and family room rates start at just $137 pn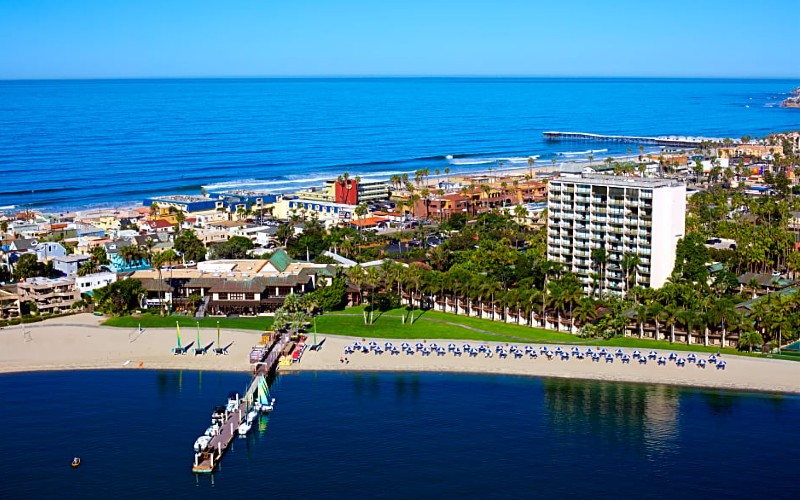 Catamaran Resort: San Diego family hotel nights from just $269
Catamaran Resort is family-friendly, Polynesian-themed and set in San Diego's dreamy Mission Bay. Everything here delights kids from watersports and bike rides to sternwheeler cruises and beach barbecues. If you want a hint of the ambience, think swaying palms, waterfalls, tiki torches and colorful tropical birds.
Why families book Catamaran Resort?
A 'zero noise policy' after 10pm is great for families with younger kids.
World famous attractions nearby include SeaWorld San Diego and iconic San Diego Zoo.
Choice of studios, garden suites or family suites with separate living space and kitchenettes.
Family watersports range from sailing and stand-up paddle boarding to kayaking.
A short drive from San Diego International Airport.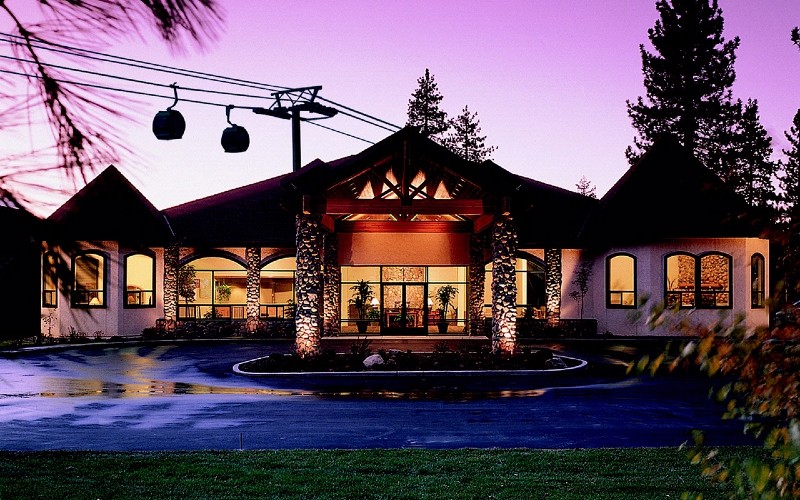 Forest Suites Resort at Heavenly Village: Family trip savings of 20% in Tahoe
Cozy Forest Suites Resort sits close to spectacular Lake Tahoe. It offers year-round family fun from leigh rides and sledding in winter to summer kayaking. The resort is also minutes away from Heavenly Village and ski lifts so everything you need for an amazing family vacation is within easy walking distance.
Why families like Forest Suites Resort at Heavenly Village?
Close to a wide range of family attractions and fun outdoor activities.
Spacious Double-Double Rooms are ideal for families.
Cribs are free and family rooms can accommodate one rollaway bed.
Kids love the outdoor pools and games room.
Breakfast is included in family room deals.
Book with getaroom before 2 January 2022 and save 20% on room rates.
Last minute getaway or planning your next family trip in advance? Visit getaroom and see where's good to go, the best getaroom hotel rates available worldwide and then discover how easy it is to book online. And if you want find more low getaroom rates, remember the customer service team is available 24/7 and calls are toll-free to 1-800-HOTELS-8.