It's never too early in fall to think about leaf peeping with kids. The Northeast might be front of mind, but we're looking at California for sensational fall vistas this year. We've rounded up two stunning California road trips, including all the adventures and Tik Tok/Instagram ready leaf peeping moments along the way. Think of it as this year's ultimate West Coast leaf-peeping guide.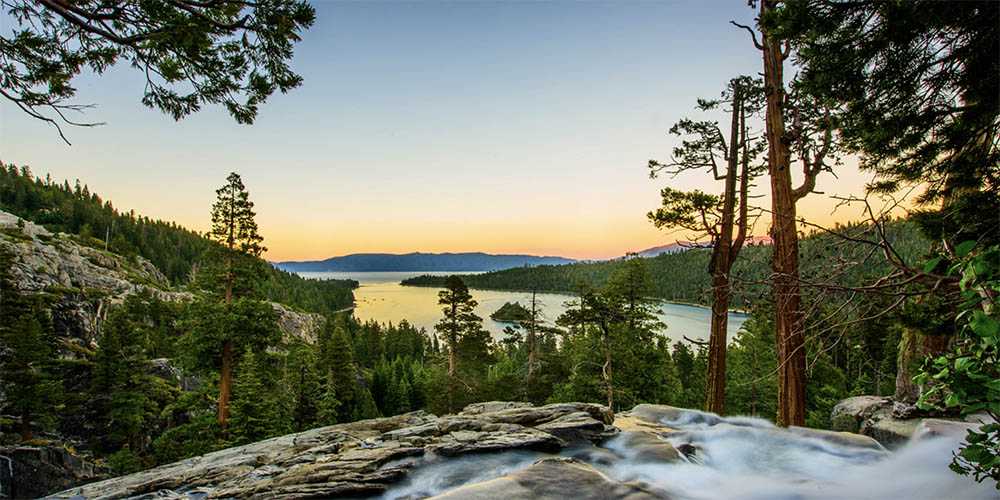 Lake Tahoe leaf peeping family adventure
Start with a visit to California's turquoise gem—Lake Tahoe—then follow spectacular mountain routes to incomparable leaf peeping destinations: Mono Lake and the mountain-town fun of Mammoth Lakes; sensational National Parks – try the waterfalls and granite monoliths in Yosemite or the world's largest living things at Sequoia & Kings Canyon National Parks.
Stop 1: Lake Tahoe — Begin your trip at Lake Tahoe, the largest alpine lake in North America. From September to November, trees in North Lake Tahoe transform with stunning hues of red, orange and yellow. Leaf peeping hikers should head to Page Meadows just south of Tahoe City seeking a wealth of trails that lead through miles of fall foliage.

Stop 2: Mono Lake — Just east of U.S. 395 near Lee Vining, an ancient saline lake looms so large you may think it's the ocean. Mono Lake is one of the oldest lakes in North America, one million years and counting! Watch the birds at Mono Lake Tufa State Natural Reserve or add guided paddling tours to your leaf peeping adventures.

Stop 3: Mammoth Lakes — Now it's time to cruise through Mammoth Lakes. Take a pit stop and catch panoramic views of Mammoth Lakes' scenic fall foliage by taking advantage of a gondola ride up Mammoth Mountain. The gondola climbs to the mountain's summit at 11,053 feet for one-of-a-kind views. After the ride, hike through Rock Creek to catch one of the crimson and golden backdrops.

Stop 4: Yosemite — Yosemite National Park is open and safe for travelers to visit just in time for leaf peeping season. Stop at what is known as "the grandest view in The West" — Glacier Point — which takes in all of Yosemite's major landmarks, including Half Dome's iconic profile and shimmering Vernal and Nevada falls.

Stop 5: Sequoia & Kings Canyon National Park — Last but not least, the giant sequoias at Sequoia & Kings Canyon National Park will awe the whole family. Known best for its big trees, including General Sherman, the world's largest tree, the park also boasts bright fall colors.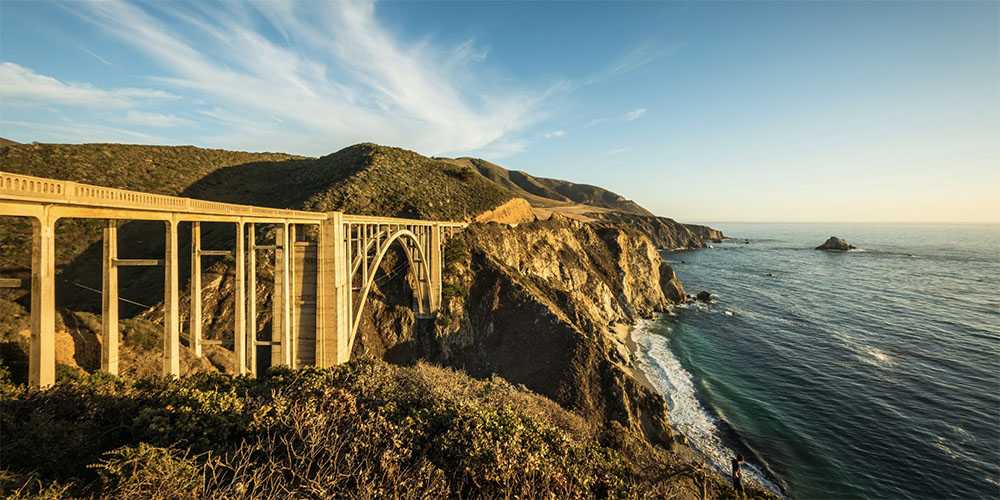 Pacific Highway leaf peeping road trip
Stop 1: Bixby Bridge — Snap a picture at one of the most scenic and photographed bridges in California, known for its dramatic views and graceful architecture.
Stop 2: Pfeiffer Beach — Only two winding miles off Highway 1, this Big Sur seafront is framed by offshore rock formations riddled with caves, blowholes and a massive arch. Soft white sand is streaked with purple hues from manganese deposits.
Stop 3: Morro Rock — Catch the sunset over Morro Rock, which gives the town of Morro Bay its name. It's the last of the Seven Sisters, a chain of worn-down, ancient volcanoes that lie between Morro Bay and San Luis Obispo.
Stop 4: Hearst Castle — Tour the incredible mansion that was once the home of William Randolph Hearst and is now a National Historic Landmark, featuring an unparalleled art collection and picturesque Roman Pools. The famous Neptune Pool will be refilled with water once again this week. Officials have already begun refilling the 345,000-gallon pool, which was drained in 2014 after cracks caused it to leak up to 5,000 gallons a day.
Stop 5: Piedras Blancas — Take a break from leaf peeping and get a close-up look at giant elephant seals (some bulls weigh more than 5,000 pounds) as they battle for territory along the beach at Piedras Blancas.
Looking for more fun family road trips with kids this fall? Find tailor made Kentucky road trips for your family right now. And don't forget to follow Family Traveller on Instagram and Facebook for even more family vacation inspiration.