Family Traveller reader and mother of two, Bethan Jones, reveals her tried-and-tested formula for the perfect family ski trip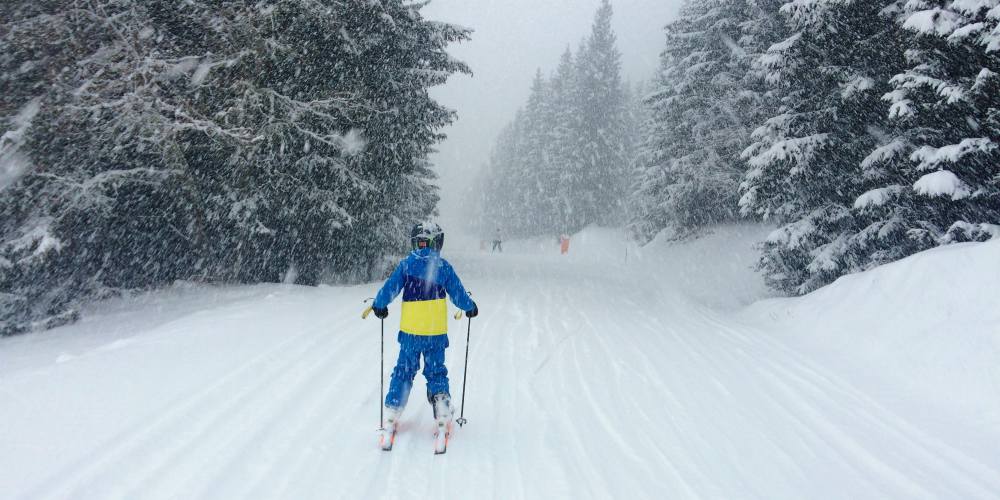 Skiing is a big part of our life. My husband has skied virtually every year since he was five years old and we've skied together every year since we met. When our children Will (12) and Lily (10) came along, it was a given that they would ski. We had them both fully suited and booted and on the piste by the age of three. In hindsight, it was probably too young. 
Personally, I now believe that kids need to be at least four and preferably five in order to make any real progress on ski slopes, any younger and they are not physically strong enough. Skiing is a demanding sport and for small toddlers still trying to perfect the skill of walking, the weight of the skis and boots together with the bulk of the ski clothes makes the whole thing very difficult for them.
At this age, all they can really manage is to slowly walk along on the flat and perhaps a gentle slide down a small slope. There is a lot of waiting around which is a recipe for a cold and grumpy toddler. My advice is to book three and four-year-olds into a nursery which offers indoor and outdoor activities. Many of the big tour operators run excellent English speaking nurseries, based in resort hotels. Roll forward a year or two, and they are ready. Stronger, more aware of their surroundings, with better communication skills and generally more enthusiasm.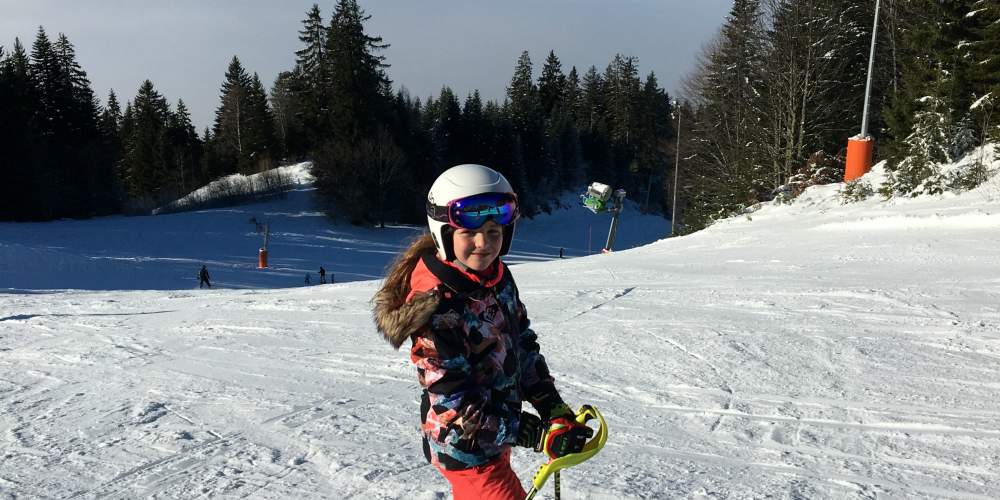 A question I'm often asked is whether it is worth booking children into ski school or should you teach them yourself? I say ski school all the way. We tried teaching my eldest, Will and it was extremely stressful – leave it to the experts. Ski instructors have access to ski gardens and quieter teaching areas, they have special equipment such as hoops to ski through, and cones to ski around and they even get to jump the lift queues.
They have also been trained to teach the correct techniques, so your children won't picking up your bad skiing habits. And from a purely selfish point of view, the sooner you get the kids into ski school, the sooner you can have some quality adult time on the slopes once more.   
Most big ski resorts have an excellent ski school set up. You usually drop your children off at the ski school meeting point in the morning and return to collect them at the agreed time. The lessons can range from a couple of hours to all day, and some even provide lunch. Make sure you ask for an English speaking instructor and make sure that they have your telephone number, just in case. We usually write our mobile phone numbers inside our children's coat pockets to make sure we can be contacted. 
Our kids love the group aspect of ski lessons
Every morning we also put a couple of fun-sized chocolate bars in our children's coat pockets, skiing is physically demanding and there is a long time between breakfast and lunch, a little sweet treat during the morning break gives them an extra little boost and adds an extra element of fun to the morning.   
Our kids love the group aspect of ski lessons, they chat and make new friends and at the end of the week, there is usually a medal or badge ceremony for all participants. Our children are now competent skiers, good enough to come skiing with us all day, but they still chose to go to ski school every morning. As the lessons get harder they get to do more exciting stuff like jumps, snow parks and off-piste skiing.   
For most of our skiing trips, we have opted to book a package holiday which includes a childcare service. Every morning we drop them off in the kids club, which is conveniently situated in the hotel.  The childcare team help to put on their ski gear, carry their skis and boots and escort them to and from their ski school class. They provide lunch and there is also the option of afternoon activities such as sledging, snowman-making, den building and even trips to cafes for hot chocolate.  The big benefit for us, of course, is that we get a whole day of skiing without the need to return to do the ski school pick up, which can limit how far you can ski before having to turn around.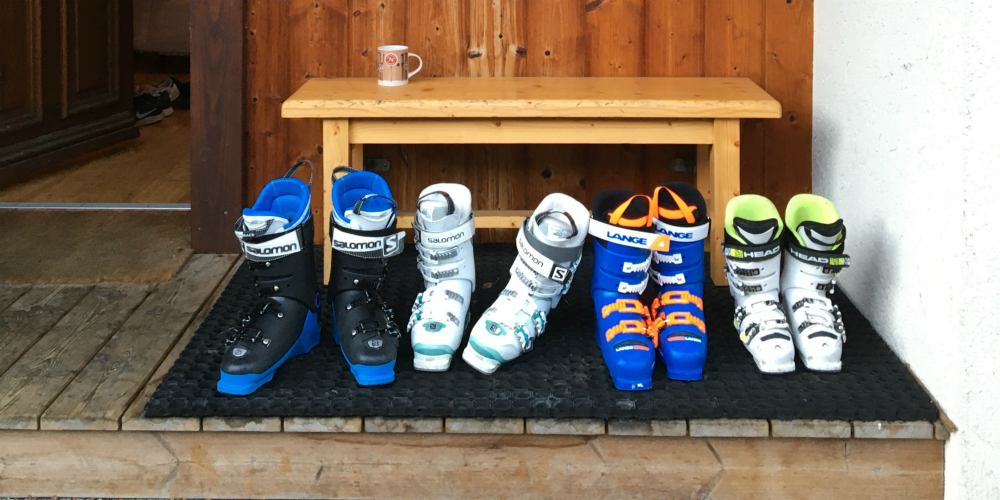 Having the right kit is an important component of a successful family skiing holiday, and I'm not referring to the latest trendy designer brand. I'm referring to good quality, high-performance equipment and clothing. It is possible to buy a complete ski outfit for your child for under £25 from the local supermarket these days. But will it be warm? Will it be waterproof? Will it make them sweat? There are a few key items that are essential and I would recommend buying the best ones you can afford for your children. The more comfortable they are, the more successful the skiing holiday will be. A random skier once overheard my husband moaning that it was too cold and replied: "It is not too cold, you are badly prepared."
Once dressed, the only other essential items are skis, boots, and poles when they get more advanced. We always hire the children's equipment – they grow too fast to make it cost effective to invest in your own gear. We usually use a ski hire shop recommended to us by the tour operator and generally find the equipment to be of a good standard. They tend to change their equipment every season, so if you go around Christmas and New Year time, the equipment is often brand new. Ski hire shops can be chaotic, but we've picked up some good tips over the years.
Top tips for ski hire shops
Go to collect your equipment as soon as you arrive at the resort – Ski resorts tend to have one weekly change over day, which means everyone in town is looking for skis and boots on the same day. Always collect them on the day of arrival, don't wait until the first morning of skiing – the queues may be long and you might even be late for ski school.  The best choice of equipment may also have gone.

Make sure you know your children's shoe sizes in European (or local) units – Don't assume they will have a measurer or a conversion chart. You would think they would, but they usually don't. 

Know your children's height and weight in centimetres and kilograms – again, don't assume they will have a scales or a height chart. Don't guess these details either, the measurements are vital to ensure that the skis are the right length and that the boots release from the bindings if and only if your child has a fall. 

Dress appropriately for the fitting – Take a pair of ski socks and wear a pair of loose trousers that can be lifted up higher than the boot – not skinny jeans or leggings.

Check the boots fit correctly – ski hire shops are often chaotic, and the staff often try to rush you through the process. We once left an Italian ski hire shop empty-handed after the assistant had attempted to give Lily two left boots. Boots that are too small are agony and will ruin the first day's skiing, and could potentially even put your child off for the rest of the week. Boots that are too big are difficult to ski in and even dangerous. Don't be afraid to ask for several different pairs to try on. Also, inspect the equipment for damage. 

Don't let your children be influenced by colours and patterns – Hire shops usually have a big mish-mash of equipment, your skis and boots will rarely match. It doesn't matter, they don't need to. Comfort and safety are the only things that matter. Hire shops often have some children's skis with pink princess or cartoon superhero designs, which children are naturally drawn towards. Don't let the pattern influence your decision. 

Go back and swap your equipment if you are not happy – only after the first day's skiing will you really know whether you've got the right sizes, if you feel your boots are wrong, take them back, most shops are more than happy to swap sizes free of charge. 
Hopefully none of the above sounds too daunting, I wish I had known these tips when we first ventured on our first family trip. My two have now been on over fifteen ski holidays and have even joined a local dry ski slope slalom team!