Thinking of family ski breaks in Switzerland? Family Traveller's John Lewisohn recently discovered Crans-Montana on a January break that mixed iconic Swiss scenery with fun snow parks, sunny skiing and fairy tale enchantment. Take a look.
The best family ski breaks in Switzerland always have James Bond stories in the mix, and Crans-Montana is no exception as I found out over an après-ski glass of the local Fondant white wine with my son's ski instructor, Jorg. "Whenever Roger (Moore) asked me if his skiing had improved, I always changed the subject," he tells me, his eyes squinting in the resort's famously bright winter sun.
At 57, Jorg is youthful and fit looking, so it's hard to believe he was old enough to be Roger Moore's ski instructor when Mr Bond moved from his alpine home of Gstaad to Crans-Montana. One glass of wine was scant time to hear even a fraction of Jorg's stories of instructing U2 – all at the same time – and guiding Prince William: by far the best Royal skier apparently.
"And now he can add my name to the list of A listers he's instructed," laughed my 19 year old son Jonah.
I might be giving the impression that Crans-Montana is a celebrity hang-out like other grand dames of the Swiss ski scene such as St Moritz, Zermatt, the aforementioned Gstaad or even brasher Verbier. But nothing could be further from the truth.

Sunny family ski breaks in Switzerland for every type of skier
Crans-Montana wears its class in an understated manner and it's unlikely to appear in any "best of" categories you'll find in ski magazines or online. However, if you're considering family ski breaks in Switzerland, the resort has plenty going for it, particularly for families of skiers and non-skiers.
First of all, there's the view which is expansive and stunning from the south facing slopes where all the skiing is located.
"Zermatt, Verbier  – all these resorts – I feel hemmed in by the mountains," says Jorg. "I have lived in Crans-Montana all these years because you can see the horizon, stretch your shoulders." And that horizon is a real "Who's Who" of Alpine mountains, from the Matterhorn to Mont Blanc and several other 4,000m peaks.
There is no planning involved to ensure you are on the right slope to get the sun, at Crans-Montana all the slopes are sunny. In fact, Crans-Montana claims to have more sunny days than most Alpine resorts. Which was a real bonus when we visited in January, as there were few truly icy runs and we enjoyed four days of unbroken sunshine.

Magical family ski breaks in Switzerland start with a train journey
Arriving at Geneva Airport families normally face an unwelcome four hour coach journey on twisting mountain roads to reach their ski resort.
For Crans-Montana, you simply walk five minutes to the railway station and catch one of the regular trains to the town of Sierre. The two hour journey takes you east along almost the entire northern bend of Lake Geneva before dipping south and east again, through snowy peaks. It's an unforgettable experience and sure to wow your kids far more than several hours on a cramped coach.
Once you reach Sierre, follow the red line from the station to the funicular railway. Twenty minutes, and a 1000m climb later, you arrive at "Montana Gare" which is more often than not only a five minutes drive from your hotel, yet feels like it's in a completely different alpine world from the valley below. Kids particularly like the funicular's steeply slanted ascent up the mountain at a 45° angle.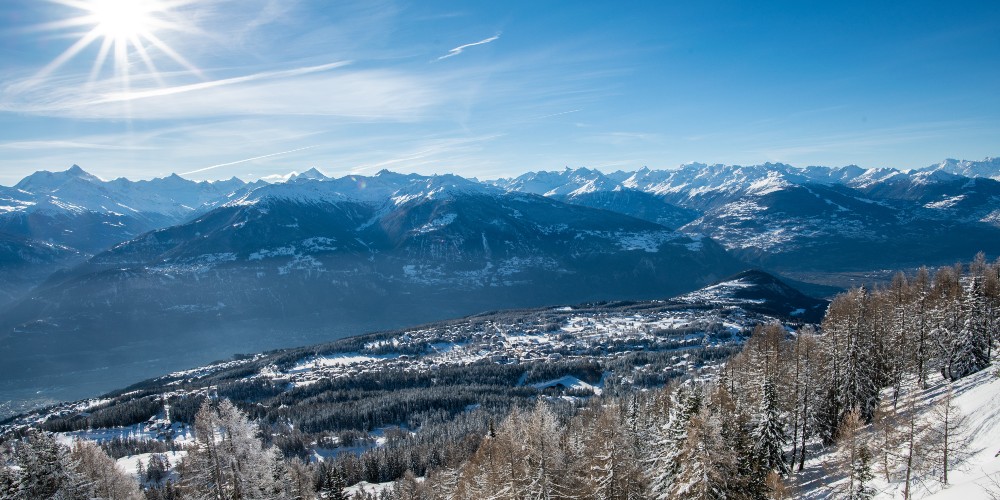 Crans and Montana used to be separate villages but with the popularity of both Winter and Summer holidays here, they have become quite a substantial single town.
Crans has more of the upmarket boutiques, with prices to match, and Montana has an iced-over lake and separate ice rink. So together, they create a resort that caters well to both skiers and non-skiers.
In fact, if you didn't see skiers clomping around in their boots you would barely know it was a ski resort. The three base-gondolas up the mountain at Crans and Montana are tucked away. The long arcing red or blue run down to Crans, through the pine trees, is quite hidden from the town, as is the blue run down to Montana and the black run down to Barzettes. This is neither good nor bad, just different.
Zero Dix bar at the bottom of the Crans' run is the place to be for après- ski – it's currently in the shadow of the tall yellow cranes involved in the building of a Six Senses Spa & Hotel, a real boon for Crans -Montana.

From beginner to black mogul, find your ski vibe at Crans-Montana
Crans-Montana skiing can be broadly described as intermediate and in that respect, it's very strong.
Beginners start at the top of the first lift from Montana at Arnouva, then up various 'carpet lifts', before graduating to Cry D'Err and the selection of gentle blue runs around Chetseron. A blue run down from Arnouva to Crans through the woods should be achievable for most beginners within a couple of days instruction.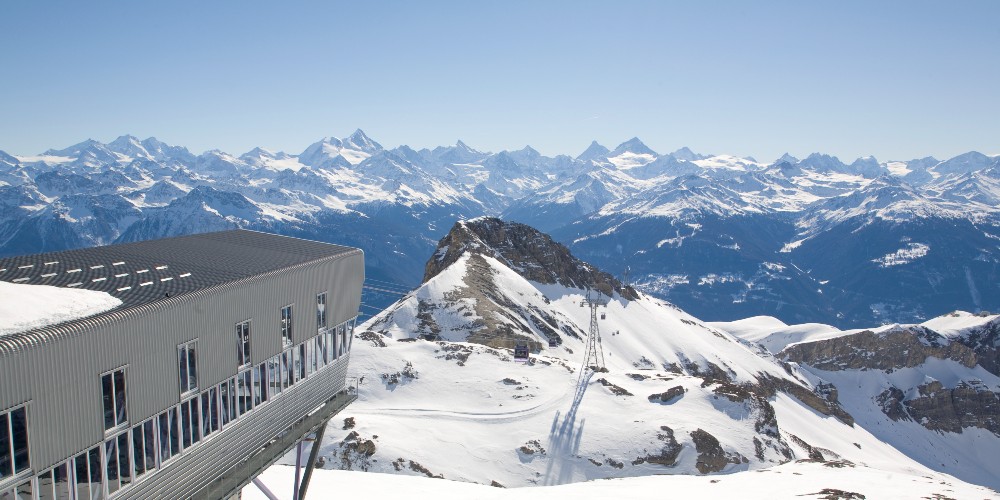 More advanced skiers take the cable car up to Plaine Morte at 3000m. This not only yields more stunning views, but accesses the long 'official' black run – which is more of a red in reality – down to Violettes station. From there, it's a serious vertical drop down to Barzettes through the woods.
If you turn left off the Plaine Morte run you can access several lifts in the Aminona area, including a genuinely hair-raising black mogul run . Watch out! The intermediate chairlift station only warns you that the mogul is, "For Good Skiers", when it's too late to get off!
Fancy trying the women's downhill regularly shown on Ski Sunday?  A less icy version is waiting for you from the chairlift at Cry D'Err down to Barzettes and it's a thrilling rollercoaster ride for any competent intermediate.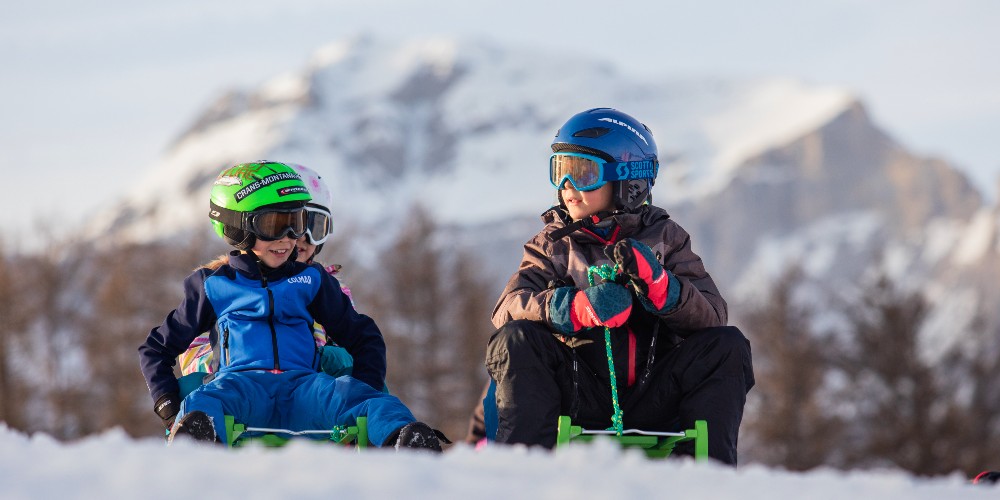 Much more than skiing on these family ski breaks in Switzerland
Families who've contemplated ski-touring but been put off by the level of fitness and skiing required, will find Crans-Montana is unique in offering 15 routes on over 40km of marked trails, many graded intermediate blue. And for extra fun, snowshoeing is available too.
When the weather is poor or you just feel like some time indoors, you can head for the resort bowling alley, try out at the climbing centre or see what's on at the local cinema.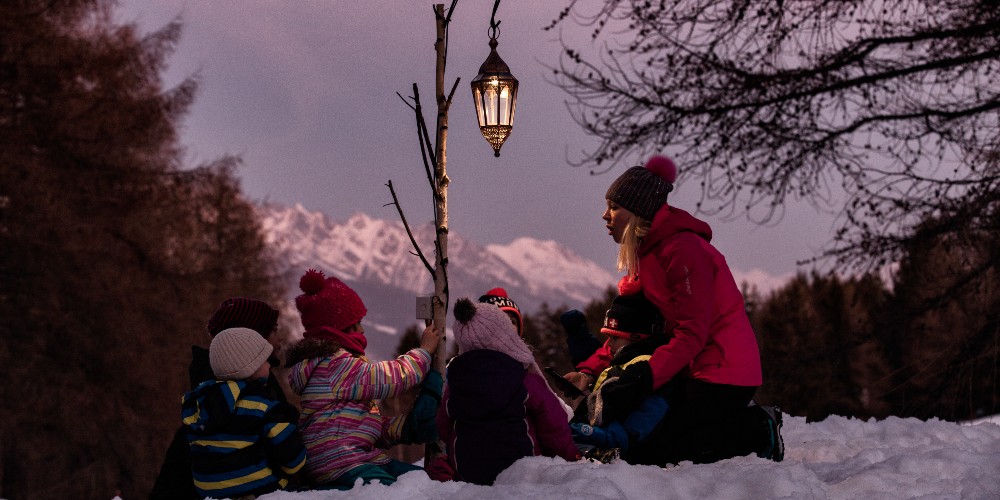 Crans also has a unique Snow Island, set on the same golf course where the prestigious European Open is played during summer. In winter, the island consists of three flattish beginner areas with magic-carpet lifts: perfect for building beginner confidence. It also offers sledding and snow-tubing, and the magical 'Chemin de Lanternes' lights up here after dark. This two kilometre long, illuminated pathway takes less than an hour to walk and at Christmas it's narrative focuses on the local folk tale of the Bella Lui Star which guides a shepherd and his flock to safety.
Crans-Montana's tourist board website uses the tagline, "Absolutely", which after spending a packed few days here, I can confirm sums up the appeal of this lesser known Swiss resort perfectly.
Visiting Crans-Montana 
How to get to Crans-Montana
Direct UK flights from several airports to Geneva take from 1 hour, 30 minutes.
Train journey from Geneva Airport to Sierre takes 2 hours, 6 minutes.
Visit SBB for information on rail travel in Switzerland and to book train tickets.
Where to stay at Crans-Montana
We stayed in the heart of Crans-Montana at Art de Vivre Hotel which has marvellous views of the mountains as well as a great spa and one of the few child-friendly, heated pools in the resort.
Ready to discover Crans-Montana for yourself? Visit Crans-Montana for everything you need for family breaks in Switzerland from when to go and where to stay to what incredible fun activities your kids can look forward to in 2022.