All inclusive holidays, adventure holidays and beach holidays are all great options, but nothing matches the thrill of seeing wildlife in its natural habitat. 
Whether you've got your sights set on seeing the big five in the Kenyan bush or blowing bubbles with sea lions on the Galapagos islands, wildlife experiences are everywhere – you just have to look a little harder to find the real gems. 
Abercrombie & Kent are experts in wildlife holidays and those once-in-a-lifetime moments they bring. With that in mind, Abercrombie & Kent have picked our the very best safari and wildlife trips for families.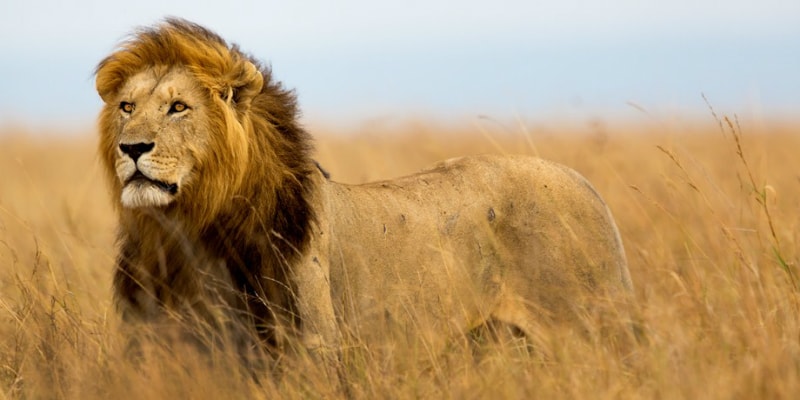 1/5

Spot the Big Five in Kenya
Why go?
What better place to see beautiful, exotic wildlife than Kenya. Your little ones may have had their first insight to Africa through Disney's The Lion King, but their imaginations are just waiting to be untapped – home to the world's most breathtaking wildlife, Kenya will amaze all ages. 
Wildlife awaits
Begin your Kenyan adventure on the outskirts of Nairobi, at Giraffe Manor, a ten-bedroom boutique full of charm and era. Families are warmly welcomed at Giraffe Manor, but there's more to this pad than beautiful accommodation, you and your family can have breakfast alongside resident giraffes – yes we're serious! We know the kids will be totally impressed sharing the most important meal of the day with these beautiful animals.
Continue your wildlife adventure at David Sheldrick's Wildlife Trust, where you'll see baby elephants at play and being bottle fed by their loving, dedicated keepers, who will talk you through the process of returning these gentle creatures to the wild.
No trip would be complete without a visit to the Masai Mara, arguably one of Africa's greatest game reserves. But don't just do the ordinary, take the experience to a whole new dimension, with a glamping stay at Sanctuary Olonana. Their ensuite tents all have wooden floors, large beds and your own veranda overlooking a hippo-infested river. The area is also home to elephant, lion, and zebra so wherever you look you'll be in the heart of spectacular wildlife. During your stay, you'll be blown away by morning game drives – though getting the kids up may be a struggle. And a visit to a local Massai community will open your eyes as well as the kids to how different life in Africa is.
The Lowdown 
Flights depart from London Heathrow direct to Nairobi and the flight duration is 8+ hours. Visas are required and can be organized pre-travel and on arrival. Some medication considerations include Malaria tablets and Yellow fever vaccination may be required.
Best time to go: Spring, Easter and Summer holidays
Suitable for: Ages 5+
Find out more about family safaris and wildlife trips in Kenya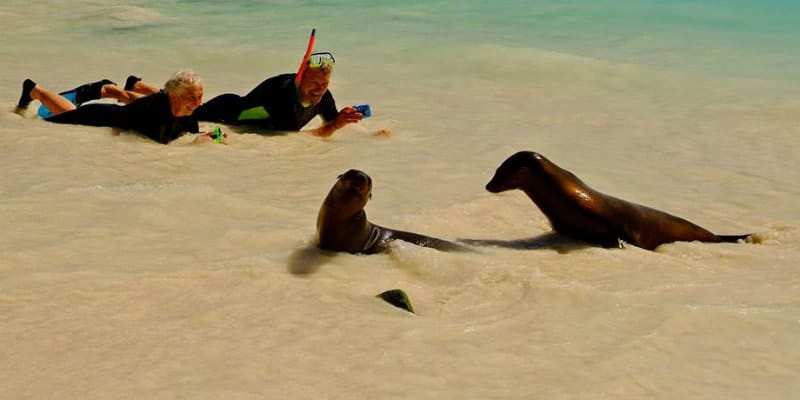 2/5

Play with sea lions on the Galapagos islands
Why go?
Ecuador is the dream destination for families looking to escape and dive into a new, thrilling and exotic culture. Dwarfed by its neighbours, Ecuador is a true testament that size isn't everything. Whilst the mainland is impressive enough, the Galapagos Islands all too often steal the show. However this is unsurprising when you consider the wildlife cast involved.
Wildlife awaits
On land you'll meet marine iguanas, blue-footed boobies and birds who will charm you with their show-off expanding chests – always a real hit with the kids. If that wasn't special enough the real magic begins underwater. You'll have the opportunity to snorkel with incredible sea lions, coming face to face with them and even blow bubbles at them and vice versa. Whatever your age, having a sea lion blow bubbles at you is one story you'll be retelling for years to come.
The fun doesn't end there, adding to this spectacular display are the dancing albatross and hyper penguins who skip between land and water. You'll feel as though you're in a David Attenborough documentary during this incredible natural experience.
Exploring this equatorial archipelago is best by boat. There are onshore excursions each day where you'll get up close to a treasured species. The Galapagos Islands are famous for their natural wonders and with some of the best guides in the business, your family will be well catered for. So let the kids tick off another destination from their bucket list because this will be one trip they'll cherish forever.
The Lowdown 
Flights depart London Heathrow to Quito, domestic flight to the Galapagos Islands and flight time is 13+ hours. Health considerations include; bringing a yellow fever certificate if you arrive from an infected area.
Best time to go: Easter, October and Christmas School Holidays
Suitable for: Ages 5+
Find out more about wildlife encounters on the Galapagos Islands.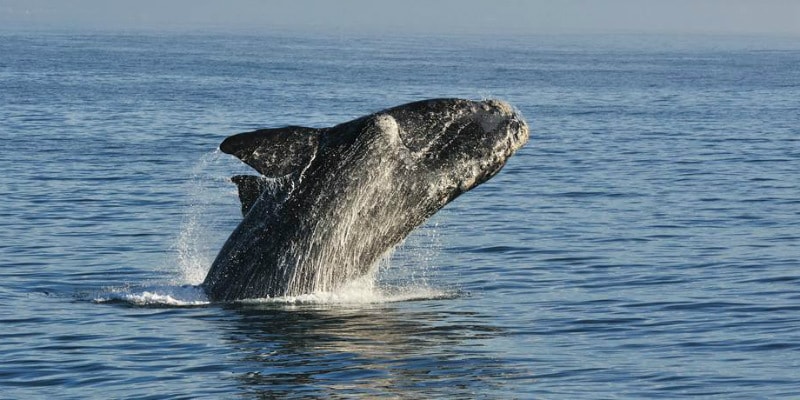 3/5

See whales up close in South Africa
Why go?
As soon as you land, you'll know you're somewhere truly special. South Africa is an incredible safari spot for all ages, the landscapes will have you truly transfixed, the waters are bursting with animals, many reserves are malaria free and lodges cater superbly for families. 
Wildlife awaits
Hermanus, a small town on the Western Cape, is the self-declared whale-watching capital of the world. And between July and December hundreds of majestic whales swim by, some get so close you can see them from the shore – saving those with sea sickness the trip out to sea. But that's not all you might see, dolphins and sharks are also spotted off the coast.
For wildlife centres and private reserves, head down to the Garden Route region of South Africa, where the majority of experiences focus predominantly on families. The Monkeyland Primate Sanctuary is a must, not only will you spend hours with an endless grin but you'll get up-close to these cheeky monkeys. Other sanctuaries that are a big hit with families are the Elephant Sanctuary and Tenikwa Wildlife Awareness Centre where you can take a cheetah for a walk!
Of course, you'll want to spot the Big Five – lion, leopard, elephant, rhino and buffalo, so head to malaria-free Shamwari Game Reserve. Your family will be taken on an in-depth safari with keen-eyed guides but also, you'll have the chance to visit rescued lion at the Born Free Foundation Big Cat Rescue Centre.
Alternatively, visit Madkiwe Game Reserve, also malaria free, to learn how to be a wildlife ranger. Kids can take part in treasure hunts, looking for bones and snake skins, make animals from clay and toast marshmallows – yum! They'll have a journal to keep track of everything they've spotted, from trees to poo, you'll hear their stories for hours on end.
The Lowdown
Flights depart London Heathrow direct to Cape Town and Johannesburg and flight time is 11+ hours. Visas aren't required by UK nationals but those travelling with children under 18 need to take an unabridged birth certificate for each child to show at immigration.  Health considerations include; bringing a yellow fever certificate if you arrive from an infected area.
Best time to go: Good all year round
Suitable for: Ages 5+
Find out more about family safaris and wildlife trips in South Africa.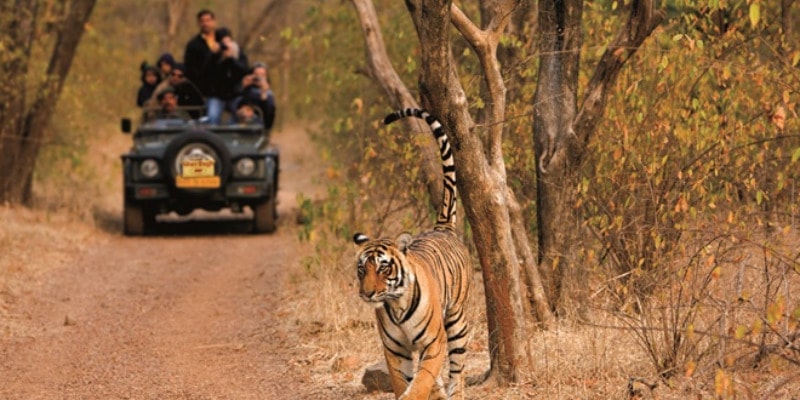 4/5

Watch big cats in India
Why go?
Arguably the most colorful country in the world, India ticks all our boxes for a wonderful wildlife holiday. India will capture your family's heart and once you experience the friendly culture you won't want to come back home.
Wildlife awaits 
Start your trip in the buzzing capital Dehli. Get to grips with the historical nature, and visit the streets of Old Dehli where you'll get lost in markets and temples. You may even be intrigued to visit one of A&K's philanthropy projects, Deepalaya School, where your family can sit in on a lesson and see what teaching is like on the other side of the world.
Now you've experienced the culture firsthand, it's time to meet some animals. Head to Ranthambore National Park, one of the largest parks in northern India and hang out with as many animals as you can manage. See if you spot big cats, tigers, lion and even sloth bears. The area was the inspiration for the Jungle Book, so make sure you take it all in because it's a once in a lifetime experience.
The Lowdown 
Flights depart from London to Delhi and flight time is 8+ hours. Visas are required and health considerations include; Hepatitis, Tetanus and Typhoid jabs.
Best time to go: October and Christmas School Holidays
Suitable for: 8+
Find out more about wildlife trips to India.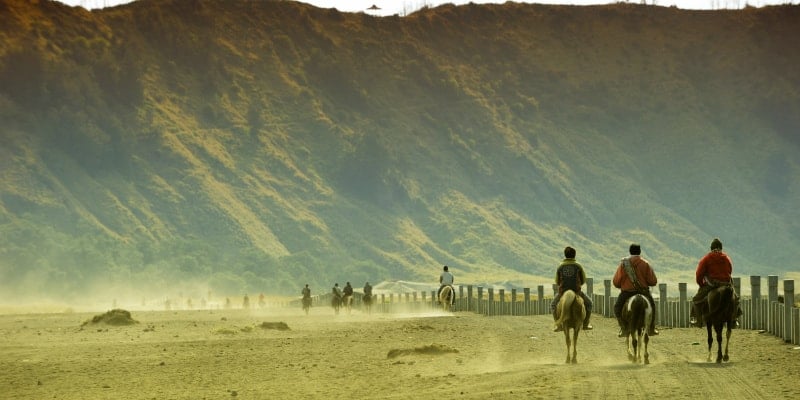 5/5

Ride gauchos in Argentina
Why go
Known for the fiery tango, mouthwatering steaks and galloping gauchos, Argentina is a spectacular holiday destination – especially for families looking to catch sight of beautiful landscapes that are almost too good to be true.
Wildlife awaits 
Buenos Aires is a brilliant starting point. The city is perfect for the young and young at heart. Families could never be bored in Argentina, the area is a scenic delight from glaciers to waterfalls there's something for everyone.
Live the dream and ride with gauchos, an unforgettable experience – we promise. You'll find an abundance of welcoming estancia where you and kids will learn how to ride horses like cowboys from the wild west. Take in the beauty of the natural area, but also, take in the freedom of galloping down open plains.
A region to look out for is Bariloche, also known as the Alps of South America, the region is simply spectacular – no sales pitch required! It's the perfect area to saddle up with the kids and go for a ride through woodland trails – prepare to be amazed.
The Lowdown 
Flights leave from London Heathrow and Gatwick to Buenos Aires and flight time is 13+ hours. No visa required.
Best time to go: Spring, Easter and Summer school holidays
Suitable for: Ages 8+
Find out more about wildlife trips in Argentina.
Love all things animal? (So do we!) Don't miss these wildlife encounters that include sleeping alongside animals!