It is hard to imagine an experience more enthralling than being surrounded by adorable animals in their own idyllic environment. From cheeky monkeys to rare squirrels, we have discovered 8 animals who rule the roost on their own private islands!
1/9

 Rabbit Island, Japan

A happy island with a sad past, Okunoshima is home to hundreds of adorable fluffy bunnies. The original rabbit residents were the laboratory animals that were released into the wild after its closure. The rabbits bred like, erm, rabbits, and nowadays visitors flock to the island to see and interact with them. Bunnies can be seen hand-feeding from visitors and even stampeding those who hold out offerings of food!

[youtube id="pY-GncsZ-UE?rel=0″]
How to get there
From Hiroshima, take the train or bus to JR Tadanoumi station. A 5 minute walk takes you to the connecting ferry, which takes 12 minutes and costs around £2.
2/9

 Aoshima Island of Cats, Japan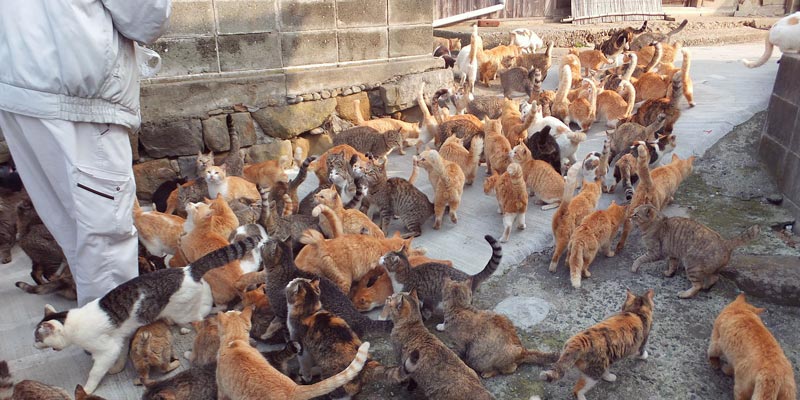 One of around a dozen feline-ruled islands off the coast of Japan, Aoshima is one of the smallest at just one mile long. Cats were introduced by sailors who kept them on board their boats to keep mice at bay; today cats outnumber humans 6:1.
The 15 local villagers take care of the cats and provide food for them at designated feeding points throughout the island, with tourists bringing more food for the cats on regular ferries.
[youtube id="rHLLDOyZepY"]
How to get there
Take a 30 minute twice-daily ferry ride from Nagahama Port in Ehime (a short walk from Iyonagahama JR station). Adult tickets cost around £5 and children cost approximately £2.50. And if you're a dog? No chance!
3/9

 Assateague Island, Virginia & Maryland, USA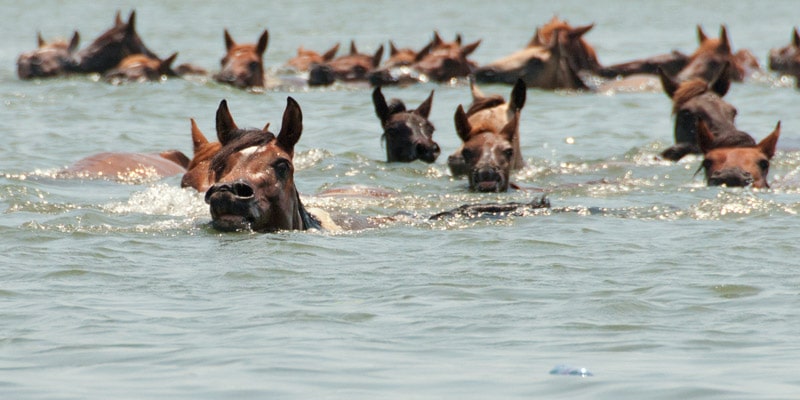 If 'My Little Pony' and 'Horseland' are staple favourites in your household, Assateague Island may be the perfect family travel destination. Wild ponies roam the grasslands of this shared-state island, with Maryland and Virginia each claiming half.
Although the horses are wild, there are plenty of other activities to keep little ones entertained on a day trip: crabbing, biking and kayak tours make this an ideal place for kids to make memories.
[youtube id="AF_ZAyOOVjI"]
How to get there
Drive from Chincoteague Island, Virginia or Ocean City, Maryland or book boat trips through Assateague island
4/9

 Fox Village in Miyagi, Japan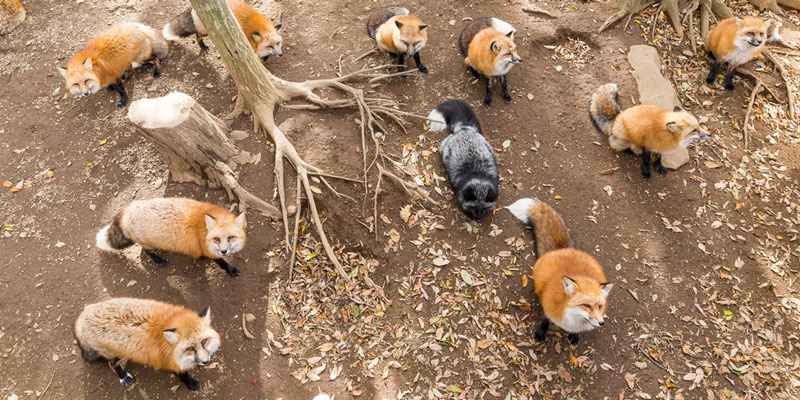 This woodland oasis is actually a sanctuary for six different species of fox. Visitors pay around £4 for entry to the sanctuary and have the novel experience of being surrounded by the crafty creatures.
Just like in traditional Western tales, foxes in Japan are thought to be sly and cunning, but are also revered as having mystical powers. Sanctuary guides show visitors how to correctly feed the residents as although they may look cute and fluffy, they are not domesticated!
[youtube id="92wtDKCtOiU"]
How to get there
From Tokyo station, purchase a JR Rail Pass to save on train fare and take the Shinkansen to Shiroishizao station (a 109 minute journey). From there it is a 20 minute taxi ride costing around £28; if there are no cabs out front the staff in the office will be pleased to call one for you.
5/9

 Snake Island, Brazil
The aptly named Snake Island around 90 miles off the coast off San Paulo has one of the densest populations of snakes on Earth. Locals estimate there are between one and five snakes per square metre; perhaps not the biggest issue if they were small, non-venomous wrigglers.
Unfortunately the resident reptiles are golden lancehead vipers, responsible for over 90% of Brazilian snakebite fatalities. The snakes pose such a threat to humans that the Brazilian Navy has forbidden anyone to set foot on the island except for a few well-prepared scientists.
[youtube id="y_U3mmPZLJM?rel=0&start=56″]
How to get there
Don't! If you'd like to see golden lanceheads up close, visit the Butanta Institute in San Paulo.
6/9

 Red squirrels on Brownsea island, Dorset, England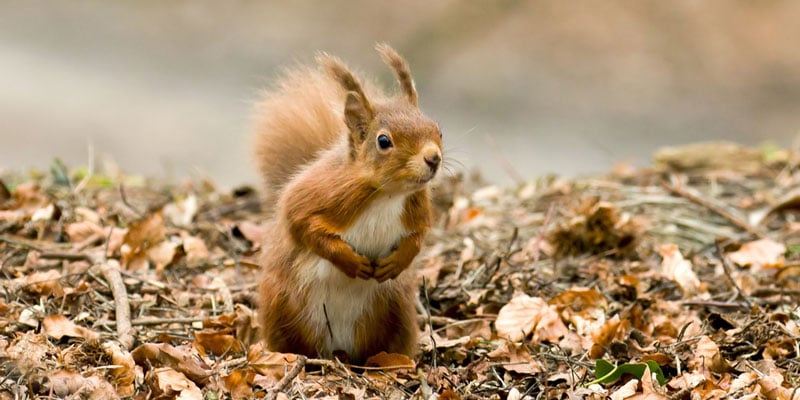 This picturesque island off the south coast of the UK is home to the rare red squirrel. Having been driven out of their natural habitat by the introduction of the grey squirrel, it is a real treat to catch a glimpse of their bushy tails bounding through the beautiful island.
From colouring pages at the National Trust visitors' centre to craft days, the whole family will be thoroughly entertained in this special place. You may even see a squirrel or two close up thanks to the thoughtfully placed squirrel-feeders dotted around the island!
How to get there
Catch a boat from Poole Quay in Dorset (a return family ticket is £28.25) and cross directly over to the island in just 20 minutes.
7/9

 Seal Island, South Africa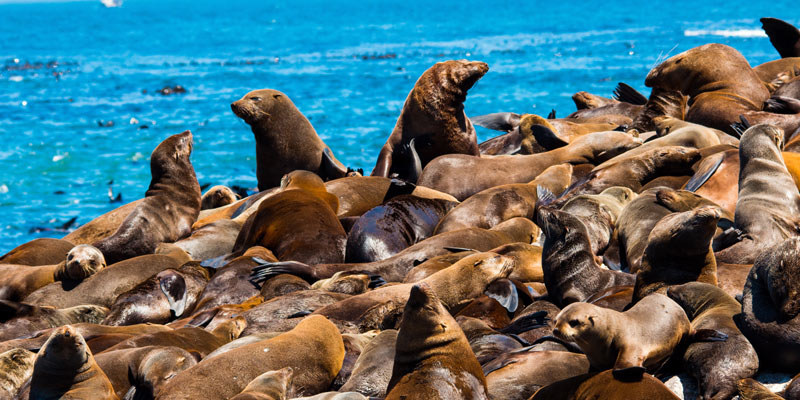 Watching these plump creatures sunbathe in the South African sun is a real treat. After a few attempts at human habitation, the resident seals were left alone and are now the head honchos on the island's five acres.
Over 64,000 of them live in peace among the rich fishing waters off the Northern Bay beaches near Cape Town – that is, for some of the year. From June to September shark season means that the seals have to be careful whilst hunting in the 'Ring of Death' around the island, or risk becoming shark snacks!
How to get there
Book an educational tour with local boat companies leaving from Simons Town for a truly memorable trip (around £27 per adult and £21 per child).
8/9

 Monkey Island, Puerto Rico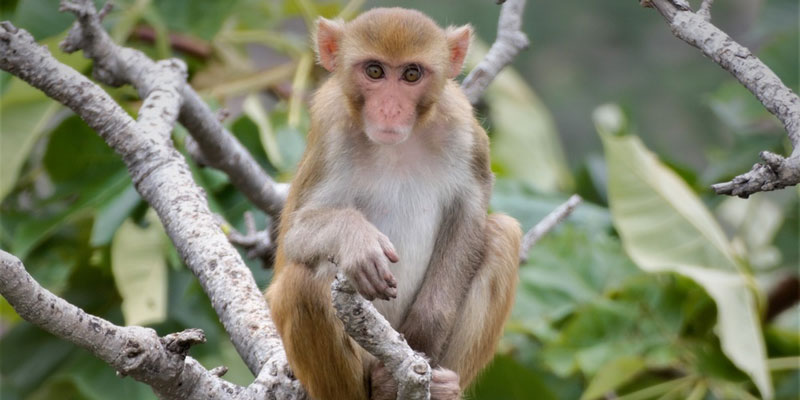 Another group of animals that thrived after being involved in testing labs, the clan of Rhesus monkeys that live on 'Cayo Santiago' has grown to around 1200 in number.
Scientists from Harvard University now carefully watch the monkeys for conservation research. Visitors can watch the cheeky chimps from kayaks on a day trip as people are not allowed onto the island; even a playful bite could be nasty!
How to get there
From Punta Santiago in Puerto Rico, take a day trip with The Barefoot Travellers for around £50 per person to see the monkeys up close.
9/9

Deer town in Nara, Japan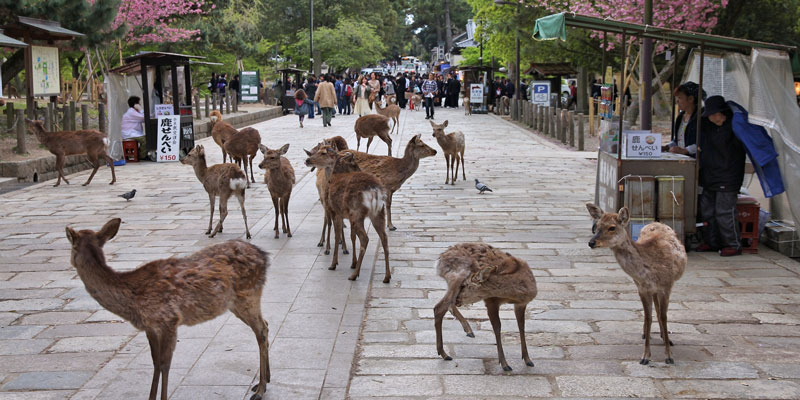 Japan again! (What is it with this place and animals?) In Nara, deer roam freely. Since as long ago as the 12th century, the Japanese have regarded deer to be a symbol of good luck and as messengers of the gods. Until 137 killing a deer was punishable by death and they are still protected by Japanese law, which explains how they have bred so extensively.
These friendly animals are a national treasure. In Nara about 1200 of them whey wander freely and are happy to be petted by visitors. Rumour has it, if you bow to one, it'll bow back.
[youtube id="gSxzTNcVezU"]
How to get there
Nara is an easy day trip from major cities like Kyoto and Osaka. It's also close to Kansai International Airport