A holiday haven
The island has been deeply etched into the history of the English summer holiday.
But if you haven't been back for a while, you're in for a few surprises. There's an amazing new energy about the place, and a slew of stylish new places to sleep, eat and shop, as well as a year round programme of events.
Children will particularly love the chines, the island's special brand of canyons exotically dressed in shaggy ferns, carpets of moss, exotic blooms and pungent wild garlic. Take them for a walk in the footprints of dinosaurs imprinted in the sandstone and go fossil-hunting on Compton Bay. Other attractions include Ventnor Botanic Gardens, known as the UK's 'hottest garden', where subtropical plants thrive outdoors thanks to the remarkable microclimate of The Undercliff. Other family must-dos include the clifftop amusement park at Blackgang, the Isle of Wight Steam Railway, Robin Hill Adventure Park & Gardens, The Needles Landmark Attraction, Brading Roman Villa, Carisbrooke Castle and Queen Victoria's Osborne House with its grandiose children's 'Swiss Chalet' playhouse, nursery and HM's bathing machine, which allowed her to swim in the sea in a modest manner.
For more active distractions, consider taking them trekking with West Wight Alpacas (near Yarmouth), to Quarr Abbey, where they can learn about the daily life of a Benedictine monk, or behind the scenes at Monkey Haven for a 'Keeper for the Day' experience or 'Marmoset Encounter'.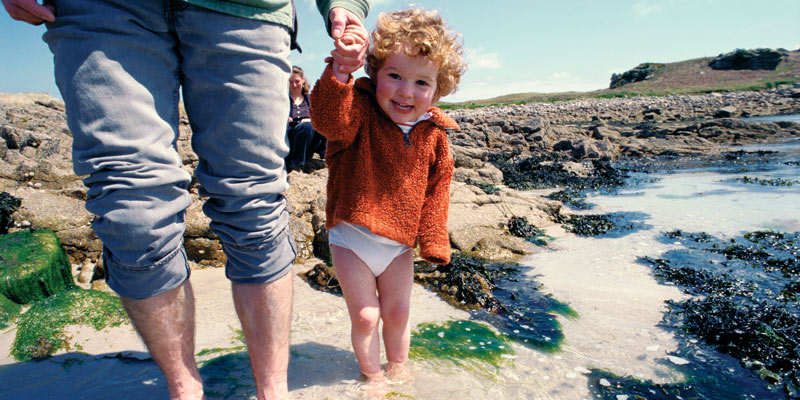 How to get there
Red Funnel: call 0844 844 9988
Route and fares
Southampton-East Cowes: from£59.50
Red Jet Hi-Speed Southampton-West Cowes: (foot passengers only) from £20.50
Family facilities: Red Funnel has recently invested over £4 million in the refurbishment of two of its vehicle ferries, the Red Falcon and the Red Osprey. Families can also buy discounted tickets to Isle of Wight attractions plus camping and touring packages.
Wightlink Ferries: Find out more or call 0333 999 7333
Routes and fares
Lymington-Yarmouth: From £84 on either route. Also rail/pax ferry Portsmouth Harbour-Ryde Pier
Family facilities
In addition to the convenient connections, there are great facilities for families taking an escape to the Isle of Wight. Wightlink's flagship St Clare offers plenty of spacious on board lounges and sundecks. Children can while away the time in the soft play area, or watch a film from an oversized bean bag. With snacks and refreshments available from Greggs or Costa – there is something for everyone on board. Wightlink's free Wightlife app provides plenty of information about year-round Isle of Wight activities, events and attractions.