Family Traveller's Amy Hopkins checks into Four Seasons in Hampshire to find out what the historic manor house hotel has to offer families with young children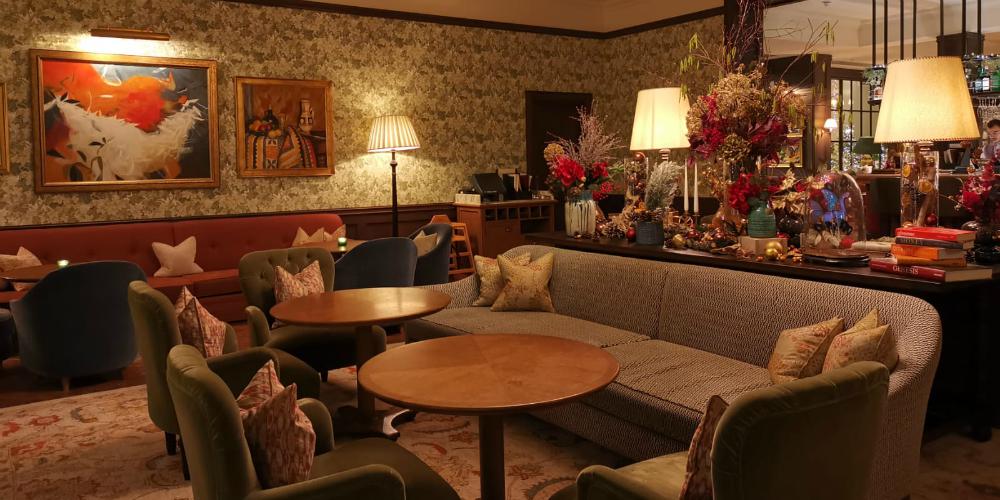 Plastic Scrabble tiles rain down noisily onto the oak floor. Having plucked the Scrabble game from a towering mahogany bookcase, Annie is shaking the box above her head. My 21-month-old daughter is oblivious to her sophisticated surroundings; the luxe wallpaper, velvet armchairs, gold-framed oil paintings and brass lamps that adorn the bar in the Four Seasons hotel in Hampshire. When our waitress, Desree, returns with our drinks and spots the contents of the Scrabble box strewn across the floor she smiles broadly at Annie: 'Ooh, Scrabble? How advanced!' The decor here may be refined, but children are made to feel at home.
Every corner of this stately manor house is twinkling
Annie disappears out of the bar and up the corridor, waving aloft the pink water cannon that she'd selected from the trunk of toys at reception when we checked in. I find her in the hotel stairwell, gazing wide-eyed at a 12-foot Christmas tree, her chubby hands already grasping one of the low-hanging baubles. It's two weeks (14 sleeps) until Christmas and every corner of this stately manor house is twinkling. A mini forest of eight Christmas trees flanks the entrance to the Wild Carrot restaurant while, in the bar, tables bear artistic displays of pine cones, berries, holly and golden hydrangeas. In one corridor, an entire gingerbread village spans two table tops, imbuing the air with the syrupy scent of Christmas.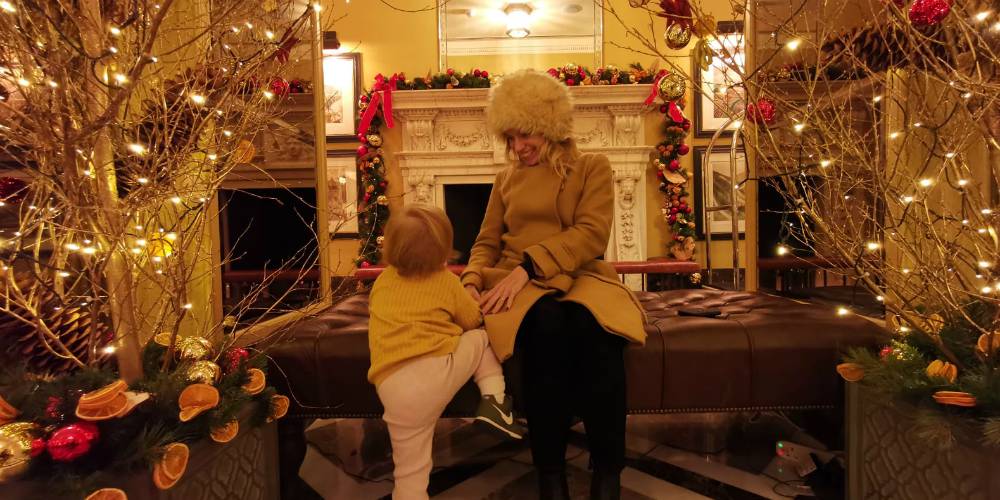 Conditions outside are far less jolly, as southern England is being battered by a storm. Our sturdy Four Seasons umbrellas threaten to turn inside out as we trot across from the main house to the pretty two-storey cottage that houses the kids club, Kids For All Seasons. In less blustery conditions, children make the most of the 500 acres of rolling countryside that surround the hotel, flying kites, doing treasure hunts and visiting the estate's chickens (whom I can only hope are locked away in this weather).
Upstairs at the kids club there's table tennis, air hockey and table football for older children. Below is a large bright room, with the usual kiddie fare; beanbags, building blocks, giant Lego, dolls houses and crafts. Annie makes a beeline for the wooden kitchen and busies herself with loading wooden vegetables into the microwave.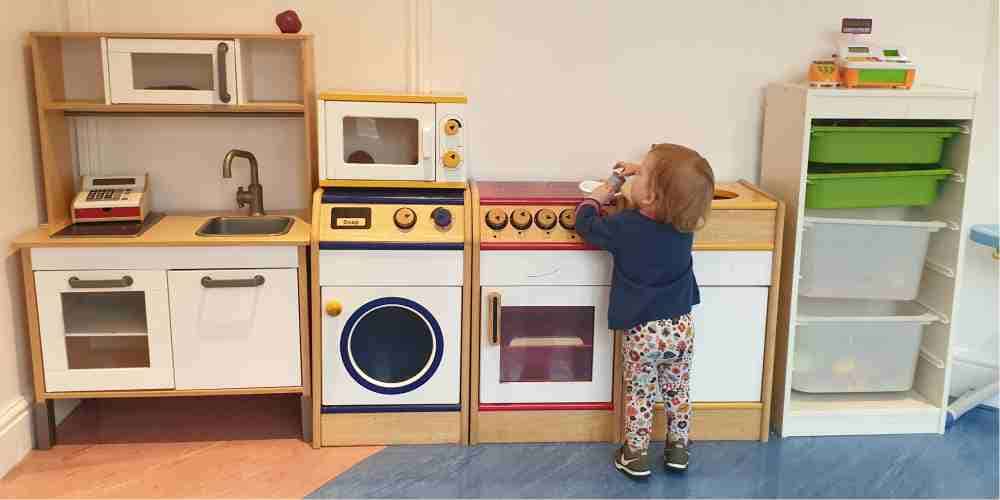 That evening, my husband Nick and I await the arrival of our pre-booked babysitter (who is half an hour late, due a mixup with our booking). Annie occupies herself by turning the minibar into a doll's house, arranging her characters, Jack Daniels and co, on the fridge shelves. Once Anne's in bed, under the watchful eye of a warm Thai woman named Panapa, Nick and I head downstairs to snuggle into a bunkett at the Wild Carrot restaurant. Children are welcome, but a sign discretely asks parents to make sure kids wear headphones when using electronic devices. 
With an Italian Executive Chef, Paolo Belloni, it's no surprise that Wild Carrot's menu shows strong Mediterranean influences (Umbria truffles feature heavily), alongside plenty of seasonal, locally sourced ingredients. 'It's a British kitchen with Italian tricks', explains our waiter, Peter, whose regulation Four Seasons' bowtie and tweed waistcoat is charmingly betrayed by a hipster haircut. I note the British-Italian blend in my delicious dish of king scallops, from the Isle of Mull, served with chorizo. A good meal is followed by a deep sleep on a Four Seasons signature mattress, which has special heat-absorbent technology and, should we wish, is ours to buy for £2,350. 
[soliloquy id="48227″]
At the kids pool, Annie is thrilled with the floating ball that she and other children are gifted by the young engineer, Bobby, as compensation for the fact that the umbrella fountains and bubble jets are temporarily not working. Annie splashes in the shallow water, climbs on my lap to whizz down the four-metre red slide and giggles when her dad blasts her with water from her new water cannon. Before long, Bobby calls out triumphantly and the fountains spring into action, loudly and dramatically shooting water into the air. The other children shriek with delight, but it's all too much for little Annie and she bursts into tears. 
I haven't found perfection at Four Seasons, but this is a divine-looking hotel with good food and great family facilities. I've been most impressed by the generous spirit of the staff, who rush to put things right when there's a problem and delight in kids being kids, even if it means making a mess in the hotel's beautiful bar.
The Lowdown 
Location: Chalky Lane, Hook, Winchfield, Hampshire RG27 8TD
Price: Rooms start at £320 per night for two sharing a Garden View Room (excl. breakfast)
Nearby attractions: Stonehenge, Windsor Castle and the Jane Austen Museum 
Facilities: Restaurant, bar, library, two indoor pools including kids' pool, crystal steam room, sauna,  outdoor vitality pool, spa, tennis court, kids' club. Children under five eat free from the children's menu. Flexible sleeping options for families. Dogs welcome.
Kids' club:  Under 3s can attend with parents or a babysitter. Babysitting costs £54 for 3 hours (minimum of 3 hours) and £10 for every additional half hour. Over 3s: 9.30am and 4.30pm, weekends and school holidays