For many UK families, messing about in boats is in their island blood. Look up in the branches of most family trees and there's a seafaring type tucked away somewhere. We're never more than a few hours from the coast and even staunch UK landlubbers find the ocean's siren call hard to resist.
But, unless you grew up splicing, tacking and bracing, sailing probably seems like a daunting prospect. It doesn't have to be. Did you know you can sail a narrowboat, open locks and navigate the country's inland waterways safely and easily without any experience at all? So if you've a hankering for a canal holiday this year, all you really need's a boat, a route and a few willing kids to man the tow path from time to time.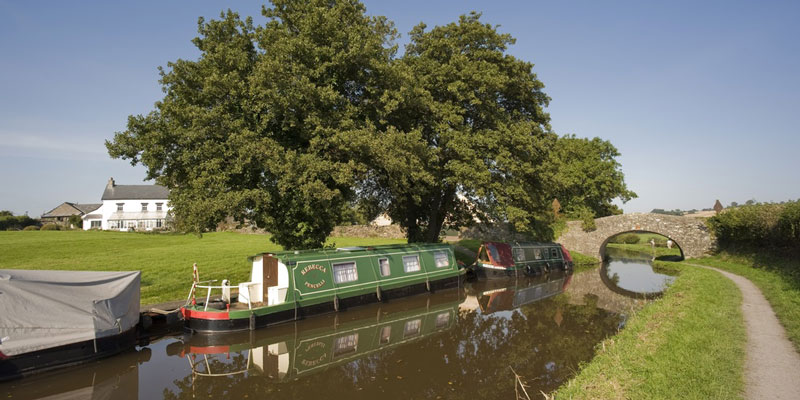 1/5

Monmouth & Brecon Canal, Brecon Beacons National Park

The 56km long Monmouth & Brecon Canal runs right through Brecon Beacons National Park in South Wales. So it probably goes without saying that 'impossibly lovely' is included as standard in this holiday.

Apart from being an International Dark Skies Reserve, Brecon Beacons is home to working water mills, historic houses, outdoor activity centres, adventure playgrounds and almost endless stretches of wild, open countryside to explore. And 40km of the canal's also lock-free, making it perfect for beginners or the truly, shamelessly idle.

Beacon Park Boats build their own narrowboats and craft them from natural materials inside and out. This is the luxury end of the market and not one detail's missed from log burning stoves and crisp, white bedlinen to solid wood kitchens and bathrooms. But all boats are family-friendly and Beacon Park couldn't be more welcoming to kids and pets.

The 5-Star Condor narrowboat is 52ft long, sleeps six people and up to two pets. It's one of seven boats in the Beacon Park fleet and sails the Monmouth & Brecon Canal from Llangattock.

Prices: From £2230 in mid-July for 7-days sailing on Condor.
2/5

The Forth & Clyde and Union Canal, Scotland

Edinburgh International Festival's a real family event in August. It's also the one where city hotels are fully booked and room rates aren't far from a shakedown. But, if you were thinking about a canal boat holiday this summer you could easily fit the world's biggest  arts festival into the plan.

The co-joined Forth & Clyde and Union Canals meet at Falkirk and stretch for 47km in total. Making this the holiday to take in Loch Lomond, see the Trossachs, hit Glasgow for shops and museums, 'do' the Edinburgh Festival and still have some time left for meandering along at your own pace and doing nothing much at all.

Thanks to the huge and impressive Falkirk Wheel, the Union Canal's lock-free and the 11-lock flight on the Forth & Clyde is easy going for even the greenest of sailors.

The 4-star Capercaillie Gosling narrowboat is 63ft long, sleeps eight and welcomes pets. It's available year round and sails from Falkirk on the Forth & Clyde and Union Canals between Glasgow and Edinburgh.

Prices: from £1890 in August for seven days sailing on Capercaillie Gosling.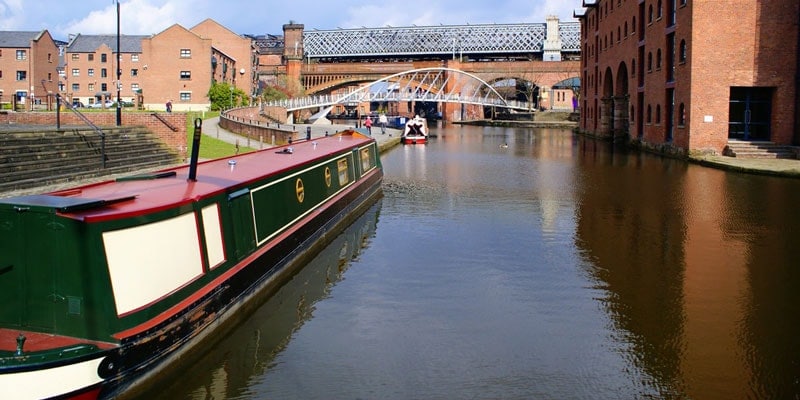 3/5

The Cheshire Ring, Manchester and Peak District

In canal terms, Manchester is to the UK what Venice is to Italy. Add the gorgeously wild and romantic Peak District into the equation and this holiday could be the start of a lifelong passion for narrowboat sailing.

It's a perfect circle, launching at Acton Bridge along the Bridgewater Canal into Manchester, down Macclesfield Canal through the Peak District and onto the Trent & Mersey for a final stretch. Spread across seven days, there's plenty of great outdoors to walk, hike and cycle. And, city in the mix, makes it a good choice for older kids and teenagers.

The Bridgewater Canal's almost entirely lock-free so a nice, easy start for nervous sailors. And this year, you've a chance to be among the first to sail Manchester's newly overhauled waterways and see them at their best, yet.

The Princess 4 narrowboat is 52ft long, sleeps six and welcomes pets. It's available year round and sails from Acton Bridge on the Bridgewater, Peak Forest, Macclesfield and Trent & Mersey Canals.

Prices: from £1359 in July for seven days sailing on Princess 4.
4/5

The Fen Waterways, Cambridgeshire

Second only to the Norfolk Broads, the Fens are Britain's most iconic, mysterious and downright enchanting waterways. And, depending on where your heart lies, the Fens might even have an edge thanks to the colleges and churches of Cambridge and Ely's legendary cathedral.

This seven day narrowboat holiday includes sailing to historic Fotheringay, the charming Tudor town of St. Ives (not the one in Cornwall) and the city of Cambridge. Ferry Meadows Country Park and Ashton Dragonfly Reserve are fun day cruises. And Ely's the city to bring bikes on board for a day out on the beautifully restored waterfront – don't miss the Lantern Tower, you can see right across the Fens from the top.

The Ely narrowboat is 55ft long, sleeps six and welcomes pets. It's available year round and sails from March on the Fen Waterways round Cambridgeshire all year round.

Prices: from £1375 in July for seven days sailing on The Ely.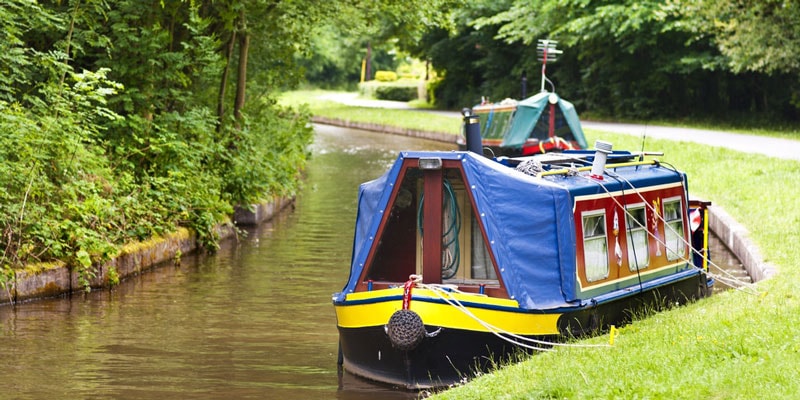 5/5

Llangollen Canal, North Wales

Several of the UK's canals are idyllic, but few have the 18km UNESCO World Heritage stretch which raises Llangollen in North Wales to such stellar heights in the opinion of seasoned narrowboat enthusiasts.

This week long holiday sails almost the entire length of the 125km canal from historic Chirk to the Dee Valley. Narrow ravines, lush countryside, a scattering of easy locks, spectacular waterfalls and mighty reservoirs are the sailing part. And that's mixed in with a healthy sprinkling of ancient castles, stately homes, enormous aqueducts and more than enough towpath for cycling and horse riding.

The Saltash narrowboat is 52ft long, sleeps six and welcomes pets. It's available year round and sails the full or part length of the Llangollen Canal from Chirk in North Wales.

Prices: from £1359 in July for seven days sailing on The Saltash.
7 good things to know about canal boat holidays
Locks are the biggest worry for new sailors. They're very simple and all holiday operators will show you the ropes before you sail away. The Thames and Scotland's Great Glen have lockkeepers. And several canals like, the Union Canal and Monmouth & Brecon, have none or few locks.
You don't need any experience to sail a narrowboat but recommended operators will include basic training which covers: how to steer, daily checks, lock technique and full safety instructions.
Boats are licensed for the canals included in your holiday, if you want to use other waterways you need additional licences.
On all UK canals you can moor overnight anywhere along the towpath free of charge but you have to be at least 50m away from locks.
The maximum speed on the UK's inland waterways is 4mph (fast walking pace).
On a relaxing seven day holiday you should be covering about 15 miles a day.
Younger children should wear lifejackets on deck. Remember to take a pair of sturdy canvas or leather gardening gloves to protect hands at locks.
Now you're in the mood for sailing forth, have a look at where to find more family adventure in 2017.