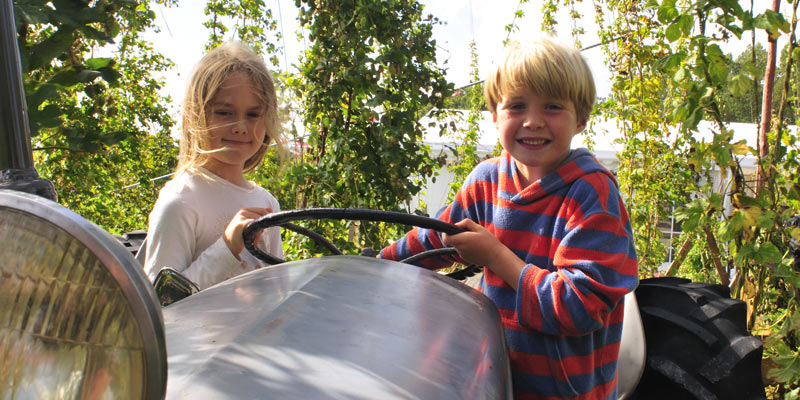 1/15
Hop Festival Weekend
Step back into the past at the Kent & East Sussex Railway's Hop Festival Weekend. The Kent & East Sussex Railway played an essential role in bringing about 4000 hop pickers to Bodiam each summer on specially timetabled trains from London.  The pickers were mainly women, their children and elderly relatives and hop picking often became an annual holiday for families who would stay for several weeks enjoying the fresh countryside air. Over the weekend you'll get the chance to meet former hop pickers who will re-live memories of their long, hot summers. Experience the hop picking way of life first hand in the recreated hop garden – try your hand at hop-stripping and peek inside a hopper's hut where pickers stayed, sometimes for as long as six weeks. These huts were often given a "homely" feel with wallpaper and pictures added to brighten them up. There'll be memorabilia on display at the station together with heritage vehicles and traction engines plus Morris Dancing will add to the nostalgic atmosphere which often sees hop pickers and visitors singing around the camp fire. Enjoy local speciality sausages from the BBQ and fine local ales from the beer tent.
When/where: 10-11 Sep, Bodiam Station, Kent & East Sussex Railway
Price: Tickets including return train travel to Bodiam are – Adult £17, Child (3 – 15 years inc.) £11.50 and Family (2 adults + up to 3 children or 1 adult and up to 4 children) £38
ABOUT THE AUTHOR
Kim Jones is an experienced journalist who has worked at various women's weekly magazines, and now freelances for them and the national papers writing about travel, health and lifestyle. She lives in Cardiff with her partner and their two sons, aged 17 and 13 and loves persuading them all to come away on holidays with her in the family VW camper van.
Find Kim on Twitter @kimsfeatures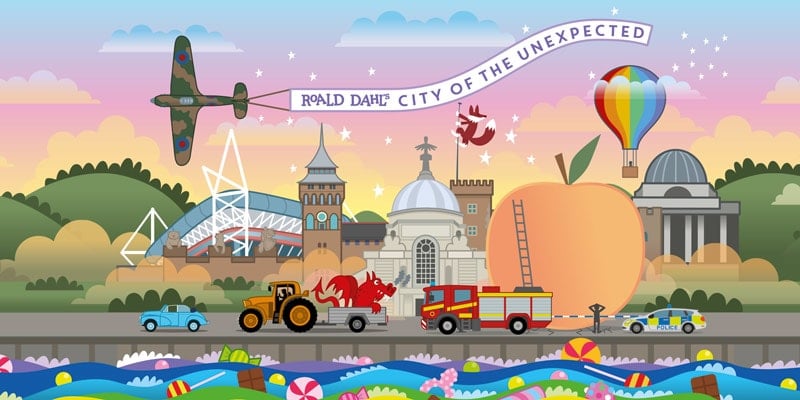 Artwork by Pete Fowler
2/15
Roald Dahl's Cardiff City of the Unexpected
Cardiff is celebrating the centenary of one of its best-known sons, Roald Dahl, with a weekend-long event, showcasing both his distinctive voice and the jewels of the city's buildings, parks and its people. The city will be transformed into a place where the laws of physics and civic predictability will give way to the laws of magic, mischief and the unexpected! The whole city will be humming with whispers of Roald Dahl; on street corners and from rooftops, in markets and cafés, on lampposts and even on your mobile phone. Some of his best-loved stories will be told in the unlikeliest of places by well-known fans. Eye-popping visual spectacles will turn heads and madcap events will defy the laws of physics in some of the city's most iconic locations, including Cardiff Castle and the National Museum. A cast of thousands, from parkour artists to farmers, from pigeon fanciers to puppeteers, will give heart-stopping performances both intimate and epic. Don't miss The Great Pyjama Picnic in Bute Park bringing together all the themes, stories, characters and cast of the weekend in a huge celebration of food, music and story. Come in your pyjamas and bring your own Roald Dahl-inspired picnic.
When/Where: 17-18 Sep, Cardiff
Price: some events are free, others are ticketed. See website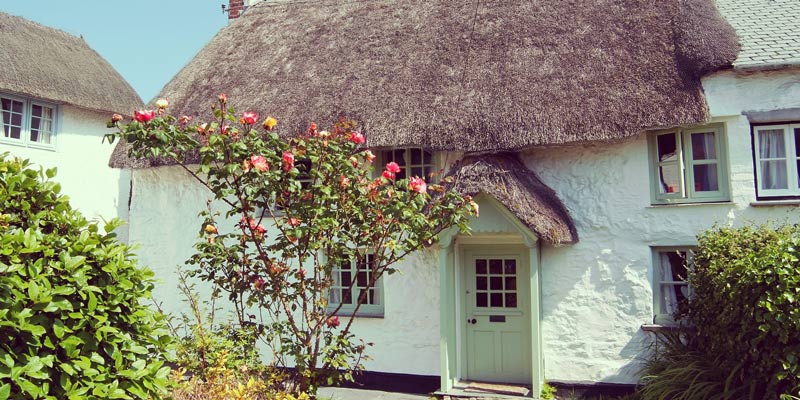 3/15
Classic cottages for baby-friendly holidays
September is the prefect time to head off on a UK holiday with your toddlers and babies. Schools are back and prices have dropped – and with big kids back in class, you have golden beaches and beautiful countryside pretty much to yourselves. Classic Cottages, specialists in pretty self-catering properties in Cornwall, Devon, Dorset, Somerset and Hampshire, have a great selection of extra baby-friendly properties providing cots, high-chairs, stair-gates, baby baths, changing mats and socket covers as standard – and they're easy to find by clicking on the 'baby-friendly' button in the Search Facility.  There are cottages on the coast or in UNESCO Biosphere Reserves – protected landscapes with an abundance of wildlife and rich cultural heritage. So whether you prefer land or sea-centred holidays, you're spoilt for choice. Many cottages have safe, enclosed gardens for carefree romping, play equipment, children's wetsuits available and even goats and sheep grazing in pastures on your doorsteps. Perhaps you'd prefer a cycle path, wood lane, wildflower meadow or nature trail on your doorstep, or a stay on a working farm.
When/Where: all year, nationwide
Price: stays vary, see website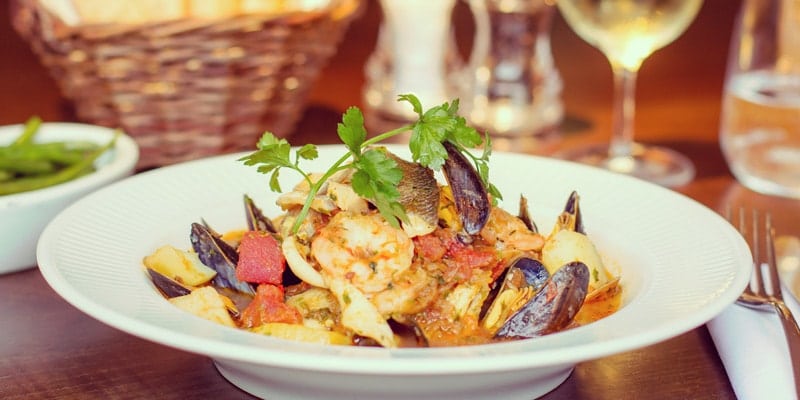 4/15
Family-friendly cuisine at Côte restaurant
It's as if you've popped over to Paris when you walk into a Côte restaurant. Reminiscent of bustling brasseries in the French capital, they ooze Parisian chic and charm, with a super-friendly vibe that welcomes children and families. The menu is top-notch, the wines (as you'd expect) are wonderful (many sourced from small wine producers and co-operatives), service is attentive and, as all your French classics are cooked to order, the food really is first class. Much of the ingredients are authentically sourced from France (corn-fed chickens from rural Brittany, for example) and the Specials menu changes every month, allowing you to try what's in season. There's so much that's wonderful to try, including Pan Roasted Pork Belly with gratin potato, braised savoy cabbage, apples, thyme and calvados jus, Rack of Lamb, Moules, Steaks and for dessert don't miss Côte's crème caramel and crème brûlée which are house specialities. The Children's Menu (Menu Enfants) means little ones dine in style too, and includes crisp and fresh Cod Goujons, Risotto with peas, broad beans, green beans, courgette, baby spinach and rocket, Roast Chicken Breast served with gratin potato and green beans and a Ham and Gruyere Cheese Croque Monsieur. Côte makes a family meal out into a special occasion.
When/where: open daily, 70 restaurants nationwide
Price: prices vary on the À la carte menu. Menu Enfants (Children's Menu) prices vary – from £4.95 to £5.95 per dish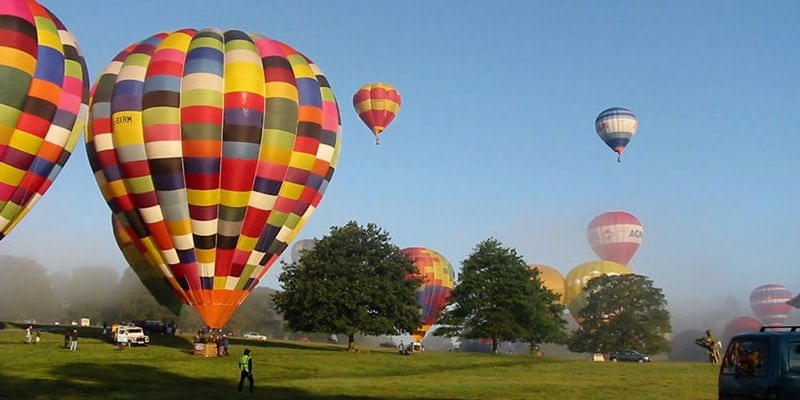 5/15
Chatsworth Country Fair
A feast of live events, fine foods and fantastic entertainment for all the family. In The Grand Ring you can see all sorts of show-stopping acts including The Household Cavalry Musical Ride, the Imps Motorcycle Display Team, The Dog and Duck Show (where dogs herd ducks) plus Falconry demonstrations, a Jump4Heroes Parachute Display Team, the Red Arrows, Dog Racing and lots more. The Showground will be packed with activity including Gun Dog Team Tests, Sheepdog Trials, a Horse Driving Show, Dog Agility and a Military Vehicle Display. If cookery is more your craving, catch demonstrations by master baker Paul Hollywood or have a go at country pursuits like clay pigeon shooting, archery, laser clays, crossbow and fishing. There's also plenty of opportunity to shop at stalls selling everything from children's clothing to cashmere knitwear, pet products, gifts and jewellery.
When/Where: 2-4 Sep, Chatsworth House, Derbyshire
Price: Single day tickets will be available each day of the fair on the gate for £25. Two Day and Three Day tickets are available exclusively on the website and children under 14 go free.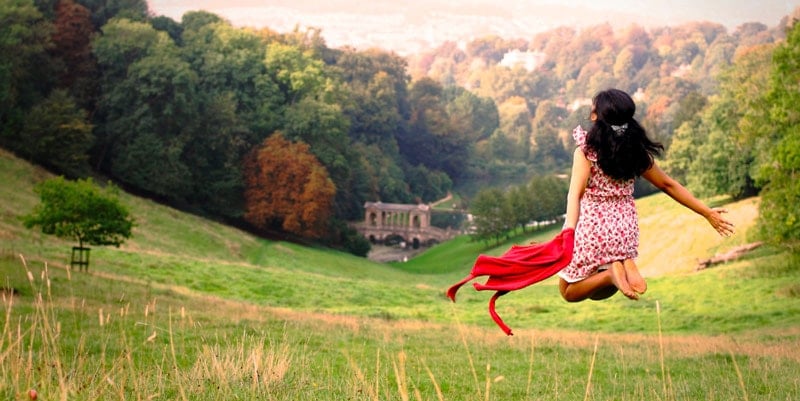 Photo by Saswaka Basak
6/15
Heritage Open Days
There are around 5000 free events in this once a year chance to explore the local landscape like never before, with many historic locations opening their doors for the first time – you can do everything from exploring local windmills and follies to heading underground for an adventure in a lead and sliver mine. This biggest annual celebration of cultural heritage has plenty of highlights this year including plenty to keep your little ones happy. Learn how e-fits help solve crime during identikit sessions at a Criminal Photofit Day at Essex Police Museum or take a trip back to the days of the Vikings at Polesworth abbey in Warwickshire where you can try archery, calligraphy, coin-making and more. There's plenty going on the length and breadth of the country including a Tudor Science Day in Colchester, the chance to board a fishing trawler in Lancashire and tour a Secret Garden in Milton Keynes. Take a look online to see what's happening in your area.
When/Where: 8-11 Sep, nationwide
Price: free

7/15
Potato Shindig
There really is bags of fun to be had at Willows Activity Farm when little ones can get their mitts mucky when they come to harvest their own bag of Picasso potatoes at the Potato Shindig – and take their haul home for tea. Help will be on hand from 'Spuddy' the potato mascot who will be wandering around to meet and entertain your diligent diggers with special children's shows – and all the hand-on activities help your little ones make that all important link between field and fork. After the harvest, you can explore the acres of outdoor and indoor family fun – including the Woolly Jumpers Indoor Play Barn, Peter Rabbit Woodland Play Trail and Cottontail Village and the new Peter Rabbit Adventure Playground with a Jeremy fisher Music Pond and Peter Rabbit Secret Treehouse too. There are also plenty of farm animals and funfair rides to keep everyone occupied for the day.
When/Where: 10-25 Sep, Willows Activity Farm, St Albans
Price: see website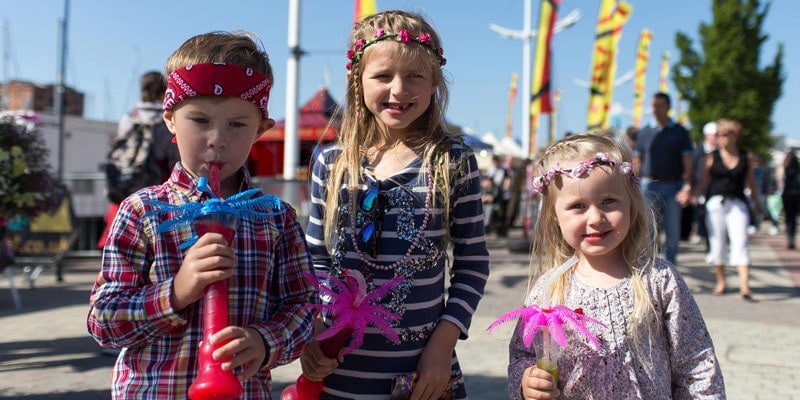 8/15
Hull's Freedom Festival
There are over 200 performances taking place at this festival that celebrates the city's link to freedom and Hull politician William Wilberforce's Act of Parliament which abolished the slave trade in the British Empire. Catch live music, street theatre, pop-up performances, fireworks and lots more. Highlights include ' As The World Tipped' – a show combining dramatic film with breath-taking aerial performances by 'Wired Aerial'; a 4D dance extravaganza by UK company Motionhouse; Gobbledegook Theatre Company's 'Ear Trumpet', a musical installation about listening; Heliosphere by the Dream Engine, a balletic aerial show; cycle-based interactive theatre where you can choose to fly up, up and away or dive deep under the sea with The Flicycle and The Submercycle; and Hodman Dodmanott and Sally Forth, a walkabout puppet act featuring two tiny adventurers from the country of Oblivia, with a lot on their minds and eve more on their backs!
When/where: 2-4 Sep, Hull
Price: free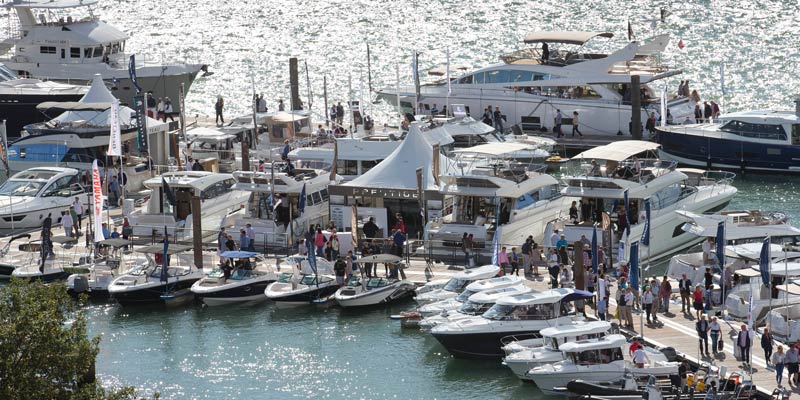 9/15
Southampton Boat Show
Get out your sea legs! Now in its 48th year, the event showcases the very best that the international marine industry has to offer with thousands of boats, brands and equipment on display, featuring the very latest world launches from powerboats to yachts and sailing boats. This year's Boat Show includes one of Europe's biggest purpose-built marinas – over 2km of pontoons with more than 300 exhibitors afloat. There's the chance to try a boat and get out onto the water for free (it's first come first served so book your try-a-boat session as soon as you enter the show – it's available for children aged 8 upwards) and you can climb aboard Tall Ship Armetis to discover more about her history and chat to her crew. If you fancy a blast out on the water, Suzuki will be running free RIB Experience rides and there's also the chance to watch exciting boating races including the Honda RYA Youth RIB Challenge and the Battle of the Classes Pursuit Race.  There's also a Sandpit with buckets and spades, giant Jenga and Connect 4, Get Afloat lessons in dinghies for 8-16 year olds plus Stand Up Paddleboarding sessions. And Bumper Boats is a new children's attraction where – once they've mastered the art to steering the boat, they can also activate the built-in water cannon for added fun!
When/where: 16-25 Sep, Southampton
Price: Standard Day Admission prices (purchased in advance) are £14 for Adults with children under 15 going free (max 2 per adult entry).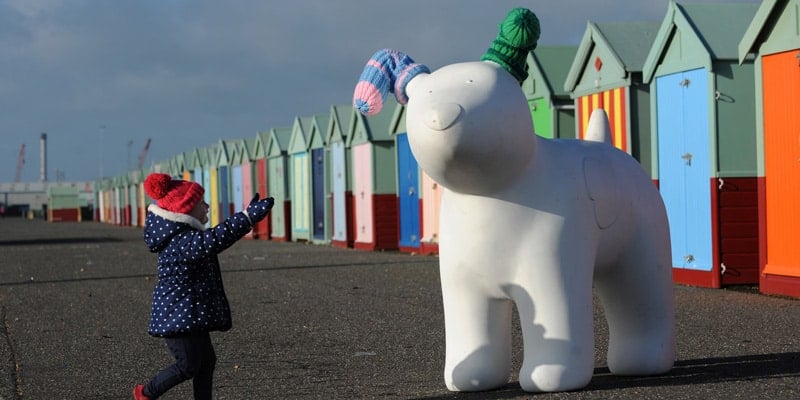 10/15
Great North Snowdogs and Snowdogs by the Sea
Great North Snowdogs is a public art trail of 60 beautiful 1.5 metre high Snowdog sculptures, based on the much-loved story The Snowman and The Snowdog by Raymond Briggs. For ten weeks during Autumn and Winter, streets, parks and open spaces in the North East will become home to a series of exciting and individually-designed Snowdogs, painted by both well-known and undiscovered artists. There'll be a trail map and dedicated app plus a website to follow and lead you from popular tourist destinations as well as lesser-known areas of the region. When the trail ends, the sculptures will be auctioned off in December to raise funds for St Oswald's Children's Hospice. Mini snowdogs will also be created by schools, art clubs and various organisations in the region. Also look out for Snowdogs by the Sea in Brighton – a city art trail around Brighton and Hove featuring 45 giant Snowdogs celebrating Brighton's seafront location as well as some music legends such as David Bowie ('Bow Wow' by Mike Edwards. A pack of 24 Snow Puppies will also be on display, designed by Brighton school children. There will also be lots of participatory events during the trail, such as Pooches on the Prom and Snowdog Dash – and again, there's a trail map and app to follow so you can catch every canine. The snowdogs will be auctioned to raise money for Brighton charity, Martlets Hospice.
When/Where: Snowdogs by the Sea runs from 24 Sep to 27 Nov, Brighton & Hove. Great North Snowdogs runs from 19th September for 10 weeks, Tyne & Wear
Price: free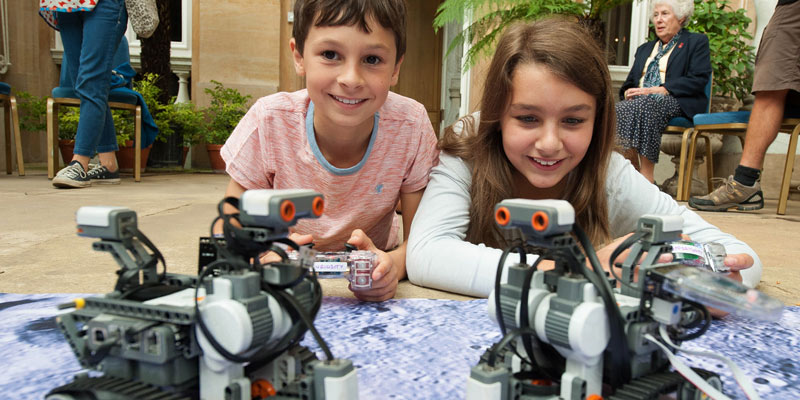 11/15
Gravity Fields Festival
Explore science, arts and heritage during this five-day festival celebrating the legacy of one of Britain's greatest scientists – 350 years after his ground-breaking work on the laws of light and gravity. Inspired by the genius of Lincolnshire-born Sir Isaac Newton, the biennial Gravity Fields Festival is packed with a programme of events, combining music, drama, dance, scientific talks and spectacular outdoor shows. Events include everything from the dazzling LED umbrellas of international creative artists Cirque Bijou to an 'AntiGrav box' that will turn people's worlds upside down and even the chance to explore the scientific secrets of Doctor Who. Join the Punk Science team from London's Science Museum an a show that mixes science with comedy, learn about the science behind rainbows and see scientific glassblowing in action and join Dr Sasha Norris with her owls, hedgehogs and other animals as she reveals the secret lives of wildlife.
When/Where: 21-25 Sep, various venues, Lincolnshire
Price: Some events are free, other event prices vary, see website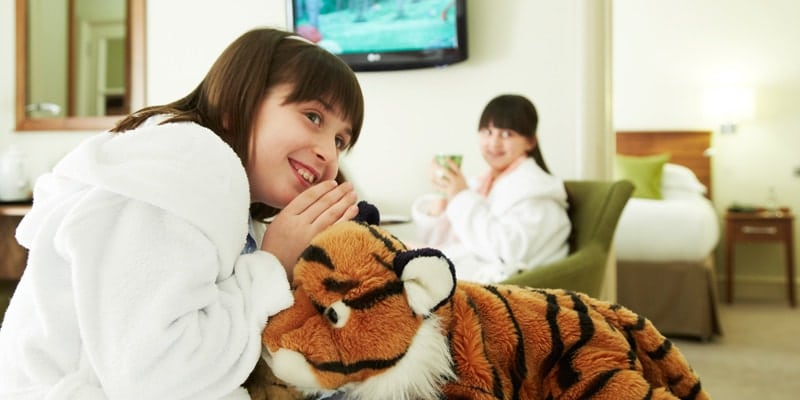 12/15
Woburn Hotel Safari Break
The Woburn Hotel, part of the prestigious Woburn Estate, has a special 'Safari Break' running through September and October, which offers adventure and relaxation in one. First, enjoy a full day of exploration at the award-winning Woburn Safari Park where you can see over 1000 animals including rhino, giraffe, elephants, lions, sea lions, monkeys and more. You'll also be entranced by new arrivals including tiger cubs, bear cubs, monkey babies and otter pups. After a day filled with fun, you can relax overnight in the 4AA star Woburn Hotel in a family room. The break also includes a £60 allowance towards dinner in Olivier's, plus a full English breakfast the following day. Children also get a free cuddly toy to enjoy as a memento of their stay. Also included in the break is free entry to Woburn Abbey Gardens.
When/Where: through September until end of October, Woburn Hotel, Woburn Estate, Bedfordshire
Price: £290 for two adults and two children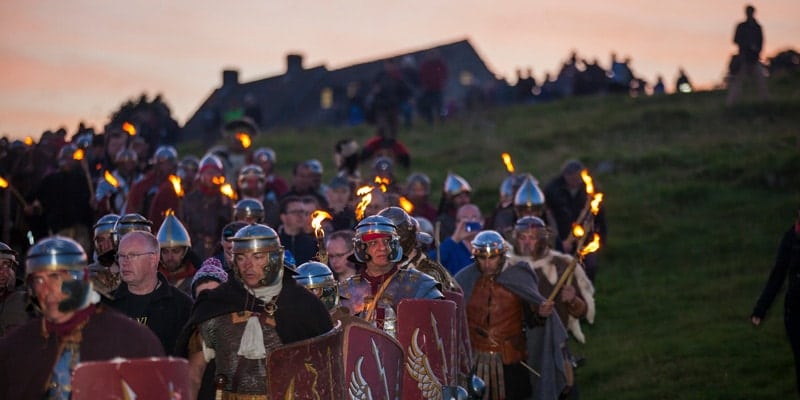 13/15
Hadrian's Wall Live
The Roman Empire is returning to Hadrian's Wall when over 100 legionnaires from all over Europe descend on the historic site for a weekend of invasions, skirmishes and battles. There'll be a re-enactment of a clash between a Roman troop and barbarians during the daytime at Birdoswald Roman Fort. Then you can watch a 'Night Time Patrol' of a Roman legion at dusk at Housesteads Roman Fort – followed by a 'Barbarian Night attack' – a theatrical performance depicting battles, kidnap and a pagan sacrilege! Other activities through the day at Birdoswald will include roman falconry displays, theatre performances, gladiator combats, children's sword drills and Chariot Racing. There'll also be Roman and barbarian camps to explore so you can witness history in action.
When/where: 3-4 Sep, Birdoswald Roman Fort and Housesteads Roman Fort, Cumbria
Price: Hadrian's Wall Live Daytime event is £11 for adults, £6.60 for children. The Night Time Patrol is £10 for adults and £6 for children. The Barbarians Night Attack is free to watch if you have bought a ticket for either of the above events

14/15
Backyard Cinema
This is cinema that really immerses you into a world of wonder! Backyard Cinema are creating a forgotten jungle – in the heart of South London to screen classic adventure films such as The Jungle Book, Hook, Madagascar, The Lion King, Jurassic Park and The Legend of Tarzan whilst you're surrounded by tropical trees and plants, jungle sounds and temple ruins. 'The Lost World' cinema experience will see you make your way through a secret entrance of temple ruins, and have to navigate your way into a land that time forgot. Once making it to the Jungle in one piece, customers will find a screening room decked out with giant beanbag seating, a huge screen and state of the art audio equipment. Grab a jungle themed cocktail or mocktail from the bar and relax into a beanbag as the jungle adventure turns into a cinema experience like no other – taking you to the heart of the adventure big time!
When/Where: select dates from 16 Sep to 1st Oct, Mercato Metropolitano, London, SE1 6DR
Price: Child Ticket – £9.50
Standard Ticket – £16.50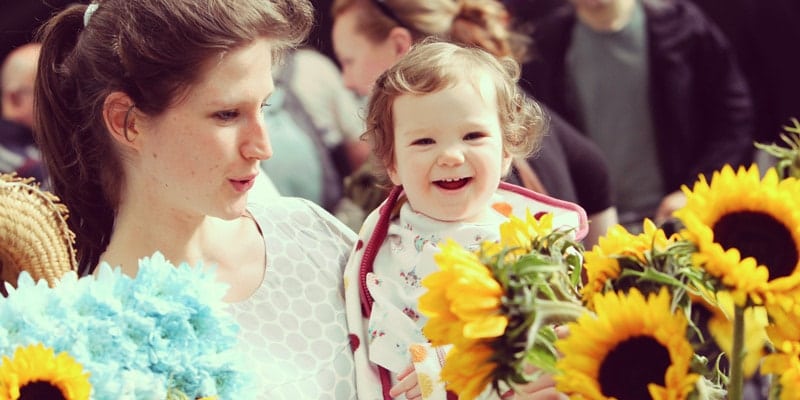 15/15
Malvern Autumn Show
The Malvern Autumn Show is a celebration of the season of mists and mellow fruitfulness, food, the countryside, gardening and nostalgia! As well as plenty of stalls featuring quality plants for sale, craft, art plus a vintage village, there are a host of celebrities at the show including Carol Klein from BBC Gardeners' World plus chef Tom Kerridge who'll be rustling up harvest-inspired dishes and BBC Strictly Come Dancing star Anton Du Beke who will hit the dance floor to showcase dances from the 40s and 50s.  There's also an RHS flower show, delicious produce from artisan producers from all over the UK and a new Family Zone with activities including the Junk Ball Run, circus and garden games. Don't miss the shows in the Activity Arena, including duck herding, dog agility and gundog displays plus catch a ride at the 'Old Tyme Fairground' with an old-fashioned Carousel, Helter Skelter and Ferris Wheel. Other highlights include the UK National Giant Vegetables Championship and the Young Pig of the Year competition.
When/where: 25-26 Sep, Three Counties showground, Malvern, Worcestershire
Price: Advance tickets are priced at £16 for adults and £5 for children. Tickets are available on the gate at £19 for adults and £7 for children. Family and group tickets are available.