Texas, it is fair to say, is big. It is the largest of the 48 states of the contiguous America. It plays host to three of the USA's top ten biggest cities (Houston, San Antonio, Dallas). It does big landscapes and wide horizons. But it can also do small. A road trip between its intriguing capital Austin and nearby San Antonio can be a leisurely affair that requires little effort at the wheel, while leaving plenty of time for the inviting resorts and flavoursome barbecue eateries that dot the area – making it an alluring place for families. Further information: traveltex.com; austintexas.org; visitsanantonio.com.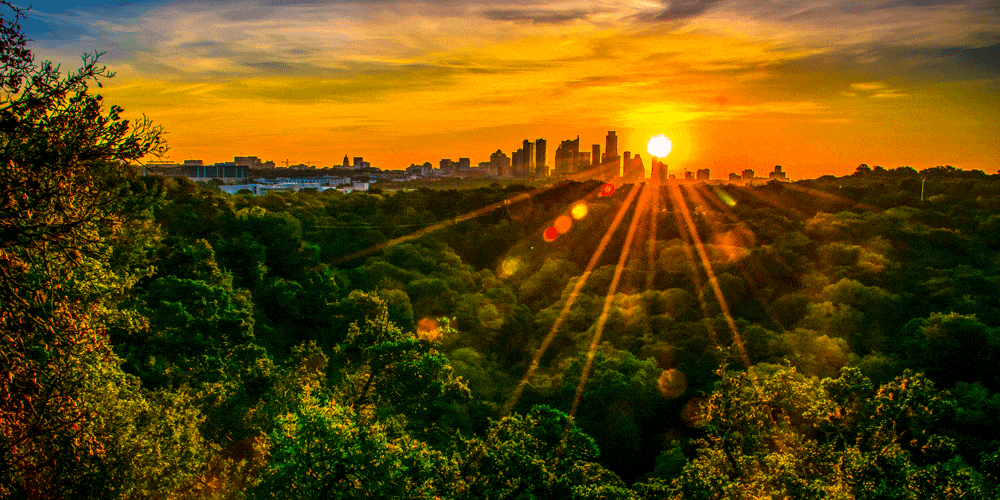 Days 1-3
Austin revels in a reputation as a hotspot of music and art. But it is also a fine place for children. The Thinkery (thethinkeryaustin.org; general entry £5.50), its main institution for the young generation, is equipped with a series of thought-provoking sections. Spark Shop lets guests try unusual activities like painting with wax. Light Lab lets them 'draw' with light, and learn about shadow and colour. Space 8 is aimed at kids over the age of seven, a workshop where they can build and engineer their own creations. The Congress Avenue Bridge, in the heart of the city, is a simpler pleasure. In summer, it is home to the world's largest bat colony – 1.5 million Mexican free-tailed bats, which live in the gloom under the structure's arches. A crowd gathers on most evenings to see the quick-flying animals emerge at dusk – a spectacular and free display of nature at its best. Elsewhere, Lake Travis Zip-Line Adventures (ziplaketravis.com; general entry £67), on the north-west flank of the city, is the longest zip-line course in Texas – a five-section adrenalised escapade which whizzes participants through the heavens above the water. Riders must be at least 10 years old to take part. Night flights are available for extra thrills.
Stay: Barton Creek Resort and Spa (omnihotels. com), just west of the Texan capital, makes for a happy base when you're visiting Austin. It offers indoor and outdoor swimming pools, a challenging mini-golf course, and family rooms from £153 per night.
Day 4
Leave the capital behind in search of the short-on-fussiness, big-on- portions barbecue restaurants in which Texas specialises. Driftwood, immediately south-west of Austin (take the 1 and the 45 to Bear Creek, then the 1826 to reach this little town) caters to (very) hungry diners via The Salt Lick (saltlickbbq.com), a local landmark where meat is cooked on sizzling open grills. Those feeling really ravenous may want to opt for the 'Family Style' feast of beef and pork which costs £16 per adult and £5.50 for the under-12s.
Stay: The Lodge at Cypress Falls (thelodgeatcypressfalls.com) is a hill country retreat with large pool, smaller baby pool and family rooms for £70
Distance in the day: 24 miles
Day 5
Meander east on the 967 and the 45 – then turn south onto the 130 near Mustang Ridge. Lockhart, just ahead, is another feasible pitstop, where you can fill your stomachs at Black's Barbecue (blacksbbq.com) – a fixture in town since 1932. Alternatively, take the 183 further south to Luling, where Luling Bar B Q (lulingbar- b-q.com) deals in giant plates of chicken, pork ribs and smoked sausage, as well as burgers for unconvinced kids.
Stay: The Best Western Plus Longhorn Inn (bestwestern.com) is a comfy mid-range hotel with an outdoor swimming pool and family rooms for £69.
Distance in the day: 53 miles
Day 6
Head west on Interstate 10 and switch to the 46 at Seguin, following it north-west to Bandera. This dusty town pushes itself as the 'Cowboy Capital Of The World', a claim born when it was the start-point of the Great Western Cattle Trail in the 19th century. Nowadays, it keeps up its image via a host of horse-related attractions. Families can explore the dramatic surrounding terrain from the saddle at Bar M Guest Ranch (bar-mranch.com) which offers trail rides that take guests past burbling creeks and onwards up stark cacti-laden hillsides. Prices start at £22 per person per hour.
Stay: The ranch has accommodation which sleeps up to four from £63 per night
Distance in the day: 109 miles
Days 7-9
Drop south from Bandera to Hondo on the 173, then take the 90 due east into San Antonio – home of the famous Alamo – which offers plenty for children. The DoSeum (thedoseum.org; general admission £7) is the main landmark for youngsters – a museum where visitors can 'paint' with light and sound in the Sensations Studio, let off steam in the Big Outdoors zone (with its myriad obstacles designed to have kids climbing, crawling and running) and use their maths skills to crack secret codes and become super-sleuths in the Spy Academy.
Elsewhere, Six Flags Fiesta Texas (sixflags.com/fiestatexas; adults £45; kids, under 48in
tall, £35) offers nine water rides and eight rollercoasters. The latter list includes the 'floorless' Superman: Krypton Coaster, and,as of May, a superhero rival in Batman: The Ride, the world's first '4D free spin' coaster, which zig-zags as it flips its riders six times.
Stay: La Cantera Resort (destinationhotels.com), a neighbour to Six Flags, has five outdoor pools (including a kids' pool) and family rooms costing from £167
Distance in the day: 71 miles