A family holiday to Disney World Florida is an exciting but daunting prospect. Lucy Pares (below, far left) does the groundwork for you, and reveals where to stay, eat and play to make your Disney holiday as magical as possible. 
Plan your adventure here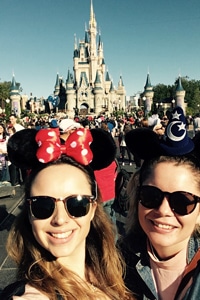 Disney World Florida is huge. Spanning 25,000 acres (larger than Greater Manchester!) it's a jungle of creativity, excitement and magic, which envelops all your senses and sends you reeling, not knowing where to begin.
To help you and the kids make the most of your Disney break and avoid feeling completely overwhelmed when you first step foot in the park, I headed to Orlando to discover the must-see attractions, hotels, restaurants and activities for families (tough job, I know!).
Where to stay
No, you won't be imagining things, there really will be giraffe and zebra standing outside the balcony of your room, chomping on their breakfast. Disney Animal Kingdom Lodge lives up to its name and is home to over thirty species of African wildlife, including gazelles, flamingos and kudu.
The décor of the entire hotel, from top to bottom, is African inspired with a lobby carved out of wood and restaurants that serve African-inspired food. Each room even has wallpaper showing a map of Africa, detailing the names of countries and cities. Request a family room to make sure you get bunk beds.
There's a children's activity centre called Simba's Clubhouse available to kids between the ages of three and 12 where they can make friends, play games, watch Disney movies, do arts and crafts and give parents time to relax and enjoy one of the many restaurants. If you want to eat inside the hotel, I'd recommend Jiko – The Cooking Place, a fine dining restaurant which serves exquisite African-inspired cuisine (the filet mignon is a must!)
What to see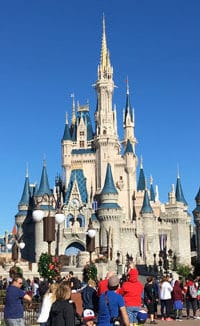 If you've never seen the parade at The Magic Kingdom then add it to your bucket list. It's an entourage of floats magically decorated to recreate the film sets of popular Disney movies. I spotted all my favourite characters from the old classics – Little Mermaid, Cinderella, Beauty and the Beast and the more contemporary – Merida from Brave, and Elsa from Frozen. In between each float are dancers and characters dressed up, interacting with the crowd.
For a spectacular view of The Magic Kingdom fireworks I drove to the closest hotel, The Contemporary, an enormous building with a retro 70s style interior. Up on the 15th floor sits The California Grill which provides a breathtaking view across the Magic Kingdom, it's the perfect viewing station to watch the fireworks, which start at 8pm sharp.
For the best views from your seat, get there early and request a table right next to the glass side of the restaurant. The fireworks are impressive, lighting up Cinderella's Castle (left), with Disney music playing throughout, of course. Keep eyes peeled for Tinker Bell at the start, she's darting around playfully at the very top of Cinderella's Castle.
If you just can't get enough of fireworks, let the force guide you over to Disney Hollywood studios one evening to see Star Wars: A Galactic Spectacular. Whether you're a super fan or never seen a single movie, it won't matter. The show is a flurry of activity jam packed full of projections and pyrotechnics to create a mesmerising show. There are old scenes from the greats, Harrison Ford and Carrie Fisher and new clips of Kylo Ren, lightsaber in hand. Both firework shows are great evening activities for the entire family.
Unmissable rides
A personal favourite ride in EPCOT was Soarin' Around The World, a flight simulator in which we sat in hang gliders and quite literally soared around the world. One minute we were gliding across the Serengeti chasing a bustling stampede of elephants and the next we were shooting over The Grand Canyon, feet dangling in the air. Kids must be over 1.02 metres to embark upon this ride and the queues are relatively long but it's well worth the wait.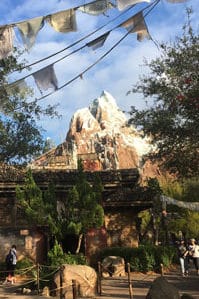 Another favourite, Expedition Everest (right), can be found at Disney's Animal Kingdom (my favourite of all the parks). It's an exciting rollercoaster full of surprises, dark tunnels and epic views based around Mount Everest. Other roller coasters not to be missed are Seven Dwarfs Mine Train, Big Thunder Mountain Railroad and Rock 'n' Roller at Disney Hollywood Studios. Mums and Dads, you'll feel nostalgic whizzing through the darkness to Aerosmith's greatest hits. All these rollercoasters also have a height limit of one metre.
There are also plenty of rides for children below one metre, so don't panic! I queued to ride It's a Small World, Peter Pan's flight and Buzz Lightyear's Space Ranger Spin at The Magic Kingdom. EPCOT's Frozen Ever After, is one of the newest rides, a dream come true for any Frozen lovers. There's also no height restriction to sail through Tortuga to spot Captain Jack Sparrow up to no good. Bonus point for the super fan who knew that The Pirates of the Caribbean ride actually inspired the movie, not the other way round!
Are you brave enough to ride the Tower of Terror?
[youtube id="Qkj8tjW90CY"]
Animal encounters
After the raucous excitement of the park's famous rides, head over to Disney Animal Kingdom to enjoy a relaxing drive with Kilimanjaro Safaris. Keep cameras at the ready whilst your guide drives you through a 20 minute expedition through the Harambe Wildlife Reserve.
At 110 acres the Reserve is dedicated to the protection of African animals. I spotted hippos basking in the sun, lions sat proudly on the highest rocks and a rare white rhino just metres from our vehicle. There are over 34 different species of wildlife roaming the reserve and the kids will have an educational experience with the guide providing a constant stream of information all the way round.
There's simply too much on offer at Disney World to cover it all in one holiday, but I hope this guide gives you some clues about where to start. Now the only thing left to do is book. As the wise Walt Disney said himself: 'The way to get started is to quit talking and start doing.'
Ultimate Disney Cruise and Stay Holiday sample package
Price: A 14-night holiday for a family of four (kids aged 3-12), starts at £1,455pp
What's included?
14 nights in Orlando with Walt Disney Travel Company
Return economy flights with Virgin Atlantic from London Gatwick direct to Orlando
Accommodation at Disney's All-Star Sports Resort
Available during school holidays
Book by 29 March 2017 to get a Disney 14-Night Ticket for the price of seven