Jane Anderson and family explore Shangri-La Villingili Resort Maldives, where they discover conservation, coconut climbers and the world's smallest mountain
Passing the staff at the Shangri-La Villingili Resort Maldives is a soulful experience. Instead of a wave or a hi, they put their hand to their hearts and look into your eyes sincerely with a nod. My nine-year-old Fin thinks that should be a greeting the world over.
It's certainly a contrast to London life. But of course, that's what the best holidays are all about – new experiences. I've never understood that desire for a 'home from home'. I relish the fact that compared to my Victorian house on a grey day in South London, this private island resort on Addu Atoll could be another planet with its turquoise-infused, hyper-real beauty.
Addu Atoll is the southernmost in the Maldives, an island nation made up of a staggering 1,190 islands and 26 atolls. During the hour-long flight from capital Male to the southern outpost of Gan, we all received certificates as we passed the Equator, as though we'd done something clever to achieve this. From Gan, it's a blissful 10-minute boat ride to our bijou paradise island. Yet go south from here, and there's nothing but ocean until you meet Antarctica.
It's a slightly unnerving yet thrilling thought to be on such a tiny, jungly island (you can cycle the entire 3km length in about 15 minutes) with the might of the ocean all around. It certainly puts the fragility of the Maldives and its coral reefs into perspective. And gazing up into the sky at night with no light pollution, a similarly overwhelming yet comforting sense arises of the might of the universe. We can see Venus, a yellowy Mars and the Milky Way in all its glory. Most nights, there are more stars than sky.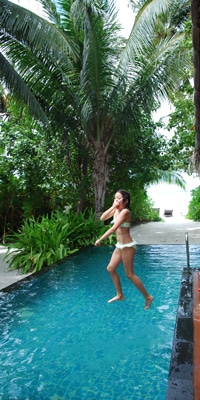 Shangri-La Resorts have both tamed and liberated this island. Building vast overwater and land villas to luxurious standards that are as welcoming to families as honeymooners, they have preserved and protected the jungle interior and marine environment.
The fabulous chef's garden (see below) is proudly shown off by the local gardeners who will give you and your kids a heart felt guided tour of the rocket, spring onions, passion fruit, curry leaves, basil, mint, coriander, ginger, cabbages, ladies finger, dragon fruit tree and corn. The soil isn't brilliant, and there's always the risk of the flying foxes eating the fruit, but this is an ongoing experiment into what grows well. Shangri-La Villingili is actively encouraging locals to grow their own produce off the island and sell it back to the resort at a good price.
Jobs have also been created for unskilled local ladies who gracefully maintain the grounds and there's also an initiative to employ young local guys in guest relations.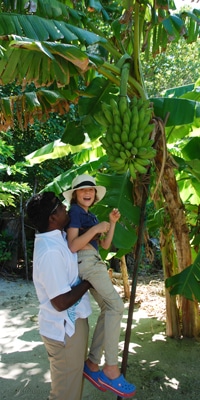 Our two-bedroom villa with it's private pool (see right) and hammock in the garden has its own sandy opening in the lush forest leading to a stupidly beautiful white sand beach and Tiffany blue water – the kind you only get in the Maldives. There are plenty of impressive shells, coral and scuttling crabs as the sun sets. It's a palatial place to stay – there's a gorgeous outdoor shower and the bathroom has a vast stone bath that makes my kids look like they're bathing in half a dinosaur egg.
Our island host, Wishaan makes sure we all have bikes to use at any time during our stay. This is one of my favourite things about this resort as it gives you such freedom to explore, pedaling along sandy paths with flip flop feet, with the added novelty of leaving your bike anywhere unlocked and knowing it will still be there on your return. Fin likes cycling beneath the banyan trees, hurling down his bike and swinging from the vines.
Home to over 17,000 palm trees, the coconut is king here. It's the Maldives national tree and is used for food, drink, decoration, rope, skincare and much more. There are five official coconut climbers on the islands whose entire days are spent maintaining the coconut trees so that coconuts don't fall on guests' heads. Scarlett and I are treated to the sight of one of the coconut climbers shimmying up a tree of enormous height to lop great heavy branches off and coconuts. On the ground again he dexterously cuts open a coconut and reveals one full of soft coconut filling used in desserts.
One of the highlights of our stay on this incredible island is coral planting. We head to the Eco Centre to meet Asim who explains that coral is a living creature, under massive threat from the effects of climate change, pollution, overfishing and erosion. He tells us that the National Oceanic and Atmospheric Administration (NOAA) estimated in 2013 that 60% of the world's coral will die before 2030.
It's a disheartening prediction, but one that fails to deter conservationists like Asim. And I feel immensely grateful that my children are aware of this plight and are lucky enough to see coral and all the marine life it supports on this trip. More reason to head to the Maldives now and spread the word about the plight of the oceans.
We head out to the walkways over the stilted villas where Asim jumps into the blue with his snorkel and bucket to collect coral that is half dead and half alive. The dead coral is white and the live coral is a kind of greeny yellow. Wearing gloves he brings the pieces out of the water and snaps off the dead pieces, laying five pieces out like cuttings from a plant. Next comes the ingenious part. He gets five fist-sized plugs of concrete and gets the kids to stick the coral onto the concrete with waterproof putty and glue. We gently take the seedlings down into the water with our snorkels to the coral gardens, metal grids where the concrete plugs slot in. Coral will grow if it's anchored down and Asim says 75-80% of replanted coral will grow. We take a snorkel tour of the coral nurseries, all at different stages of growth and it's heartening to think our coral might flourish – though obviously it's just a drop in this vast ocean.
Just beyond the nurseries, we head to the house reef clearly marked by red buoys just beyond the overwater villas. The kids are treated to the awesome sight of healthy coral, iridescent purple and blue clams and many tropical fish darting around such as trigger and parrot fish. Scarlett has a young green turtle come right up to her mask and we also catch sight of a black tipped reef shark.
Back on the island, we are treated to a guided nature walk through jungle – a mini safari to spot the flying foxes, white terns, hermit crabs, white breasted watermen and lizard. There are three fresh water lagoons around the island, each in a different colour. In the green lagoon you feed Tilapia fish and milk fish.
The conservation work being done on the island has released it back to nature with an abundance of birds and flying fox (fruit bats). We have one that lives in the tree of our private beach villa – the kids call him Mango and one evening he puts on a spectacular display, swooping over the thatched roof and almost dive bombing our garden before settling upside-down in a tall palm and wrapping himself up in his wings – like a cloak.
You might think you'd get bored on this tiny sliver of an island, but there's a plethora of things to do here. Shangri-La has the only 9-hole golf course in the Maldives, which is also home Mount Villingili, the smallest mountain in the world, yet the highest summit in the Maldives! Golf pro, Munaf from Indonesia gives us a quick lesson with varying degrees of success as balls fly off palm trees and into bunkers. None of this matters of course, as it's so incredibly beautiful.
Another day we head out on a cruise ship to spot Spinner dolphins small athletic dolphins that literally spin for joy in the water as they skim close to the ship's bow. Like the Addu Atoll bananas, they are small and perfectly formed and you can't help but be uplifted by their sociability.
There's all manner of watersports to try out including the seabob – like a jetski but you're pulled along in the water. Then there's a tennis lesson with Laura, the Jim Courier Tennis Pro. But one of my highlights is the Chi Spa – utter heaven for mums and dads and kids over 12. The coral stone tower with running water in the lobby sets the serene tone. There are 11 separate spa treatment suites and two mediation pavilions built on old WWII pillboxes overlooking the ocean, giving away the fact that the island used to be an army base. How progressive that what was once used for cannons is now used to meditate.
Scarlett and I have a restorative mother and daughter yoga session with Mandy from YogaSphere. And I have a Kandu Boli Ritual in Namka (rainbow) treatment room that's open to the ocean. It's stupidly good beginning with warm shells over my ears and a chant before a beautiful massage with shells and expert hands, ending with the healing feeling of hot oil in my hair and a head massage. Total bliss.
After an evening fishing trip, we return to a private dinner on the beach. A table has been set up near our villa with coconut leaf archways and burning torches. We're served up a beautiful array of dishes such as Maldivian yellow fin tuna curry, and chai brulee infused with tea and spices served with passion fruit sorbet.
Our smiley waiter Ahmed Ali folds origami angelfish for the children out of coconut leaves. He tells them to use them as bookmarks so that they dry out in the leaves of the book. It's another heartfelt gesture making us all prey that the Maldives survive the challenges thrown at it by a changing world.
Shangri-La Villingili Maldives: The Lowdown
Getting there
Destinology offers seven night stays at Shangri La Villingili from £6,659 for a family of four (2 adults and 2 children under 12).  Offering a 40% discount and a saving of over £1,800 per family, this is based on a family sharing a pool villa on a b&b basis and including economy BA & Qatar Airways flights from London Heathrow (BA to Doha, then Qatar Airways to Maldives) and combined domestic flights & speedboat transfers in the Maldives.
The Cool Zone kids club welcomes children aged 4-12 from 10am to 7pm and is complimentary.
Gan is now an international airport with flights from Colombo, Sri Lanka with SriLankan Airlines. This makes the Shangri-La Villingili a great two-centre combination with Sri Lanka.
Find more about fabulous family holidays to the Maldives here
Mariella Frostrup took her kids to the Maldives to learn how to dive. Discover how they go on here