1/10

The Vendée, France
Hire a motorboat
The Renaissance town of Fontenay-le-Comte is an ideal base for families to visit the Vendée. For beach life visit the pretty dunes of Ile de Ré, or travel by causeway to the picturesque Ile de Noirmoutier to view its atmospheric saltpans and colourful ports. Further inland you will often find families paddling a boat around 'Green Venice', a blissfully peaceful maze of narrow waterways. You can also hire motorboats to explore at Marans and later on enjoy a nightime show at the historical theme park 'Le Puy de Fou'.
Flights: Flights from London to the Vendée take around one and a half hours with prices starting from £120
Where to stay: Hotel La Baie Sables offers a family of four a room for seven nights for £730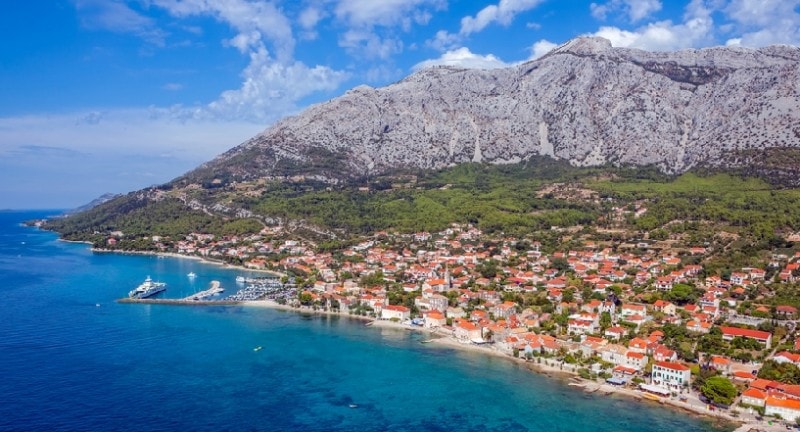 2/10

Pelješac, Croatia
Try water sports
Only two hours north of Dubrovnik, the Pelješac peninsula is in the heart of the wine-making region of Croatia. Blessed with glorious clear-watered caves, families can enjoy soft shingle beaches at Orebi or water sports at Viganj. You can all enjoy an array of harbour side restaurants in Loviste which lies at the furthest tip of the peninsula, and even gourmet seafood at Mali Ston. You can even buy the region's famed earthy red wines directly from the vineyard's to enjoy back at your villa.
Flights: Flights to Pelješac take around two hours and 40 minutes with prices starting from £305
Where to stay: The Apartments Tatjana offer a two bedroom apartment for families starting from £657 for seven nights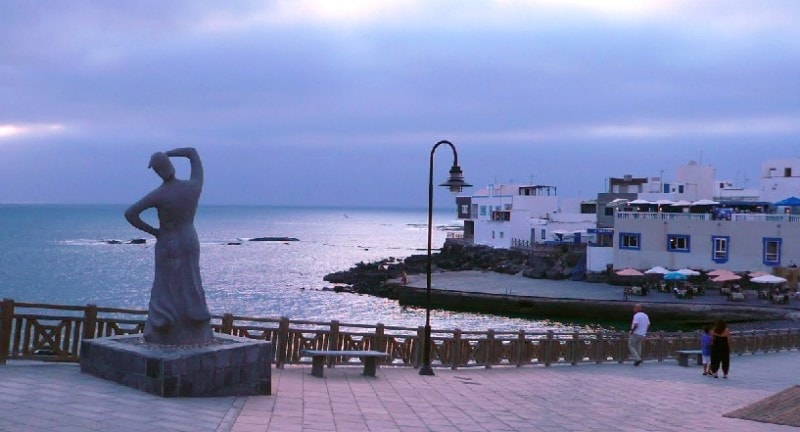 3/10

El Cotillo, Fuerteventura
Escape to an island
Bypass the larger resorts on the south of the island and head for the quaint fishing village of El Cotillo on the northern tip where you'll find lagoon beaches of blinding white Caribbean-style sands. Horseshoe-shaped shelters provide shelter from the wind, which can be fierce enough to demand a retreat from the beach – this is when a private pool comes in handy. The villa enclave of Corralejo on the other side of island is ideal for a visit to the nature reserve of Lobo Island.
Flights & where to stay: Expedia offers flights and a stay at Hotel Mirado de Lobos Golf for £723 pp for a week for a family of four. Flight time is around four hours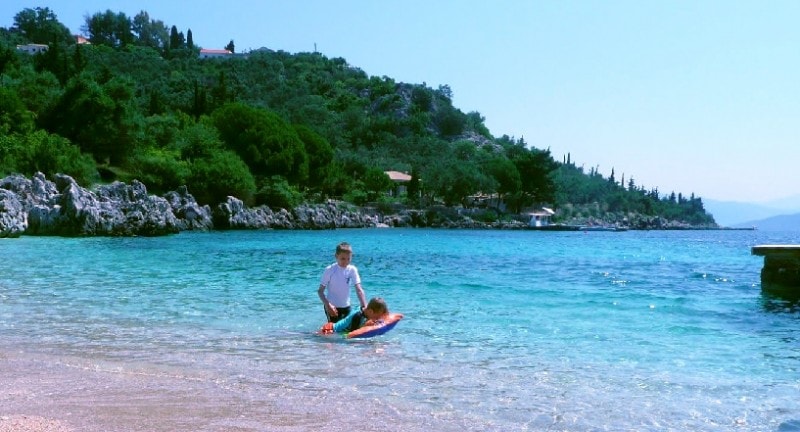 4/10

Nissaki, North East Corfu
A family hideaway
Head north from the airport and whizz past the tourist traps to the North East to find villas perched on hillsides overlooking beautiful ocean vistas, privately tucked in among olive groves. The pretty beaches at Nisaki, Agni, Kalami and Agios Stefanos can become busy in the high season so it's a good idea to opt for a villa with a private pool to retreat to if you're going at this time. Alternatively, go during May half-term – the weather's good enough and the prices are lower.
Flights: Flights to Nissaki take around three hours with prices starting from £369
Where to stay: Nissaki offers Villa Diana which sleep two-six people for £1345 per week (prices vary, depending on time of year)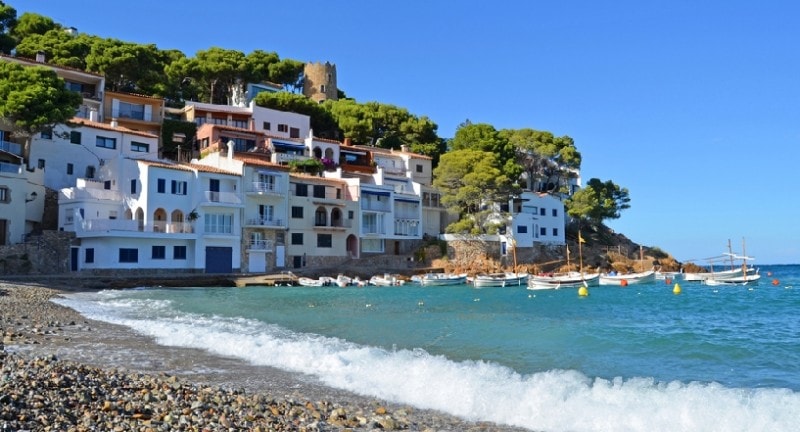 5/10

Begur, Costa Brava
Explore sandy coves
In this Catalan enclave near the French border, the craggy coastline has prevented building on the scale that has been seen on many Spanish costas. Try out the gorgeous sandy coves at Tamariu, Calella, Llafranc, Aiguafreda, Fornells, Sa Riera and Sa Tuna in the morning, and head back to your base in Begur to sample the fantastic Catalan food. Set slightly inland, its views were the justification for a 17th century castle, and you can find cool restaurants in its crumbling medieval streets.
Flights: Flights to Begur take around three hours with prices staring from £207
Where to stay: Try the Arrels d'Emporda apartments, which offer a two bed apartment for seven nights from £1,593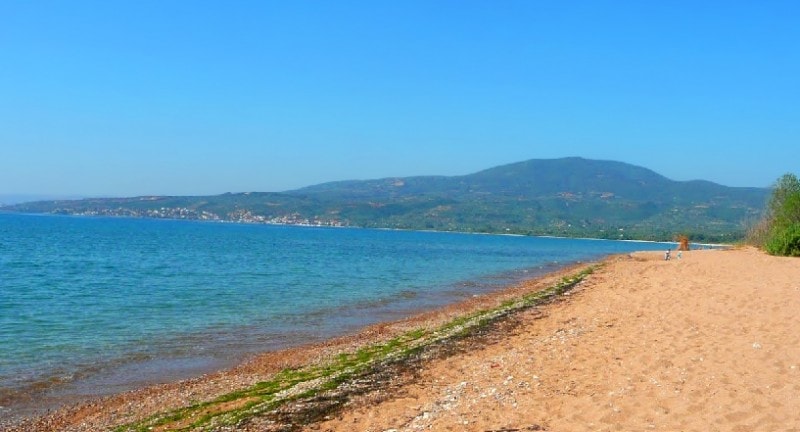 6/10

Messinia
Picturesque beaches
Find flights into Kalamata and it's an easy drive out to this finger of the Peloponnese. While you'll hear very little English spoken in August, families can enjoy acres of sand to themselves, and kids can model their sandcastles on the real life relics overhanging the beaches at Koroni and Methoni. Picturesque Finikounda with its tavernas at the water's edge makes a good base, or Chrani for a laid-back simple beach resort.
Flights and where to stay: Expedia offers four flight tickets and a hotel stay for six nights from £1,279. The flight to Kalamata is around 3 and a half hours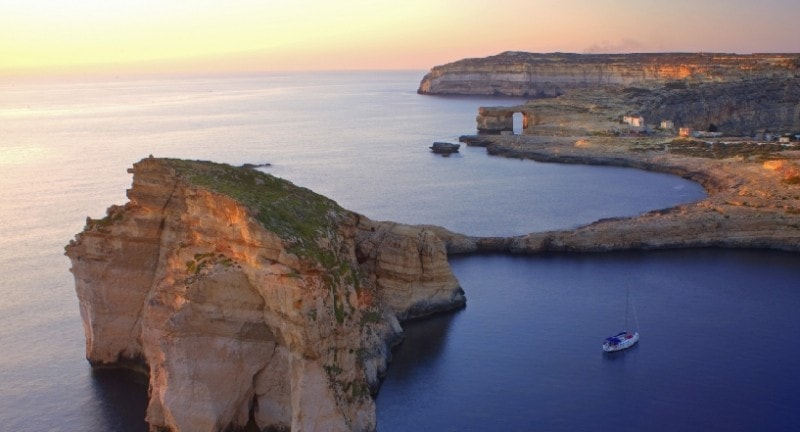 7/10

Gozo
Fight medieval duels
A short car ferry ride from Malta takes you to Gozo and a farmhouse rental – many standing for over 300 years – they look like mini castles with thick stone walls and arches, which the kids will love. The island is just 7km by 12km so your base is unimportant. Best for sand is the red bay at Ramla, but older kids will enjoy jumping into crystal clear water off the ledges at Fungus Rock and snorkelling in the fjord-like inlet at Marr. Don't miss a boat trip to the turquoise-watered island of nearby Comino.
Flights: Flights to Malta are around three hours with prices starting from £452
Where to stay: Corinthia Hotel offers a room with two double beds for seven nights from £1,829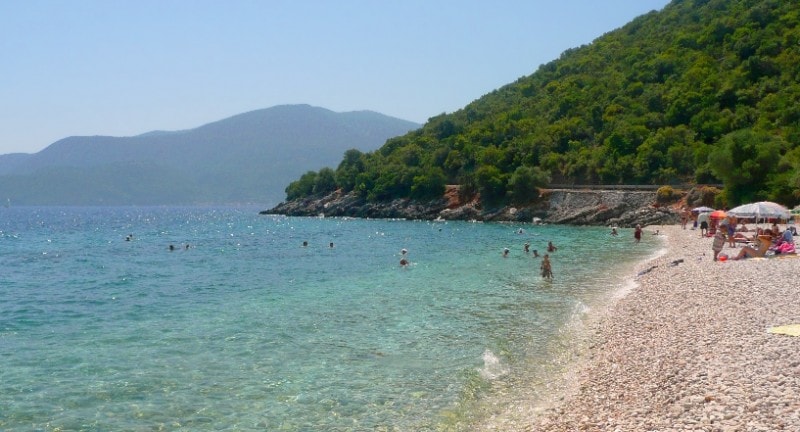 8/10

Sami, Kefalonia
Laid-back beach life
Head to the port of Sami on Kefelonia's eastern coast which offers sheltered coves and a wide range of restaurants along its waterfront. Or head round the bay to Karavomilos, where you'll find villas to rent on the shoreline – have the beach to yourselves during the day and enjoy seafood dishes at one of the local tavernas at night. Don't miss snorkelling at Antisamos, teeming with fish, and famous from the film Captain Corelli's Mandolin – but get there early before the crowds.
Flights: Flights to Kefelonia are about three and a half hours with prices starting from £216
Where to stay: The Ionian Emerald Resort offers 4 nights from £844 as well as seven nights for £1,543
9/10

Makrygialos, Crete
Rock-climb in Crete
Makrygialos on the south side of Crete makes a good base, with sheltered coves and plenty of tavernas in the harbour area. Spectacular beaches lie at the end of slow drives up and over the mountainous terrain which is better suited to families with older children. You should definitely check out the tiny village of Xerokampos in Kato Zakros with is wonderful Minoan palace, and the Arabian appearing Vai which features a 15th century monastery, the largest date palm forest in Europe and an amazing tropical, white sand beach.
Flights: Flights to Crete are around four hours with costs starting from around £120
Where to stay: Kronos Villas offers a villa that sleeps three-six for seven nights starting for £2,653
10/10

Campos, Mallorca
Holiday like a local
While the beaches to the north of Mallorca can get quite crowded, the best beaches for families can be found in the south eastern corner of the island between Campos, Felantix and Santanyi. There are fantastic family beaches in comfortable surroundings where toddlers can try out their new bucket and spade at the nature reserves of Cala Mondrago, Cala Llombard and Sa Nou. The advantage of being away from the larger resorts is that rates are not as high, and your family can also enjoy a private pool as well. You'll get a real a flavour of cuisine in the restaurants where the locals eat too.
Flights: Flights to Campos are around two and a half hours with prices starting from £113
Where to stay: Hotel Saratoga offers seven nights for two adults and two children for £2,178