Princesa Yaiza Suite Hotel Resort, Lanzarote is leading the way in family wellness with its new pampering spa treatments at its Thalassotherapy centre and spa.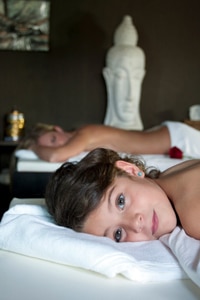 The resort's Family Spa Experience invites children to join one of their parents for a gentle, side by side 40-minute treatment consisting of a relaxing chocolate massage and head massage. The fun experience offers the chance for mums or dads to relax and indulge while mini-mes feel very grown up mimicking their parents.
Princesa Yaiza has 19 Royal Kiko Family Suites in an area of the resort with a dedicated family pool, kid's restaurant and snack bar. Each of the 19 suites are accessed by a tunnel of fish tanks. Kids will also enjoy Kikoland Kids Club with its own kid's pool, tennis courts, football school, amphitheatre and playhouses. Baby Kikoland provides supervision for children as young as four months old.