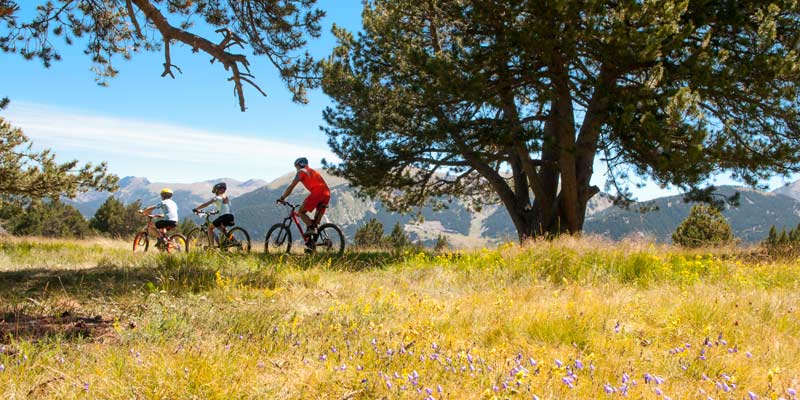 1/10

Mountain Biking

Andorra has an extensive network of mountain bike paths through the great outdoors, meaning that one of the best ways to explore the country is on two wheels. Bike riding in the stunning Cortals Valley is particularly popular, where the terrain is a little more flat in places and where there are forested tracks for those who enjoy a few more thrills. A flat track halfway up the valley leads to the Engolasters Lake and provides the perfect opportunity for enjoying breathtaking mountain scenery.

As well as crossing the country's mountain bike trails, in the spring, the two main ski areas – Grandvalira and Vallnord – are transformed to offer a wide range of cycling activities, from thrilling downhill routes, adventure and freeride circuits, to two bike parks with kilometre after kilometre of mountain bike routes at different levels. Family-friendly Vallnord Bike Park is widely regarded as one of the best in Europe for its facilities and circuits with trails and descents for everyone from beginner to expert. The Park has downhill circuits, a wood park, cross country and four cross, in addition to a children's wood park (for kids aged six to ten) and a bike trial area. It also has an excellent mountain bike school.

It's a very popular place for professional riders too, so after the family's tried out all the circuits, sit back and watch the pros in action. In fact, Vallnord Bike Park is on the Mountain Bike World Cup circuit this summer (3 September 2016).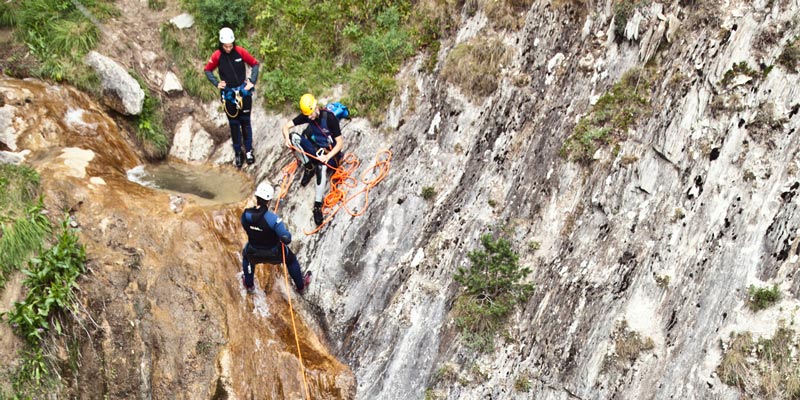 2/10

Canyoning

For a new perspective of the mountains, canyoning involves descending a ravine with the aid of ropes, abseiling, slides, jumps, cable railings and rock climbing techniques. There are six canyoning ravines in Andorra and routes have been adapted for all levels, with beginner groups suitable for children over seven years old. Beginner sessions last approximately three hours.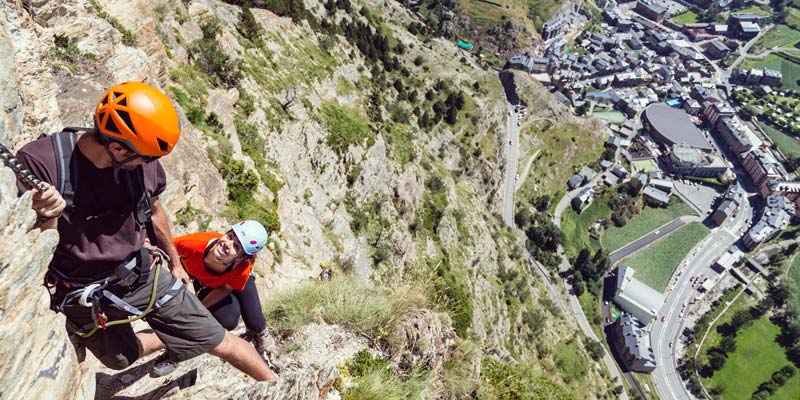 3/10

Via ferrata

A cross between hiking and climbing, a via ferrata is a route equipped with iron rungs, cable railings, ladders and bridges that enables you to follow mountain routes that would be too risky to try unequipped. There are 16 via ferrata in Andorra  – adapted to all levels, with beginner groups suitable for children over seven years old, with a choice of half and full day itineraries.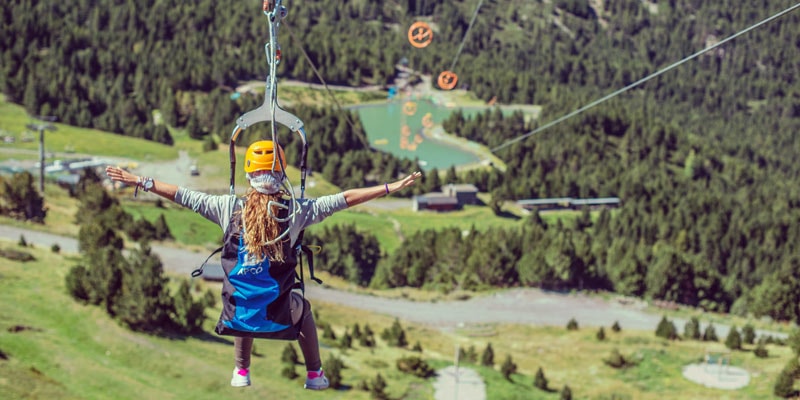 4/10

Zip-lining

The Canillo Family Park is home to the longest zip-line in the Pyrenees, the Mont Magic zip line, which stretches 550 metres, 40 metres above the ground, reaching downward speeds of up to 80 km/h. Not only is it an invigorating adrenaline rush, but it also offers one of the best views of the Llac del Forn lake amidst nature.

The zip-line is seated and requires a minimum weight of at least of 35kg. The zip line is open to the public all year round.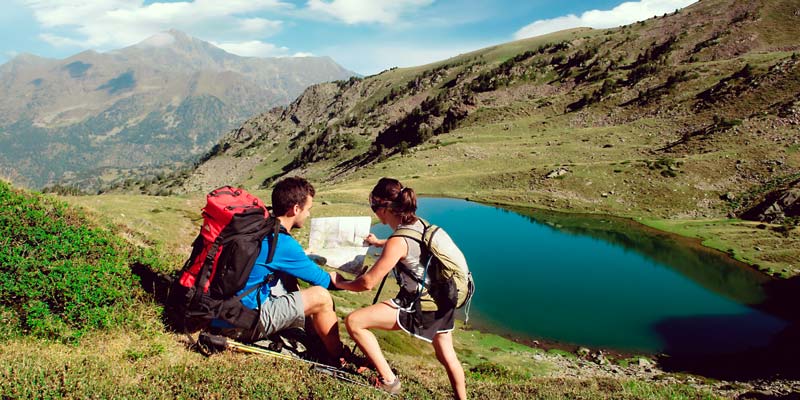 5/10

Hiking

Andorra's Pyrenean backdrop offers some of Europe's most beautiful walks at varying difficulty, allowing walkers of all levels to enjoy the mountains. There are plenty of gentle and enjoyable one-two hour walks that are suitable for kids, including:

The iron route – a fascinating route on which the little ones will learn all about the history and production of iron in Andorra.

Rec del sola – a very pretty downhill route, perfect for admiring the scenery.

Cami del Gall – a fun and easy route for families, the route is marked with a red cockerel and there are plenty of signs along the way to help kids understand the nature around them.

To really make the most of the mountain, hire a guide to take you hiking and/or cycling for a half or full-day itinerary, as they'll adapt the routes based on your family's abilities and specific interests, such as cultural heritage, nature and wildlife or panoramic views.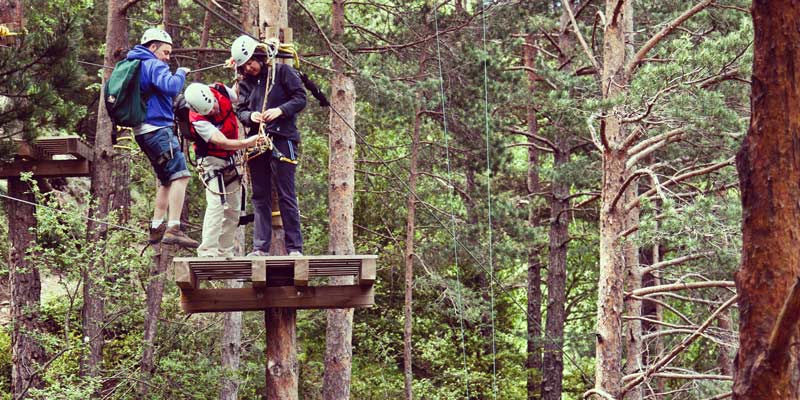 6/10

Forest treetop circuits

The adventure circuits in Segudet and Engolasters forests are great for introducing children to mountain sports, and good fun for adults too. The circuits involve passing from one tree to another over different obstacles, such as wooden platforms, rope brides, monkey bars and a wall fitted with iron railings. The forests of beautiful Scots pines up to 20m in height offer unbeatable views and the adventures always take place under the watchful eye of an an instructor. Suitable for children over seven years old.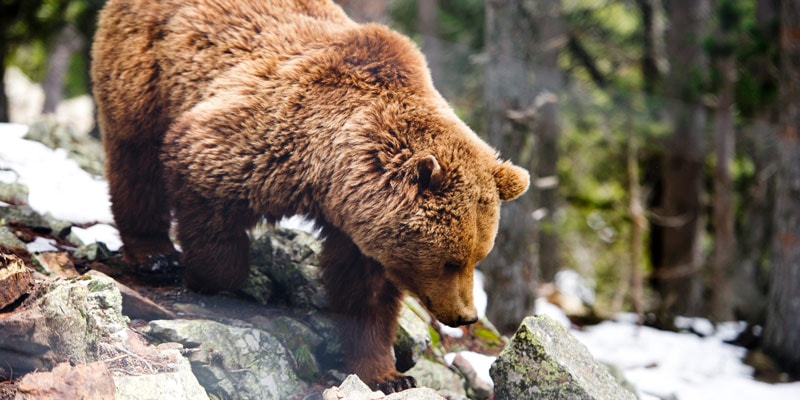 7/10

Bear watching at Naturlandia Animal Park

Naturlandia Animal Park is home to typical wild species of the Pyrenees, including mountain goats, bears, wolves, lynxes, fallow deer, reindeer and beavers. Of particular note, there's an area dedicated to the brown bear, the most legendary animal in the Pyrenees, and various vantage points to watch wolves, which are known as one of the most predatory and impressive mammals of the whole animal kingdom.

The park also has an interactive children's area with farm animals where kids can take part in the typical Andorran agriculture and stock breeding activities. All of the areas are fitted out with viewpoints and walkways to enable visitors to see animals in their natural habitat.

[soliloquy id="10787"]
8/10

Tobotronc & Airtrekk

Tobotronc at Naturlandia mountain park is the world's longest alpine slide – an 8km run covering a descent of 3,550m, offering a thrilling journey through woods on a two-seater sledge that is controlled by the rider. Tobotronc is open all year round, so riders can travel through a snowy landscape in the winter, or green natural surroundings in the summer. Naturlandia is also home to Airtrekk, the longest sky trail in Europe. Its wooden structure is 13.5 metres high and 17m wide, comprising ten towers, 54 different obstacles and three levels of difficulty. Families follow the trail in a safety harness and with a guide across platforms, gangways and ropes, finishing with a 180m zip-line.

Tobotronc and Airtrekk are included in the general entrance ticket to Naturlandia: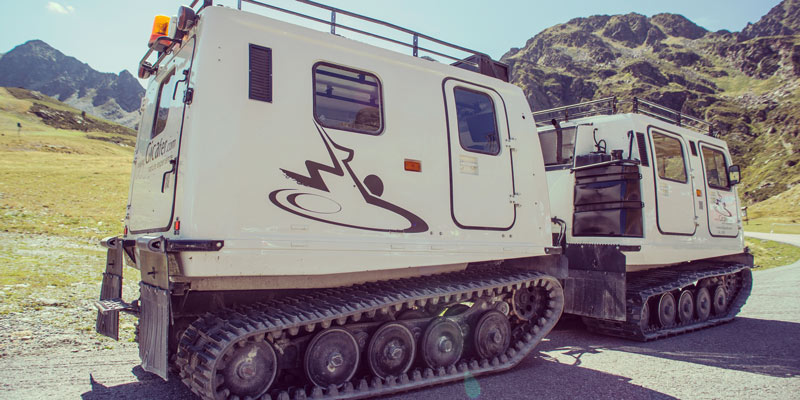 9/10

Gica Fer Trips

Gica Fer trips are themed mountain excursions in an amphibious vehicle from Vallnord up the mountains of Arcalís to discover their flora and fauna. The vehicle is equipped with a multimedia guide offering explanations of the landscape. They last between one hour and 90 minutes and go through several points of Coma del Forat and the Cave of el Port del Rat (former tunnel project to connect France and Andorra), with its impressive stalactites and stalagmites of ice in the winter. In the winter, the outing can be completed with a walk on snowshoes, a trip on snow motorcycles or an evening fondue on La Coma in Arcalís.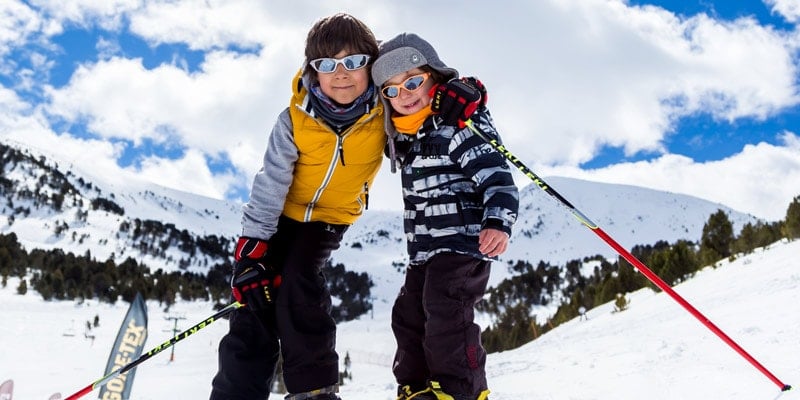 10/10

Snowsports

There are over 300km of ski slopes and 183 runs in Andorra, with two main ski areas: Vallnord and Grandvalira. Its slopes are perfect for families and beginners to cut their teeth with extensive facilities. Skiing and the snow are the country's main attraction and wherever you stay, access to the ski resorts will always be close by. The distance between the capital and the farthermost slopes is only 28 km.

Andorra remains a good choice for families on a budget. Travel, accommodation, lift passes, rental, lessons and childcare are all much cheaper than typical prices in the Alps. In fact, Andorra's low-tax status means the country is invariably cheaper than its Alpine rivals. Both the ski resorts of Grandvalira and Vallnord are renowned for some of the best skiing and winter sports in Europe. As well as skiing, there are a wide selection of après ski activities from skating to igloo building, husky riding to snow mobiling. The Igloo Hotel, built entirely of snow and ice is also worth a visit.
The Lowdown
Where to book
Active Pyrenees – Family Holiday is an action-packed activity week-long package with Family Adventure Company, where kids and adults explore the Pyrenees through a variety of adrenaline-fueled mountain sports, including mountain biking, hiking and rafting.
Price: A seven night holiday package costs from £919 per adult / £827 per child and includes return flights from London, en-suite accommodation, all breakfasts, one lunch and six dinners, listed activities and transport. Minimum age five years.
Find out more about Family Adventure Company trips
Recommended hotels
Sport Hotel Village – Sitting at the foot of Grandvalira and with easy access to the lift to Soldeu Bike Park, this four star hotel has spacious family rooms and great children facilities, including the Kids Mini Club with indoor and outdoor activities, swimming pool and family adventures, such as daily hiking (with an optional picnic), and 'the Night of the Stars' evening excursion with an astronomy expert to discover stars, constellations, the moon and meteorites.
Family duplex rooms are priced from €120 per night including breakfast (based on two adults and two children sharing.
Grau Roig Hotel & Spa – Right next to the Grandvalira lift, the boutique-style hotel is a great choice for a relaxing family holiday with a spa, indoor pool, outdoor hydro-massage bath on the terrace, and great dining options with three restaurants, as well as a Kids Club and games room. The hotel also offers complimentary bike hire.
Superior family rooms sleep four and have balconies with spectacular views over Grandvalira. Superior family rooms are priced from €220 including breakfast (based on two adults and two children sharing.
Holiday Inn Andorra La Vella – A city centre hotel in the heart of the country, the modern five star hotel has themed kids suites, with a parents room and separate bunk room based on space, the circus, the sea, the jungle or the Wild West. The hotel also has an indoor pool, spa and wellness centre, kids and baby clubs, restaurant with buffet and show-cooking, and a separate café.
Kid suites are priced from €202.18 B&B (based on two adults and two children sharing).
Hotel Xalet Verdu – A rural three star hotel in the mountain village of Arinsal with a garden, heated outdoor swimming pool, bar, café and buffet restaurant, and close to the Vallnord-Pall cable car. The hotel also offers guided hiking excursions with mountain guides.
A double room with two extra beds is priced from €80 per night B&B.
Apartaments Turistics Giberga – Self-catered apartments, sleeping up to seven, in the beautiful village of L'Aldosa, close to the town of La Massana and the La Massana cable car with access to the Vallnord mountain area. The apartments are well-equipped for families, all with balconies with mountain views, and on-site facilities include tennis courts, children's games room, billiards, table tennis and outdoor pool.
Two bedroom apartments are priced from €114 per night.
Flights
Andorra is under 200km away from several international airports, including Barcelona, Toulouse, Girona, Tarragona and Lleida. From the UK in the summer, Toulouse and Barcelona are the best options, both of which are served by airlines from multiple UK cities several times a day.
There is a regular shuttle bus service to Andorra from both airports with a transfer time of around three hours and which drops travellers off directly at their accommodation. Airport shuttle buses with Novatel to Andorra La Vella cost from £50 return.
Looking for a family holiday that gets your hearts pumping? Don't miss Family Adventure Company's five best adventure holidays for families.