Serbia is fast becoming a hotspot for the British, and its capital, Belgrade, is no exception. Diverse, cosmopolitan and energetic, the city makes an interesting alternative for families looking to escape the usual trail of European destinations.
Belgrade lies at the confluence of the Sava and Danube rivers, and since ancient times it has been a hub where East meets West in Europe. History and culture are found in abundance here – the city is divided into 'new' and 'old' Belgrade, and the two areas could not be more different – there's something to appeal to all tastes, from the arts, cruising on the Danube, architecture, sports and recreation to the bustling markets and endless café culture. But without doubt, the capital's greatest attraction is the Serbs themselves, who are friendly, helpful and share a spirit of renewed optimism, brushing aside the country's turbulent past.
Exploring this easily navigable city and its nearby attractions, such as Zemun (a quaint fishing town beside the Danube with excellent fish restaurants), is a breeze, even with kids in tow. And further afield, Serbia's second city, Novi Sad, home to the annual EXIT music festival and the impressive Petrovaradin Fortress, overlooking the Danube, can be reached by bus in just over an hour.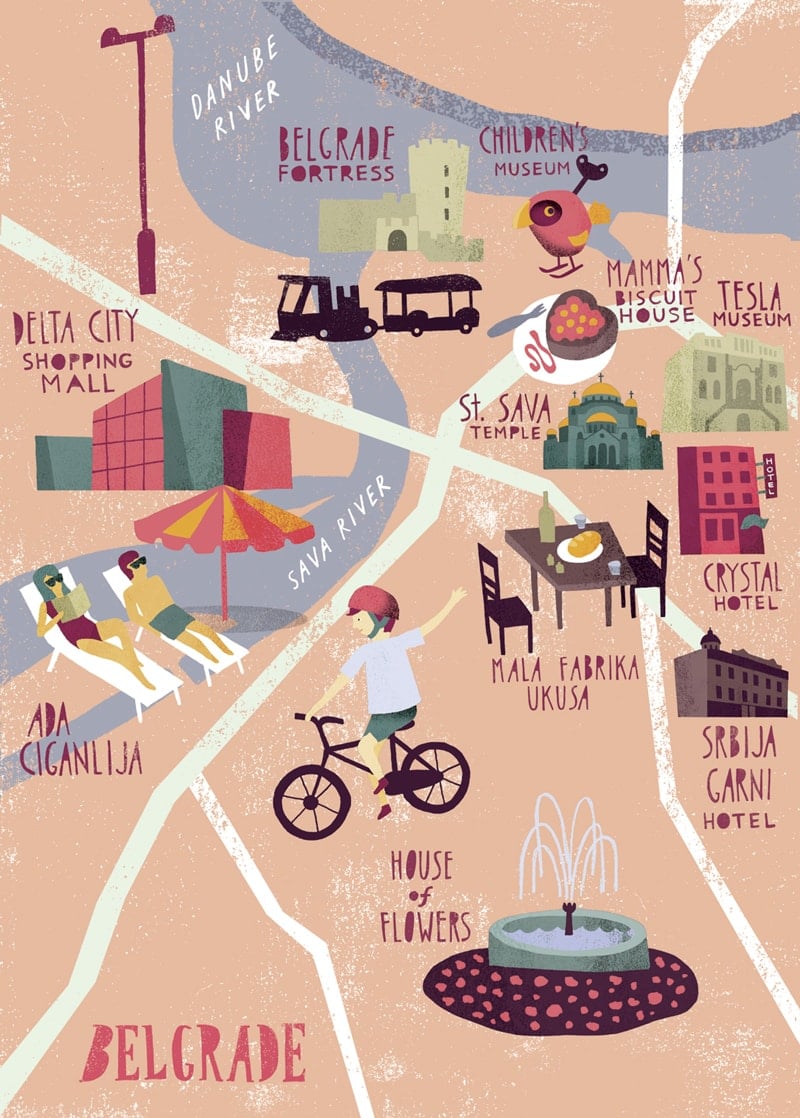 What to see
Kalemegdan Park and Belgrade Fortress
Occupying a hilltop location overlooking the confluence of the Sava and Danube Rivers, Kalemegdan Park is a fantastic leafy outdoor space set within the walls of the Belgrade Fortress, which dates back to the Roman era. The fortress itself was built as a defensive structure on a ridge and, for centuries, the city's population lived within the walls. Within the grounds is a military museum, complete with a fleet of tanks, and there are tours of the underground tunnels.
Ada Ciganlija
An island in the centre of the city, on the Sava river, at 'Ada' the river has been blocked off to create an artificial lake. Its 8km gravel beach is hugely popular, attracting thousands in the summer. There's a huge variety of diversions here, including swimming, waterslides, river-rafting, bungee-jumping and waterskiing. In addition, rollerskates and bikes can be hired to use on designated lanes throughout the park. Visitors can also rent sunbeds and umbrellas, and there are numerous cafes and bars – Caffe Sunset is particularly popular with families.
House of Flowers
In a leafy suburb not far from the Red Star football stadium is the mausoleum of one of the former Yugoslavia's most colourful rulers, Josip Broz Tito, who died on 4 May 1980. As well as Tito's tomb, there is an exhibition documenting the history of the former president, as well as a host of artefacts and gifts from visiting dignitaries.
Adults £1.25, children 80p.
Children's Museum
On the ground floor of the Museum of Science and Technology at Skender-Begova 51, this museum hosts two permanent exhibitions: one featuring 150 toys from a variety of periods, including wind-up toys, model steam engines, dolls and teddy bears; the second exhibition focuses on the latest in interactive technology.
Family ticket £2
Tesla Museum
The Tesla Museum at Krunska 51 has many interactive exhibits showcasing renowned scientist Nikola Tesla's most important inventions. It's small, but entertaining, especially with a guide, and kids are encouraged to take part in the various presentations on offer.
Where to sleep
Crystal Hotel
The four-star boutique Crystal Hotel is located in a quiet residential area just behind St Sava Temple – one of the largest Orthodox churches in the world. If you're lucky, you'll land one of several rooms that have a spectacular view of the church, which looks magnificent when lit up at night. Rooms are well furnished with free wifi, and the roof terrace is excellent for breakfast during the summer months.
Family room (two adults, two children), B&B, £215 for two nights
Srbija Garni Hotel
In the heart of Belgrade and well positioned for the historical quarter is the modern hotel Srbija Garni. Belgrade Fortress and the bohemian area of Skadarlija, with its cobbled streets and galleries, are easily reachable on foot. Many theatres, museums and restaurants are also close by.
Family room, B&B, £144 for two nights
Airbnb
A short-term let in the centre of Belgrade is a good value way to visit the city, if you don't mind self-catering. Family apartments start at around £50 per night.
Visit Belgrade Apartments or Airbnb.
Best Places to Eat
Well worth a visit is the 'question mark' restaurant, which serves traditional fare of barbecued meats, river fish and salads. Try the delicious Serbian beans (although be warned – served as a side dish this is almost a meal in itself ). ? is one of the city's oldest restaurants, built in 1823, and got its name after the owner had a dispute with the Orthodox church about a name for the tavern. In response, he simply put a question mark on the front door, and it has remained that way ever since.
Kralja Petra Street 6
Mala Fabrika Ukusa
This very kid-friendly eatery, located close to St Sava Temple, has a children's play area outside in the gardens. Dining alfresco at Mala Fabrika Ukusa is lovely in the summer under the shade of the trees, and the interior is bright and warm, the walls decorated with jars of homemade juices and jams. Menus are varied, ranging from Serbian to international cuisine. The homemade apple and cherry pies are surefire hits.
Nebojsina 49a
Shop and Play
Mamma's Biscuit House
Serbs like their patisseries, and Mamma's Biscuit House is one of the best in the city, serving up a wide variety of tasty cakes and cookies. Look out for the marzipan pigs, bees and frogs. Mamma's is located at Strahinjica Bana 72a and open seven days a week.
Skadarlija Street
Skadarlija Street is the old bohemian quarter of Belgrade, and dates back to the 19th century, when it was frequented by writers, artists and poets. The area is often compared to Montmartre in Paris for
its eclectic mix of shops, cafés, street entertainers, art galleries and antique shops. It's also home to an array of traditional Serbian restaurants serving barbecued meats accompanied by live folk music and dancing. Kids will like the cevapcici – small skinless grilled sausages.
Delta City
One of Novi Beograd's indoor shopping centres, with play and entertainment areas for children. On the top floor is the Ultra Centar Galaktika, which houses an exhibition of dinosaurs and another focusing on the development of life on earth. For less educational fare, Galaktika also provides pinball, air hockey and videogames.
The Lowdown
How to get there
Air Serbia flies to Belgrade from Heathrow eight times a week, from £231 return. Wizz Air flies four times a week from Luton, from £85 return.
Best for
All ages, toddlers upwards. Serbia is not part of the Eurozone and offers excellent value for money. The local currency is the dinar (£1 = about 160 dinars).
How to get around
The centre of Belgrade is ideal for walking or cycling, with designated cycle lanes. Bike hire and guided tours are bookable through ibikebelgrade.com. Taxis are relatively inexpensive for short hops. Belgrade Open Top Bus Tours offers an excellent way to see the major city sights and attractions. Find out more about transport in the city.
Sightseeing boats along the Sava and Danube rivers take in the sights of Kalemegdan, Zemun and Ada Ciganlija.
Best time to go
Belgrade has a continental climate, with harsh winters and hot summers. Spring and autumn are especially pleasant when travelling with the family.