Ingrid Osborne lost her heart to Naxos and reveals her top things to do with kids on this very special Greek Island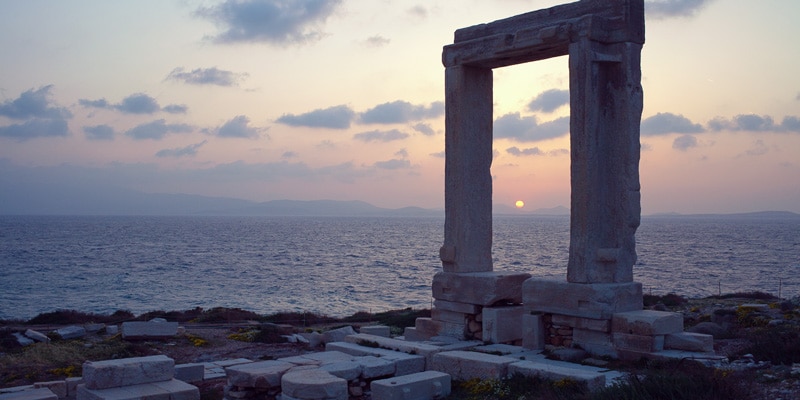 1/7

 Portara Apollo Temple
Naxos has seen its share of tyrants and pirates come and go, including Lygdamis, a man of great vanity, whose architectural ambitions equated to 'mine is bigger than yours'. In 545bc he decided to create a temple of staggering proportions that would be sure to rival Athens Temple of Olympian Zeus and make certain that his glorious feat would be seen by neighbouring islands.
Construction began on the Islet of Palatia which resides next to Naxos Town, connected by a narrow path of sea-bedded rocks. Eventually the development was halted when funds dwindled, along with the patience of locals, who in 524bc, involved the Spartans to help overthrow Lygdamis.
The Venetians came and plundered the best marble for themselves, leaving the heaviest pieces behind – being the scatter of foundational blocks and the sky-bound marbled doorway that stands alone to frame the tides and journey of the sun.
Townsfolk changed its name to 'Portara', meaning 'big door', albeit one that travellers can't walk through. While it's roped off for its own protection, it is still possible to benefit from its towering beauty, by angling for that perfect shot of the sun dipping between the marble pillars.
How much: Free
When: Open all year around, 24 hours a day
Where: Islet of Palatia, Naxos Town, 84300, Greece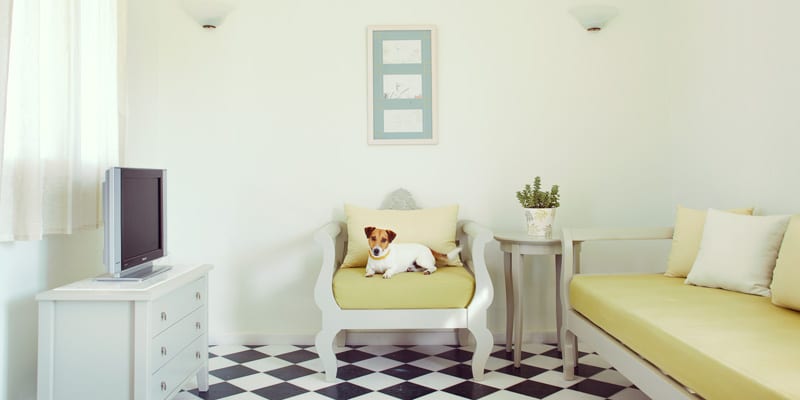 2/7

 Kedros Villas, Stelida
There's an aroma distinct to the coast of Naxos; a blend of salt-sprayed air spiced with wildflowers that's not found in Hora (Naxo Town) but a few kilometres away from the squeeze of the city. The floral notes waft across the beaches towards the hills of Stelida, where Kedros Villas sits perched on a hillside, shaded by cedar and palm trees.
Well placed to soak up views of Naxo's turquoise waters, the owner, Maroula, is a business woman from mainland Greece, who's taken the best of city expertise and rolled it into the detail, ensuring a restful family stay providing cots, organising car rentals and taxis, and even babysitting on request, all coupled with her unbiased approach to local knowledge ensuring that families will eat the finest hummus and wade in the clearest of waters.
Kedros has stayed true to its mantra of 'luxury meets nature' providing pamper pieces which include natural fibre mattresses, a spa bath, and Korres toiletries, all of which make sleeping away from home, easier.
With nine, two storeys' villas available, each is individually positioned to maximise privacy for every guest, including a spacious balcony that encourages alfresco dining with a glass of wine at dusk.
Children also have plenty of space to play both indoors and out, including a swing and slide set within a communal garden.
Well positioned to reach many beaches including the crystal waters of Agios Prokopios and Laguna beaches – with Laguna also providing access to a sizeable mountain that's worth strapping on a baby carrier and hiking boots for, to capture on camera the peachy-red hues of twilight.
Kedros Villas' peaceful and airy environment is an ideal family sanctuary, away from the noise of the city, worth the fragrant six minutes' drive to reach it.
How Much: From £79.75 per night, for a family of four (depending on choice of Villa).
Where: Agios Prokopios, Stelida, Naxos island, Cyclades 843 00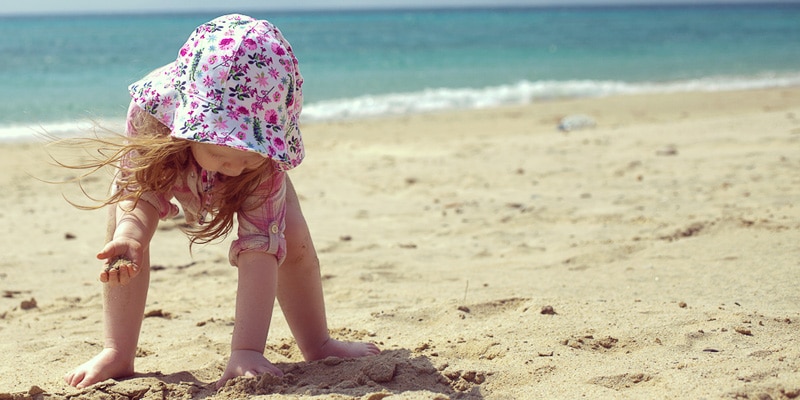 3/7

  Plaka Beach
Naxos, the largest island of the Cyclades, has been blessed with a plethora of beaches divided only by more white grains of sand before another identical spread is claimed as a beach, under a different name. It's a fair assumption to say that most of Naxos turquoise-waters are postcard worthy – bar its inner-city beach.
Plaka Beach has a rawness about it, without the carousels or seagulls pillaging from overflowing bins, instead leaving its pure white sands alone to bouquet sprigs of wildflowers and reeds in an unadulterated form of beach bliss.
The further away from Hora (Naxos Town), the emptier the beach, making the drive to feel every grit of sand between the toes, worth the seascapes at dusk when tropical-fruited hues deepen in colour across a silhouette of isolated islands before dispersing into the dark Aegean Sea.
How much: Free
Where: Naxos, 843 00, Greece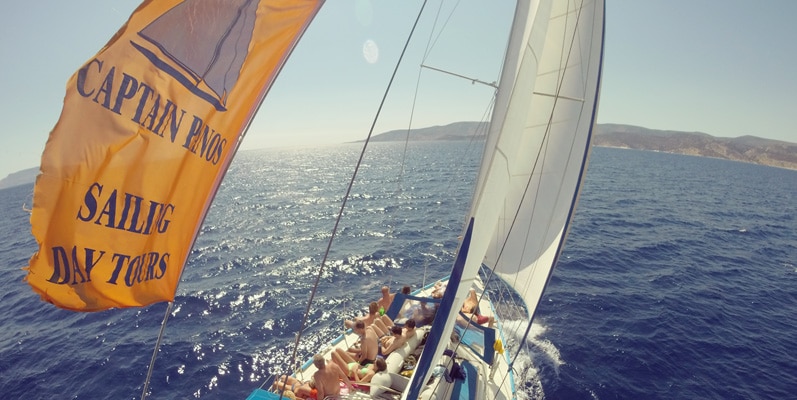 4/7

  Captain Panos Sailing
For those who have ever felt pangs of envy watching the boat scene in Mamma Mia will delight in knowing that Captain Panos offers just that; a chance to sail through the Aegean Sea to neighbouring islands on a private boat.
When not enjoying alfresco dining on deck and soaking in the sun, a good day of sailing ­can present the opportunity to swim with dolphins and spot sea turtles. Families can maximise the adventure by sailing to isolated beaches that are only accessible by boat, while allowing time to explore caves and snorkel shallow waters.
Suitable for families large and small, the boat comfortably seats 25 people and has lifejackets available for all ages.
How much: From 70 euros per adult, 35 euros per 5-8 years old child, and children under 4 sail for free.
When: Sailing occurs between the hours of 9am to 6.30pm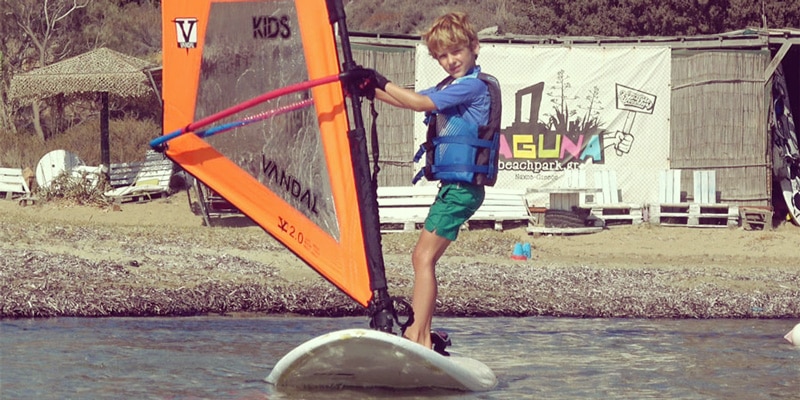 5/7

  Laguna Beach Windsurfing
Blustery winds are a certainty in Naxos as Meltemi, the north wind, throws itself across the shores with gusto – making summer time in Naxos the ideal time to learn how to windsurf.
Laguna Beach Park's surf shed can be found near Kedros Villas, on the sands of Laguna Beach, an area touted to be 'the safest spot in the world' for beginners to master the art of windsurfing.
The warm, clear waters of the beach's lagoon are shallow enough for adults and children alike to learn how to tack, chop and hop across the waters – every individual taught using the best techniques from Laguna Beach's seasoned windsurfing pros.
How much: 1 hour lesson, for a group of 3, priced at 38 Euros per person.
When: It's best to go early afternoons when the winds gather for ideal windsurfing conditions.
Phone: +30 697 242 6905
Where: ­­­­Cross Road, Agiou Prokopiou and Stelidas, Naxos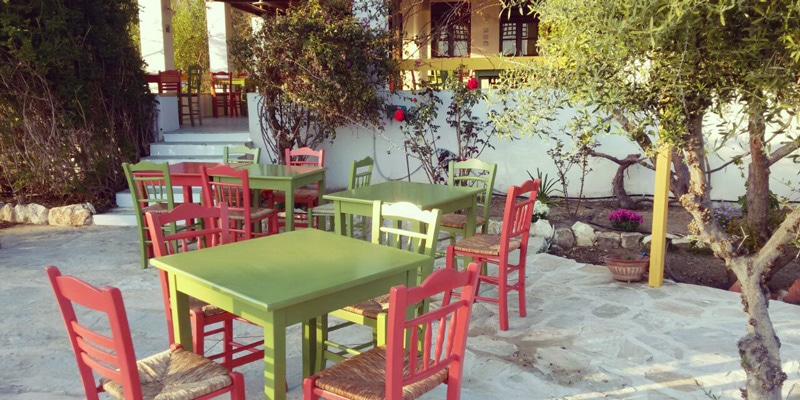 6/7

  Axiotissa Taverna, Kastraki
It could be argued that Naxos isn't a gourmand's paradise, its restaurants notably absent from the Michelin guide. However, tiny morsels paraded like trinkets on a plate have found no place on the island; the local cuisine is all about heavy set potato dishes, thick moussakas, and a fisherman's net full of seafood – the type of Grecian goodness found baking in Gran's oven.
Away from Hora, in Kastraki, locally loved Axiotissa Taverna has done well to garner recognition from across the globe for its delicious organic farm-grown fruit and veg, while staying true to the hearty cuisine of the land.
Expect freshly sea-plucked fish seared on the grill and served on a bed of tossed spinach garnished with thick lemon wedges, and warming dishes of roasted almonds fused with eggplant. For children, there's wedges of potatoes and creamy cheese-cakes.
It's the kind of healthy and fuss-free cooking that families seem to love, alongside the playful décor that's a mash-up of lime and raspberry coloured tables and chairs.
How much: From 18 euros per person.
When: Seasonal hours: from Easter time in April until October from 2pm with weekends from 4pm. Do book in advance during the high season as it can be difficult to secure a table.
Phone: +30 22850 75107
Where: 18 klm Road, Naxos – Alyko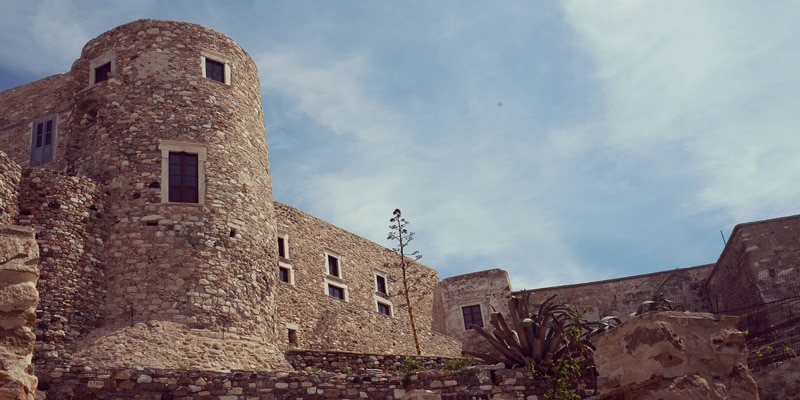 7/7

 The Old Town to Kastro
It's difficult to not feel empathy for the residents of The Old Town; their minute white-washed homes crammed into a maze of narrow lanes, entranced by short arched gothic gateways that hang aging battered wooden doors, and the hobbit sized windows peered into by the world's travellers.
Yet, it is a fascinating Pandora's box full of paint peeled venetian architecture, the curl of metal gates, and cavernous stores laden with olive oils and creamy Greek cheeses; its labyrinth of paths bearing the weight of travellers attracted to every nook of its history that leads up to the top of the ancient Venetian castle. It's an explorer's paradise for young children and families alike, which sadly for the residents, is a sight not to be missed.
Tip. The route is not suited to prams, it's best travelled on foot.
Where: Naxos Town, 843 00, Naxos, Greece