Whether you want to cruise round the Dodecanes on a private yacht, go eco-adventuring on the Halkidiki Peninsula, laze around on Crete's lovely beaches, or dip into the big city rumpus of Athens, there are few family holidays Greece hasn't got covered.
But the country of myths, legends, amazing natural phenomena, and countless jewel-like archipelagoes, really shines when it comes to family villa holidays.
Have a look at five of the greatest Greek islands and the pick of perfect places to stay while you're there.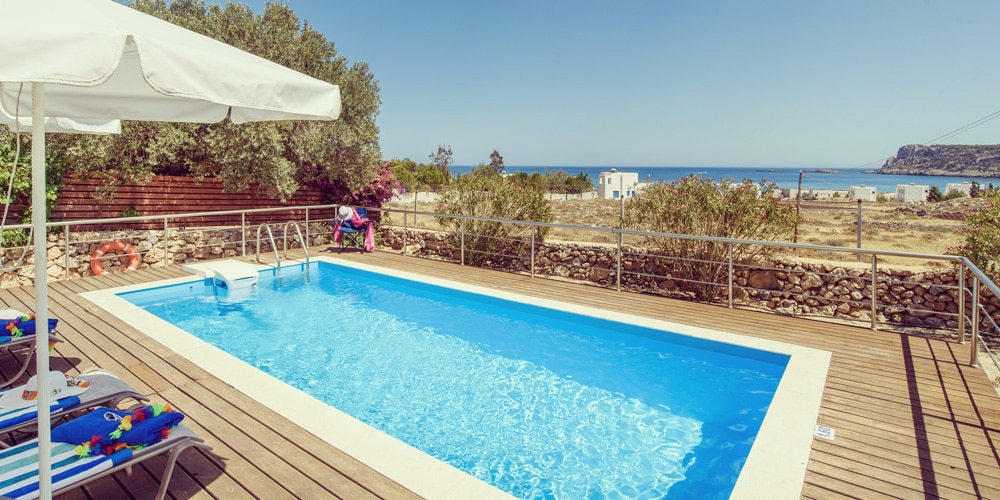 1/5

  Villa Aqua Oceanis, Lindos, Rhodes

Sleeps up to seven. Entire villa from £356 per week.

This bright, well-planned, beachfront villa overlooks Navaronne Bay on the east coast of Rhodes. It has three bedrooms, three bathrooms, a private pool and wooden sun terrace. There's also a built-in barbecue and outdoor dining area. The open sea views are stunning, and the villa is steps away from the beach.


 
3 bedrooms
3 bathrooms
Sleeps up to seven
Private pool, wooden sun terrace, sea views, beachfront setting
Minutes from historic Lindos
One hour's drive from UNESCO World Heritage Rhodes Old Town
One hour and 15 minutes drive from Rhodes Airport
About the area
The historic town of Lindos is a short drive from the villa for shops, cafés, restaurants and remarkable classical sites like Lindos Acropolis and the Archokrateio Monument. Faliraki Waterpark is 40 minutes south by car and Rhodes Town, famous for its UNESCO World Heritage medieval quarter, is just over an hour away.
Find out more about Villa Aqua Oceanis with Villas Plus.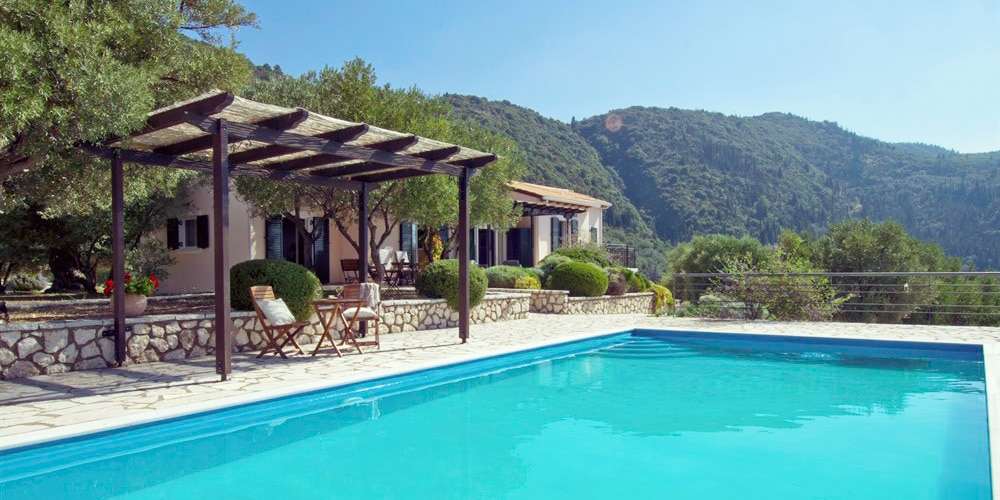 2/5 Villa Thymus, Lefkada
Sleeps up to eight. Entire villa from £1360 per week.
A gorgeous, four bedroom family villa surrounded by countryside and overlooking the Ionian Sea on the west coast of Lefkada. The private pool and sun terrace have spectacular views, and there's also a pretty outdoor dining patio. The mature garden covers over an acre and is beautifully planted with trees and scented herbs.
4 bedrooms
4 bathrooms
Sleeps up to eight
Private pool, sun terrace, huge garden, dining patio, sea views
10 minutes drive from coast and beaches.
25 minutes drive from Lefkada Town.
50 minutes from Preveza Airport
About the area
Lefkada is one of the Ionian Islands west of Athens, connected to the mainland by a causeway. Villa Thymus is just a short drive from Agios Nikitas village on the island's west coast, and just slightly further from big, sandy beaches at Pefkouli, Milos, and Kathisma. Lively Lefkada Town is 25 minutes away by road, and the dramatic white cliffs at Cape Lefkatas are also within easy driving distance.
Find out more about Villa Thymus with Thinking Traveller.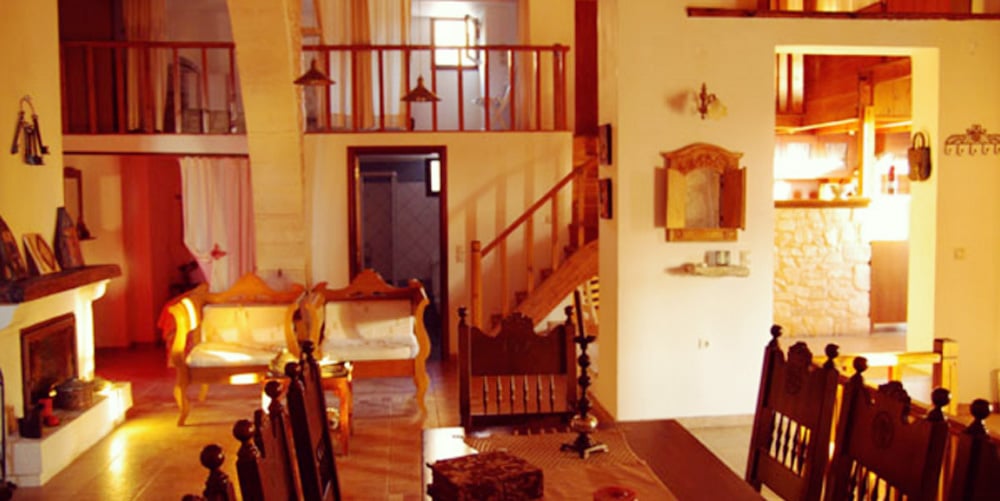 3/5 The Archontiko, Crete
Sleeps up to seven. Entire villa from £756 per week.
Once the home of a Turkish Pasha, this historic village house has been carefully restored without losing any of its character. It now offers three bedrooms, two bathrooms, a pretty courtyard garden with dining terrace and a private pool. The villa has delightful original details, and authentic Cretan furniture features in the interior design.
3 bedrooms
2 bathrooms
Sleeps up to seven
Historic house, private pool, courtyard garden, pretty sun terraces
Five minutes drive from beaches
20 minutes from Chania city centre
Two hours drive from Heraklion Airport
About the area
The villa is set in a tiny village on the northwest of Crete. It's close to several large, sandy beaches and just 20 minutes drive from Chania. The second largest city in Crete, Chania is famous for its spectacular Venetian Harbour, interesting museums and galleries, lively seaside atmosphere, and excellent waterfront restaurants.
Find out more about The Archontiko with Pretty Greek Villas.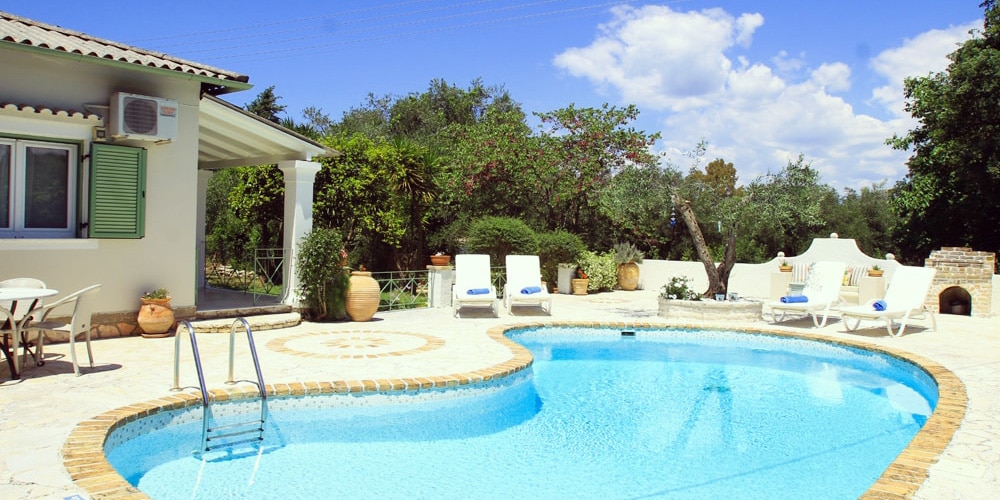 4/5 Villa Mimosa, Corfu
Sleeps up to four. Entire villa from £299 per week.
This sweet little villa, on the beachy northeast coast of Corfu, has two bedrooms, two bathrooms, a private pool and a sunny terraced outdoor area. There's maid service included in the rental price, bed linen is changed twice weekly, and you'll find a handy Welcome Pack waiting on arrival.
2 bedrooms
2 bathrooms
Sleeps up to four
Private pool, sun terrace, maid service, countryside setting
Five minutes walk from beaches
20 minutes drive from Kassiopi
40 minutes' drive from Corfu Town and Corfu Airport
About the area
The famous bays, beaches, and beautiful hills of northeast Corfu are minutes from Mimosa. Avlaki town is nearby for seafront restaurants, water sports, and tennis. Dramatic St. Stephano harbour is only a short drive from the villa, and the large, lively town of Kassiopi is 20 minutes away for shops, bars, cafés, beachfront taverna and fun kids' activities.
Find out more about Villa Mimosa with CV Villas.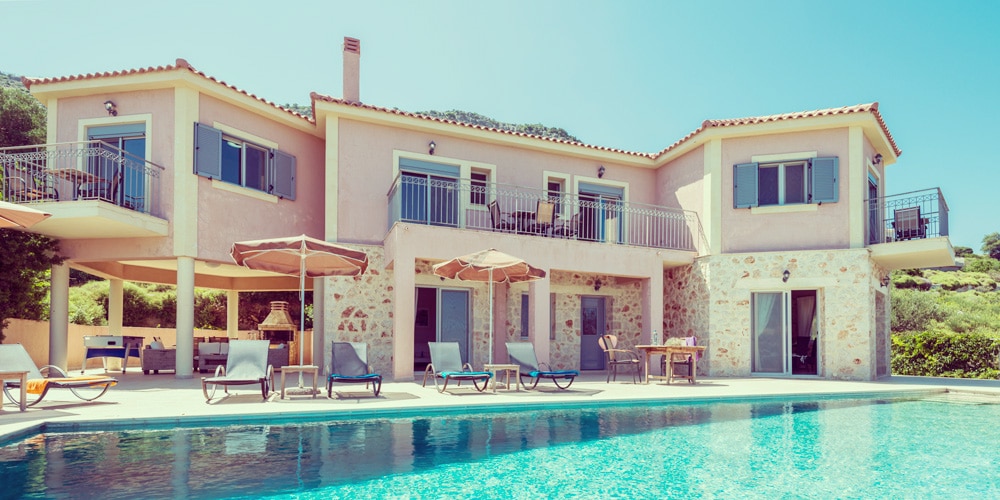 5/5 Villa Estiasi, Old Skala, Kefalonia
Sleeps up to nine. Entire villa from £929 per week
An exceptionally spacious family villa with a countryside setting and magnificent views over the Ionian Sea, Estiasi has four bedrooms and five bathrooms. The large infinity pool outdoors is heated year-round. There's also a huge sun terrace, shaded dining area, and built-in barbecue.
4 bedrooms
5 bathrooms
Sleeps up to nine
Infinity pool, large sun terrace, shady outdoor dining room, built-in BBQ
Short walk from beaches and Old Skala village.
15 minutes drive from Skala and Skala Beach
30 minutes from Kefalonia Airport
About the area
Estiasi is close to Old Skala village, and a short walk from pretty, sandy coves on Kefalonia's south east coast. 15 minutes drive away, Skala Beach is great for water sports and the lively town of Skala itself has a good range of shops, seafront restaurants, traditional cafés, and several important historic sites worth exploring.
There are also daily cruises from Skala Beach to Zante and Ithaca.
Find out more about Villa Estiasi with Villa Plus.
Want to book your villa holiday now? View a handpicked selection of our favourite family friendly villas in Europe.