Whether you want to cruise round the Dodecanes on a private yacht, go eco-adventuring on the Halkidiki Peninsula, laze around on Crete's lovely beaches, or dip into the big city rumpus of Athens, there are few family holidays Greece hasn't got covered.
But the country of myths, legends, amazing natural phenomena, and countless jewel-like archipelagoes, really shines when it comes to family villa holidays.
Have a look at five of the greatest Greek islands and the pick of perfect places to stay while you're there.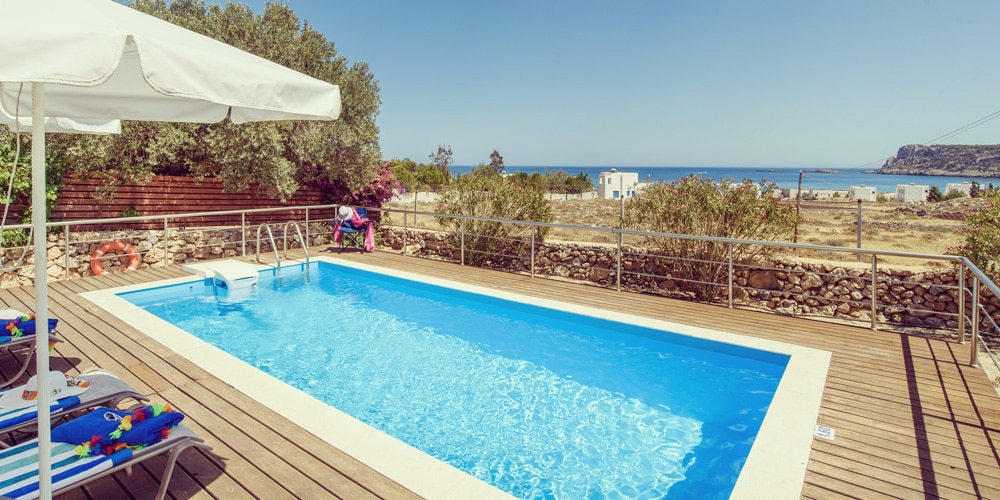 1/5

  Villa Aqua Oceanis, Lindos, Rhodes

Sleeps up to seven. Entire villa from £356 per week.

This bright, well-planned, beachfront villa overlooks Navaronne Bay on the east coast of Rhodes. It has three bedrooms, three bathrooms, a private pool and wooden sun terrace. There's also a built-in barbecue and outdoor dining area. The open sea views are stunning, and the villa is steps away from the beach.


 
3 bedrooms
3 bathrooms
Sleeps up to seven
Private pool, wooden sun terrace, sea views, beachfront setting
Minutes from historic Lindos
One hour's drive from UNESCO World Heritage Rhodes Old Town
One hour and 15 minutes drive from Rhodes Airport
About the area
The historic town of Lindos is a short drive from the villa for shops, cafés, restaurants and remarkable classical sites like Lindos Acropolis and the Archokrateio Monument. Faliraki Waterpark is 40 minutes south by car and Rhodes Town, famous for its UNESCO World Heritage medieval quarter, is just over an hour away.
Find out more about Villa Aqua Oceanis with Villas Plus.