Emma Kirkham and her brood discover an action-packed, no-fly holiday at Yelloh! Village Le Sérignan Plage on France's south coast.
A quick survey of the kids on what they wanted to do on their holiday settled it. Ed, eleven, Annie, 13, and Noah, 14, all gave the same reply, 'Go on loads of water slides', while Beatrix, eight, wanted to be able to bring the cats, Flash and Dash.
After promising Beatrix that we would FaceTime the cats, we plumped for the largest campsite that we could find in France with the most waterslides. Yelloh! Village Le Serignan Plage, in the Hérault region, is ten minutes' drive from the picturesque town of Serignan, 12 km from the hustle and bustle of Beziers and is situated slap bang on the beach.
We were determined not to fly this summer and with the risks around Covid we wanted to keep ourselves as self-contained as possible, we decided we would get there by car. As I would be doing all the driving, it was a godsend that Al Fresco offers the choice of being able to break the long car journey. We enjoyed overnight stays at Les Alicourt, another Al Fresco campsite just south of Orleans, halfway through our outbound and return journeys. 
At Serignan Plage we stayed in one of the new Superior Vista + AC chalets. It was modern and clean, and the two sets of doors opened up so we could extend our lounge-cum-dining room onto the decking – the perfect way to cool down in the stifling August heat. Whoever thought of putting the adult bedroom on the opposite side to the kids' rooms deserves a medal. If we strained, we could just about hear the kids chatting and squabbling, but otherwise we were able to enjoy some precious hours of peace and quiet. 
There is a decent-sized supermarket on site, as well as a fantastic boulangerie and two restaurants. As we had so many mouths to feed it made sense for us to drive to the nearest Carrefour for a mammoth shop to see us through the week.
The kids were up on the first day at 10 am, which is tantamount to the crack of dawn for teenagers. The three older kids headed straight for the waterslides to test them out. The verdict from Ed was that the Kamikaze was the best – a slide with a bump then a straight drop down that looked painful to me. Noah loved Freefall because it had the best drop, and Annie lost count of the number of times she went on the Aqua Tube, which alternates inside between disco lights and pitch black.
The whole water park area is huge and the Splashpad area with its pirate ship, water jets and fountains was perfect for smaller kids like Bea, who spent hours there with her dad. Everyone would have been quite happy rotating between swimming in the sea and splashing in the waterpark, but there was so much else to discover.
We hired bikes on our second day and took advantage of the free guided bike ride along the vineyard lined Canal du Midi. We were slightly alarmed when we were greeted by a couple of MILs (men in Lycra) but the pace was steady, and we had plenty of stops to have a drink and admire the views.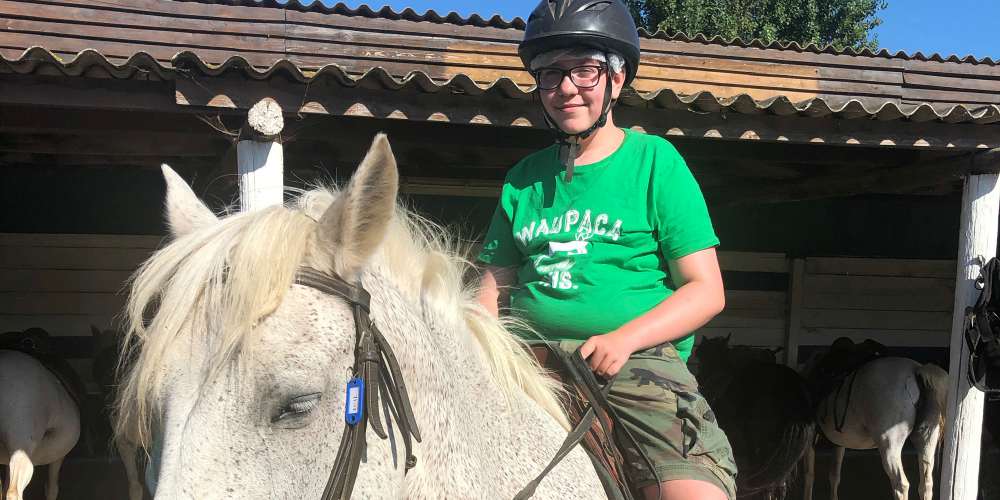 Another day we ventured just out of the site to Ranch St. Jean to try out horse riding with the older children. I made the mistake of saying I had a little experience and was given Volcan to ride, a horse that either stopped dead and refused to move or just spontaneously trotted. I regretted not packing any trousers, as shorts were not particularly well suited to the activity. Noah, on the other hand, was in his element. He wants to study to become a vet and this was his first time on a horse, which left him beaming from ear to ear. Bea wasn't left out as she enjoyed a couple of rides around the stables on a pony called Cashew who like to eat but was in her words 'very calm and kind and my new best friend'.
If you fancy an adventure further afield, the picturesque village of Roquebrun is well worth a day trip. The peach-and-gold-coloured houses there cling to the side of the mountain. We hired a pedalo and spent a lazy afternoon eating ice cream and pizza, and swimming in the River Orb.
Back at the campsite, the evening entertainment was definitely worth catching. It was all in French, but the performers were living their best lives, whipping the audience into a frenzy with magic shows, cabaret and energetic Europop routines. There was even a basketball show with a group called 'the Flying Dunkers' that Kevin, my partner who hails from the States, thought was 'fantastic, just like the NBA half time shows back home'. Get there early though as it's very popular.
When you're travelling with a big group made up predominantly of kids, it's easy to forget that it's your holiday too. The Balneo, the thermal spa, open only to over-16s, is surrounded by olive and eucalyptus trees and seems a million miles away from the raucous water park. I managed a few mornings getting there when it opens at 9 am and spent a glorious couple of hours skinny dipping and reading novels.
There was so much we didn't get a chance to try out. The kids' clubs offer permaculture classes, theatre workshops, paddle boarding, cookery classes, beach football… the list goes on.
One week was just not long enough. Before we knew it, we were packing up and heading home. If you can, stay at least 10 days, or do what most other families we met there do and go back the next summer.
The lowdown
Seven nights at the Yelloh! Village le Serignan Plage three-bedroom Superior Vista + AC mobile home on 7th August 2021 for 7 nights £1885.80 and based on a family of six sharing with free use of all the on-site facilities.  alfresco-holidays.com or call 0161 332 8900
Activities
Bike hire, €8 per day on site at the Bike Shed
Guided horse-riding €20 for one-hour (age 10 and over) Ponyland experience (under 10) €6