Families all over the UK are finding adventure alive, well and satisfyingly wild in the French Alps this summer. With temperatures of 25˚ and rising, the weather's perfect on hundreds of Alpine beaches. It's pretty fine for skiing too and there's snow on the Grand Motte Glacier, even in August. Wildlife is out of hibernation and outrageously cute. Extreme (and not so extreme) activities are never in short supply. And, if bragging potential's a pre-requisite: cycle round Morzine in late July and you're hot on the heels of the Tour de France.
Alpine Elements are one of Europe's leading activity holiday specialists and they love the French Alps. So if you're not completely convinced about the wisdom of short flights, awe-inspiring experiences, queue-free attractions, soaring mountains, sunny beaches and family-shaped fun this summer, here's what the experts have to say.  

1/5

  A new adventure, every minute of every day

Imagine the French Alps as an enormous summer playground interconnected by hundreds of speedy ski-lifts and you've some idea of how thrilling the region is for kids.

Almost nothing's out of bounds from high-altitude mountain biking to sun-drenched skiing, wild swimming in mountain lakes to white water rafting down some of the world's most daunting rapids.

Mention hiking on a wet British weekend and you won't be greeted with much childlike enthusiasm. Add in flower-filled Alpine meadows, warm weather, fantastic picnics and tall peaks made possible without too much effort – those lifts again – and expect 100% approval rating.

Even holiday-education isn't a tough sell when learning experiences cover just anything from canyoning, canoeing and rock climbing to mountain boarding, mountain biking and history lessons courtesy of thrilling GPS treasure hunts.
Good to know
Alpine Elements' Active Packs give families over 80 fun activities to choose from, and dozens are free or as good as. Pick a pack to suit your style from easy going to full-on non-stop action and Active Reps in every resort are on hand to help out with bookings, equipment hire and useful advice.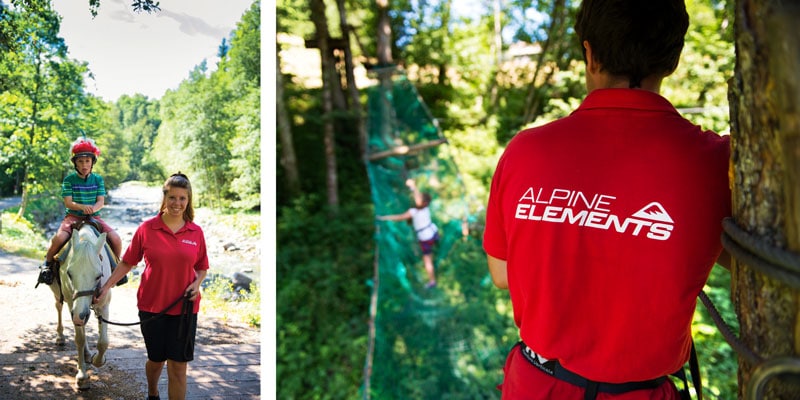 2/5

Free Active Clubs for kids from four to 16 in every resort

Free Active Clubs for kids from four to 16 are an Alpine Elements' treat for parents in every resort. Take a bit of time for spa treatments, laze around and admire the view or head of on an adventure that's just a bit too extreme for your precious children to try.

What you do with your free three hours every day, five days a week, is entirely up to you. All you need to know is the kids aren't missing you one bit. They're far too busy with good stuff like hiking expeditions, lake swimming, treasure hunts, beach sports, pool games, creative play, waterside picnics and hanging out with new holiday friends.  
Good to know
Alpine Elements' free Active Clubs run five days a week plus you get a free half day session for each of those five days.
For one or two-days-a-week, take part in 'Family Fun' days which allow parents to join sociable excursions with other families.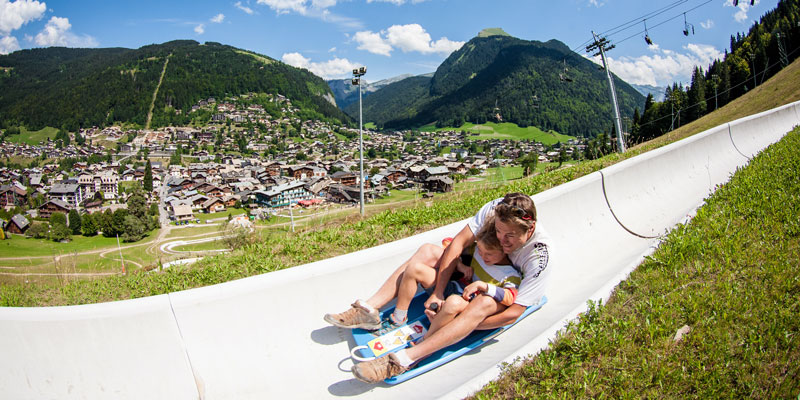 3/5

  Cosy winter chalets are perfect in summer too

One of the most enchanting aspects of a winter holiday in the French Alps has to be pretty Alpine chalets complete with chalet hosts taking care of everything from cooking to cleaning and leaving you to simply relax.  Fortunately, they don't shut up shop in summer, so there are just as many places to enjoy traditional carefree hospitality when the snowline recedes. The same's true of family resort hotels: no less charming in July and August but often with cool outdoor swimming pools and good weather for balcony breakfasts.

From its gorgeous Alpine looks and traditional Savoyard warmth to pools, outside and in, Hotel Hermine Blanche in Morzine is perfect for active kids and scores well on fantastic local cooking and sun decks for parents. Sporty families and keen cyclists might prefer Hotel Christiania in Les Gets: a 4-star Diamond Rated mountain classic with more pools, mountain-bike hire and even inhouse bike mechanics.

Or perhaps you'd like to be closer to a lake or minutes from kids' clubs. Maybe a ski-lift on the doorstep is a deal breaker or you can't imagine an holiday in the French Alps (even in August) without a lively resort vibe.
Good to know
Alpine Elements have all these accommodation bases covered and many more this summer in Les Gets, Morzine, Val d'Isère and Tignes. So all you really have to work out is what you want, which view you like best and when you're arriving.

4/5

  Alpine splendour is a given all-year-round

Considering the French Alps are most famous of all for skiing, it's ironic to discover they're more accessible and easier to explore in summer than winter.

Apart from dramatic, snow capped peaks, green predominates in an infinite range of shades. Dense forests open out onto lush meadows. Deserted roads spiral up mountains and big, blue skies are a constant presence. You might not cover the region's entire 1000km network of marked bike routes, lifts, hiking trails and paths in one holiday. But, if you're up for a family challenge and some serious bragging rights back home, it's definitely worth a try.

Just don't forget to drop in on a few lakes too. Glacially clear mountain water puts the sun-oil-slicked Med to shame, so do Alpine beaches and, if you want crowds, you are in the wrong place altogether. In fact, only the weather could deceive you into thinking you were by the coast. Go wild swimming, float on your back, stare up at mountains and be happy you're not.
Good to know
All Alpine Elements holidays come with free bike hire and free lift passes for gondola and chair lifts, to help you cover lots of miles easily and explore the local area at your own pace.

5/5

  Drive to the French Alps in under eight hours

You could cut flights out of the holiday equation completely this summer and opt for an iconic family road trip instead. It takes between seven and eight hours to drive through France to the Alps – if you resist stopping and staring every few kilometres, the scenery's stunning. Alternatively, ease up on the journey a little and fit in one or two sleepovers along the way, the Alps will still be there and waiting no matter how long you take to arrive.

Choose self-drive with Alpine Elements and you can pretty much map your own itinerary, pick the perfect places to stay and save up to £200 per person on your holiday.
Good to know
Book a holiday in any Alpine Elements' resort in the French Alps this summer and one child, up to age 15, goes free.
A second child stays for half-price and there's £50 off for all other children whichever resort you choose.