Getting away together is something all families look forward to, but getting hit with single-occupancy premiums can be a pain for single parents. We've rounded up the best single-parent holidays so every member of the family can have a great time.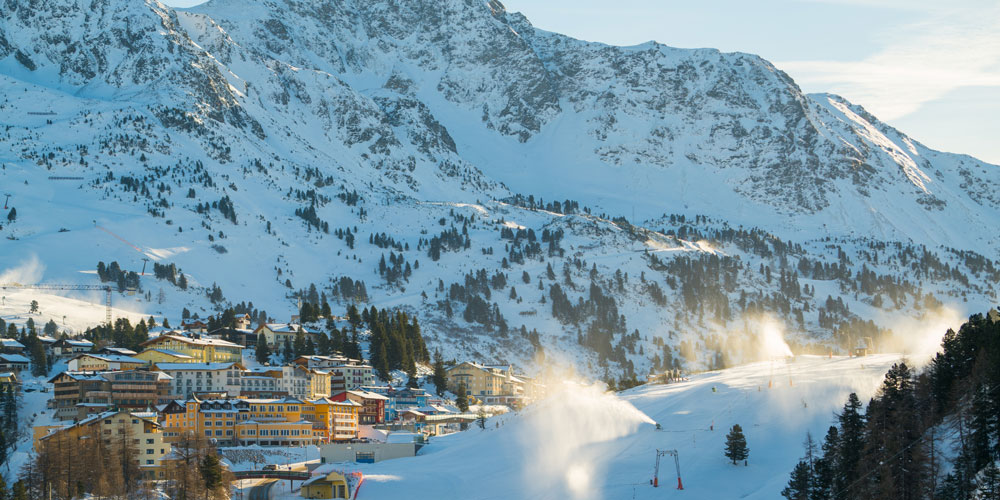 1/9 

Seven nights' full board 4* skiing in Austria

Take to the slopes and enjoy a winter challenge with your little ones on this four-star skiing break in Obertauern, Austria. With over 100 kilometres of runs and a fun snow park everyone from beginner to pro will be spoiled for choice. The hotel offers a kids' room with toys and a childminder for those aged three and over, as well as a teen room with Wifi, flat-screen televisions, electronic consoles and games tables. Access to the hotel spa with indoor pool is included so families can unwind in the warm after a day in the snow. You will be well-fuelled during your holiday as the package includes a hearty buffet breakfast and lunch, apre-ski snack in the afternoon and a five course meal each evening. A night time toboggan session and floodlit skiing are some of the evening activities on offer.

What's included: Airport transfers plus seven nights' full-board accommodation in a family room at the 4* ski-in, ski-out Hotel Steiner

Where: Obertauern, Austria

When: 11-18 April 2020

Price: £850 for children up to five, £950 for those 6-11, £1010 for those 12-15 and £1090 for adults and children aged 16+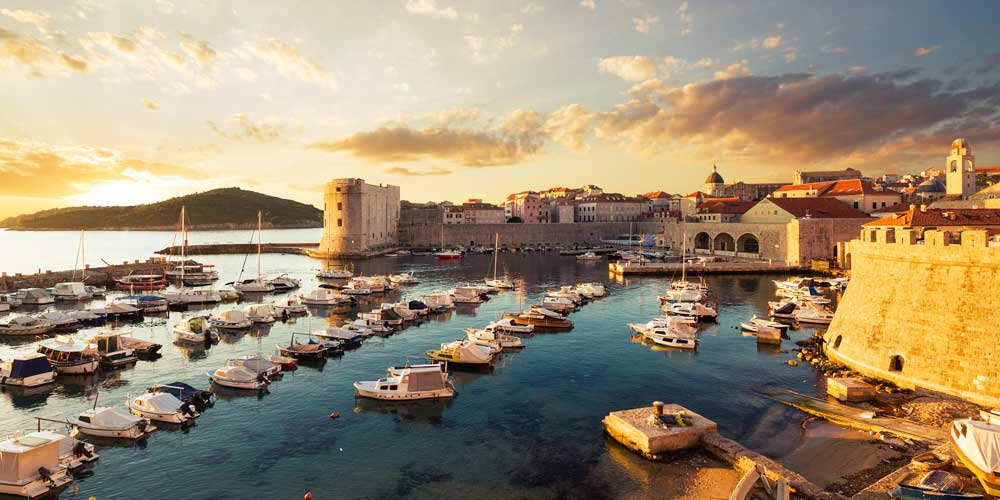 2/9 

Seven-night Croatia summer break, Dubrovnik

Explore the UNESCO World Heritage Site of the Old Town of Dubrovnik during this family trip to Croatia. Staying on the Dubrovnik Riviera families can soak up the sunshine on one of the pristine beaches, ride on cable cars, take island tours or even country hop over to neighbouring Montenegro. Quad bike safaris and water sports are just a couple of the more active pursuits available on this trip. Families can enjoy all inclusive board with a kids club, swimming pools and more water sports to keep little ones entertained after full days of exploring.

What's included: Return flights from London, airport transfers and seven nights' all inclusive accommodation

Where: Dubrovnik, Croatia

When: 6-13 August 2020

Price: Early Bird prices (book before 30 November 2019) are £1050 for each first child, £815 for second children and £1405 per adult
3/9 

Seven nights' multi-activity holiday at a rural Italian farm

Enjoy breathtaking views and scenic vistas with your loved ones on this holiday to rural Italy. Staying on a farm in the heart of the countryside your family will enjoy a full programme of activities including jam making, Italian conversation practise, a mosaic workshop, a trip to Lake Barcis, fruit and vegetable picking and more. Parents can choose to join in with the classes or leave older kids to enjoy while you relax by the pool! The Gelindo dei Magredi Farm is set within a beautiful nature park at the foot of the Dolomites, a UNESCO World Heritage Site. All accommodation is within four farmhouses and is air-conditioned with views of the garden, terrace or swimming pool. Guests' food is grown on the farm so you can be sure of delicious and nutritious meals during your trip.

What's included: Half-board accommodation including breakfast buffet, afternoon buffet with juices, fruit and farm cakes and a four-course evening meal with soft drinks and local wine

Where: Friul, Italy

When: 23-30 May; 25 July-1 August; 22-29 August 2020

Price: From £690 for children up to five; £710 for those 6-11, £740 for those 12-15 and £790 for adults and children over 16. There are 25% discounts available for second and third children under 12 years old.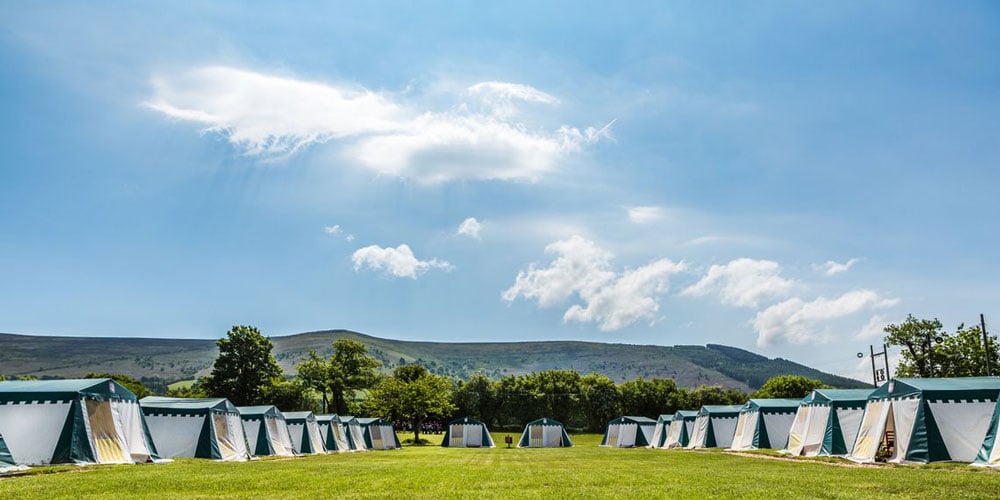 4/9 

Four nights' all-inclusive camping in the Brecon Beacons, Wales

Set on a stunning 17-acre campsite in the heart of the Welsh countryside, this four-night camping break in the Brecon Beacons will help you connect as a family amidst beautiful nature. Set one mile away from the largest lake in Wales, families can get stuck into activities such as high ropes courses, kayaking, raft building, archery and abseiling. There is an indoor area that is perfect for evening discos and talent evenings, and staff take care of the evening programme for little ones so that parents can socialise and have time to unwind. The tents include raised beds, hard flooring and lanterns, so you won't be roughing it! Meals are prepared and served by the staff so despite the 'camp' setting parents can really enjoy a proper break during this week of fun.

What's included: Three or six nights' all-inclusive tented accommodation plus all activities and instruction.

Where: Brecon Beacons, Wales

When: Between 25 July and 24 August 2020

Price: For three nights, it is £188 per child and £218 per adult. For six nights, it is £349 per child and £399 per adult
Book this Brecon Beacons camping holiday at Acorn Family Holidays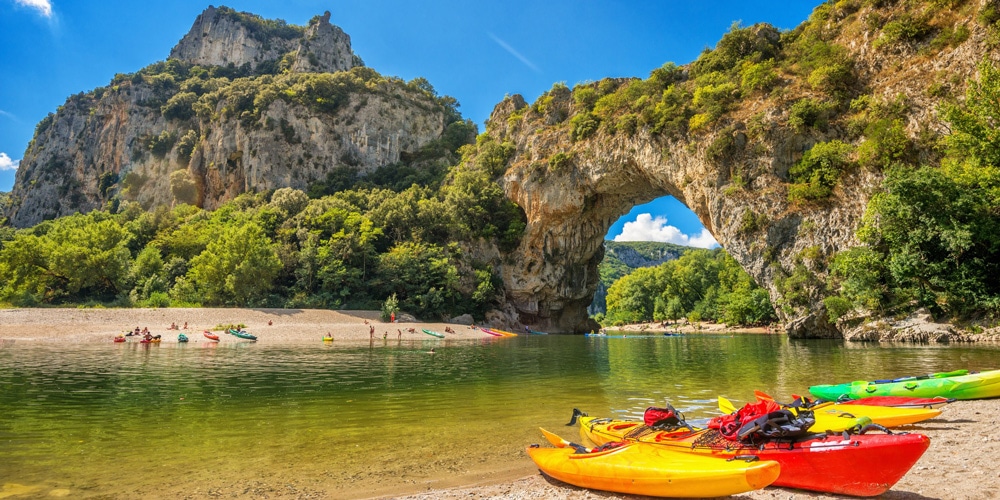 5/9

  Six nights' all-inclusive activity holiday in the south of France

Staying near the 'Grand Canyon of Europe', families can enjoy an action-packed holiday of adrenaline fuelled sports and activities. Take an open canoe and paddle down the famous Ardèche River Gorge, covering over 26 kilometres of the passage. Try high ropes courses, caving, exploring the local area and swimming in the on-site pool. The Adventure Camp is perfect for families, with pre-erected tents, a cafe and bar, convenience store and even a private beach area. In the evening gather with other families for socialising and entertainment and make life-long friends. Meals are served in the communal marquee.

What's included: Coach transport, six nights' all-inclusive tent accommodation, all programme activities and three meals a day

Where: Ardèche, France

When: Between 1 and 28 August 2020

Price: £448 per child, £506 per adult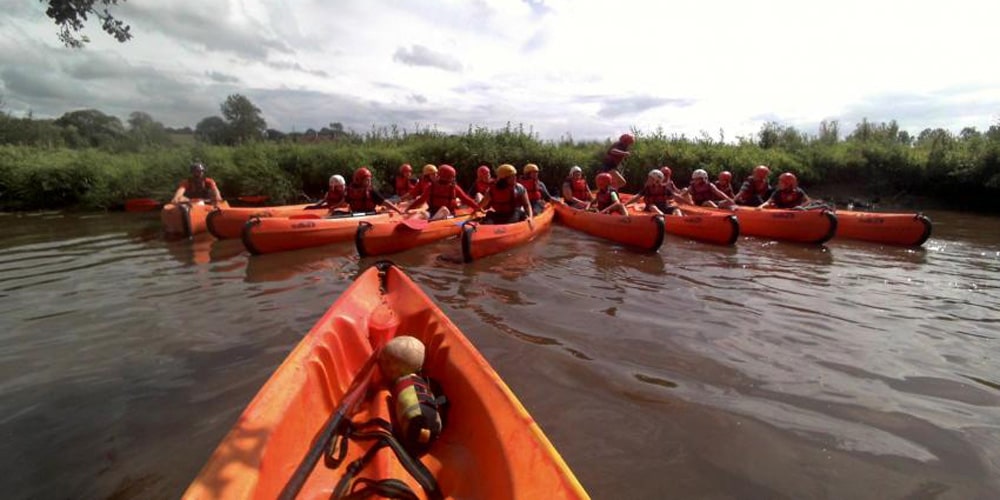 6/9

  Seven nights' Adventure & Discovery holiday, Normandy

Enjoy a holiday full of adventure and culture with this seven-night break in Normandy, France. There are three and a half days of sports and activities mixed with two and a half days of trips and cultural visits, making this ideal for families with children aged seven plus. Guests will have the chance to try bushcraft skills, fencing, orienteering and more while the trips out include a visit to Baueaux and its famous tapestry, seeing the D-Day landing beach, visiting the Arromanches 360 cinema and taking in the historic Mont St Michel. Travel is by coach and accommodation is in pre-erected tents with raised beds.

What's included: Coach transport plus seven nights' all-inclusive accommodation with all meals, excursions and activities.

Where: Normandy, France

When: 1-8 August 2020

Price: £499 per child and £549 per adult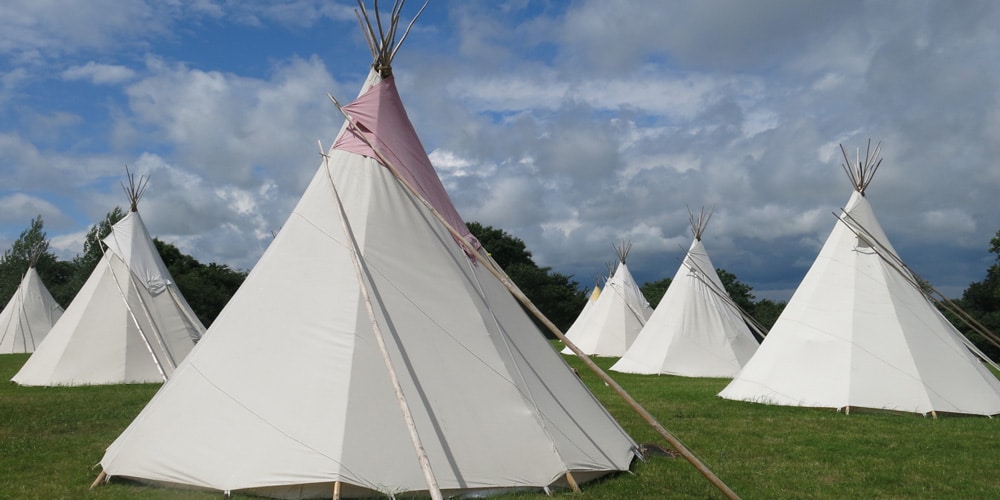 7/9

  Four nights in a tipi, Hereford, England

Get back to nature with this stay in an authentic tipi set in 11 acres of English countryside. Children can run wild and barefoot within the area of Outstanding Natural Beauty, make dens in the acres of ancient woodland and play wide games with their new friends. At dinner time families can get together to cook pizza and bread in the Earth Oven before cosying up near a campfire with marshmallows and hot chocolate. Nearby are quaint market towns, the Malvern Hills and the Forest of Dean for day trips, though the beautifully furnished tipis are so comfy you'll find it hard to tear yourself away!

What's included: Four nights' self-catering accommodation in a full furnished tipi with gas camping stove and a shower block, outdoor fire pit and barbecue. Single With Kids has exclusive use of the site and you will be hosted by a co-ordinator who will organise several communal meals.

Where: Little Dewey, near Hereford

When: 29 July-2 August 2020

Price: £250 per person
Book this Hereford tipi holiday at Single With Kids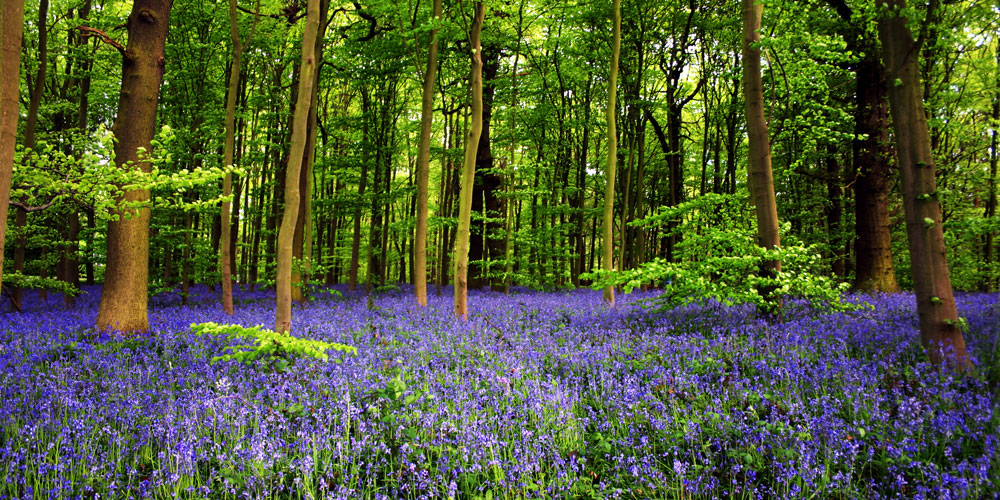 8/9

  Three-night Easter break in Sherwood Forest, England

Play Robin Hood among the dense forest of Sherwood in Nottinghamshire during this Easter break for single parent families. Around 40-50 parents and children will stay in modern self-catering accommodation within driving distance of Go Ape aerial courses, wildlife-rich Clumber Park and the friendly White Post Farm. Families will enjoy spending time together on the sun terrace or in the grounds of the accommodation, relaxing in the TV lounge or enjoying a meal in the on-site restaurant. This is a self-catering break and families are free to organise their own local day trips.

What's included: Three nights' self-catering accommodation in a private family room (ensuite bathroom available for a £5 supplement)

Where: Sherwood Forest, Nottinghamshire

When: 10 April – 13 April 2020

Price: £125 per person
Book this Sherwood Forest Easter break at Single With Kids
9/9

 Seven-night all inclusive break in Montenegro

Discover the tiny jewel that is Montenegro on this four star all-inclusive summer holiday. Staying on the same beach favoured by James Bond in Casino Royale, families can explore the unspoilt coastline as well as the rolling countryside and rugged mountains of this relatively undiscovered country. A traditional fishing village with authentic tavernas is nearby and the old town of Budva is just a short walk away. Families will enjoy all inclusive four star hotel accommodation so in between discovering ancient churches and walled fortresses you will be able to unwind in luxury.

What's included: Return flights from London, airport transfers and seven nights all inclusive accommodation in a four star hotel.

Where: Budva, Montenegro

When: TBC

Price: TBC

Love family adventure holidays? Forget biking and hiking; go on an alternative adventure holiday.