Families of sun-seekers looking for an Easter break don't have to endure a long-haul flight. There are plenty of places in Europe that are gearing up to be lovely and warm in the spring. Plus, in March and April the landscape is still green and flowers are beginning to open in the warmth – making Easter the ideal time for a sun holiday in Europe with the kids.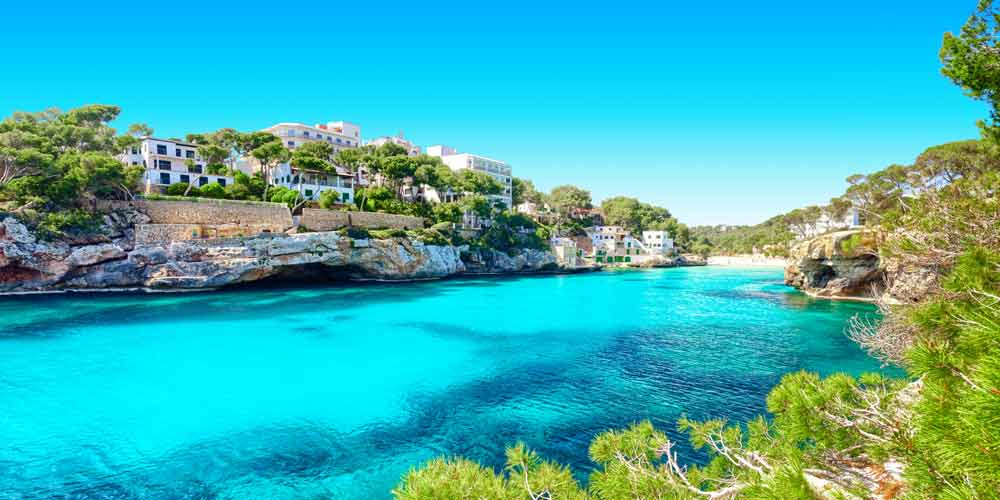 12/12

 Mallorca, Balearics

Mallorca in the spring is an entirely different island from the one you'll see in summer. There's still a high chance of sun, as March temperatures are upwards of 20˚ in the south, and the transparent greeny blue of the Mediterranean is pretty much a constant all round the coast. But spring is the season for exploring the countryside, finding villages tucked off the tourist trail and finally understanding why the likes of Chopin and Miró loved this seductive Balearic best of all.

Palma's urban beaches are quieter at this time of year and the city's easier to enjoy. Down on the south coast, holiday-ready seaside towns still feel fresh and enthusiastic in the lead up to June. And even resorts like Magaluf are fun rather than frantic in the spring.

Cala d'Or in the south east is reliably good fun for families early in the season. But if you want authentic charm and a quick route from coast to country, think about Puerto de Antraitx to the west.

March to May temperatures in Mallorca: 20 – 25˚

Sunshine between March and May: 8 to 10 hours

Flying time from UK: 2 hours and 15 minutes, direct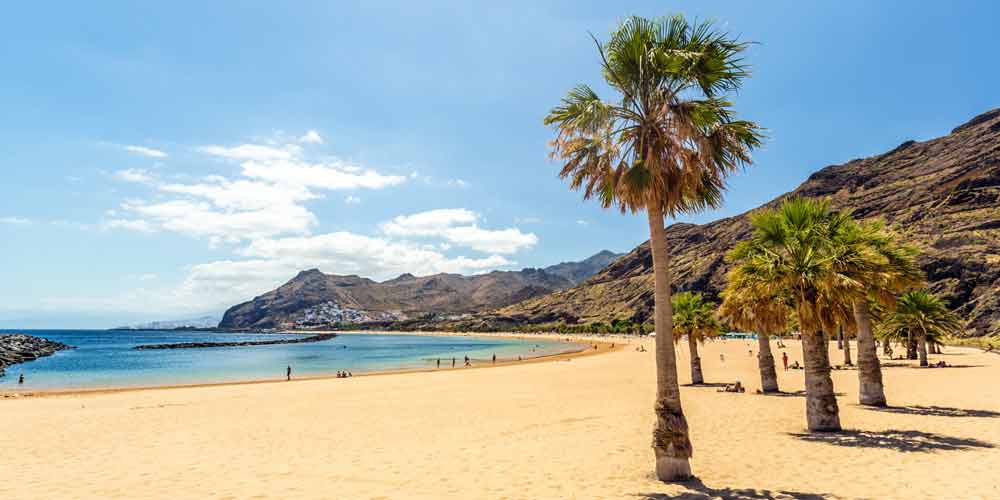 11/12

 Tenerife, Canary Islands

The south west of Tenerife is always a good bet for winter warmth. Come March, temperatures are upwards of 20˚ with eight hours of sunshine. It only gets better and better in the lead up to May and summer holiday prices don't really hit until June.

Most of the island's bigger attractions are year-round now and spring is easily the best season for trekking in Mount Teide National Park or the Masca Valley. It's also a good time to discover towns and villages off the beaten track and have beaches almost all to yourself. And, if you need to be reminded that there's life beyond the tourists here, spending a few hours in colourful and cultured Santa Cruz or historic La Orotava should do the trick.

March to May temperatures in south west Tenerife: 20 – 25˚

Sunshine between March and May: 8 to 10 hours

Flying time from UK: 4 hours and 30 minutes, direct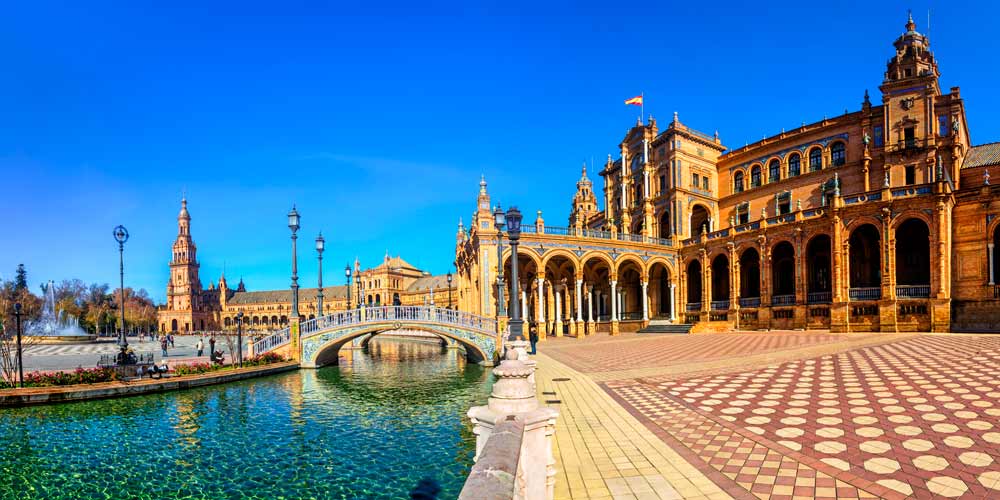 10/12

 Seville, Andalusia

Early spring is by far the best time to visit Seville. Orange blossom season starts in the last days of February and by March the city's drenched with the smell of citrus. Temperatures of 22˚ are warm enough for shorts and manageable for little ones, compared to highs of 40˚ that this part of Andalusia bakes in during July and August.

Despite the scorching summer heat, Seville is busy all year round, but you can grab a breather by visiting the Alcazar, Palacio de la Condesa de Lebrija, Torre del Oro and Plaza de España. Spend some crowd-free hours in the exceptional Museo de Bellas Artes and have a queue-free day at Aquapolis waterpark – it's easily warm enough in the spring.

Unless you're desperate to be swept up in one of Spain's biggest and most emotional Santa Semana (Easter Holy Week) celebrations, avoid the Easter weekend in Seville. The Seville Fair usually begins two weeks after the Semana Santa and it's great fun, but crazy busy, so probably best avoided if you're after a quiet family holiday.

March to May temperatures in Seville: 22 – 25˚

Sunshine between March and May: 8 to 10 hours

Flying time from UK: 2 hours and 40 minutes, direct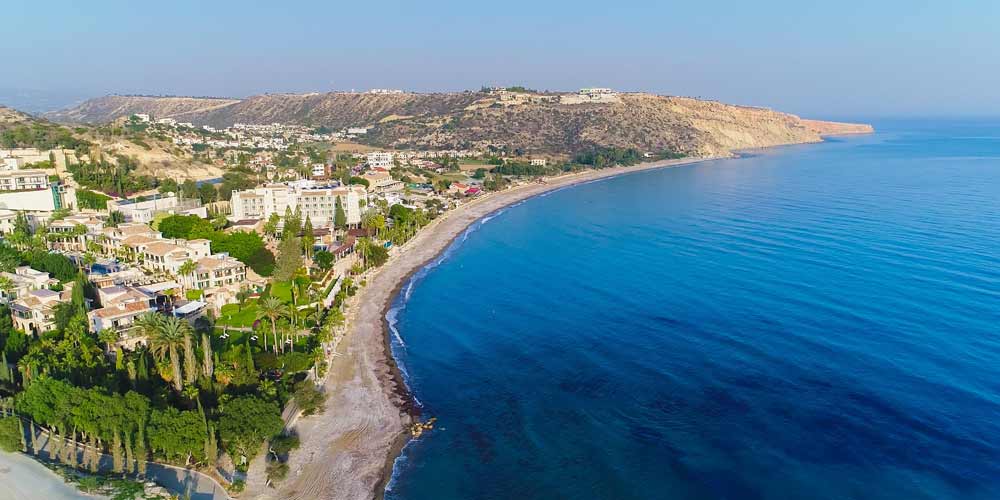 9/12

Southern Cyprus

The south of Cyprus is warm enough to add beaches into a spring holiday. Average temperatures range from 22˚ in March to highs of 27˚ in May. This means it's a lovely time to visit the coast and even better for exploring the countryside, visiting mountain towns and villages and doing a bit of walking or cycling. Cyprus is too hot in July and August to stray far from the Med.

The ancient city of Paphos in the south west was the European Cultural Capital in 2017 and is worth seeing in advance of the summer crowds. Spring is also ideal for lively Larnaka, whether you want water sports or cultural icons like the Agios Lazarus church. It's also the perfect time to visit Ayia Napa for waterparks and theme parks before hordes of 20-somethings turn up in June.

March to May temperatures in southern Cyprus: 22 – 27˚

Sunshine between March and May: 8 to 10 hours

Flying time from UK: 4 hours and 45 minutes, direct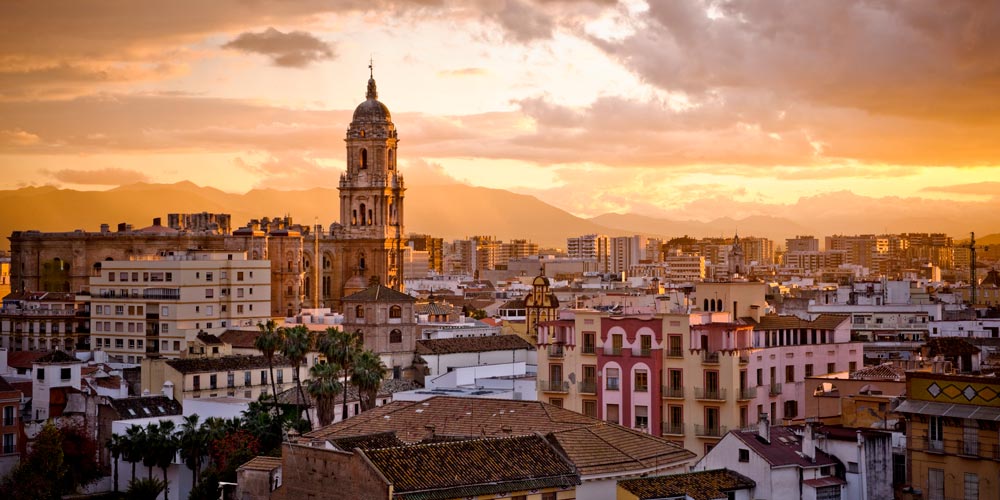 8/12

 Malaga, Costa del Sol

If Malaga instantly makes you think of crowded sands and new-build apartments, you might want to look again at the undisputed capital of the Costa del Sol. Not only does the city celebrate its most famous son with one of finest Picasso museums in the world, it's home to the only Pompidou Centre outside France, CAC Malaga and the Museo Carmen Thyssen (younger sister to Madrid's Thyssen-Bornemisza).

Give Malaga a chance in spring and it's a lot easier to appreciate why the beaches have been holiday icons for over 50 years. Art and sunbathing aside, this is also the city to find outstanding Andalusian cooking in some of the region's finest restaurants. They're short on picture-menus, but even the starriest and most award-rich are relaxed, family-friendly and wonderful with kids.

March to May temperatures in Malaga: 20 – 25˚

Sunshine between March and May: 8 to 10 hours

Flying time from UK: 2 hours and 40 minutes, direct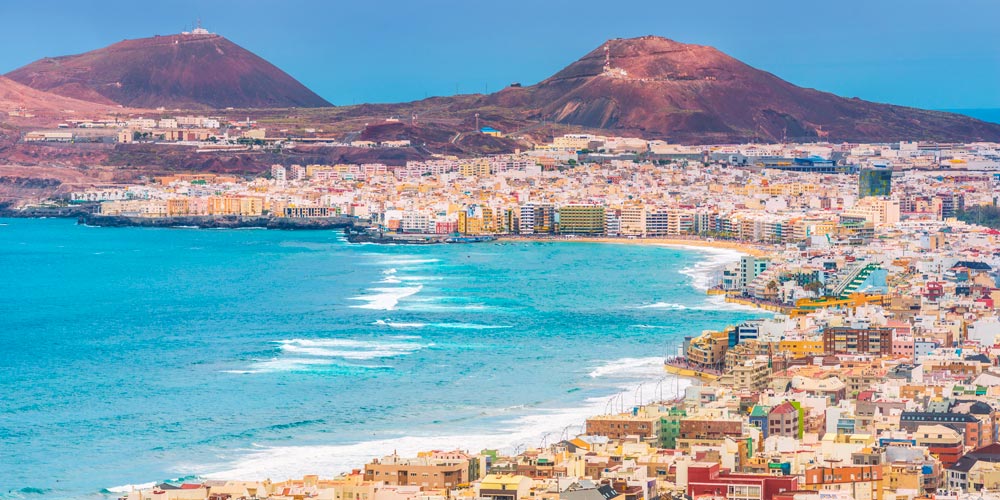 7/12

Gran Canaria, Canary Islands

Temperatures in Gran Canaria are often higher than Tenerife: comfortably reaching 22˚ in early March and climbing to above 25˚ in late May. One third of the island is a UNESCO biosphere and it has over 60km of beaches scattered round a dramatic coastline of soaring cliffs, sea stacks and vast dunescapes. So if you want warm and interesting this spring, the 'other' Canary is definitely worth a look.

The south coast is best for sun and family holidays in the next few months. It also happens to be where you'll find the astonishing Dunas de Maspalomas, Playa des Ingles and a string of Mediterranean seaside towns to win you over with everything from early season water sports to dolphin cruises.

Las Palmas is an easy hour's drive from lively southern resorts like Puerto Rico, Playa Taurito and Puerto de Mogán. Spring weather couldn't be better for walking, cycling and exploring in the impressive Pilancones and Tamadaba reserves, or climbing the Pico de las Nieves' foothills.

March to May temperatures in Gran Canaria: 22 – 25˚

Sunshine between March and May: 8 to 10 hours

Flying time from UK: 4 hours, direct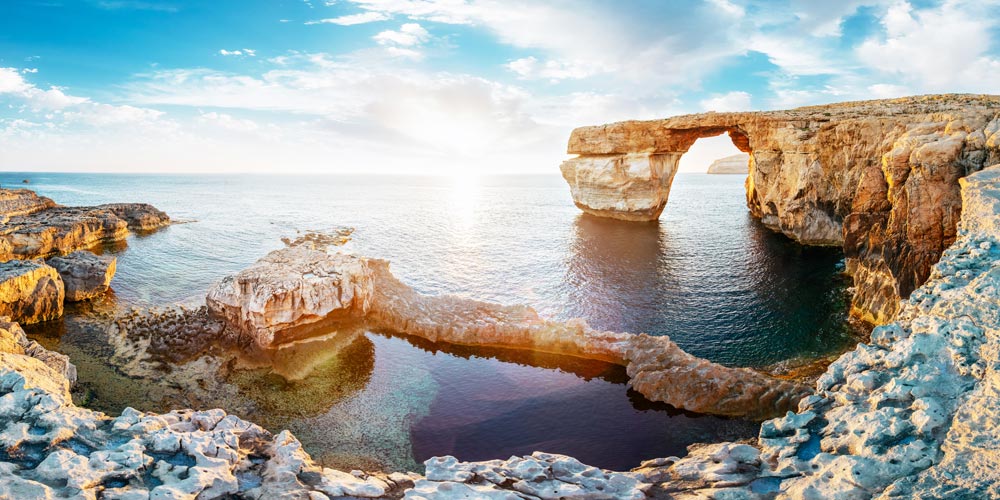 6/12

Malta

If you don't like the idea of betting everything on a beach holiday this spring, think multi-faceted Malta. The bold coastline is big enough to take advantage of every drop of heat and, with temperatures of 20˚ and rising in March, the odds of sun are good. And if it's not seaside weather all the time, there's always Valletta to keep you entertained with myths, legends and masses of historic nooks and crannies, ancient districts and deep drama.

Island hopping to Gozo and Comino makes for fun days out. Or, if you've a moment to spare, you might want to go in search of caves, grottos, lagoons, medieval towns, mighty cliffs and even mythical blue holes – you won't have to look too hard for them.

March to May temperatures in Malta: 20 – 25˚

Sunshine between March and May: 8 to 10 hours

Flying time from UK: 3 hours, direct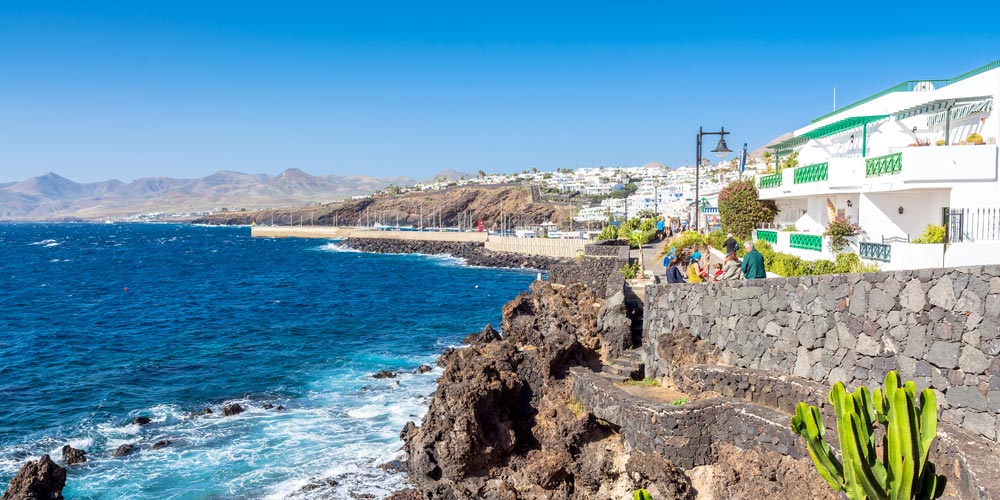 5/12

 Lanzarote, Canary Islands

Only 125km off the west coast of Africa, Lanzarote is the first Canary to warm up for spring and by mid-March temperatures are climbing from 22˚ and eight, unbroken hours of sunshine aren't unusual.

The south east of the island is windiest: a relief in high summer but not what you want for a spring break. Instead, head west to pretty Playa Blanca on the Papagaya Coast. The beaches here are lovely and the resort manages to hold on to its small town charm and still come good on excellent hotels, restaurants and shops.

Spring is the time to brave the otherworldly volcanic landscape of Timinfaya National Park, less than 15 minutes drive from Playa Blanca. It's also a good season for getting to know the island capital, Arrecife, for cycling on Lanzarote's very bike-friendly roads and for off-season surf school rates on the north west coast. Don't miss your chance to explore ancient Teguise and take the ferry and a picnic to the little island of Graciosa for the day.

March to May temperatures in Lanzarote: 22 – 27˚

Sunshine between March and May: eight to ten hours

Flying time from UK: four hours, direct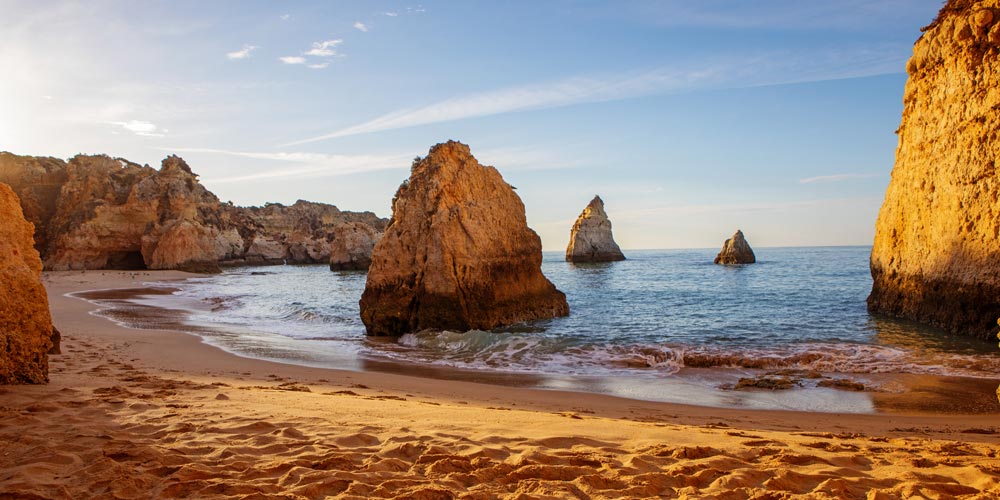 4/12

 Western Algarve

Western Algarve has the Iberian Peninsula's best weather, basically better than anywhere else in Portugal, Spain and Andorra. Spring is no exception and resorts along the coast between Portimão and Lagos almost guarantee sun and blue skies with temperatures upwards of 22˚ from March onwards.

This dramatic stretch of the Algarve coastline is the place for sea stacks, rainbow coloured cliffs and beaches like Praia dos Três Irmãos and Praia da Rocha. Portimão and historic Lagos are lively without being overcrowded and sea views are the only distractions on local golf courses. Surfing is good in spring too and lessons are more affordable and easier to book. And if you want to really stretch your legs, the spectacular Alentejano e Costa Vicentina coastal reserve's less than an hour's drive west of Lagos.

March to May temperatures in Western Algarve: 22 – 27˚

Sunshine between March and May: 8 to 10 hours

Flying time from UK: 2 hours and 50 minutes, direct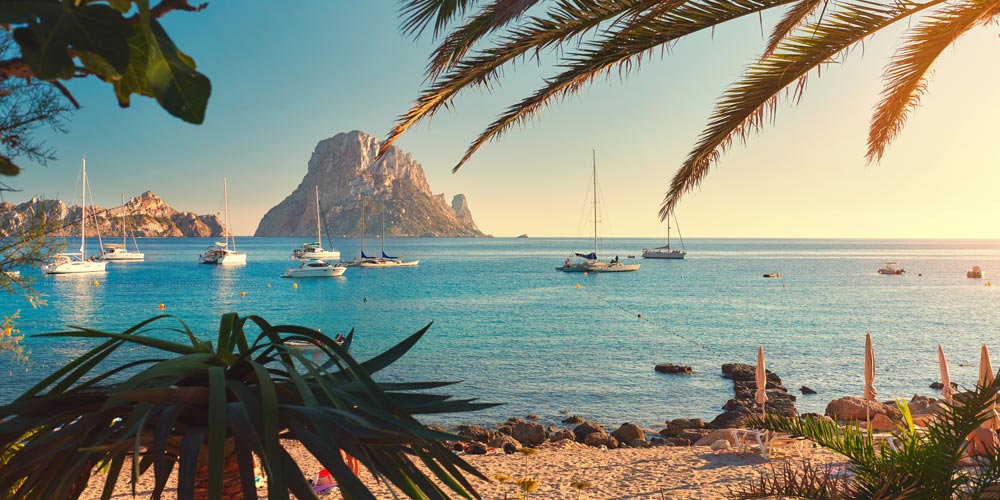 3/12

 Ibiza, Balearics

Spring is family time in Ibiza, when it's too early for party people but sunny and warm on the southern beaches. It's also the best season to get to know Ibiza Town and appreciate why it's one of the most admired small cities in Spain. And March, April and May are great for sailing round the coast on local ferries, exploring the spring-flowered countryside and discovering hidden coves and tucked away villages that are too hot to seek out in summer.

Give San Antonio and Playa d'en Bossa a miss in spring and go for Santa Eulalia on the sheltered south east coast. The town is lively and interesting, the local craft market buzzes with bohemian shoppers and the beaches are soft white sand with gently shelfing waters and a healthy sprinkling of cute cafés and cheerful restaurants.

March to May temperatures in Ibiza: 20 – 25˚

Sunshine between March and May: 8 to 10 hours

Flying time from UK: 2 hours and 50 minutes, direct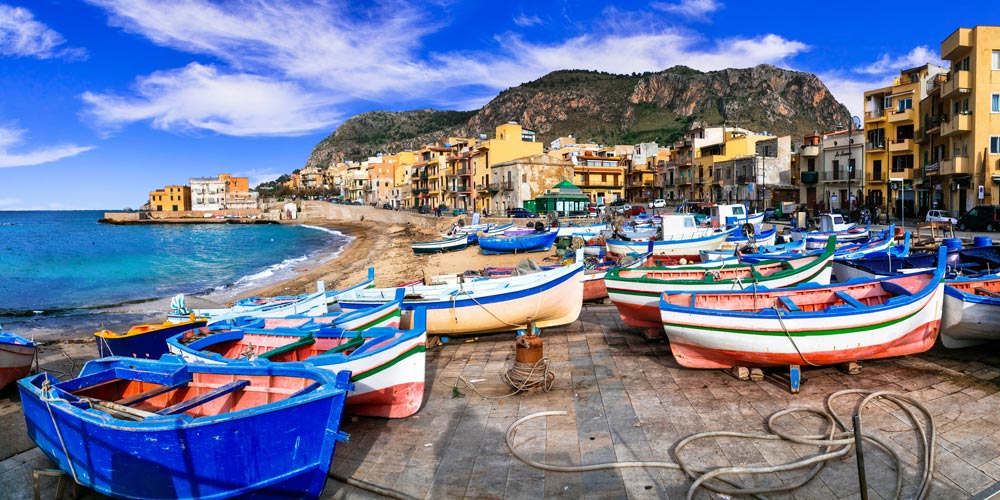 2/12

Sicily, Southern Italy

If spring isn't spring without some serious celebrating in the mix, look to Sicily for almost back-to-back festivals. Holy Week is marked with processions and feasts in every town and village, Easter weekend is the time for spring lamb and rich Cassata all over the island and Noto is the place to visit for one of Italy's most spectacular Infiorata in May.

Spring weather is warm and sunny enough to enjoy any number of beaches from awe-inspiring Scala dei Turchi to the long, golden sands of Sampieri. Temperatures of 22˚ are just about perfect for in-depth exploration round cities like Palermo and Catania. And if you want some serious heat, there isn't a better time of year to introduce older kids to the rumbling might of magnificent Mount Etna.

March to May temperatures in Sicily: 20 – 25˚

Sunshine between March and May: 8 to 10 hours

Flying time from UK: 2 hours and 50 minutes, direct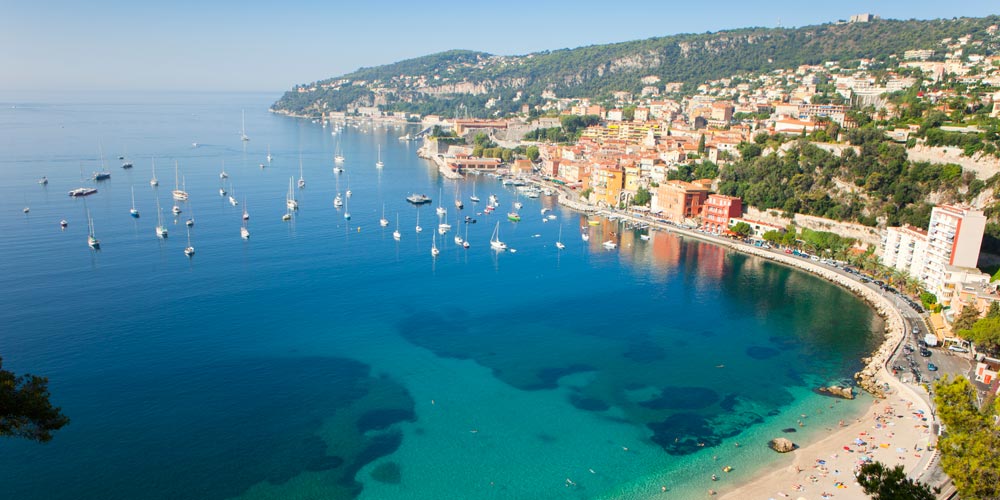 1/12

 Nice, Côte d'Azur

Wait until summer to visit Nice and you might not get the best impression of this warm, friendly Côte d'Azur legend. Once the glamorous, second-home owning celebs descend in July, the city changes entirely. It's too hot and stuffy, everything is overpriced and good luck finding even a hint of local atmosphere.

Spring is another story. The weather is warm enough to dip a toe or two in the Med. Vence and Grasse are easy drives without nose-to-tail traffic and the old town of Nice will steal your heart. Cannes is a lovely cycle along the coast and lunch in Vieux Nice doesn't demand a second mortgage. Plus you can even wander the wild beauty of Mont Boron without running into elderly rock stars.

March to May temperatures in Nice: 20 – 24˚

Sunshine between March and May: 8 to 10 hours

Flying time from UK: 2 hours, direct

Know when you'd like a holiday, but not sure where to go? Our ultimate annual holiday planner will show you where's hot in each month. Hurrah!