Family Traveller reader and mother of two, Kerry Johnson, runs through her and her family's favourite farms in her home county of Devon.
Born and raised in Devon, it is probably no wonder there is nothing we like to do more as a family than make the most of the countryside. Yet in these technology-filled times consisting of screens, screens and more screens, dragging my two kids – aged eight and ten – out the house and away from their tablets can, at times, be an uphill struggle.
Nevertheless, one thing we all have a soft spot for is a trip down to the farm. Whether it's the gorgeous views, adorable animals, muddy walks or even the disguised educational aspect, like learning where our food comes from, visits to the farm always tick the boxes for a successful family day out. We are spoilt for choice down in Devon, so here are a selection of our top five favourite and lesser-known farms for some good old fashioned fun.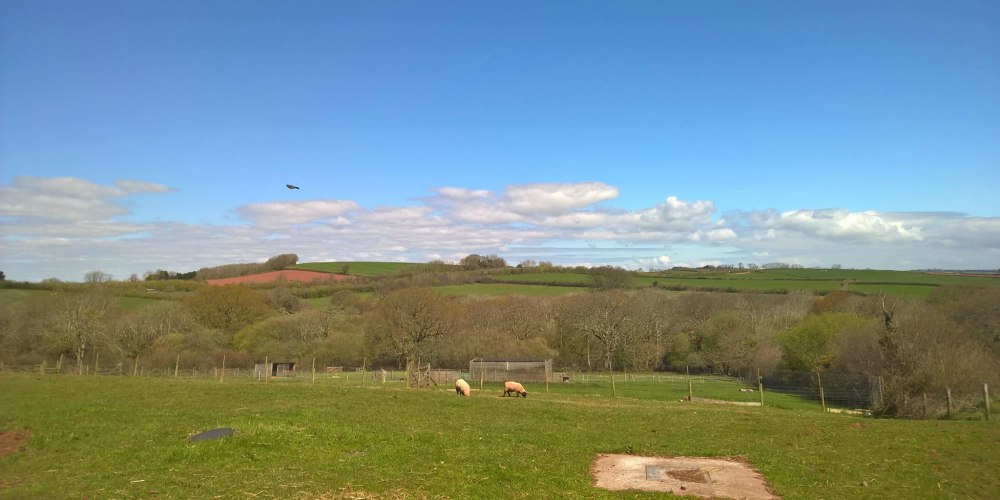 Occombe Farm, Paignton
A working farm with a location that is easier to get to than most, Occombe Farm in Paignton has loads of free parking, as well as a direct bus service from Torquay that drops you off right at the entrance. My two love the playground and sitting on the tractor outside the café, while I look on with a cup of tea and a plate topped up with some of their delicious local produce. Without an entrance fee, you should feel well within your right to treat yourself to one of their divine cooked breakfasts or, during the winter months, their equally delicious Sunday Roasts.
After filling up on grub, follow the marked path where you will encounter llamas, goats, ducks, chickens, and one or two wandering sheep. Then head up through the woodlands and past the ponds for some uninterrupted countryside vistas, bar the odd bird of prey gliding gracefully in the distance. The kids love it too as there are lots of trails to follow and things to collect along the way, not to mention the timeless joy of getting muddy.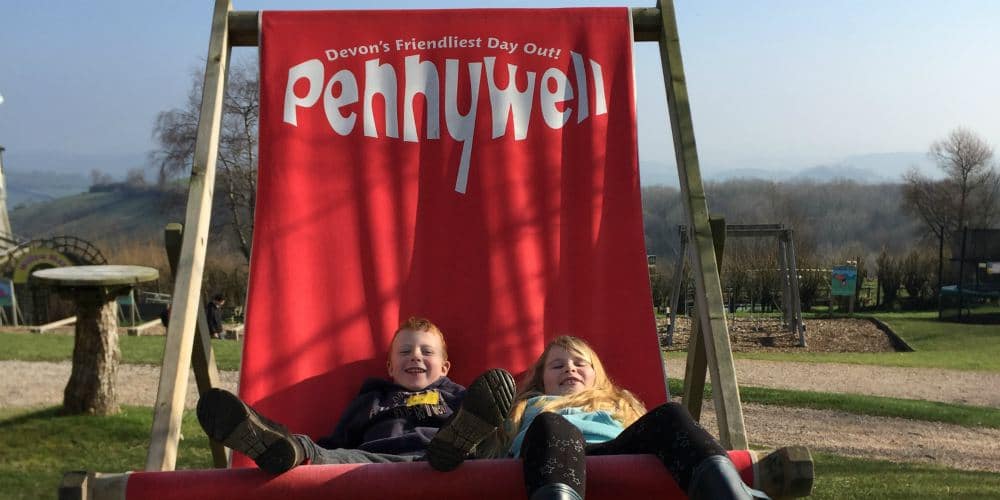 Pennywell Farm, Buckfastleigh
A firm family favourite and probably one of the most well-known in the list, Pennywell Farm in Buckfastleigh has loads to do, yet it comes at a cost; children's tickets are £12.95, while a family of four will set you back around £55. Don't let the price be a deterrent, however, as once you're there the itinerary is jam-packed, with different activities every half hour, from egg collecting to goat milking to pig agility – all perfect inspiration for an aspiring farmer!
On top of the daily schedule, there is also the option of tractor riding, trampolining and adventure play areas, meaning even the most active kids (mine included) will be feeling worn out by the end of the day. For me, the highlight is being able to get up close and hold some of the animals, in particular, the adorable miniature pigs bred by the farm. There are plenty of places to wash your hands too, before heading over to the café for a well-deserved coffee and a freshly-baked waffle.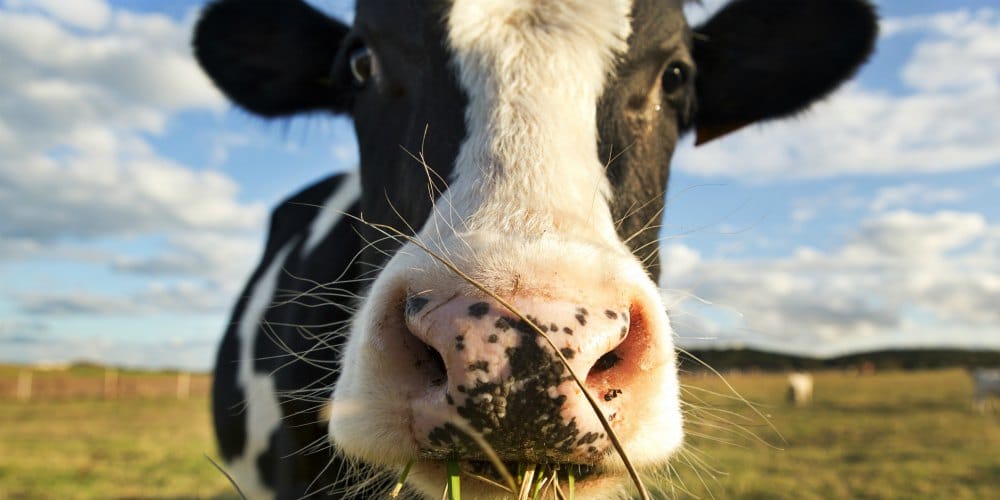 Taverners Farm, Exeter
Open from April through to October, Taverners Farm is a working farm, made famous locally for its delicious homemade ice cream – the award-winning Orange Elephant. The ice cream parlour has a delightful country kitchen feel to it, with lots of indoor seating set around traditional farm house tables, as well as additional benches outside in the courtyard.
Once you've finished filling up on scrumptious ice cream, for a small fee you can visit the summer meadow. Situated just across the road from the parlour, it has a host of play equipment, sand pits and animals, including the very cows responsible for your earlier indulgence. In the summer, they have a Maize Maze to explore that is somewhat trickier than it looks (last year my sense of direction failed me and we never made it to the middle). There are lots of spaces for parking, but it can get busy in peak periods so make sure to get there early to guarantee a spot.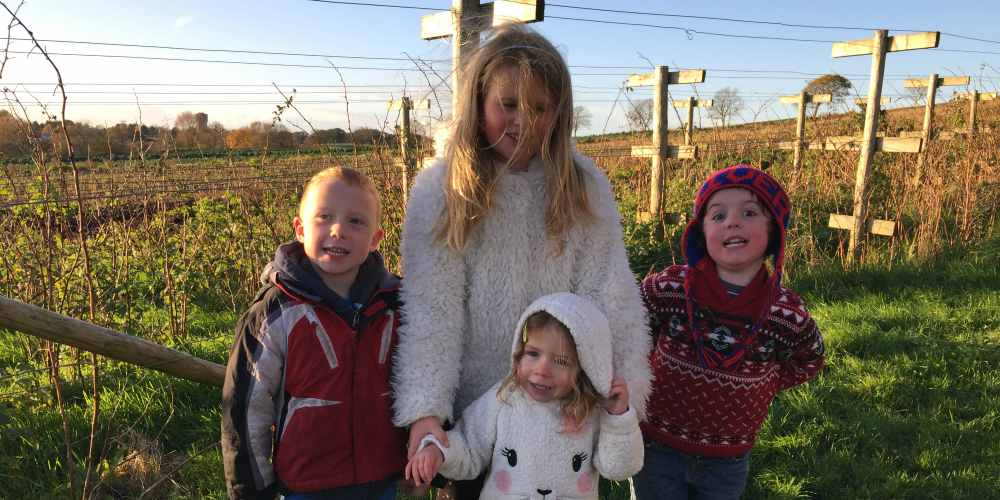 Darts Farm, Topsham
Set just outside Exeter in Topsham, Darts Farm not only offers a day of fun for the kids, it also has some lovely gifts and home lifestyle goodies in its main shop, making it great for parents too. In addition to the farm animals, there are fishing ponds, a bird hide, Maize Maze and a trail that leads visitors through attractive fields of vegetables.
Well known for its eateries serving local produce, including a fabulous fish and chip shop and deli bar serving freshly made soups, Darts Farm offers the perfect take out for the play area while the kids let off steam. We also love the 'pick your own' area that changes with the seasons. We've collected a variety of produce there over the years, from sunflowers in the summer to pumpkins in autumn.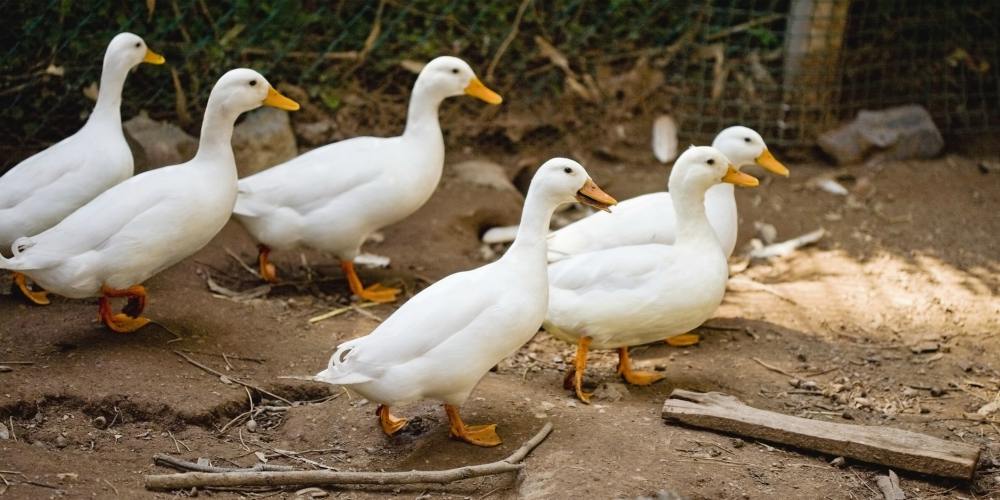 Greendale Farm, Exeter
When you only have a few hours to spare, Greendale Farm is the perfect stop over, offering a farm shop that's fit to burst with locally-sourced produce, as well as a fantastic fish and chip shop serving freshly-caught fish from their own boats. It is a five-generation working farm located slap bang in the heart of the East Devon countryside. You can feed the friendly ducks and chickens, take a meander around the farm trail, which is buggy-friendly, climb and explore the play area and end with a cuppa and cake in the on-site café.
There are plenty of places to burn off energy (and the cake), surrounded by beautiful scenery and local wildlife. I've found that getting the kids to choose sustainably-sourced ingredients for dinner from the farm shop is a great way of teaching them about the importance of being environmentally-conscious when thinking about food.
About the author
Kerry is a mother of two young children, aged eight and ten, and currently lives in the beautiful Devonshire countryside. Together, they enjoy nothing more than going out on adventures in the UK and exploring the sundry delights offered right on their doorstep.
Want to become a PAID writer? Contribute an article to Family Traveller by submitting your work through the readers' travel notes section of the website. Don't forget to add images and include a short bio.