Sponsored Content
If you're planning a family villa holiday this year, take a look at the new collection from Abercrombie & Kent. Now all their family villas are just as tailored to your needs as their range of custom-designed luxury holidays have always been. So, when they promise 'a villa for every family', you really can take them at their word.
A&K make a point of personally visiting and revisiting villas regularly, so every description is accurate and all photography is current: you might find that hard to believe when you see how spectacular most properties look, but it's true. They also pay attention to the tiniest details, and clearly think long and hard about the difference between good and great on a family holiday. So, you can expect to find practicalities like: highchairs, stairgates and pool barriers; fun playgrounds and safe gardens for younger children; interesting local activities to let older kids spread their wings a bit, and plenty of cool stuff to keep teens happy, even at their trickiest.
Plus, every A&K family villa now has an age-group recommendation, so there's no risk of finding yourself trying to fun up a sleepy fishing village for 16 year olds or hunting down quiet toddler space on a heaving beach.
And since part of the fun of a villa holiday is browsing the villas, here's a sneaky look at some highly recommended ones A&K have picked out for kids of all ages and stages: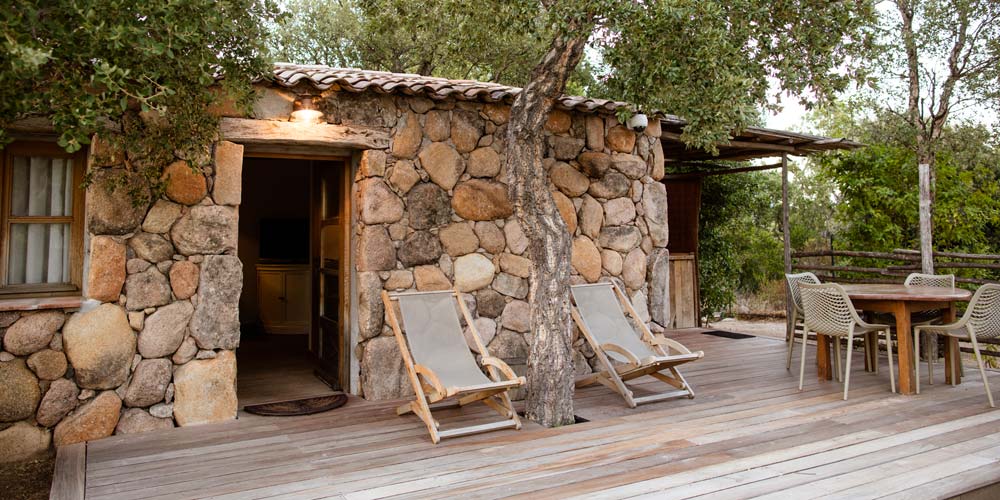 1/4

Best villa for babies and toddlers
Le Mas D'Osu, Porto-Vecchio, south east Corsica
Corsica has a particular talent for family villa holidays. Happily, not everyone has cottoned on to that yet, so there's still plenty of room on the island's heavenly coast and the countryside is as peaceful and untamed as ever.
Le Mas D'Osu is a traditional Corsican property right down to its rural setting, rustic stone walls, beamed ceilings and pretty casement windows. But this is tradition with a cool summer kitchen, light-filled bedrooms, an enormous swimming pool you can actually swim in, as well as opulent bathrooms and even a pool-house gym.
Babies and toddlers don't tend to notice lux design details, but they do love a bit of freedom and since Le Mas D'Osu doesn't have worrying stairs and the pool is safely fenced, you can give them a little more of that than usual. There's also a cute play area and plenty of lawn and shaded nooks around the beautifully landscaped gardens, along with an awesome trampoline to keep older kids entertained.
The villa's in the sunny southeast, best loved for silvery sand beaches, clear seas and astonishing sights like the teetering clifftop town of Bonifacio. Historic Porto-Vecchio is a short drive away and you're no distance at all from lively, water sport laden Plage de Santa Giulia.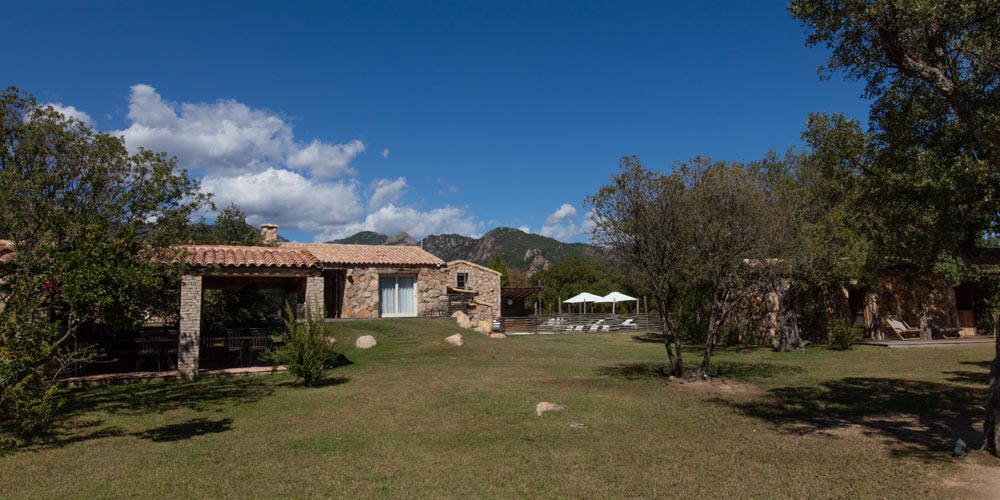 Le Mas D'Osu
Six bedrooms, sleeps up to 12.
Main house, pool house with gym, separate one-bedroom annexe.
Large family kitchen and outdoor summer kitchen with pizza oven.
Landscaped gardens, children's play area and lawns.
Fenced and gated saltwater swimming pool.
Petanque court, trampoline, Jacuzzi.
Air-conditioning, central heating and WiFi throughout.
30 minutes east of Figari Airport – direct UK flights take from two hours, 20 minutes.
Seven nights at Le Mas D'Osu from £8,862 for entire villa, including daily housekeeping.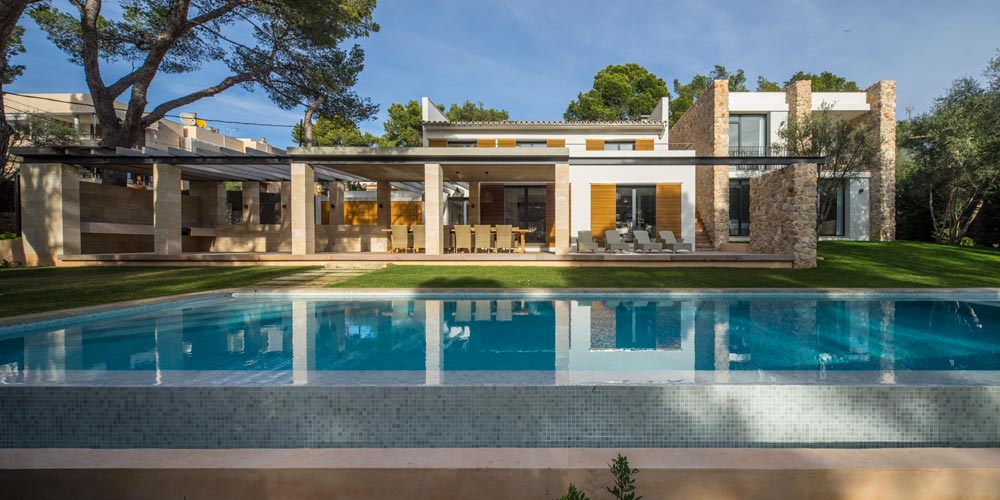 2/4

Best villa for four to seven year olds
Villa Estila, Bendinat, Majorca
Between four and seven, kids are ready to make holiday memories they'll actually remember. They're the perfect age for Majorca, the Balearic that's as effortlessly cool as it is spectacularly lovely, cultured, historic and brilliantly beachy.
Villa Estila is tucked into the chic enclave of Bendinat, just west of Palma, and when you discover the owners are also architects, everything becomes clear. It's beautifully designed and original. There are all sorts of delightful quirks like pergolas that incorporate mature trees and a fun children's bedroom complete with oversize bunk beds.
When kids aren't making the most of new-found personal space, they've the run of a huge garden which includes a safe play area and plenty of grass for impromptu picnics. There's also an elegant dining terrace for more grown-up feasts. And, like everything else, the swimming pool is made for kids: technically it's billed as infinity but has a thoughtful shallow end for littler swimmers.
Villa Estila is just a few minutes' walk to sandy beaches – perfect for little four- to seven-year-old legs. Glossy Marina Puerto Portals is within easy walking distance too. And if you don't mind a short drive, you can be in Palma or super-hip Port d'Andratx in less than half-an-hour.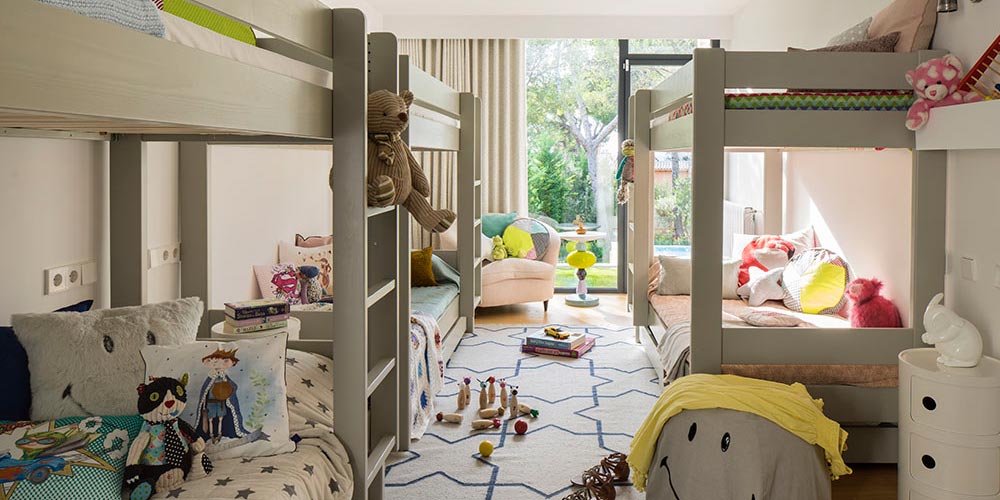 Villa Estila
Five bedrooms, sleeps eight + six children – ideal for two families.
Kids' room with three large bunk beds and play area.
Large, enclosed garden with mature trees and lawns.
Infinity pool with shallow end for younger kids.
Open-plan kitchen with doors onto dining and BBQ terrace.
Upstairs sitting room opening onto outdoor terrace.
Partial air-conditioning, WiFi, satellite/cable/media streaming TV.
20 minutes west of Palma Airport – direct UK flights take from two hours, 15 minutes.
Seven nights at Villa Estila from £9,180 for entire villa, including mid-week housekeeping.
See all villas recommended for four to seven year olds by Abercrombie & Kent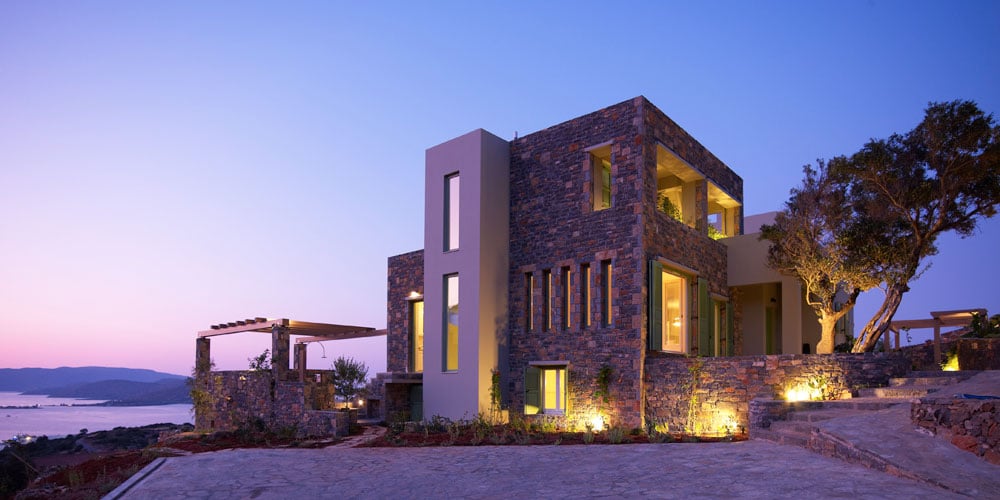 3/4

Best villa for eight to 12 year olds
Villa Cien, Elounda, north-east Crete
Crete is a perfect match for older kids. It's the island where Minotaur legends get real and the fabulously eerie Cave of Zeus is open for exploring. Several of Europe's loveliest beaches are here too. It's the most southerly Greek island so there's no shortage of sun. And if vast waterparks are a deal maker, Crete's north-east coast is the place to find them.
Villa Cien is just over an hour's drive from Heraklion and Knossos, Spinalonga Island is so close you can practically see it from the terrace, beaches by the acre are minutes away, and nearby towns like Elounda and Agios Nikolaos more than satisfy kids' cravings for lively seaside resorts. So, you might be surprised at how peaceful and private Villa Cien feels. Apart from the unbroken views across the Bay of Elounda from its terraces and infinity pool, and quite a few of the eight bedrooms, there's barely a hint of the outside world anywhere.
Kids might be unimpressed by the villa's sense of seclusion, light and airy interior, clean contemporary design and endless luxurious details, but they can't fail to love the exploration-worthy 1.4 hectare private estate that's all around. And they'll definitely be awestruck by the sheer size of the pool, plus the undeniable fun of swimming with views. And under-fives, immune to all the villa's others wonders, have their very own playground.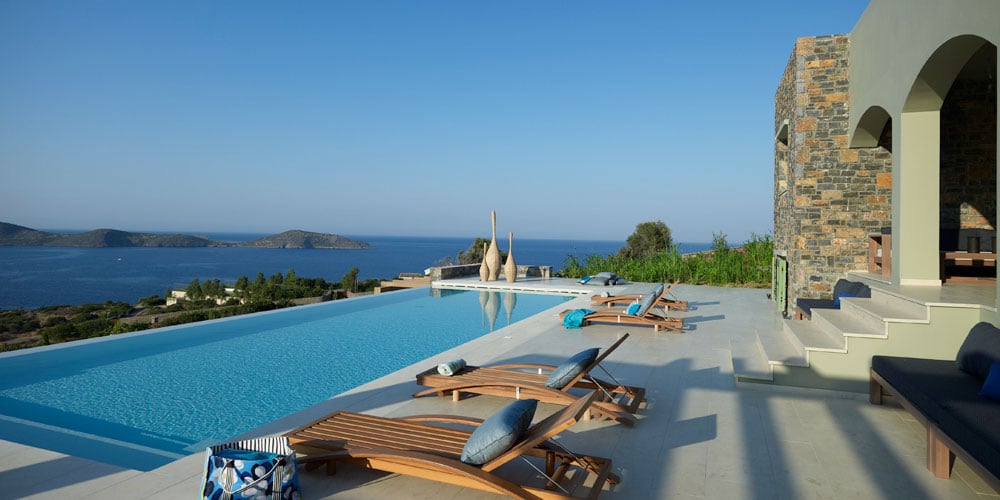 Villa Cien
Eight bedrooms, sleeps 16.
Set in a private 1.4ha estate overlooking the Bay of Elounda.
Infinity pool with sea views and broad sun terraces.
Large, open-plan living/dining room with doors onto pool terrace.
Fully equipped kitchen, plus open-air kitchen, BBQ and dining pergola.
Well-equipped gym, separate laundry room.
Air-conditioning, WiFi, satellite TV, iPod dock.
One hour east of Heraklion Airport – direct UK flights from three hours, 50 minutes.
Seven nights at Villa Cien from £10,549 for entire villa, including daily housekeeping.
See all villas recommended for eight to 12 year olds by Abercrombie & Kent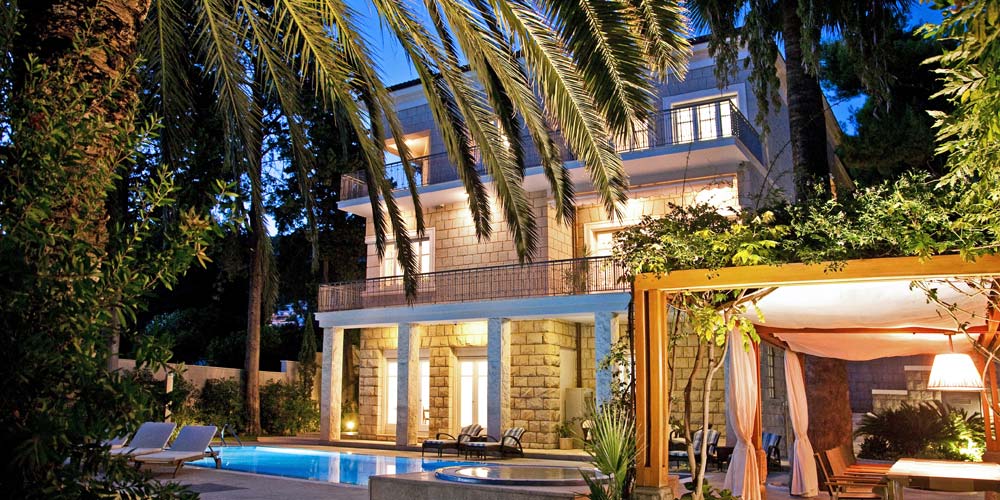 4/4

Best villa for teenagers
Villa Manda, Split, Croatia
Emperor Diocletian earmarked Split as his perfect retirement spot way back in the fourth century AD and built a grand palace which now makes up more than half of the city's extraordinary old town. These days he probably wouldn't feel quite so at home, since Split's now one of the hippest small cities in Europe. It's famous for non-stop lively urban beaches, fantastic water sports, cool restaurants and indie shopping. Plus, the medieval rooftops and amazing Adriatic views are perpetually Instagram-ready, which only adds to the teen-appeal.
Villa Manda is a beautifully restored Art Deco residence in one of Split's smartest seaside districts, within easy walking distance of the historic quarter, and closer still to city beaches. If it's time to loosen the rein a little on teenagers and give them some independence, two of the villa's four individually designed bedrooms have private terraces or small gardens, and there's also a separate one-bedroom apartment, with its own entrance, and access to the swimming pool.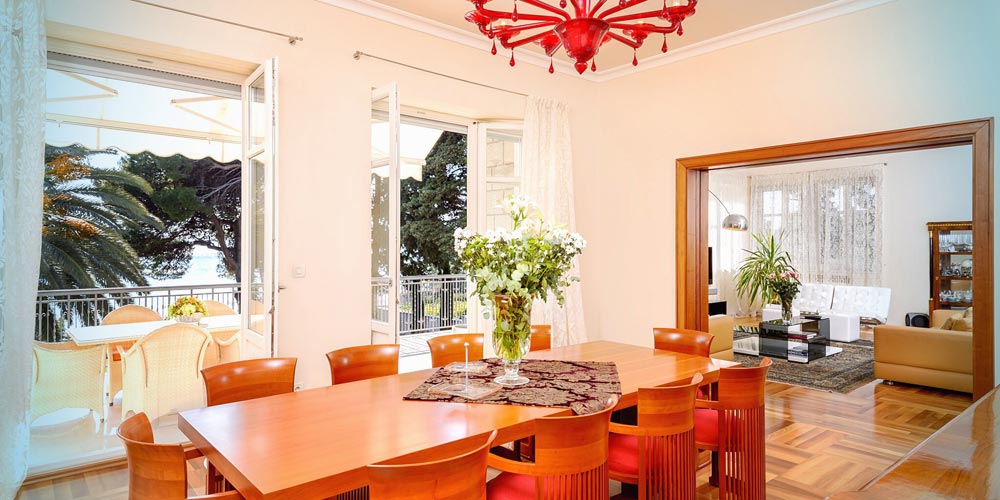 Villa Manda
Four bedrooms, plus one-bedroom apartment, sleeps 10.
Mature, landscaped and enclosed garden grounds.
Large swimming pool with sun terraces.
Outdoor dining terrace and BBQ.
Private sauna, gym and Jacuzzi.
Air-conditioning, WiFi, satellite TV.
10-minute walk from Split Old Town, waterfront promenade and beaches.
20-minutes drive from Split Airport – direct UK flights from two hours, 20 minutes.
Seven nights at Villa Manda from £6,563 for entire villa, including daily housekeeping.
See all villas recommended for teenagers by Abercrombie & Kent
Still haven't seen the perfect villa for your family? Take at look at the entire Abercrombie & Kent collection of luxury villas or if you have something specific in mind call 01242 547 705 and let A&K find it for you.