Seville vacations give you stunning Moorish architecture and Europe's largest gothic cathedral. There's extraordinary tapas, a passion for flamenco and plenty of pretty parks for energetic kids. Or you could just hire bikes for a breath of riverside air or even climb up some giant wooden mushrooms. Kim Jones finds things to do in Seville are practically limitless, any time of year.
Known as the frying pan of Spain for a reason, Seville sizzles in searing sunshine and scorching temperatures for most of the year. However, expect the mercury to rise and rise in summer, when it often vies with Athens for Europe's hottest city award.
So you'll want to time your visit with kids carefully. Spring, autumn or winter are probably the best times for Seville vacations, that way you should be able to explore without overheating and wearing everyone out. Plus, as the city's super-easy to explore on foot, we managed to pack a lot into our springtime visit from our base in the medieval Santa Cruz district, right at the heart of the central old town.
Don't miss the Metropol Parasol on Seville vacations
Also known as Las Setas de Sevilla or the Mushrooms of Seville, this is the largest wooden structure in the world. Inspired by the vaults of Seville's Cathedral and the huge Ficus trees in Plaza de San Pedro, the mushrooms are constructed from 3,500 pieces of Finnish pine joined by almost 3,000 knots and 16 million screws and nails.
But the best bit? You can walk along the footbridges at the top of the structure. From viewing platforms there, you'll get a gorgeous 360 degree viewpoint of the city sprawling below. Time your visit at sunset to see Seville's historic buildings bathed in a golden glow, followed by an 'aurora' coloured lightshow on the mushrooms. It's where multicoloured bulbs in the construction flash and pulse in different patterns every night.
You can also book onto the 'Feeling Sevilla' experience – an immersive 360 degree film which takes you on a bird's-eye view tour of Seville, complete with sounds, sights and smells – think orange blossom and incense.
Feel the city's passion for everything Flamenco
Flamenco shows aren't for the fainthearted! Smaller children may be alarmed by the sheer noise, passion and fervour of an up close and personal show, so save this Seville city break experience for older kids or teenagers.
We were bowled over by a performance at Tabloa La Cantaora where you're served a traditional Andalusia meal while being treated to a completely spontaneous performance given by world renowned flamenco artists, performed just as it was once was in 19th century Sevillian music halls.
Bag a Seville city break bargain at Feria Street flea market
A messy medley of all sorts of stuff for sale that rummagers will relish, this Thursday flea market is the oldest in Seville.
In fact it's been around since the 13th century, and today's packed stalls selling everything from antiques and bric-a-brac to movie posters. The vintage clothes are browse-heaven for sustainable-fashion conscious teens and plenty of toy stalls overflowing with LEGO and Playmobil keep younger ones happy too.
Climb up La Giralda then catch the Cathedral
You can't visit Seville without calling in at its cathedral! It's a truly beautiful building that took over 100 years to construct and is the largest gothic cathedral in the world.
First climb the 104 metre La Giralda bell tower. There are no stairs. Instead, you ascend on 35 winding ramps, built wide enough to accommodate guards mounted on horses or donkeys. At the top of the tower, get your breath back and you're rewarded with immense views. Time it right to hear the bells ring out while you're next to them. Is 12 noon good for you?
The cathedral itself is awe-inspiring, with flamboyant vaulted ceilings, an amazing gold altarpiece, plus the extraordinary tomb of Christopher Columbus.
There are numerous showpiece artworks, statues and paintings to be found in the side chapels and vestries, including some by Murillo and Goya. Challenge kids to find El Lagarto – a stuffed crocodile that hangs from the ceiling near La Giralda. Like all major attractions on our Seville city break, we booked ahead for the cathedral and strongly suggest you do too.
Pop over to Plaza de Espana
This beautiful semi-circular 'square' is surrounded by sweeping grand buildings built in Renaissance and Moorish styles for the Ibero-American Exhibition of 1929.
Walk around the balconies and catch impromptu flamenco shows. Then explore the 48 alcoves surrounding the plaza, each decorated with colourful ceramic tiled frescoes illustrating a different province of Spain.
Alternatively, hire a rowing boat to sail around the moat which circles the plaza. Not up for that much upper body work? Kids will be just as happy racing around the fountain in the middle of the square, getting sprinkled with cool water depending on which direction the wind is blowing.
Head next door to Parque de Maria Luisa
This spacious park next to the Plaza de Espana – comes with plenty of welcome shade plus water pools and fountains to dip hot feet into.
'Bubble' blowers are often in residence here and if you pop some change into their bucket, they'll blow giant bubbles for children to burst.
You can also buy bird feed at the Plaza de America on the east side of the park, kids delight in getting the white pigeons to eat out of their hands. Although hiring a four-wheeled bike with a canopy is also a fun way to experience the 100 acre park.
Feel really regal at the Real Alcazar
The stunning Real Alcazar dates from the 14th century and showcases a mix of beautiful Moorish and Mudejar architecture.
Roam around the cool interiors intricately embellished with Islamic plasterwork, before exploring tiled courtyards surrounded by delicately serrated arches and decorated with sunken gardens and water features.
The gardens are filled with fragrant flowers, shaded paths and ponds, and kids will especially like getting lost in the maze. Amazingly, you'll find the Real Alcazar right in the city centre, and it's another one to book ahead and avoid queues.
Stop for tapas anytime on Seville vacations
Seville is stuffed full of authentic tapas bars serving delicious small dishes just begging to be washed down with a tot of chilled Manzanilla Sherry or Vermut.
They're busy, bustling places and in some establishments you can expect to eat standing at the bar-side or balancing your plate on top of barrels that act as makeshift tables. That's all part of the fun.
Typical tapas dishes include Espinacas con Garbanzos (Spinach and Chickpeas), Jamón Iberico de Bellota (acorn fed Iberian Ham), Cazon en Adobo (marinated fried fish) and croquettes.
Amongst our favourites tapas bars were Bar Bodega Diaz Salazar and Casa Morales, the second oldest bar in the city famous for its Montaditos (open sandwiches). You'll have to join a queue to get in – but it's worth it.
If you eat at the bar, the bartender writes writes your orders in chalk on the counter tops and tots up your bill at the end of your visit. However, for a more sedate sit-down meal we also liked restaurant Palo Cortao. Try the 'tuna tomato': tuna paté housed in an edible casing that makes it look exactly like a vine tomato!
Soak up the atmosphere in ancient Triana
Even on the shortest Seville city break, you have to take a wander over the Puente de Isabel II to the Triana district.
The Mercado di Triana is a treasure trove of olives, cheese, fresh fruit and veg, as well as home to several superb restaurants. We particularly loved the swift, professional service and fabulous food at Cerveceria Loci. Although we didn't, you can also take Andalusian cooking lessons, and food market or sherry tasting tours at the market's Taller Andaluz de Cocina.
Instead we headed out into the streets shop for souvenirs at one of the many ceramic shops selling colourful hand-painted jugs, plates and tiles. A visit the Centro Cerámica Triana, a museum telling the story of the district's long history of ceramic-making, is another must-do in this atmospheric district.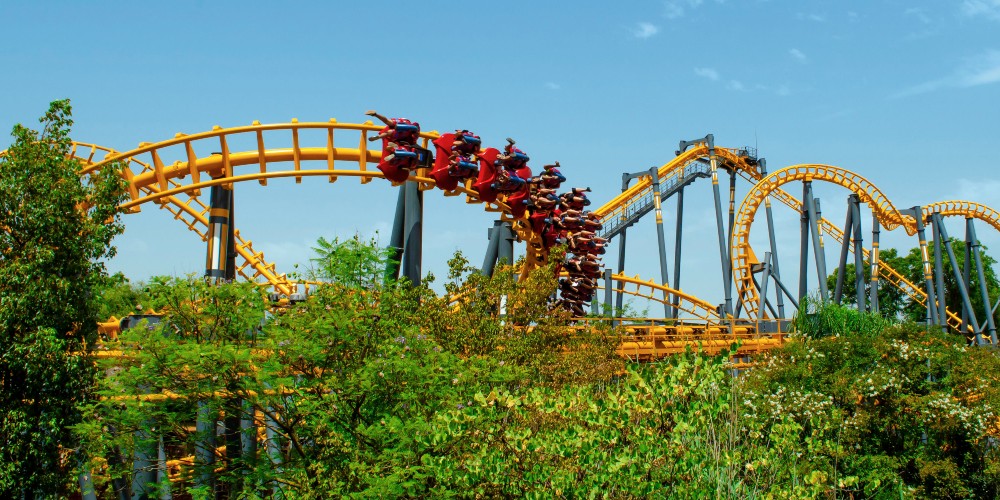 Cool off at thrilling Isla Magica waterpark
A theme and water-park, Seville's Isla Magica is home to thrilling rollercoasters, water-jet battles and waterfall raft-rides. You'll find plenty of gentler experiences for little ones too, like giant bumblebee rides, caterpillar merry-go-rounds and a giant spinning toad. The Agua Magica part of the park is where to cool off in late spring and summer, packed with pools, splash-play and water toboggan slides, it's open from April to October.
Discover the sweetest side of Seville holidays
One tradition not to miss on a Seville vacations, is buying sweets and biscuits from nuns – dulces de conventos – to help them run their convents.
We went to the Convento de Santa Ana where Carmelite nuns of the Ancient Observance live and work. You have to ring the doorbell and a nun on the other side presses a button that allows you in. Although, as all Carmelites are forbidden contact with the outside world, you won't get to see the nuns you're buying from.
Instead, there's a rotating door from which they sell their sweet treats, with a turntable inside. So when you ring the bell, the nun on the other side places a selection of sweets and biscuits on the turntable and spins it round to you. Simply choose what you want, place money on the turntable and spin it back.
Naturally, there were quite a few giggles from both sides as we tried to tackle the language and work out the system. But it was another extraordinary experience for kids, and one of many that make more Seville vacations something we're already planning.
How to plan Seville vacations
How to get there
Several airlines now fly non-stop from New York to Malaga in Spain, including United, Delta and American Airlines.
Malaga is on Spain's Costa del Sol and just over 2 hours' drive from Seville.
This article contains affiliate links. We may earn commission when you click on them. This does not influence our editorial standards. We only recommend products and services we believe will enhance your family travel experience.