Add 12 wonders of Spain to your family vacation wish list and consider them the best excuse to plan a European adventure with kids in spring or summer 2022. Don't miss the sensational Maspolomas Dunes' runway video.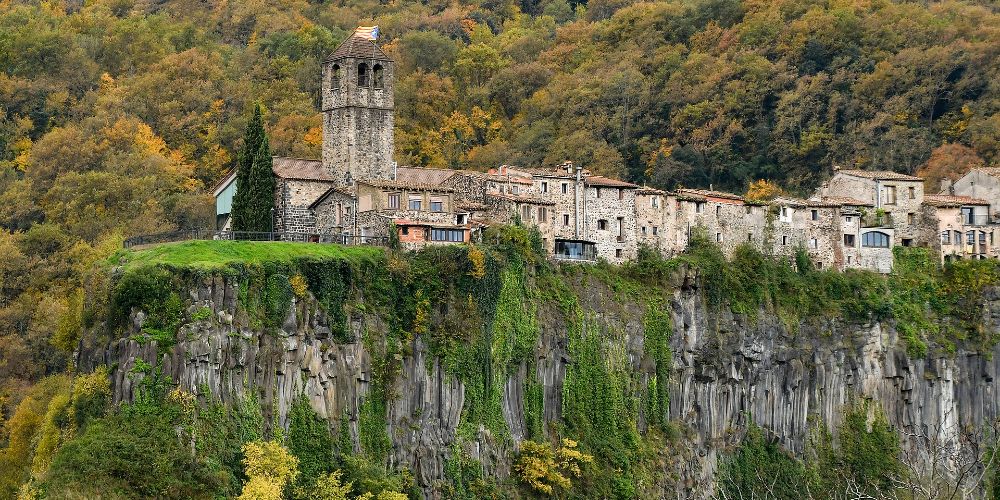 12/12

 Castellfollit de la Roca, wonders of Spain near Girona

The famous village of Ronda in Andalusia is awash with tour buses all summer long. But equally remarkable Castellfollit de la Roca is its Catalan counterpart and barely ever busy at all.

This tiny medieval town clings to the edge of sheer basalt cliffs above La Garrotxa. It's an unforgettable first sight. But prepare to linger and just go with the time-stood-still pace of slow-ticking church clocks, sleepy cobbled streets and higgledy-piggledy houses.

Castellfollit de la Roca is 40 minutes drive from historic Girona, known for its haunting historic quarter and the Roman ruins of Forҫa Vella.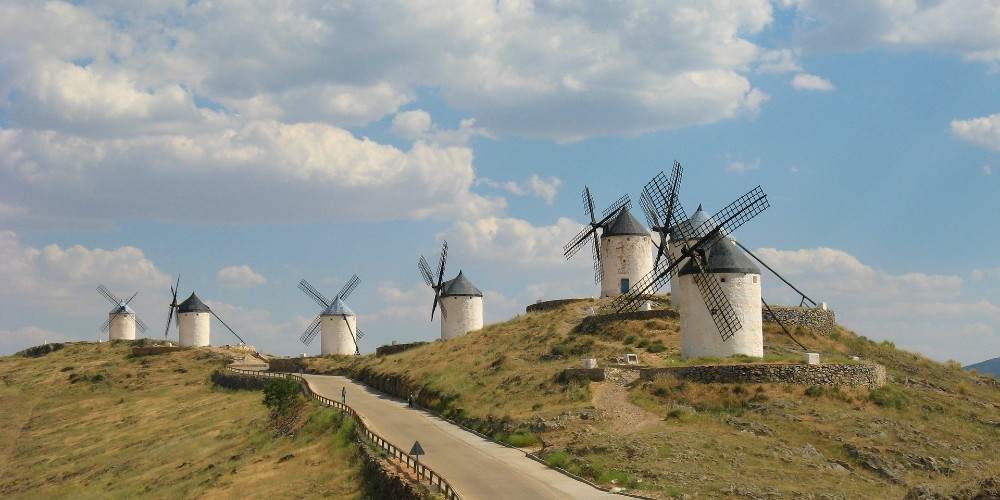 11/12

 The windmills of Consuegra, 12 wonders of Castilla-La Mancha

If you want wonders of Spain themed round Don Quixote and iconic Moorish cities head for mystical Castilla-La Mancha. This is the region for romantic windmills, magnificent Toledo, and Manchego cheese, produced from spindly sheep that are treated like royalty.

Back in the day, dumpy little windmills sailed the wind right across La Mancha's dry and dusty plains. Today, only a handful remain and the 12 Consuegra mills are loveliest of all.

They're handily lined up along the road. So pick a sunny day, pack plenty of water and take a drive for one of those magical 'only in Spain' experiences.

The windmills of Consuegra are an hour's drive south of Toledo, which you should see for the awe-inspiring Alcázar: another of the wonders of Spain.
10/12

 Las Lagunas de Ruidera, a park packed with wonders of Spain

The lagoons, dams, waterfalls and pools of Las Lagunas de Ruidera Natural Park are one of Spain's best kept secrets and the Spanish wouldn't mind if they stayed that way.

This watery world of green parkland and mysterious wetlands, pretty towns and villages and protected nature reserves, blooms riotously in spring. Come summer, it's lush, warm and if you can't find a spot for splashing around, you aren't looking.

Some of the lagoons are conservation areas, but most are up for everything from sailing and kayaking to wild swimming or simply sitting on the beach and breathing in the serenity. The park covers a total of 4000 hectares and cute family hotels and eco-lodges are another reason to put these wonders of Spain on to your family wish list.

Las Lagunas de Ruidera is just over an hour south of Consuegra and not far from Toledo, so you can tick quite a few wonders of on this family vacation.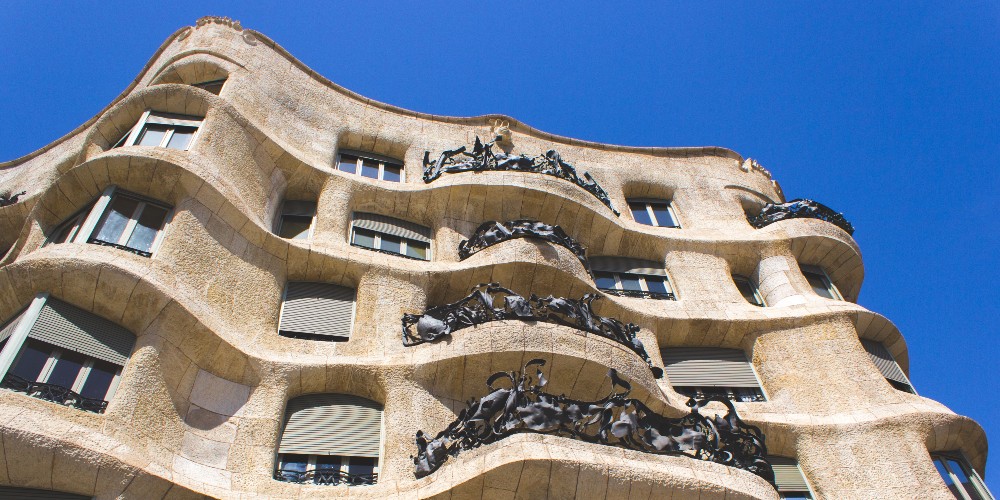 9/12

  Casa Milà, Barcelona: Gaudi's Modernist masterpiece on Passeig Gracia

By the time Antoni Gaudi came to design Casa Milà in Barcelona, he was already the most celebrated of all Catalan Modernists and, basically, could pretty much get away with anything.

But the building nicknamed, 'La Pedrera' (the quarry) isn't a work of whimsy and self-indulgence. The curiously organic façade, fantastical chimneys and intricately wrought decoration are all meticulously engineered. And, like most of Gaudi's ethereal designs, it doesn't look as if it should stand, yet it has, for over a century.

See Casa Milà on Passeig Gracia or take a tour of the interior and floodlit roof after dark: another of Barcelona's incredibly atmospheric experiences.

Casa Milà sits on Passeig Gracia, the legendary Modernist boulevard linking Barcelona's medieval old town to 19th century L'Eixample. 
8/12

 Tower of Hercules, A Coruña: one of Galicia's many wonders of Spain

The oldest lighthouse in Europe lords it over a stretch of the Atlantic known as Costa da Morte or the Death Coast. A name coined by the ancient Romans who built Hercules in the second century in the vain hope it would reduce the mortality rate along this wild, windswept stretch of Galicia in northern Spain.

There isn't too much left of the tower's original structure, so what you see today is mainly 18th century. But that doesn't make 57m tall Hercules any less impressive.

The lighthouse is open year round and if you've a head for heights you can climb up and out on to the top terrace. The views are astonishing and it's easy to see why the Romans believed they were building at the ends of the earth.

The Tower of Hercules is in A Coruña on the coast of Galicia about 30 minutes by train from the stunning city of Santiago de Compostela.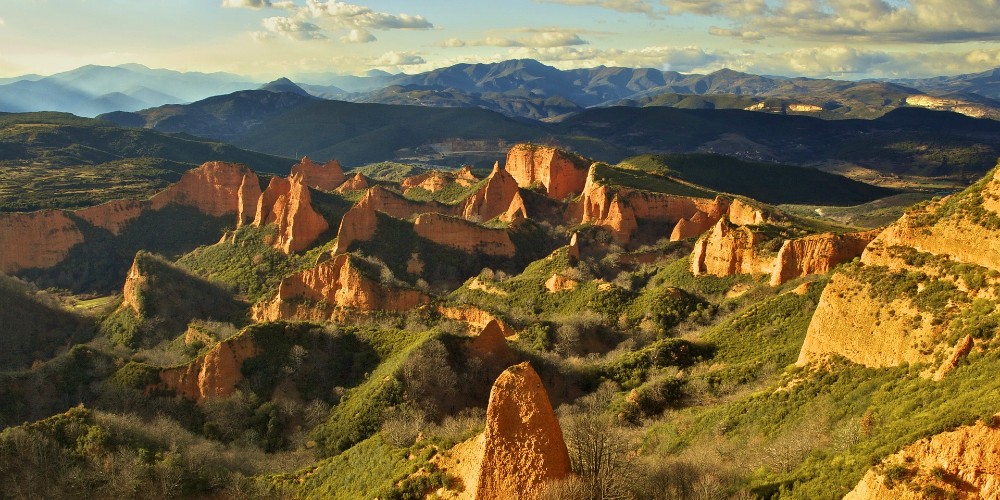 7/12

 Las Médulas, Castilla y León: wonders of Spain from 74AD

In the far north west of Spain sits a landscape so incredible it could only be the work of nature. Or could it be something else entirely?

The enormous stone hewn ravines, ridges, caverns, bridges and aqueducts of Las Médulas are in fact another of the wonders of Spain which owe their existence to the Ancient Romans. In the first century, this was one of the most important gold mines in the world and it was created using a hydraulic technique known as ruina montium "destroying the mountain". The process was just as eco-unfriendly as it sounds and carefully documented at the time by Pliny the Elder, who was Castilla y León's procurator in 74AD.

The gold is long gone, but it's estimated that more than one million kilograms was mined here over a period of 250 years – and almost as many miners lost their lives in its pursuit. Try to put your distaste of the means of Las Médulas aside and simply admire the strange, otherworldly beauty left behind.

Las Medulas lies between two of Spain's great cathedral cities: Santiago de Compostela and Léon.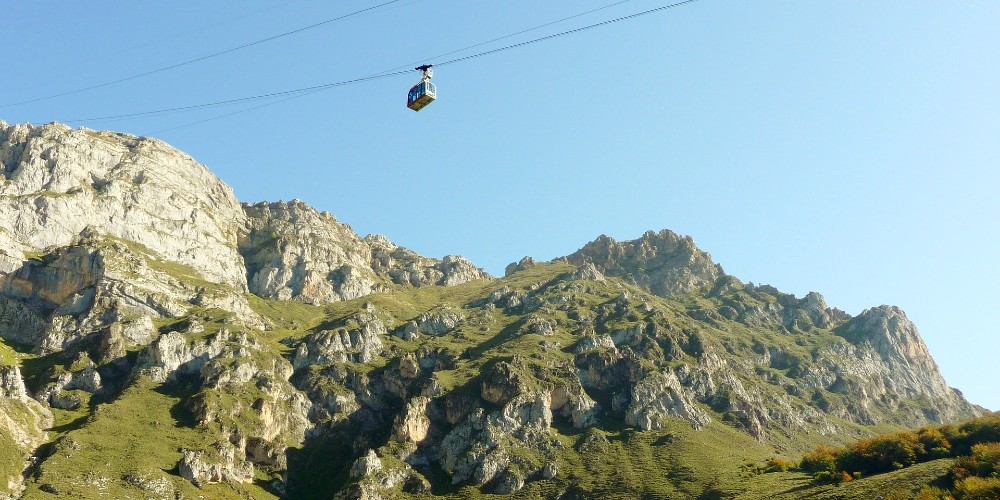 6/12

 Picos de Europa National Park: the wonder of Northern Spain

Picos de Europa National Park covers an area of 670km² and strays into Asturias, Cantabria and Castilla y León. So not only do you have some of the most mesmerising regions of Spain within your grasp here, you have some of the country's best walking and climbing.

The Picos themselves are three voluminous granite massifs reaching heights of almost 3000m and they take a bit of technical skill to negotiate. Fortunately, families with kids can try less demanding foothills, as well as woodland and rock scrambling or even wild pool plunging.

It's a great area for camping and several sites across the park have static tents and holiday cabins. Visit in July and August for long, long northern Spain days and lovely, warm sunshine.

Picos de Europa is under two hours drive from the dramatic city of Oviedo.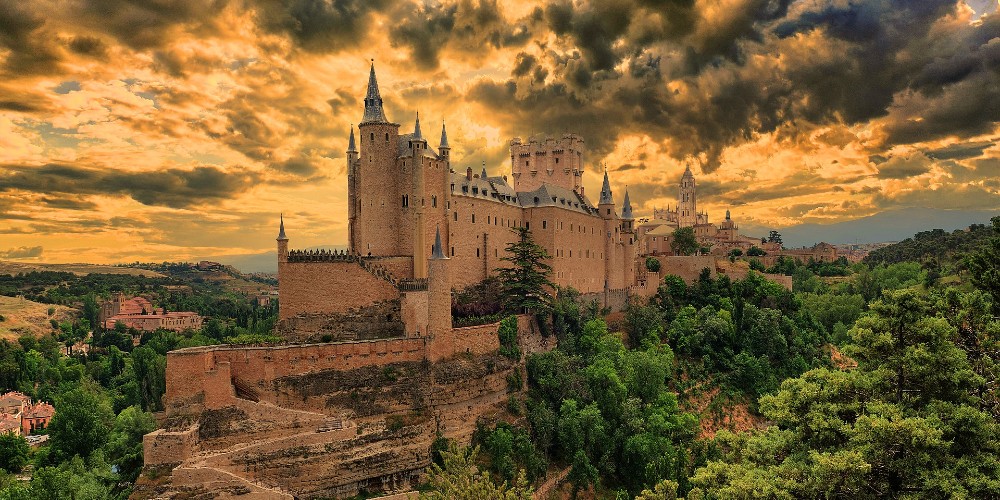 5/12

 Alcázar de Segovia, Central Spain: one of the royal wonders of Spain

Is this the most romantic castle in Spain? That probably comes down to taste, but it is said to be one Walt Disney's many inspirations for Cinderella's Palace.

What isn't subjective is a hugely impressive past that's seen the Alcázar de Segovia play every role from royal residence for Queen Isabella I to state prison, military academy and artillery college.

Originally built in the 13th century as a fortress, the castle was designed to resemble a ship perched on an imperious crag overlooking Segovia. It was almost completely destroyed by fire in 1862 and years of meticulous restoration were needed to restore the former glory. But today it's almost impossible to distinguish between the old, and the relatively new.

Alcázar de Segovia is just over an hour's drive south of Madrid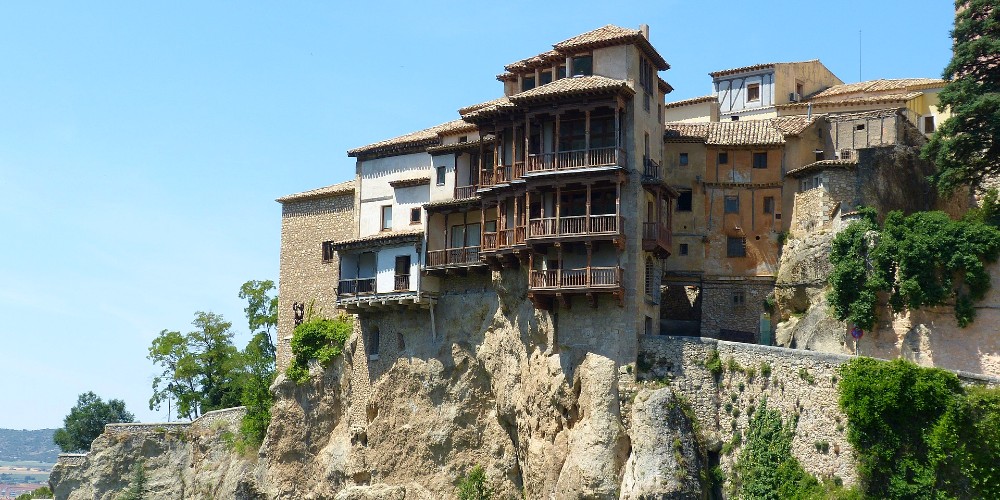 4/12

 Casas Colgadas, Cuenca: the original European 'skyscrapers'

Spain is not short on eccentric architecture but the hanging houses of Cuenca will still take your breath away. Built along a massive ravine which runs right through the old town, the casas are three storeys at the front and rise to as many as 10 storeys to the rear.

Locals fondly refer to them as 'skyscrapers' and, although they date back to the 16th century and seem impossibly precarious, they remain the most coveted homes in Cuenca.

Visit for the Casas Colgadas and stay to explore Cuenca itself. The entire historic quarter is a UNESCO World Heritage site. And if you tire of medieval cathedrals, cobbled streets and quaint houses, take the kids to play in the stunning surrounding countryside.

Cuenca sits on a limestone ridge overlooking the Rivers Jucar and Huecar in central Spain, just over an hour's drive from Madrid.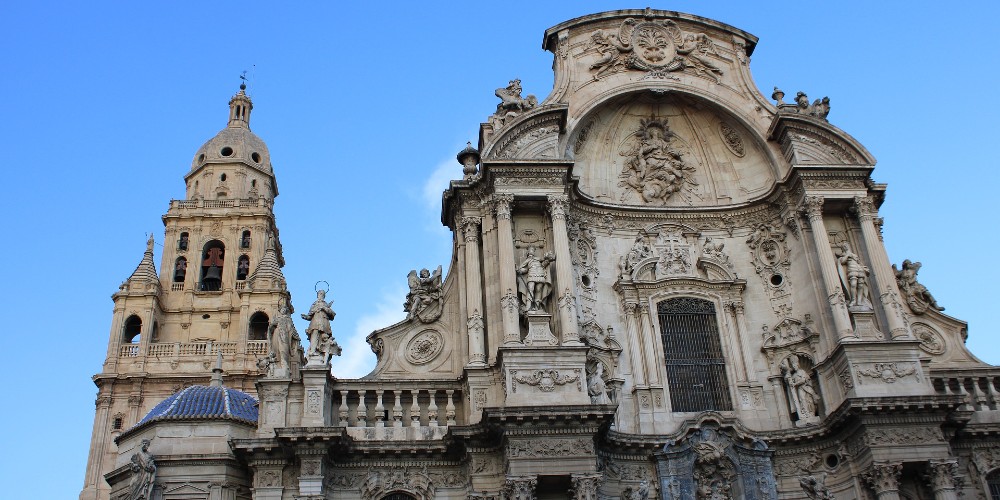 3/12

 Murcia Cathedral: the tallest bell tower in Spain

Sorting out the great cathedrals of Spain from the merely good ones is a task that's made significantly easier when a stand out feature is involved.

Murcia Cathedral is famously lavish, drips with carvings and clearly didn't have a set budget when it came to interior design. But what sets this magnificent building apart is its bell tower. Built in the 17th century and reaching a height of 90m, it's the tallest in Spain and one of the tallest in Europe.

If you climb to the top, try to time it so you avoid the cacophonous ringing of the tower's 25 bells. Each bell is individually named and long time residents of the city claim they can identify every  one by its unique tone.

Murcia is 30 minutes drive from the beautiful and beachy Costa Cálida in southern Spain, a quieter costa that's definitely worth discovering this summer.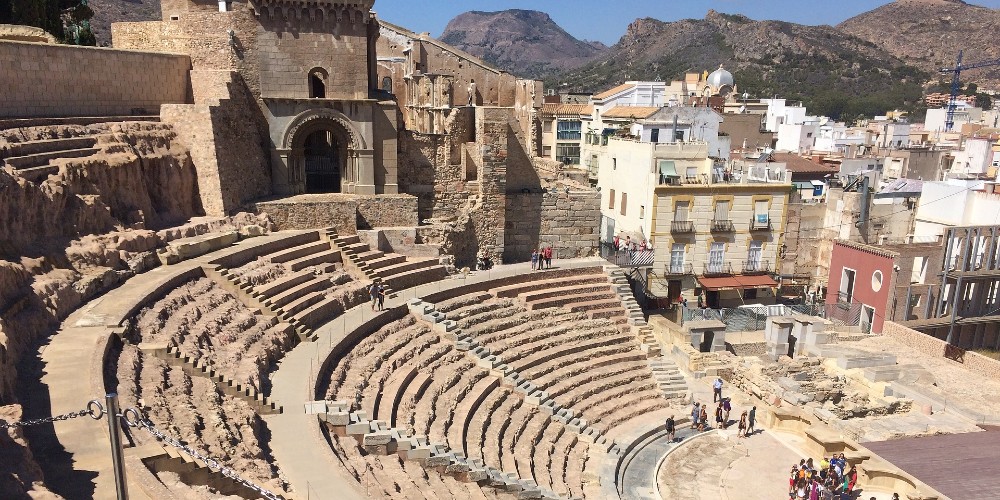 2/12

 Roman Theatre, Cartagena: one of the ancient Roman wonders of Spain

The stunning Roman Theatre in Cartagena was only fully excavated in 2003, having lain for centuries under this southern Spanish city, undisturbed and unspoiled.

It's one of the loveliest and most complete examples of an amphitheatre on Spain's Mediterranean coast and a highlight of any visit to the Murcia region.

Far from 'just more old stones', Cartagena has incorporated the theatre into a clever complex. Everything has been brought to life from the excitement of the 1990 discovery to life in the city when the ancient Romans were in residence. So this is one monument you can introduce to kids with confidence.

The ancient Mediterranean port of Cartagena sits on the Costa Cálida about 30 minutes west of Alicante Airport.
1/12

 Maspalomas Dunes, Gran Canaria: one of the natural wonders of Spain

The Maspalomas Dunes on Gran Canaria stretch for over 400 hectares across the island's south coast. They are a wonder of nature made even more astounding by the proximity of the sea at one side and colorful holiday resorts at the other.

They are so spectacular, Saint Laurent used them to stage its audience-free Spring/Summer 2021 runway show. But kids might find the fact that the dunes are also home to all sorts of interesting birds and creatures a lot more exciting than their couture connections.

The Maspalomas Dunes are about 40 minutes drive from Las Palmas in Gran Canaria.

Looking for easy getaways right now? Check out the best family getaways in outdoorsy Missouri this winter. Then follow Family Traveller on Instagram and Facebook for more travel news and vacation inspiration.