Sponsored Content
It's one of the world's top ski resorts, but do you know how kid friendly Whistler, Canada is off-the-mountain? We went exploring and found so many fun activities it's a wonder anyone has time to ski on Whistler family holidays. Take a look.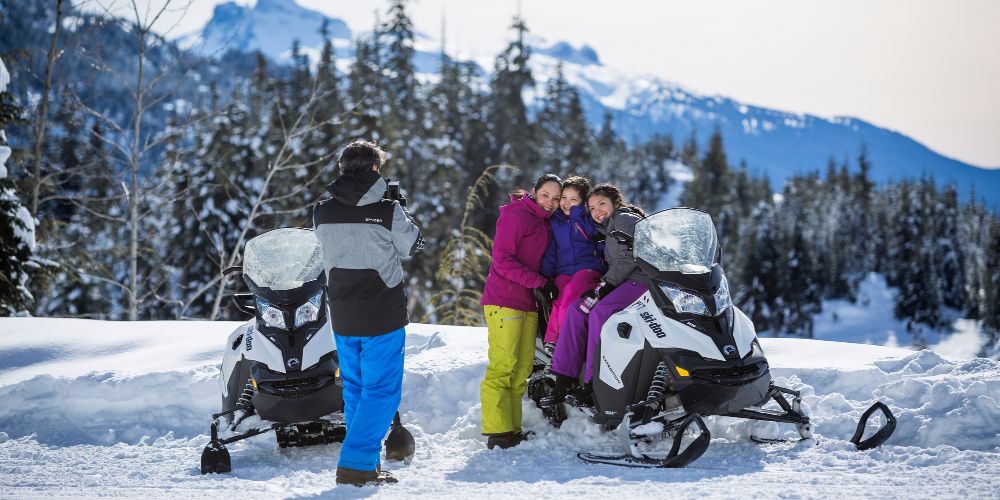 There's big fun on and off-the-mountain at Whistler this snow season
Whistler is North America's largest ski resort and has one of the longest seasons – you can expect snow here in March and April. Its spectacularly beautiful location includes not one, but two, stunning mountains: Whistler and Blackcomb. And all this rugged magnificence is a mere two hours' drive from Vancouver and surrounds charming Whistler Village – easily one of the world's friendliest and most vibrant mountain communities.
Bring your spirit of adventure is an open invitation Whistler extends to families. And if you want to do nothing but ski, it offers some of the most challenging and incredible big mountain skiing on earth. However, most families come with younger members, so kid friendly Whistler also has endless family activities to fill every minute when you're not skiing.
Here are just a few reasons why those in the know say Whistler is as much fun off-the-mountain as on for family ski holidays.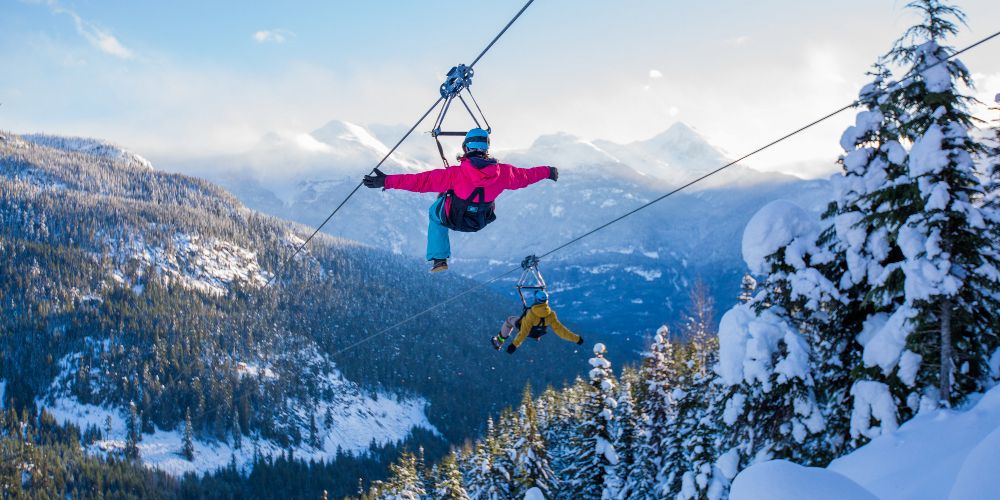 Zipline Tours: kid friendly Whistler has North America's longest ziplines
Whistler has the longest ziplines in North America. Try an eco-adventure on the Ziptrek Bear Tour: four ziplines connected by suspension bridges, boardwalks and trails, for the fun of zipping and time to look around. Or, after a day on the hill, treat kids to the wonders of ziplining by the gleam of the alpenglow on a Ziptrek Winter Après Tour.
Whether you want magic, sheer exhilaration, speed or long, long zips, Whistler has the perfect zipline tour. And no previous experience is necessary because you and your kids are in expert hands, and safety is always a priority.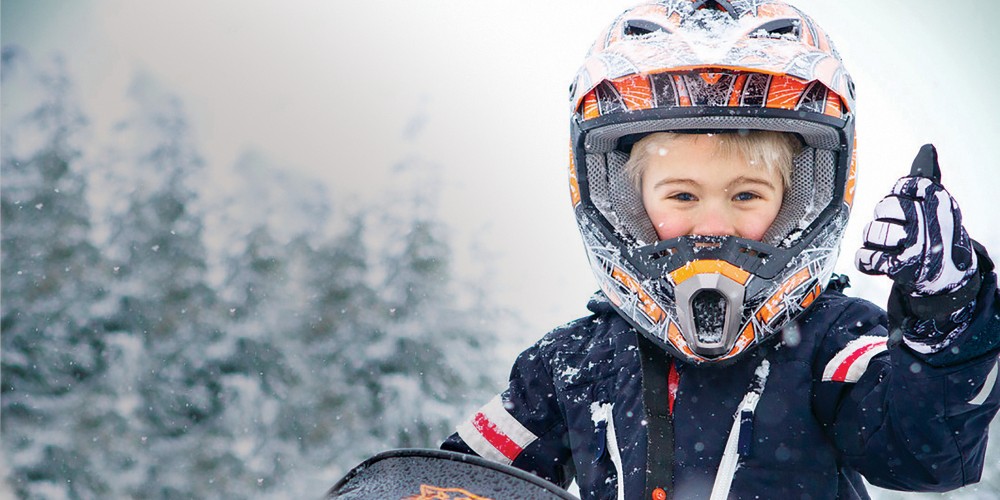 Family Snowmobile Tours: a Whistler take on the great Canadian tradition
Canadian families love snowmobiling, so it's no surprise to discover that Whistler excels at family snowmobile tours. Bundle kids up cosy and let the fun begin. Groomed backcountry trails provide just the right mix of adventure and comfort so even younger snowmobilers enjoy the ride. And for added excitement, bold older kids can flex their independence riding Mini-Z snowmobiles around a specially designed track.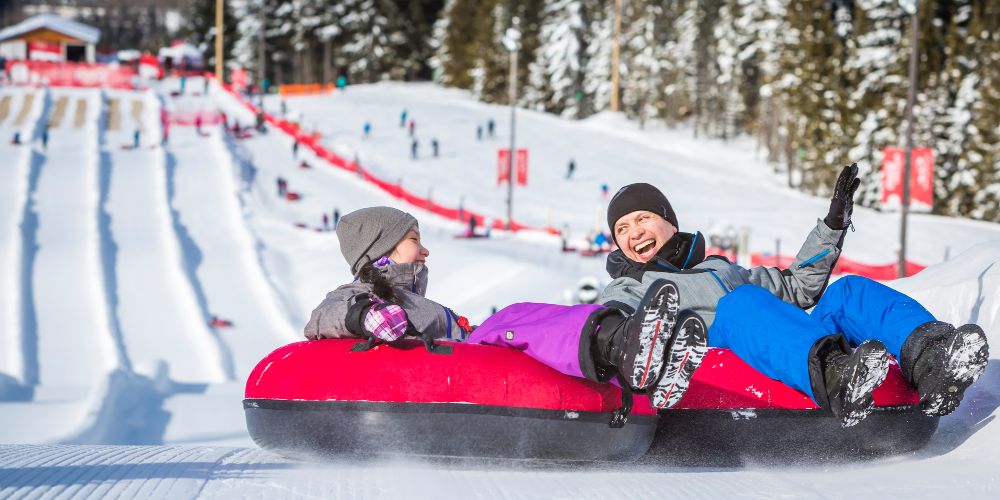 bubly™ Tube Park: 1,000ft of fast and easy sliding fun at kid friendly Whistler
Sometimes kids just want to slide. No fuss, just sheer fun. That's what bubly™ Tube Park is all about. And when we say 'all', we're talking all 1,000ft of sliding thrills.
No equipment or experience is necessary – tubing's a lot easier than tobogganing. And if you want a little more magic, you can even slide after-dark under a big, starry sky – bubly™ keeps the lights on for you and the park's a quick gondola ride from Whistler Village.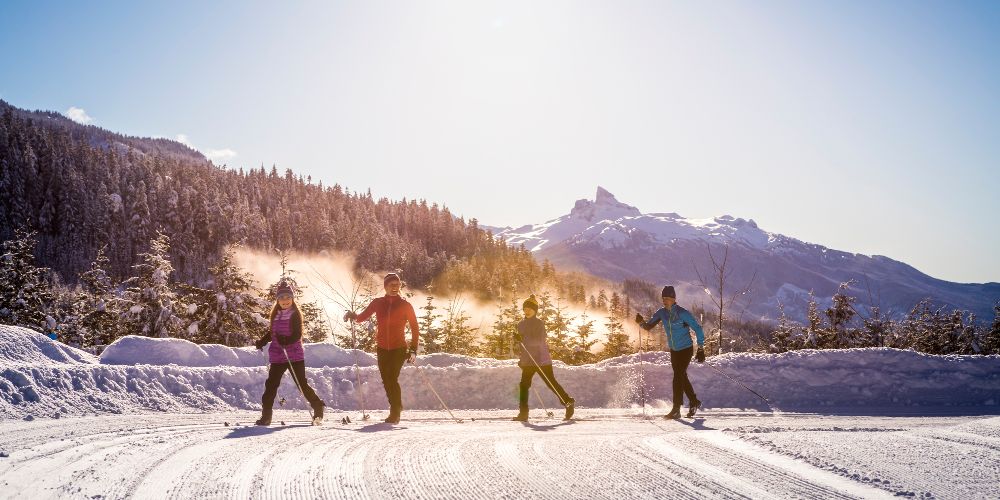 Whistler Nature Parks: family-friendly Nordic skiing and snowshoeing
Discover the mesmerizing beauty of Whistler's nature at your own pace – or the pace of your little ones. Snowshoeing and Nordic cross country skiing are very much family activities at Whistler. And it couldn't be easier to pack a picnic and make a day out on the trails with kids.
Lost Lake Park is a short walk from Whistler Village. More than 30km of cross-country skiing and snowshoeing trails give you plenty of scope for adventuring. Several easy two to three kilometre round trails are ideal for families, or first timers. And there's equipment rental on-site – a blissful bonus for parents.
Whistler Olympic Park is the local Nordic legend and only 30 minutes from Whistler Village. A host venue for the Vancouver 2010 Winter Olympics, it offers over 120km of cross-country skiing and snowshoeing trails. All skill levels are covered and even snow loving dogs are welcome on some trails. It's another park with stunning views and equipment rental, as well as a Day Lodge and café.

Kid friendly Whistler museums: the best type of indoor adventures
Unbundle kids, shake the snow off their boots and take them indoors to discover some of the most extraordinary museums and cultural centres in Canada.
Squamish Lil'Wat Cultural Centre sits on the shared traditional territories of the Squamish Nation and the Lil'Wat Nation. It's the first centre of its kind in Canada and celebrates the living culture of both Nations through exhibits, art, craft workshops, film and first person narrative. Take the fascinating guided tour – kids will love the hands-on activities. Then explore the centre at your own pace and don't miss the Thunderbird Café.
Did you know that one of the most expensive works of art ever auctioned in Canada has a permanent home at Whistler? Browse the stunning Audain Arts Museum and you can see The Crazy Stair by Emily Carr in the permanent collection of more than 200 British Columbian artworks spanning over a century.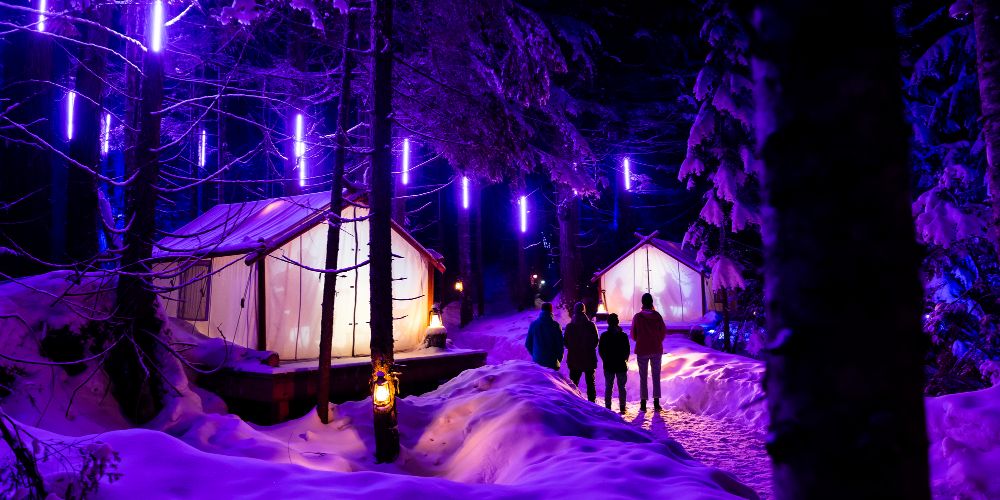 Vallea Lumina: an enchanting fantasy world for families
Staying up late is all part of the fun holiday energy for kids, but Whistler takes that to another level altogether in Vallea Lumina. This 45 minute forest walk is filled with stardust, moonballs, magical bears, woodland creatures and countless other surprises lighting up the night every step of the way.
It's a vivid multi-media experience. Kids will be enchanted by the story of a little girl and her grandfather discovering wonders on a night walk just like theirs. And Vallea Lumina is only 10 minutes from Whistler Village by free shuttle bus, so even parents get to chill and enjoy the fantasy.

Whistler Village: the fun heart of your family vacation
Every day of your family ski break begins and ends in Whistler Village. The vibrant living heart of the community, it's a place to meet, eat, shop and play almost non-stop. Kids may never want to leave and that's easy to understand when there's so much happening that's designed with them in mind.
Some of the world's finest stores mix with a mellow Whistler mood, so the Village can even convince kids to come shopping.
Safe pedestrianised streets lined with restaurants, cafés and shops create a warm and friendly community atmosphere.
You'll find family friendly activities day and night, from cosying round a firepit to skating and sliding.
Live music is another Whistler Village tradition. Don't miss local celebs like The Hairfarmers and great gigs at favourite family restaurants.
KNOW BEFORE YOU GO
What to know before you go to Whistler
We know you can't wait to get your family ski days planned after all this time, so here are a few things to remember before you head to Whistler.
Travel protocols are constantly changing. Stay informed on your government's mandated requirements before making travel plans.

Visit whistler.com/covid for the most up to date Covid information.

To make the most of your Whistler family holiday, plan ahead and make reservations for dining and activities.

Be patient with staff, they're working hard to serve you.

Health and safety remain top of mind in the resort. Please review Whistler's Doors Open Directory to learn how local businesses are upholding the highest of standards in health and safety for all.

Book with confidence with Whistler's flexible cancellation policy.
Ready for your next Whistler family ski holiday? Whistler is ready and waiting for you, on and off the mountain. Visit whistler.com for everything you need from accommodation booking to reserving kid friendly Whistler activities.