Sponsored Content
Help VisitEngland find the best in family travel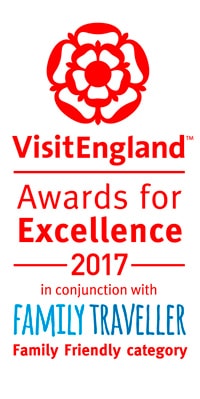 Family Traveller is excited to announce that we are sponsoring the VisitEngland Family Friendly Awards 2017! VisitEngland is the country's tourist board, responsible for letting the world know what England has to offer and developing its tourist industry. As such they share our passion for truly excellent family holidays and know the value of spending quality time together.
The Family Friendly Awards are all about finding and rewarding treasured travel companies, products and businesses that make holidays better for all generations – and that's where you come in! VisitEngland wants Family Traveller's readers to help them crown their winners. After all, who better to judge family holiday services than you?!
There are three categories in which VisitEngland need your help finding the best of the best:
Family Friendly Accommodation of the Year
Family Friendly Attraction of the Year
Family Friendly Food & Drink Business of the Year
Become a mystery shopper
In October, VisitEngland will draw up a shortlist of businesses in each category. Then you will be invited to enter a competition on familytraveller.com to become a mystery shopper! Between late October and 24 February 2017, our competition winners and their families will visit the shortlisted businesses – restaurants, attractions and accommodation – to find out whether they truly offer exceptional service to families. Mystery shopper families will be accompanied by a VisitEngland judge who will be a tourism professional, appointed for their extensive experience and knowledge of the tourism industry. All the winning families would need to pay for is their travel to and from the shortlisted businesses, everything else will be paid for!
Your feedback will ultimately help VisitEngland decide their winners. Don't miss out on this exclusive and important opportunity to have your say in awarding one of the most prestigious titles in British Tourism. You will be able to enter the draw to become a mystery shopper for VisitEngland from 10 October 2016, on our competitions page.