Sponsored Content
Nowhere in the UK does hidden gems quite like Scotland. It's the land of remote little islands, wild and untamed landscapes, winding back roads and more than its fair share of mysterious history. Scotland is renowned all over the world as a bucket list destination and has some big-name locations on that list, but there's a multitude of activities hidden around every corner, perfect for families to discover.
VisitScotland have the inside track on all the best-kept holiday secrets, no matter how well concealed. Fortunately, they're good at sharing, so here's some of their suggestions for a spring family break with a twist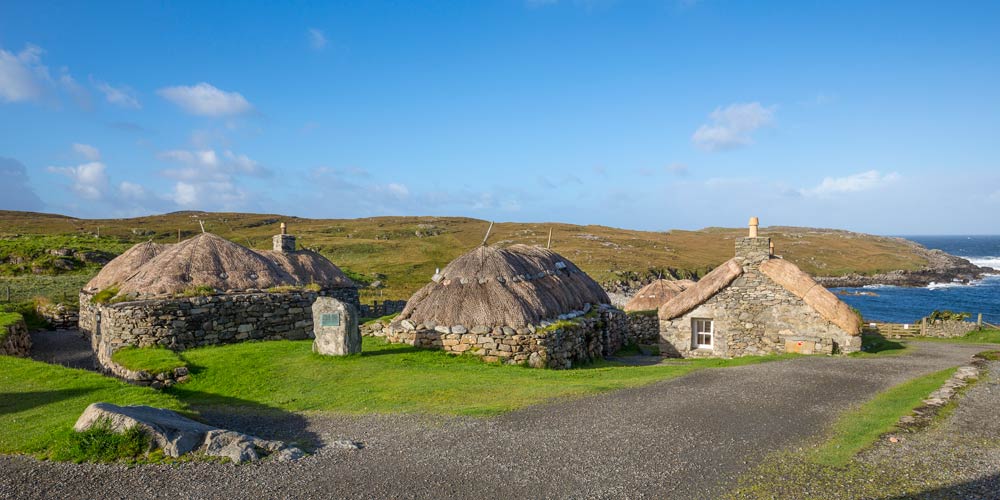 1/5

Scotland's quirkiest accommodation is made for families

It's a rule, no matter how much you fun up a family holiday, kids will inevitably remember the accommodation better than anything else. With that in mind, VisitScotland have hunted down some of the most interesting and inventive places for families to stay this year.

Most of them seem to have been designed for the sole purpose of enchanting children, but you'll be happy to note, they all have plenty of captivating luxury and comfort to work the magic for grown-ups too.

Cute forest cabins are a dream choice for fairy-tale fiends. There are treehouses made to thrill wildlife loving kids: think Scotland on safari. Young sailors and beachcombers are spoiled by the choice of seaside cottages, campsites or, best of all, actual boats. The freedom of canal barges is note-perfect for soulful teens. And if nothing will do except complete authenticity, try an island croft in the Outer Hebrides or a fun farm stay in the Scottish Borders.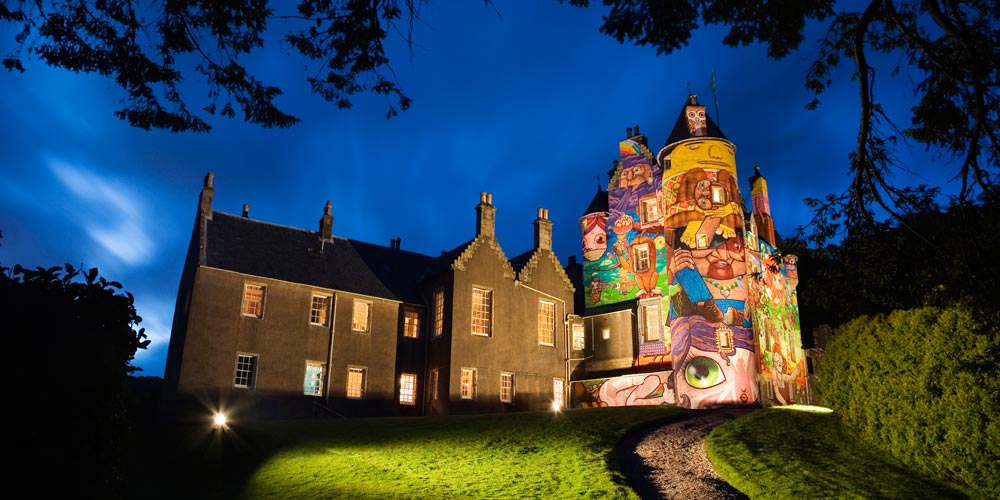 2/5

Discover the secrets of Scotland's most striking castle

Most keepers of a 13th century Scottish castle would consider themselves bold if they fitted new bathrooms. So when Lord Glasgow commissioned a team of Brazilian graffiti artists to give medieval Kelburn Castle a makeover, a few eyebrows were understandably raised.

Contrary to all expectations, the tagging looks amazing and, weirdly enough, fits brilliantly with the lush loveliness of Kelburn Estate: 3500 acres of forest and moorland overlooking the Firth of Clyde on the Ayrshire coast. Teenagers will be awed by the audacious artwork, but younger kids can look forward to being just as blown away by fun stuff like the Wild West Saloon adventure playground; treetop walkways and rope swings; climbing towers, play barn and soft-play maze.

The grounds themselves are fantastic for walking, exploring and mountain biking. Family activities and events get into full swing from March onwards. And if you want a breather from all the excitement, pretty Kelburn Country Centre is a local favourite for tea and cake on sunny spring afternoons.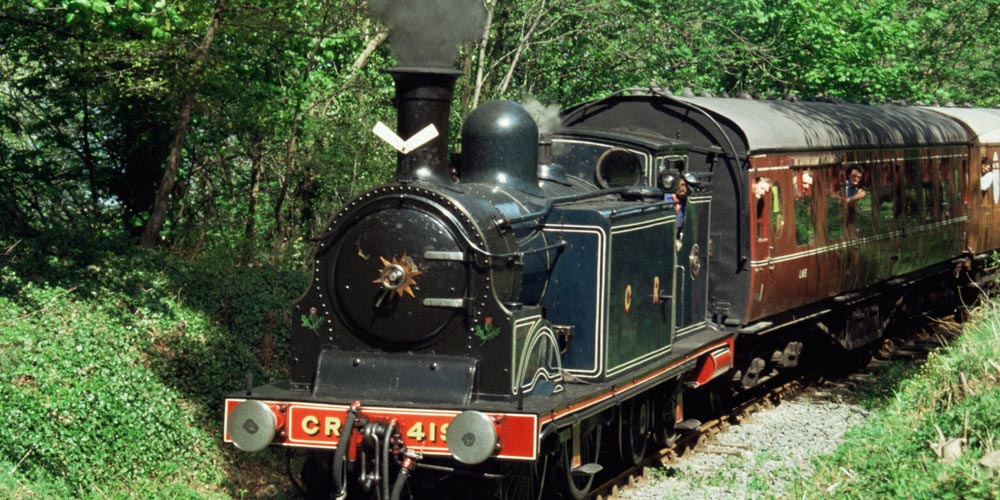 3/5

Vintage fun aboard the magical Bo'ness Railway

Glide back into the past aboard a steam locomotive designed for a time when travelling was a pleasure – everyone just sat back and enjoyed the passing scenery while having afternoon tea!

That's the fantasy that Bo'ness & Kinneil Railway makes real aboard splendid vintage steam trains which run from Bo'ness Station to Manuel Junction near Falkirk from end of March to October. The journey takes just over an hour, plenty of time for kids to fall in love with a more sedate style of travel. Teens will be delighted to know that VisitBritain named the on-board afternoon tea as one of the UK's 'Most Unusual and Instagrammable' experiences. Under eights can look forward to their special Day Out with Thomas events in May, July or September and the Museum of Scottish Railways in Bo'ness is a must-do for all ages.

All that sounds like a lot to fit into one day, until you find out that the Bo'ness & Kinneil Railway is just outside Falkirk, and less than an hour's drive from either Edinburgh or Glasgow.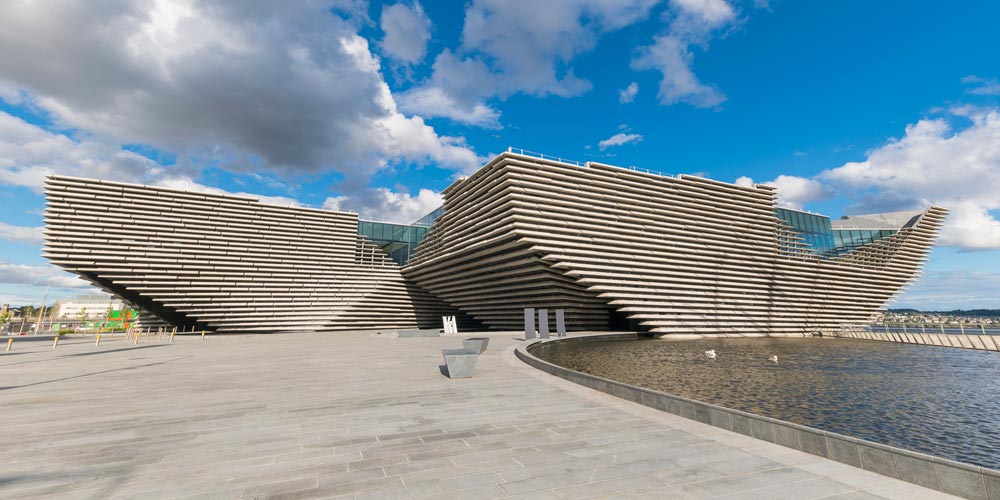 4/5

Design their day dreams at the V&A Dundee

Scotland's design credentials aren't exactly a secret; certain world-renowned architects, art movements, art schools and museums make sure of that. But when the V&A South Kensington announced its one and only UK offshoot would be built on the waterfront at Dundee, there was a certain amount of international surprise.

The new design museum more than validates the choice of location. The building itself is stunning and the 300 strong objects within their collection live up to the promise of the exterior in every way – the views of the Tay are a bonus!

Naturally it appeals particularly to teenagers, though younger kids have plenty to keep them interested; from elephants made out of Linoleum to the historic lowdown on the humble wellie. Tearoom Tales are fun for under-fives and a chance for you to explore the Interactive Studio. There are regular Family Design Days which offer kid-friendly introductions to new exhibits and, like most of the museum, they're free.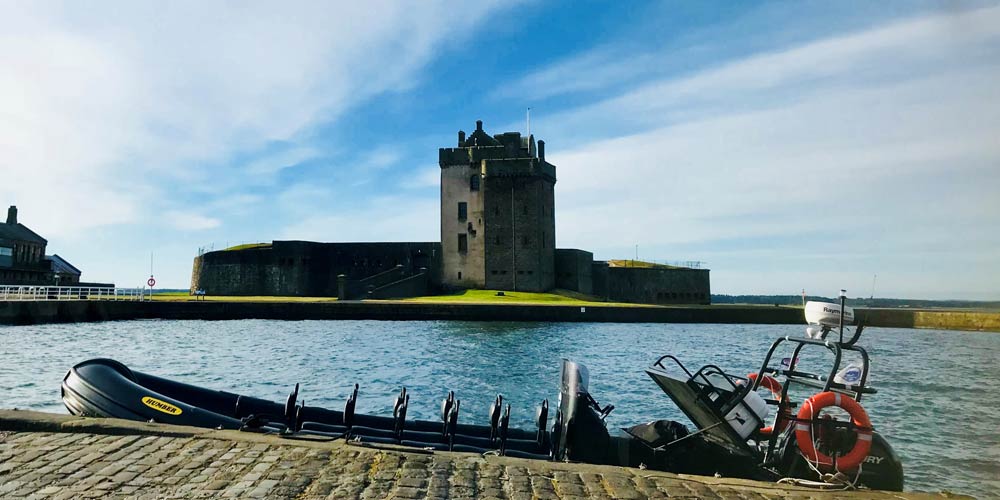 5/5

A different way to see Dundee

Dundee is right up there with Edinburgh and Glasgow in the list of must-see Scottish cities; partly because of the recently opened V&A Dundee, Scotland's first design museum, but mostly because it's a brilliant waterfront city, and who doesn't love some water-based fun in their urban adventure?

The Firth of Tay estuary is the source of one of Dundee's best kept secrets: Pirate Boats. Kids may be confused to find they aren't the kind with swashbuckling rogues and flying Jolly Rogers, but that disappointment only lasts until they discover that Pirate Boats are actually speedy RIB dinghies, which zip around the Tay Estuary on Seafari Trips. This is an exciting way to see the city, its fabulous waterfront and famous attractions like the RRS Discovery – Scott of the Antarctic's research ship – and the V&A Dundee, of course.

Apart from scoping out the cityscape and enjoying the thrilling RIB ride, you can listen to the expert guides explain all the lore and legend of historical sites like Broughty Ferry Castle, and Seafaris are even true to their name on the wildlife front as well. Keen-eyed kids are likely to spot anything from bottlenose dolphins to grey seals on their voyage – much better than pirates!
Ready to delve into Scotland? Read up before your trip with VisitScotland's brand-new eBook or visit their website for more family break ideas.