Sponsored Content
Walking is a wonderful all-round family activity that doesn't need expensive equipment or specialist training, gets everyone involved in the fun, and has almost no age limits.
That's not a revelation to HF Holidays, who're not only the UK's leading expert in walking holidays, they've now been responsible for creating 'exceptional walking experiences in beautiful locations' for over 100 years. It's that know-how which makes their family-friendly walking holidays so extraordinary, and the latest collection for 2019 could very well be the best yet: plus every one fits perfectly with UK school breaks.
Have a closer look at all the other differences between going for a family walk and heading off on a Family Walking Adventure with HF Holidays.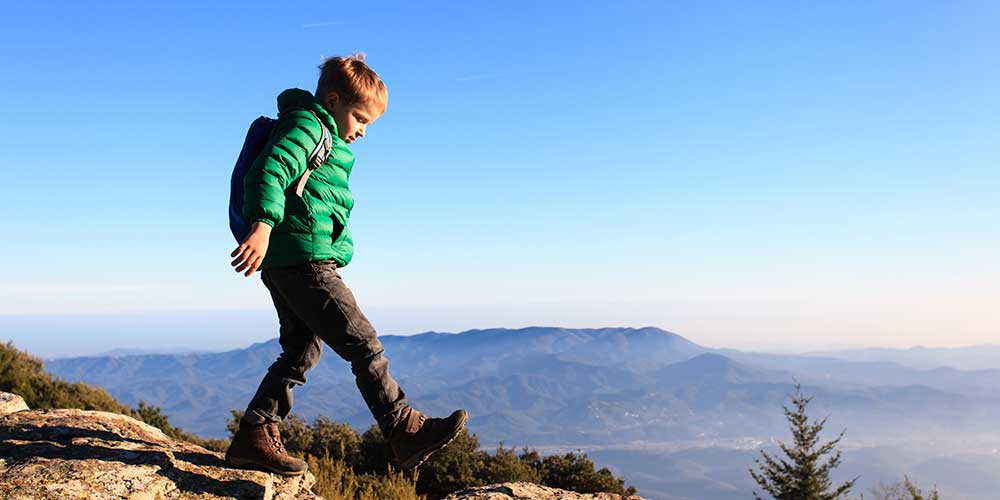 1/7

Awesome walking holidays with seriously good fun leaders

You can walk for miles in the UK without coming across anything more automated than an e-bike. There are still huge swathes of moor, dale and glen that come close to wilderness landscape, not to mention an all-encompassing coastline and hills just about everywhere. It's probably not an exaggeration to say that HF Holidays have explored every route, uncovered hordes of secret paths and little-known nooks and crannies, and delved into as close to the great unknown as you're likely to get on a relatively small island, which definitely makes them the UK's undisputed walking experts. But it's what they bring to walking holidays beyond the walks themselves that makes them such a good choice for families – especially if it's your first time thinking about more than a light local ramble with kids.

For a start, HF Holiday leaders are hugely experienced with a genuine passion for walking that's unmistakeable. They're also incredibly knowledgeable, warm and friendly, entertaining and heroically skilled at motivating and encouraging kids. They keep fun levels topped up at all times – nobody ever forgets it's a holiday, not an endurance test. And all walks are carefully graded, which leaders are very aware of when it comes to setting the pace, having regular rests and packing in plenty of interest – their vast local knowledge comes in very handy for scoping out shy wildlife and season-specific natural phenomena.

Each HF Holiday gives you a choice of up to four walks every day, so you can start with some easy strolls to get kids into the way of things and slowly build up to more ambitious hikes and climbs. If you're more experienced, going straight for bigger challenges is always an option. And when you've no clue about what walks will work out best for everyone, you've plenty of expert assistance and advice on hand to help you make the right choice.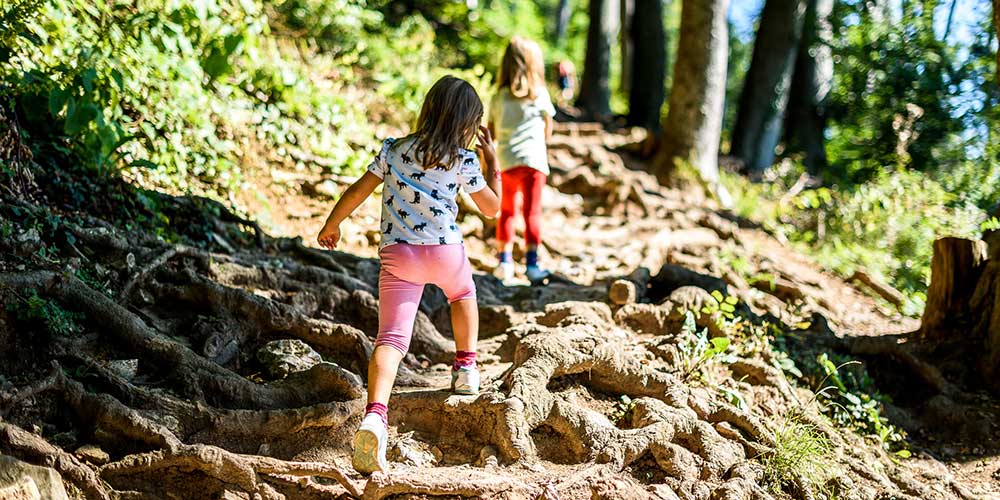 2/7

Gorgeous UK locations and great country house hotels to go with them

HF Holidays are carefully designed so kids of all ages can experience the excitement of walking and there's no denying how exciting it is to discover some of the loveliest parts of the UK on their own two feet. Even shorter walks are packed with amazing sights, and they all come complete with a great sense of achievement which is always a nice confidence booster for young walkers.

Families have the choice of no less than 12 country houses to stay in across the UK, all set in National Parks or Areas of Outstanding Natural Beauty, and each focused on filling downtime with plenty of fun. Almost every house has a wonderful garden for kids to explore, some have adventure playgrounds or swimming pools, all include creatively-planned activity programmes and many have a friendly bar: ideal for swapping trekking tales in the evening.

You'll be delighted to know all hotels prioritise excellent food too: big on fresh, local ingredients and served at family-friendly times – before kids are too tired to eat. And because HF Holidays breaks are full-board, you can look forward to hearty breakfasts and dinners, as well as a choice of healthy packed lunches to keep everyone's energy levels up when you're out and about.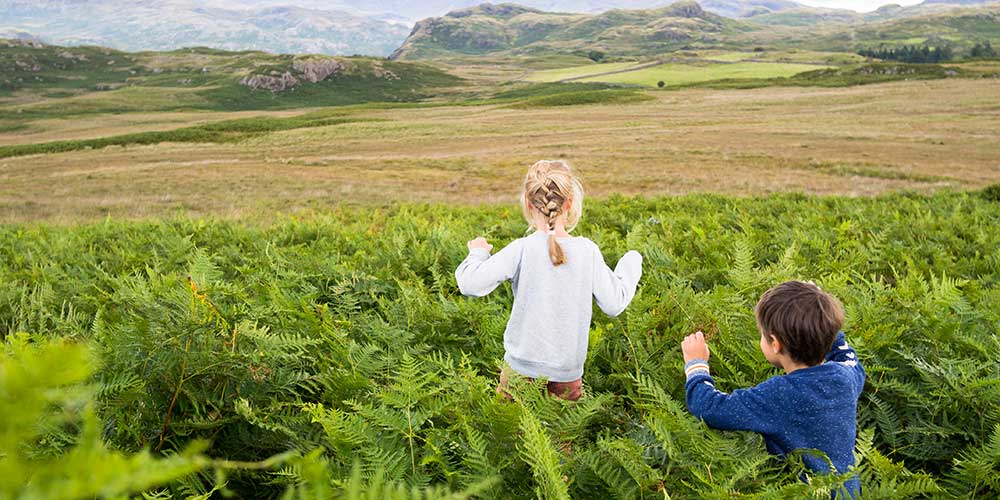 3/7

Guided walking holidays designed for UK school holidays

As well as being environmentally responsible, HF Holidays are keen on social responsibility. They're the only UK holiday company that's a co-operative, owned and operated by its members. And they make a point of encouraging future generations of walkers by giving free places to kids aged five* and under on UK holidays; designing family walking holidays to fit perfectly with UK school holidays. Here's what just four of their amazing adventures look like for 2019.
4/7

Summer in Exmoor from £418pp for three nights*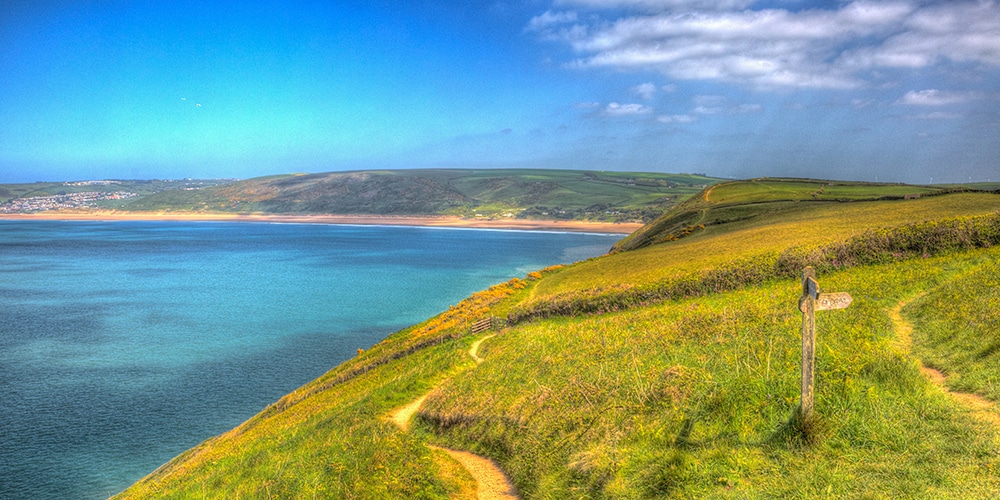 See online for latest offers.
With outstanding Exmoor scenery right on the doorstep, Holnicote House's extensive lawns are ideal for games, while the outdoor swimming pool is always well used on our family holidays. This area is a must for wildlife lovers with the chance to spot wild deer and ponies. Take the cliff railway up from Lynmouth to Lynton and explore The Valley of Rocks. Spot red deer and ponies as you walk up Selworthy Beacon. Enjoy a beach game, visit a falconry centre and take a steam train ride.
Find out about family walking holidays in Selworthy with HF Holidays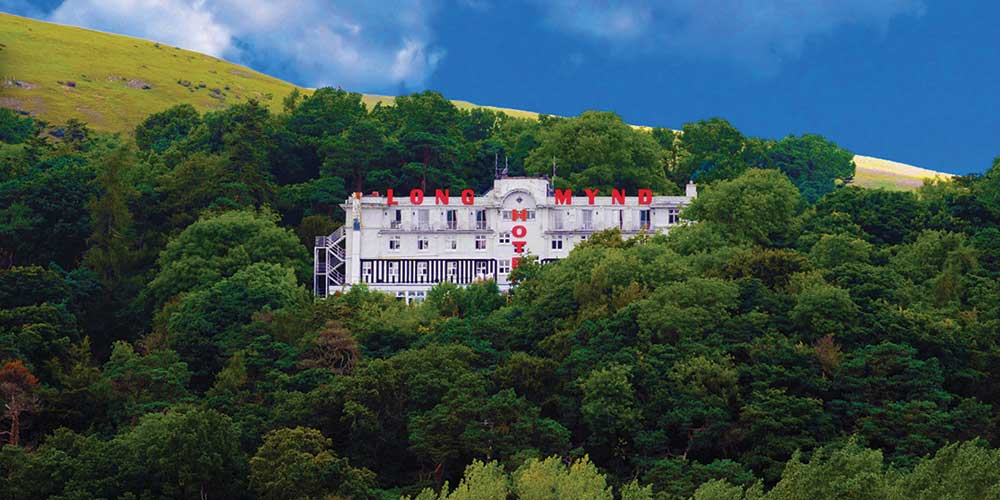 5/7

Summer in the Shropshire Hills from £418pp for three nights*
See online for latest offers.
The Victorians nicknamed Church Stretton 'little Switzerland' in a nod to the beautifully unspoiled Shropshire Hills all around, and probably in part because of the pretty chocolate-box town itself. So it's a great location for walking and exploring, and there's plenty of free time to make full use of all the fun stuff at Longmynd House – one of HF Holidays' great country house hotels with its own swimming pool.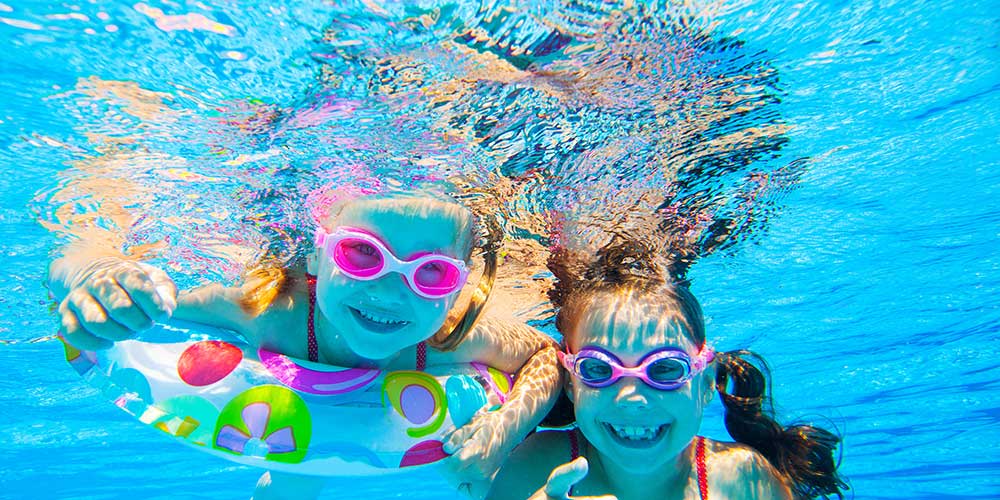 6/7

Summer on the Isle of Wight from £928 for seven nights*
See online for latest offers.
A combo of beachy fun, easy walks and a sensational seaside location overlooking Freshwater Bay makes a classic summer holiday that works beautifully for kids of all ages. When you aren't walking with excellent local guides, you'll find everything from theme parks and zoos to medieval castles worth exploring on the Isle of Wight. Though hanging out at Freshwater Bay House, HF Holidays' grand clifftop hotel, is pretty exciting in itself.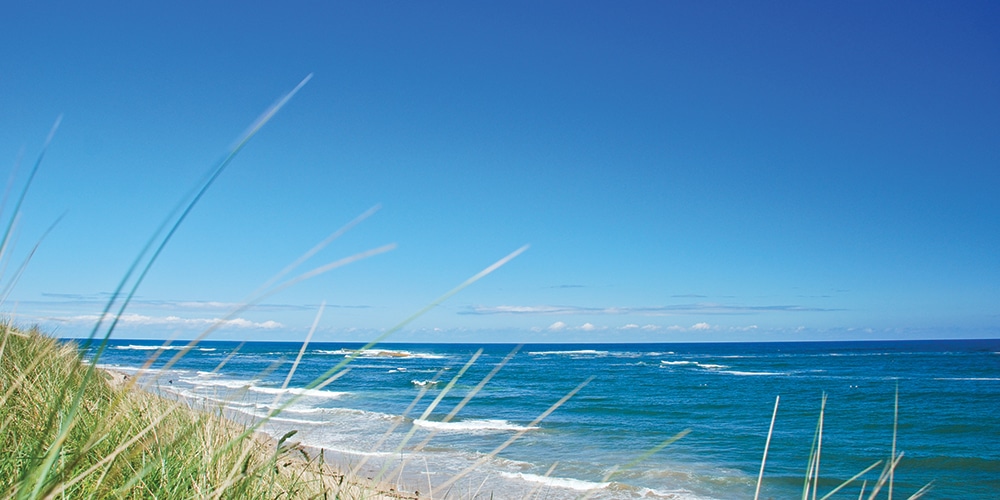 7/7

Summer in Northumberland from £929pp for seven nights*
See online for latest offers.
Nether Grange is in the centre of Alnmouth, with history and gorgeous landscapes that surround the Alnmouth coastline. Breathe in the sea air and enjoy walks along stunning beaches and well-marked coastal paths. This is the perfect location to explore nature's wild beauty. The stunning Northumberland Coast will appeal to all ages. Our country house sits right next to the beach, offering acres of sand to play and explore. Further afield our walks will head along the coast to discover the historic castles at Dunstanburgh and Bamburgh.
Guided walking holidays in the UK are the perfect family adventures: you don't need any technical equipment or impressive sporting skills, just the right guides and great places to stay, which HF Holidays have covered all over England, Wales and Scotland.
If you want to expand your horizons, HF Holidays also offer guided walking holidays in Europe for families, during UK school holidays.
Time to get walking? Take a look at HF Holidays for this year's school holidays and the latest offers and request a copy of their 2019 brochure. Or if you want to talk walks with a friendly expert you can always call on 020 3974 8868.
* Terms and conditions apply. Subject to availability. Non-member associate fee £10 per adult. All child prices/offers are based on sharing with an adult. Visit our website for full t&cs.