Sponsored Content
Boating holidays are made for families. Perfect for all ages, they're a chance to explore the world by water as our ancestors did, navigating the seas and landing at areas of special interest. Whether you're in isolated natural coves for a spot of beachcombing, beach cricket or yoga, or UNESCO world heritage towns and cities for delving into history or wandering around the lanes looking at chic shopping boutiques.
Capture younger children's imaginations with stories of seafaring and adventure. Delight pirate-loving little ones with a "Treasure Island" themed tale in the Caribbean, channel your inner "Moana" in the South Pacific, or find out about living in a different country a la The Durrells in "My Family and Other Animals". Even if your child isn't learning how to sail, they can love learning in other ways as you wander around the ancient cities of Pompeii or Herculaneum, visit the Acropolis in Athens or Nelson's Dockyard in Antigua.
Boating holidays offer the chance for your family to make the most of your moments together, creating lifelong memories and experiences. Throw away the tablet, detox from digital overload, embrace the sea winds and feel the water trailing across your fingertips.
Tailor make your experience to suit you with Borrow A Boat, the company that connects you with over 13,000 boat owners in over 60 countries. A more affordable way to rent for your boating trip, you can find the price, size, style and skill level that suits you in the setting you want.
No sailing experience? You can still enjoy the water as all boats come with the option of a skipper to sail the boat, taking you where you need to go, either for the whole trip or just part if you'd prefer to stop somewhere for a few days and use the boat as a base.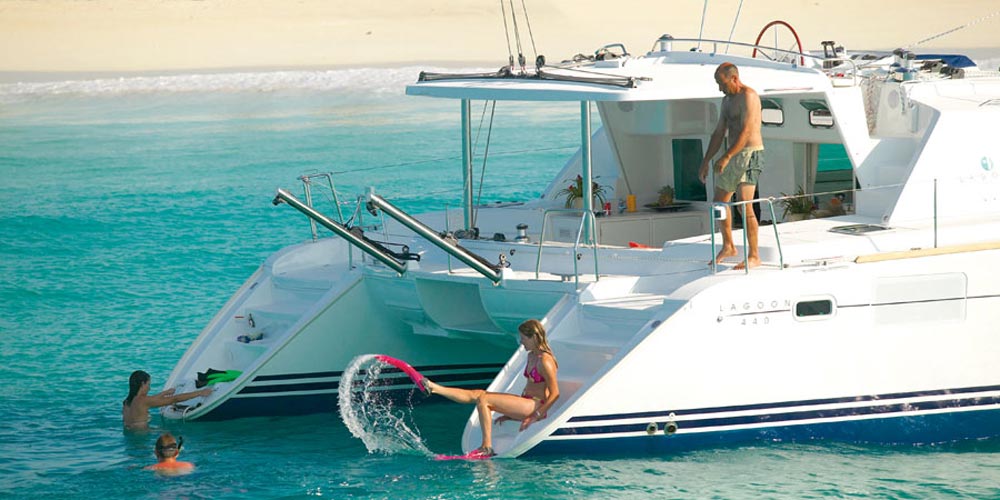 1/10

Catamaran (Lagoon 440, owners' hull version)

A Catamaran is a perfect sailing boat for a family with two hulls, giving you more room and stability on the water (great if you or the kids are just getting your sea legs). The Lagoon 440 is popular because of its spacious hull for parents and a separate hull for the kids, meaning your children can play inside whilst you're mooring up or concentrating on deck. The short-sailing design makes it easier to sail single-handed, definitely an advantage when sailing with young children.

The British Virgin Islands are popular with sailors of all abilities but why not try Antigua? With direct flights from the UK, you could circumnavigate the island in a week. Whilst there, be sure to visit Nelson's Dockyard and the legendary Shirley Heights which come into their own on Sunday afternoons when a fabulous steel drum party and BBQ accompany a sunset over neighbouring Montserrat…
The lowdown
Where: Antigua & Barbuda
Sleeps: up to 6
How much: £3956 – £5400 per week