Sponsored Content
Boating holidays are made for families. Perfect for all ages, they're a chance to explore the world by water as our ancestors did, navigating the seas and landing at areas of special interest. Whether you're in isolated natural coves for a spot of beachcombing, beach cricket or yoga, or UNESCO world heritage towns and cities for delving into history or wandering around the lanes looking at chic shopping boutiques.
Capture younger children's imaginations with stories of seafaring and adventure. Delight pirate-loving little ones with a "Treasure Island" themed tale in the Caribbean, channel your inner "Moana" in the South Pacific, or find out about living in a different country a la The Durrells in "My Family and Other Animals". Even if your child isn't learning how to sail, they can love learning in other ways as you wander around the ancient cities of Pompeii or Herculaneum, visit the Acropolis in Athens or Nelson's Dockyard in Antigua.
Boating holidays offer the chance for your family to make the most of your moments together, creating lifelong memories and experiences. Throw away the tablet, detox from digital overload, embrace the sea winds and feel the water trailing across your fingertips.
Tailor make your experience to suit you with Borrow A Boat, the company that connects you with over 13,000 boat owners in over 60 countries. A more affordable way to rent for your boating trip, you can find the price, size, style and skill level that suits you in the setting you want.
No sailing experience? You can still enjoy the water as all boats come with the option of a skipper to sail the boat, taking you where you need to go, either for the whole trip or just part if you'd prefer to stop somewhere for a few days and use the boat as a base.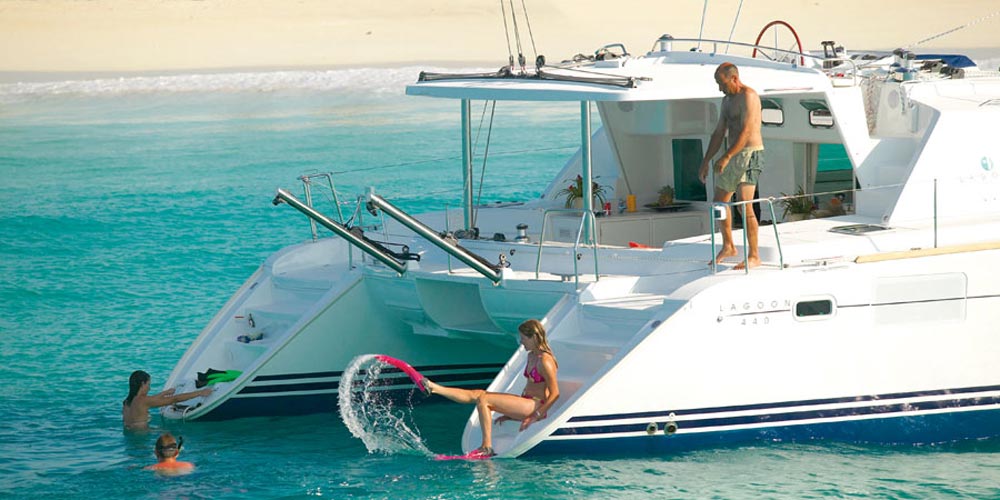 1/10

Catamaran (Lagoon 440, owners' hull version)

A Catamaran is a perfect sailing boat for a family with two hulls, giving you more room and stability on the water (great if you or the kids are just getting your sea legs). The Lagoon 440 is popular because of its spacious hull for parents and a separate hull for the kids, meaning your children can play inside whilst you're mooring up or concentrating on deck. The short-sailing design makes it easier to sail single-handed, definitely an advantage when sailing with young children.

The British Virgin Islands are popular with sailors of all abilities but why not try Antigua? With direct flights from the UK, you could circumnavigate the island in a week. Whilst there, be sure to visit Nelson's Dockyard and the legendary Shirley Heights which come into their own on Sunday afternoons when a fabulous steel drum party and BBQ accompany a sunset over neighbouring Montserrat…
The lowdown
Where: Antigua & Barbuda
Sleeps: up to 6
How much: £3956 – £5400 per week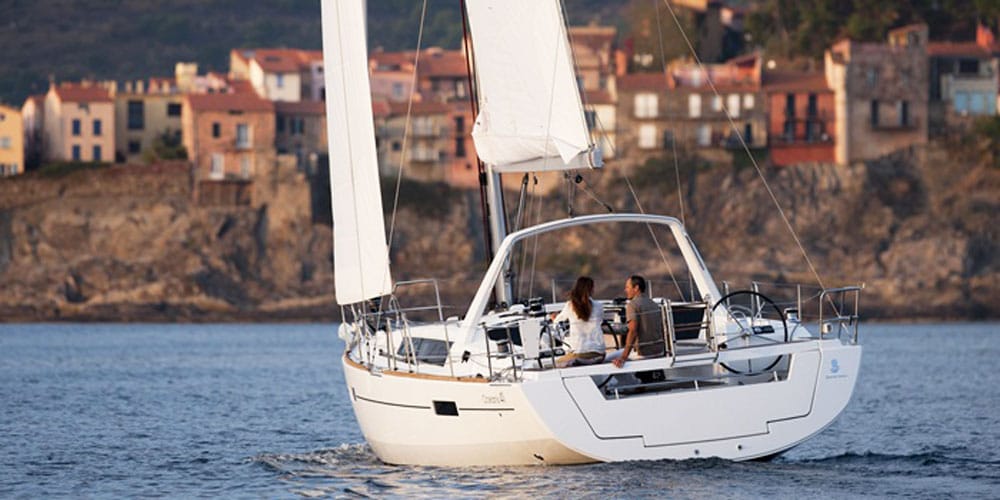 2/10

Monohull Sailing Yacht (Beneteau Oceanis 41)

The most loved type of sailing vessel amongst us Brits, the yacht is part of our boating heritage. Corfu, the most northerly of the Ionian Islands, is a wonderful introduction to yacht sailing, with light winds and lots of bays and coves to explore.

The Durrells spent four years here in the 1930s – so bring along "My Family And Other Animals" and retrace their footsteps in the northeastern part of the island. The bays of Gouvia, Kalami and San Stephano are among some of the locations for the recent successful television series too.
The lowdown
Where: Corfu
Sleeps: up to 8
How much: £991 – £2491 per week
3/10

Powerboat (XL 43.4)

If sailing isn't your thing but you love spending time on the water, you can still enjoy the seas on powerboat located in the Italian Amalfi coast. Whilst exploring this undeniably chic part of the world, stunning coastline and iconic towns such as Positano and Amalfi, take the time to pop inland for an afternoon. Head to Pompeii or Herculaneum or, if you're feeling particularly energetic, hike to the summit of Mt Vesuvius for spectacular views.
The lowdown
Where: Italian Amalfi Coast
Sleeps: up to 6
How much: £8008 per week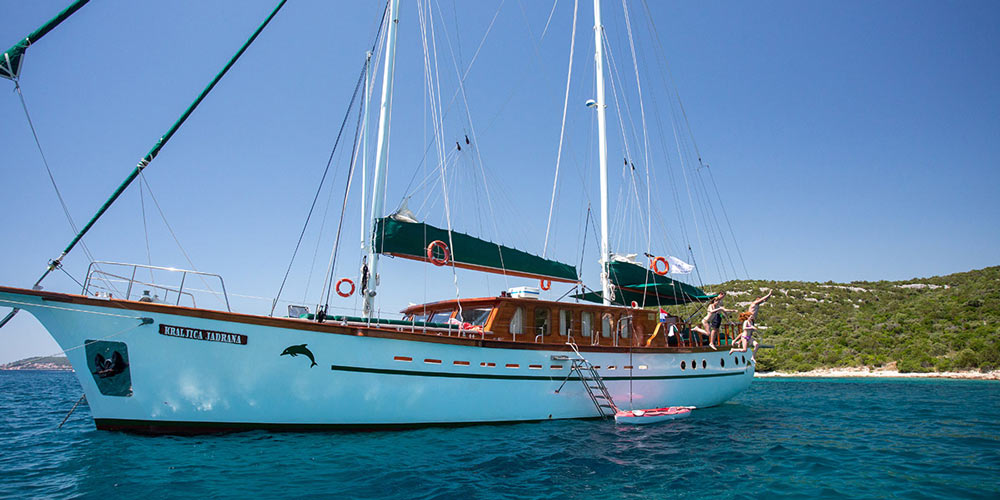 4/10

Gulet (Queen of the Adriatic)

The ultimate wow factor in sailing boats, these traditional Turkish vessels hark back to a time of glamour and sophistication. Perfect for splashing out on a special occasion (pun intended!) and large enough to include not just yours, but several families if you wish. These restored boats are utterly beautiful and the vast majority of gulets are found in the Med, in particular Croatia and Turkey.

Imagine polished wood interiors, days spent relaxing on the sun loungers, and a full crew including your skipper PLUS chef and childcare. Dive off the boat for a swim with the children, mess about with the toys on board, or get active with the jet skis and stand up paddle boards. All followed with sundowners and a three-course dinner once the children are in bed. Sheer heaven!
The lowdown
Where: Croatia
Sleeps: up to 12
How much: £12,232 – £15,752 per week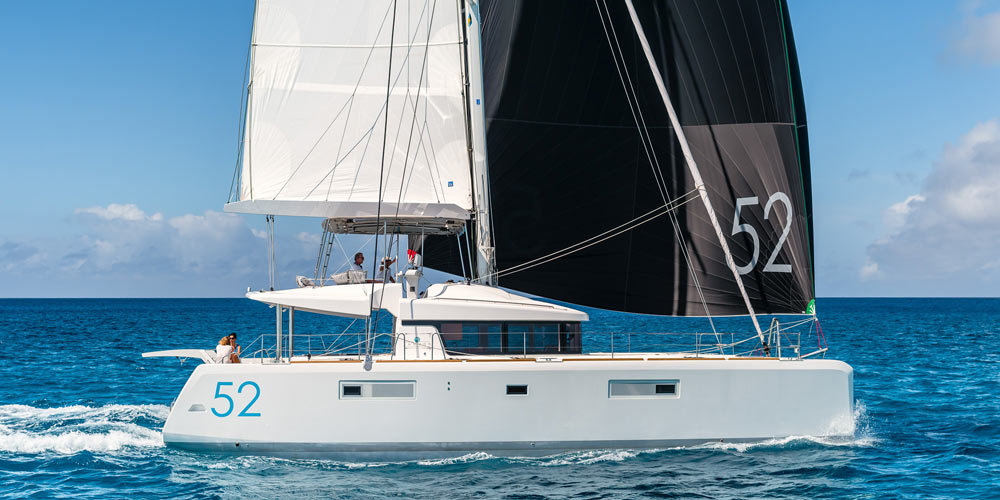 5/10

Large catamaran for two families (Lagoon 52)

This Lagoon 52 is perfect for two families to holiday on together. With ample space and numerous cabin layouts, you can enjoy time together whilst not cramping each other's style. Explore Mallorca, the largest island of the Balearics, perfect for circumnavigating in a week and for sailors keen to do a bit of blue water sailing.

The west coast has shearing mountains plunging into the sea whilst the east coast has spectacular aquamarine waters and long sandy beaches. If sailing with teens why not explore the lively café and bar culture too? Palma and Pollenca both offer upmarket places to while away an evening.
The lowdown
Where: The Balearic Islands
Sleeps: up to 10
How much: £6,133 – £12,172 per week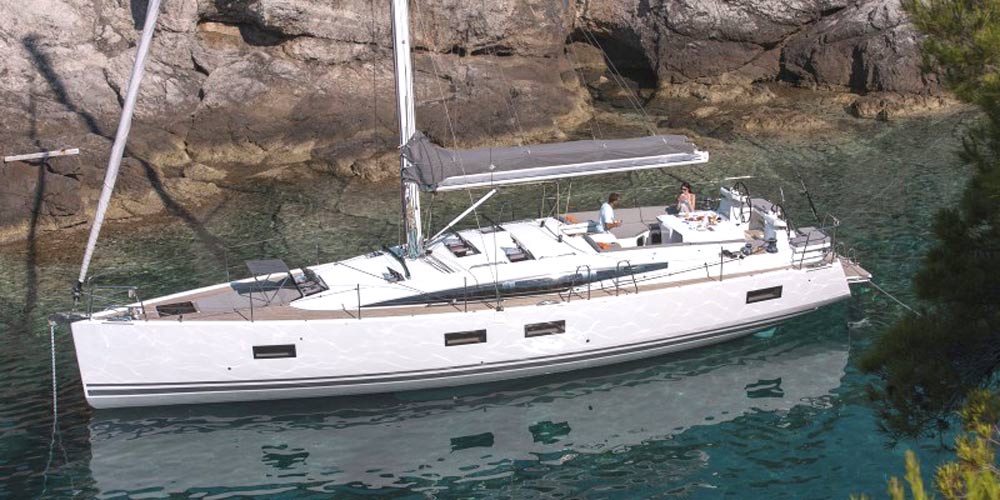 6/10

Large yacht for two families (Jeanneau 54)

If catamarans aren't your thing, but you still want to holiday on a spacious sailing boat with friends, you could give this a go. Croatia is the most popular cruising area in Europe, and it's easy to see why. With thousands of miles of coastline and numerous islands to navigate, there's something for everyone. Stop off in Dubrovnik to explore this intriguing walled town filled with a fascinating history, or take a Games of Thrones tour and soak up the setting for King's Landing.
The lowdown
Where: Croatia
Sleeps: up to 10
How much: £1,978 – £5,333 per week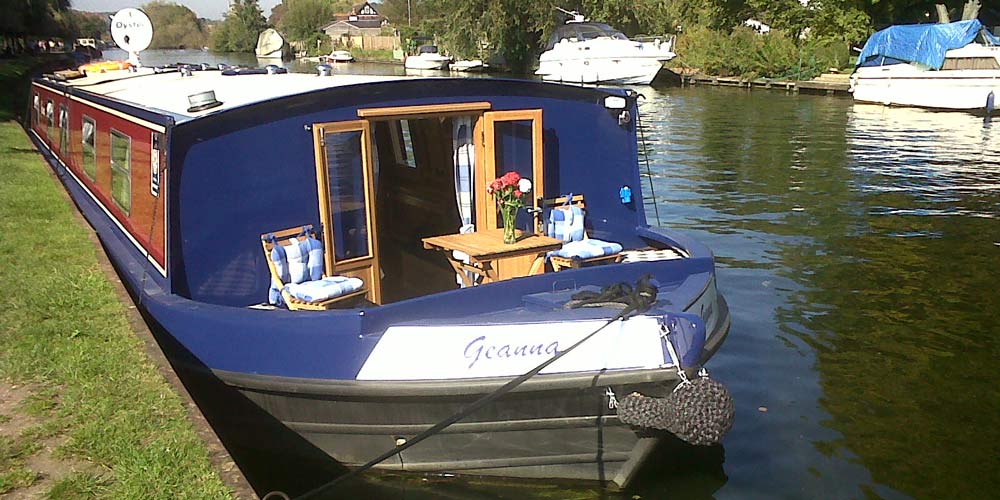 7/10

Canal boat (Widebeam Canal)

Stay in the UK and explore the beautiful English countryside by boat. Nothing is more relaxing or leisurely than chugging along in a canal boat. Read a book, play board games, or jump off and walk alongside on the towpath. For some fun activities, play "chase the boat" with the children, encourage them to help with the locks and tie up outside a traditional English pub for lunch.
The lowdown
Where: UK
Sleeps: up to 10
How much: £2,467 – £3,290 per week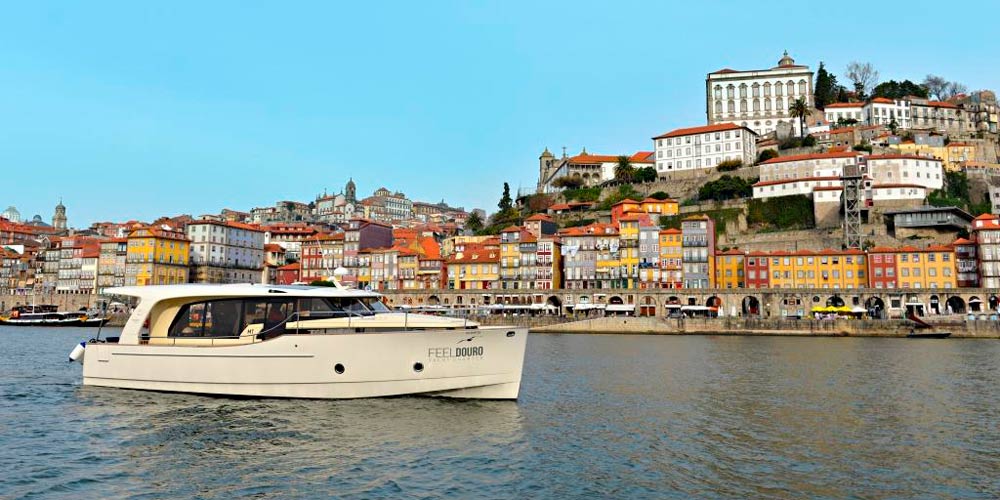 8/10

Motor Cruiser (Greenline 40)

For a combination of sea and river cruising, take a motor cruiser on the Douro River, Portugal, where there are 210km of navigable waters to explore. This is a region with three UNESCO World Heritage sites, and the oldest demarcated wine region in the world. Perfect for an easy relaxing pace, a simple-to-handle boat, and stunning surroundings.
The lowdown
Where: Douro River, Portugal
Sleeps: up to 6
How much: £2,323 – £3,043 per week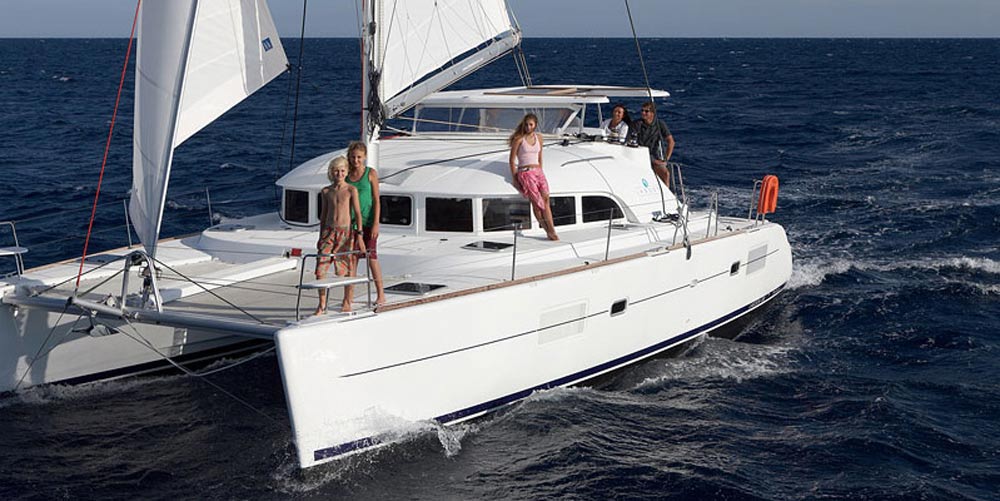 9/10

Catamaran (Lagoon 380)

If you fancy exploring further afield, check out this family-sized catamaran located in the middle of French Polynesia. Younger fans of "Moana" will recognise these islands, which inspired the popular film. At the same time, adults can appreciate the captivating natural beauty of the mountainous islands clad in rainforest, the pure white sands of nearby Bora Bora, or the rich culture and heritage these island possess. Your memories are sure to be magical.
The lowdown
Where: French Polynesia
Sleeps: up to 8
How much: £2,692 – £3,722 per week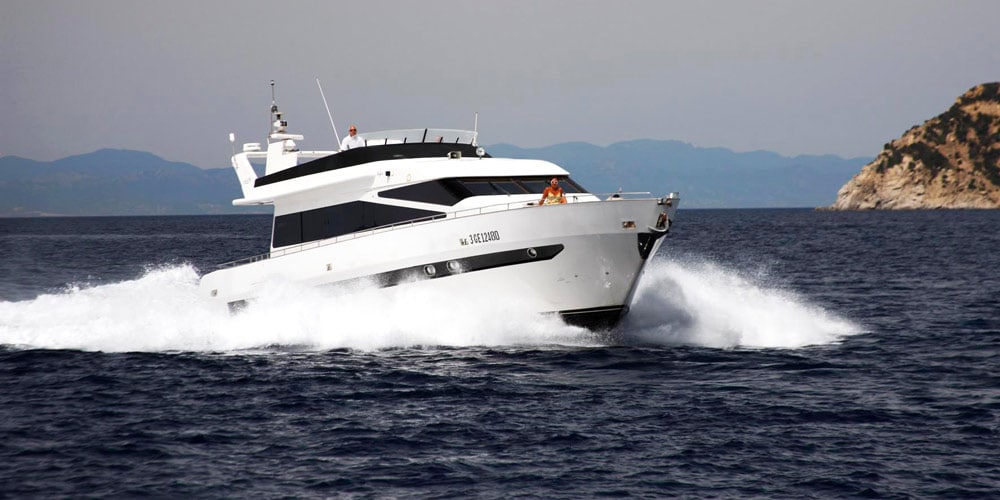 10/10

Motor Yacht (Piantoni 63)

Join the jet set on the Costa Smerelda (The Emerald Coast) in Sardinia, favourite haunt of the rich and famous. It's nice to look the part too and when travelling in this beauty you are sure to turn a few heads! Even reluctant teens would be on board with the idea.

Enjoy the crystal clear waters by day and the legendary local cuisine by night. It's also a great place to do yoga so book into an afternoon session for some Zen family time en route.
The lowdown
Where: Costa Smerelda, Sardinia
Sleeps: up to 6
How much: £9,592 – £14,520 per week
Love the idea of a family boating holiday? Find out where else you can go with Borrow a Boat.