Sponsored Content
They say it's always summer somewhere, but the same's true of other seasons too. So while northerners are sunning themselves in July and August, it's the depth of winter across the Indian Ocean and downtime in the Caribbean. Not that you'd know it. With temperatures rising from 30˚ and sun most of the time, the only hints of seasonal shifts in these fortunate spots are fewer crowds and lower prices. Just a couple of reasons family holiday specialists, Abercrombie & Kent, highly recommend long-haul for UK school summer breaks. So if you're after some winter sun in July and August here are a few of their top choices to book right now.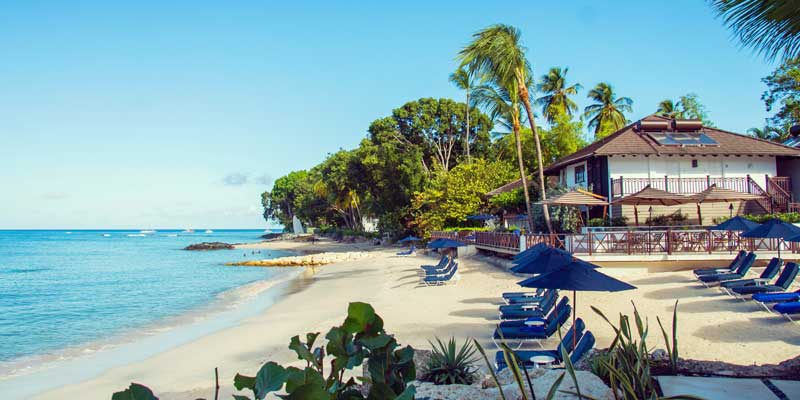 1/5

  The Sandpiper, Barbados
Almost as far south as you can go in the long-chain Caribbean archipelago, Barbados takes good weather for granted all year round; temperatures sit at a constant 27˚, skies are blue and even the sea's a warm 25˚ most of the time. But, despite the wonderful climate, low season in Barbados coincides neatly with UK school summer holidays when direct flights from the UK take less than nine hours and both crowds and prices are quite a bit lower than in winter.
Barefoot and beachy are Barbados' signatures and they're written all over The Sandpiper, one of the Small Luxury Hotels of the World and a very relaxed long-term resident on the island's beautiful west coast. Kids love it here: there are free sailing and swimming lessons all summer long; the beach is water sport heaven and two hours of fun Caribbean childcare every day keeps under 12s happy and lets parents off-duty for a bit too.
The Sandpiper's just on the edge of Holetown, Barbados' original settlement and one of its most authentic towns. Head for Chattel Village where traditional 18th century 'mobile' homes have been turned into cute stores. The sun-soaked boardwalk has amazing views of the island's historic harbour. Limegrove Lifestyle is where to get serious about shopping. And colourful, spicy home-cooking on First Street is a local legend not to be missed under any circumstances.
Book a family holiday at The Sandpiper from now until 31 October 2017 and up to two kids under 16 stay free.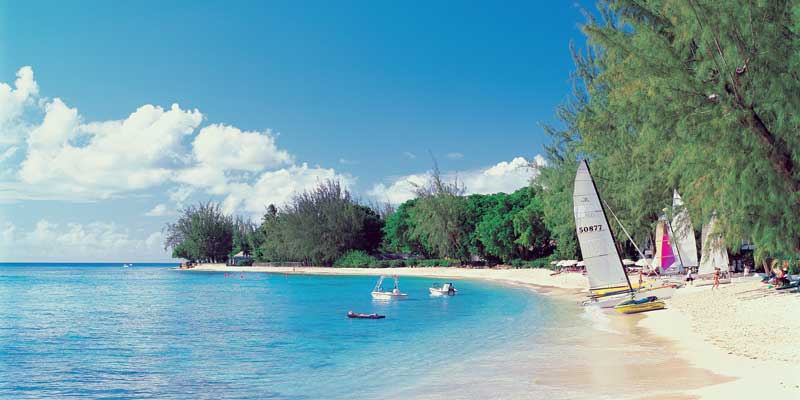 2/5

  Coral Reef, Barbados
Coral Reef sits in 12 acres of lush tropical gardens where guests are invited on guided tours in summer. Just a small hint of what to expect from The Sandpiper's sister resort, 20 minutes from Bridgetown on the sunny west coast of Barbados.
Kids might not be too impressed by the grounds (apart from the obvious adventuring potential) but sailing and swimming clubs should win them over. Summer tennis clinics are skill-building made fun and then there's the Surf Shack, for everything from Catamaran and dinghy cruising to kayaking, paddle boarding and snorkelling.
Between the beach and the water sports and the general air of Caribbean cool, Coral Reef's pretty close to perfect holiday freedom for older kids and teens. But don't worry too much about parental abandonment issues: an hour or two in the open-air garden spa is usually enough to soothe away any cares, completely.
Book a family holiday at Coral Reef between now and 31 October 2017 and up to two kids under 16 stay free.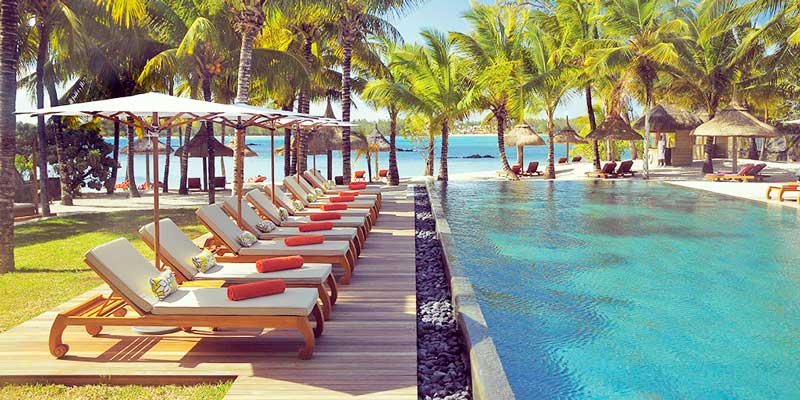 3/5  

Constance Le Prince Maurice, Mauritius
Little rainfall, sunny beaches, warm seas and average daily temperatures of 25˚ describe 'winter', in Mauritius perfectly. But since the enchanting, lagoon trimmed, Indian Ocean island's in the southern hemisphere, winter falls in July and August. Good news if you've a hankering for a family summer holiday with wonderful weather, uncrowded sands, peaceful jungle trekking, charming Creole Festivals and low costs. It's long-haul, but only just: direct flights from the UK take about 10 hours.
Nestled on the laid back north east coast of the island, Constance Le Prince Maurice is the mind's eye cool Mauritian. Think overwater villas on stilts, beachfront cottages, white sand beaches and dense, tropical gardens.
Les Petits Prince kids club is wild good fun for four to 11 year olds with traditional arts and crafts, cooking classes and ice-cream making workshops. Swings, slides, trampolines, treehouses and splash-around pools fill the imaginative play space for under sixes. And teenagers have the run of the island's water sports, rainforest adventures, pretty towns and villages, extreme activities and wildlife – flying foxes are the real deal on Mauritius.
Fear not, you haven't been forgotten in the family holiday equation. Occupied kids simply means more time to indulge in the Sisley Spa or put the challenges of both the resort's 18-hole championship golf courses to the test.
Book Constance Le Prince Maurice up to 45 days in advance and you could save as much as 40% on your family holiday this summer.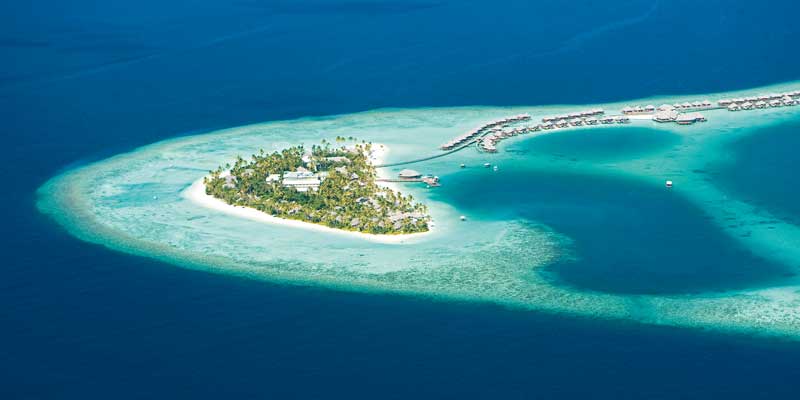 4/5

 Constance Halaveli, The Maldives
The Maldives sits almost right on the equator and it's deliciously hot when everywhere in the northern hemisphere's reliably cold and grey. But avoiding winter sun-seekers and opting for July and August on a coral atoll still means daily temperatures of 30˚. It might be more long-haul than some, but almost nowhere else on earth is quite as close to paradise.
Beachy and beautiful describes almost every resort in The Maldives, but not all manage to slip a relaxed, family atmosphere into the mix as easily as Constance Halaveli. Sitting on its own idyllic island in the North Atoll and only 25 minutes by seaplane from Malé Airport, it's blissfully easy to get to with younger kids and fun heaven when they arrive.
The kids club for four to 11 year olds balances outdoor playtime with creative learning and plenty of chilled-out, holiday-style downtime too. Little gourmets can learn to cook and older children have plenty of arts, crafts and activities to keep them busy. Mealtimes mean family-time and kids are welcome guests in all resort restaurants. And a choice of magical beach villas even manage to transform boring, but necessary, sleep into an unforgettable experience for young islanders.
Book Constance Halaveli up to 60 days in advance and you could save as much as 45% on your family holiday this summer.
5/5

  PER AQUUM Niyama, The Maldives
With its sensational twin-island location, treehouse restaurant, private swimming pools and attention to kids from babies right through to teens, PER AQUUM Niyama is possibly the finest all-round family resort in The Maldives this summer.
Explorers Kids Club is a true original for young adventurers from 12 months to 12 years. It has its own mini culinary school – cutely named, 'Munch' – does daily dolphin spotting excursions and even soothes smaller guests with traditional Dhivehi lullabies – you might want to learn some of these to take home.
Teenagers have their own chill-zone packed with fresh-off-the-press games and simulators. Under 12s can try customised PADI dive lessons at the Float Centre and pools are designed from splash to infinity to fit the family mood – or just the time of day.
Lime, the resort's over-water spa, is a parental indulgence for kid-free time. But sharing the serenity is sweet too with side-by-side parent and child massages and tranquil family yoga sessions.
Book a Beach Studio at PER AQUUM Niyama this summer and have a free upgrade to a Beach Studio with private swimming pool, plus up to 35% discount on bookings made before 31 May 2017.
Find out all about experiential and luxury family holidays from Abercrombie & Kent