Sponsored Content
Costa Rica has over 800 miles of coastline, washed to the west by the South Pacific, and by the Caribbean Sea to the east. It has beaches so flawless only sea turtles are allowed to use them – but just as many stunning shores for people playing, too. Add in rushing rivers, wetland, canals, springs, natural pools and streams, and it's not much of a surprise to find the potential for water-based adventure is fairly limitless.
Here are the top five fun-filled aquatic activities for kids and families, handpicked by the Costa Rica Tourism Board. If you don't see one you like, don't worry, there are hundreds more to choose from that didn't make this cut.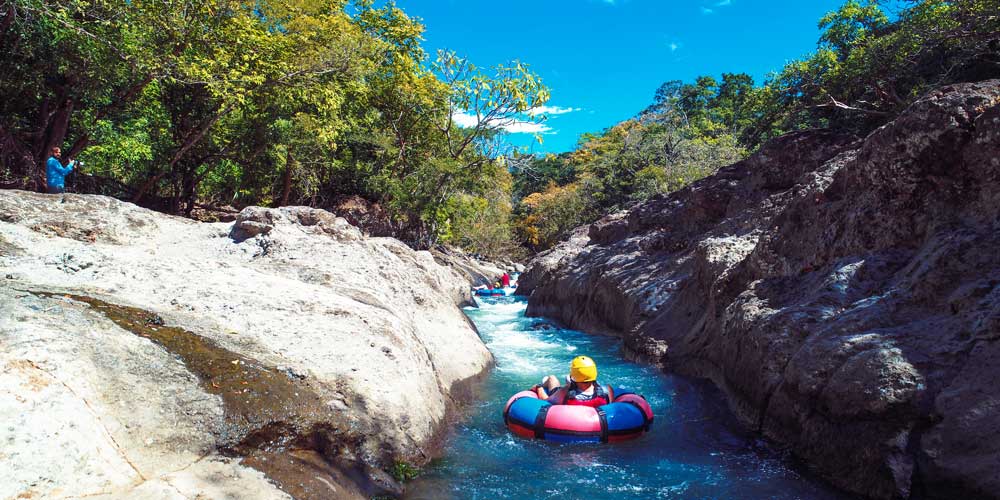 1/5 

Costa Rica river-tubing, for thrill-seeking families
Costa Rica practically invented tubing, but it's come a long way here since the daring days of DIY inner tubes. Now, it's one of the most popular family activities in the country. Safety is a priority, tubes are more like mini-rafts, and tours with lead kayak guides are the rule.
But the rush of racing down rivers hasn't changed one bit. It's still as adrenalin-pumping and thrilling as ever, just easier to get into, a lot more fun for kids, and you can tube just about anywhere these days, from lush jungles to mighty gorges
Good for families
Try the spectacular gorge tour of River Colorado in Rincón de la Vieja National Park for almost three kilometres of white-water tubing, and class I and II rapids.

Arenal River tubing is a great family all-rounder: an easy-going rainforest hike to the river; then class I and II rapids with calm stretches in between for wildlife-watching and breath-catching.

Rio Savegre isn't just one of the cleanest and clearest rivers in the world, it's a jungle tubing legend. Only half-an-hour from Manuel Antonio National Park, the combo of cool rapids, gentle floating, and fascinating riverbanks is made for kids. 
2/5

  Green, clean, and great fun Costa Rica kayaking with kids
Silent, no-impact, green, clean and conservation-conscious kayaks are a great fit for Costa Rica, and take families just about anywhere from dramatic coasts to deep and mysterious mangrove swamps.
Serious navigational challenges to keep seasoned kayakers happy are well balanced by hundreds of smooth-sailing adventures, easily managed by first-timers. And, when it comes to spotting rare and elusive animals, shy birds, slippery reptiles, and jaw-dropping natural phenomena, absolutely nothing – not even two feet – beats kayaking in Costa Rica.
Good for families
Lake Arenal is great for kid-size kayaking. Expect calm waters, amazing volcano views, occasional glimpses of howler monkeys, and 100% certain sightings of exotic birds and fish, even on the shortest paddles.

Undemanding, guided sea-kayaking with masses of wildlife on the side makes for the best type of family adventure in Manuel Antonio National Park.

Go for a night kayak tour of shimmering Rio Pacuare: the river's bioluminescence is caused by algae, but looks much more magical than the science suggests.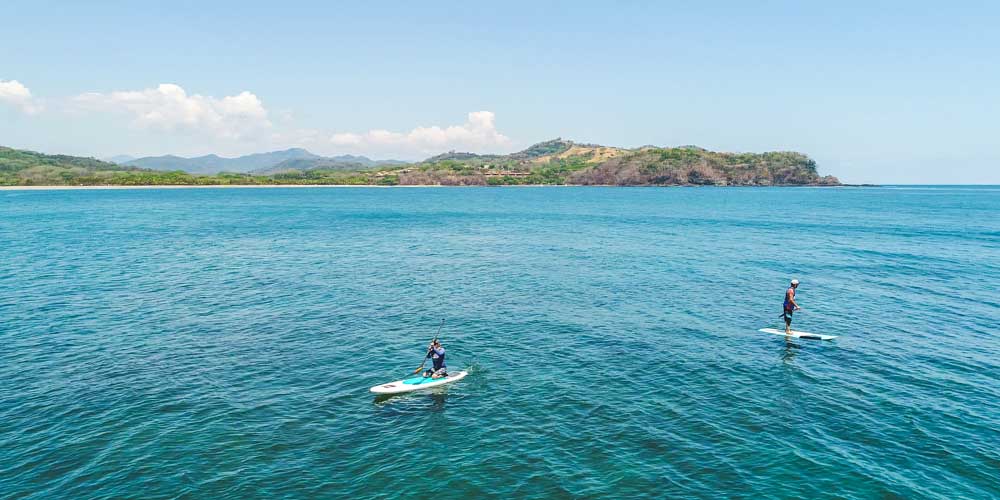 3/5 

SUP is all-round family fun in Costa Rica
Try stand-up paddleboarding in Costa Rica and you'll never think it's a sedate second-best to surfing ever again. In fact, down on the Pacific here, SUPs are as much about wave-riding as staying upright, and out in force on some of the greatest surf beaches.
More peaceful paddlers might prefer calm lake waters for amazing guided tours, wildlife-watching like no other, and fantastic up-close sightings of mighty volcanos. And complete newbies keen to learn SUP skills have a pick of excellent schools along the gorgeous, beachy and laid-back Guanacaste coast.
Good for families
Guided SUP tours on Lake Arenal are the type ofno-experience-required adventures that work well for family holidays. Navigating coves and bays in constant sight of Costa Rica's most famous volcano is plenty exciting.

Palm-trimmed Samara Beach in Guanacaste is great for catching waves, and neighbouring Playa Carrillo is outstanding for practising new SUP skills.

Head to Punta Uva on the Caribbean coast for guided tours on jungle waterways, another experience that's perfect for SUP first timers.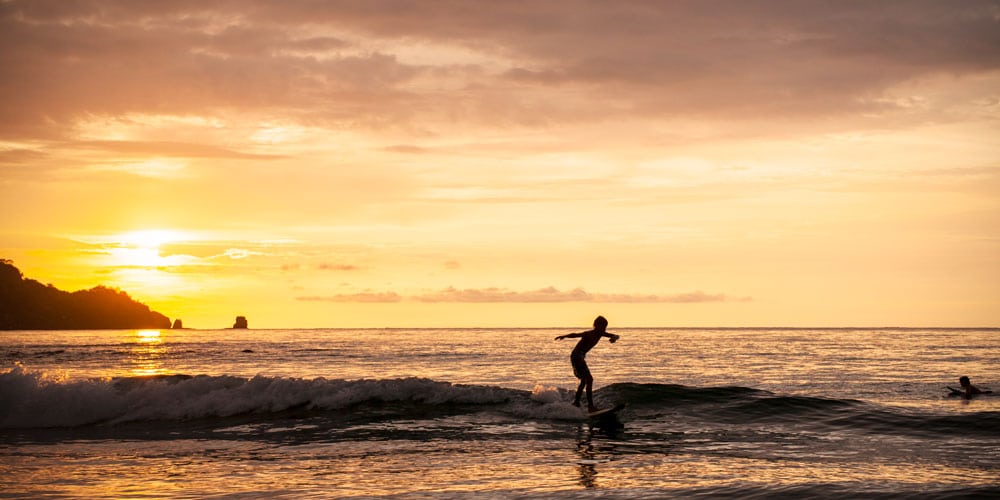 4/5 

Surf's up (and amazing) on both Costa Rica coasts
It's not too much of a revelation to find that a country with Pacific and Caribbean coastlines has become a surfing hotspot.
Guanacaste in the north-west is best of the best in terms of laid-back beachy resorts, awesome waves, and long rides, although more experienced surfers will find plenty of reef breaks to keep them busy on Costa Rica's east coast, too. But, if you want to surf in sight of scarlet macaws and within earshot of howler monkeys, the Osa Peninsula has both, and it's another good area for first-time lessons, especially in the warm and peaceful south.
Good for families
Nosara on the north-west coast is famous for long surf breaks, and it's also home to Del Mar Surf School, one of the best in Guanacaste for beginners and kids.

Cabo Matapalo on the far-south tip of the Osa Peninsula gives you sparkling seas, great surf and unbroken rainforest views. Several local surf schools teach first timers from age five.

For a mix of surf schools, long breaks, and beginner waves, try lively Playa Tamarindo, right at the heart of the Guanacaste coast.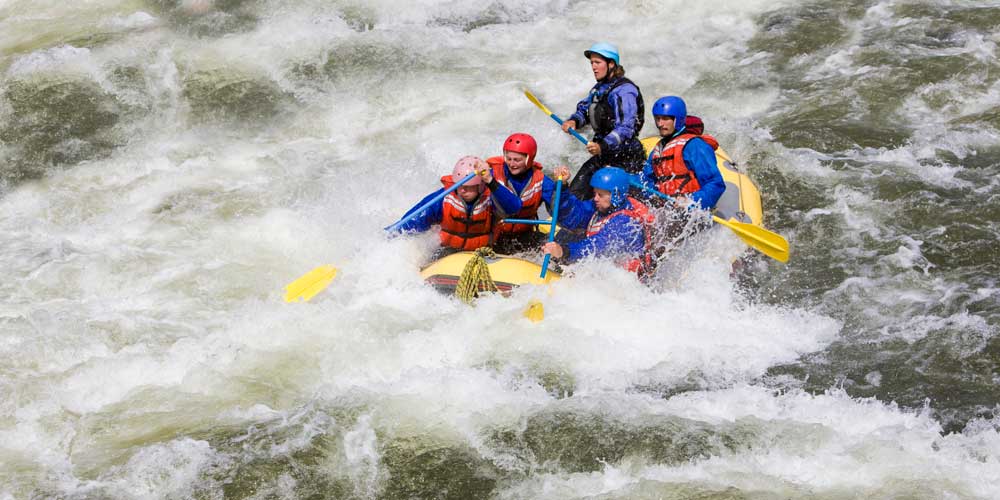 5/5

  White-water rafting in Cost Rica
Seasoned white-water rafters rave about Costa Rica, and not just for its amazing rapids, long rushing rivers and highly experienced guides: warm water temperatures are just as much of an attraction here. Naturally, lifejackets and helmets will always be a rule on any adventure, but wetsuits are optional, since freezing is never a risk no matter where you raft, or at what time of year.   
Good for families
Rio Reventazón is less than two hours drive from Limón and described as Costa Rica's most challenging river. But class III rapids along either the Tucurrique or El Carmen stages aren't too daunting, even for first timers.

The famously lovely Rio Savegre, three hours south of San José, is another good choice for beginners, with class II and III rapids and tours year-round.

Peñas Blancas in Arenal is great for wildlife, easy-going class I rapids, and runs all-year, too.
Looking for a different type of adventure? Check out 

visitcostarica.com

for even more family activities on the water – and land too, of course.