Sponsored Content
Only one place can officially call itself the Vacation Home Capital of the World® and that's Kissimmee Florida. It's the epicentre of all Florida theme parks and major attractions, Central Florida's gateway to The Everglades and home to the legendary Walt Disney World Resort. It's also location of choice for the most incredible collection of Ocean Florida family holiday villas – where else would find the UK's #1 independent Florida specialist being the best of the best?
But exceptional villas are just part of what makes Ocean Florida family holidays to Kissimmee so popular. Great value scores high too, especially as all their holidays include return UK flights and most have superb deals on ticket prices for just about any Florida attraction. A dedicated Ocean Holidays Welcome Centre in the heart of Kissimmee is another nice touch. And you're definitely in luck if your family isn't a cookie-cutter size or shape, because Ocean Florida are expert on multi-gen holidays and larger than average families, and they have some truly vast villas in the most amazing resorts all over Kissimmee.
And since we're back to Kissimmee villas again, maybe it's time to take a look at a few of the latest amazing villa resorts from Ocean Florida: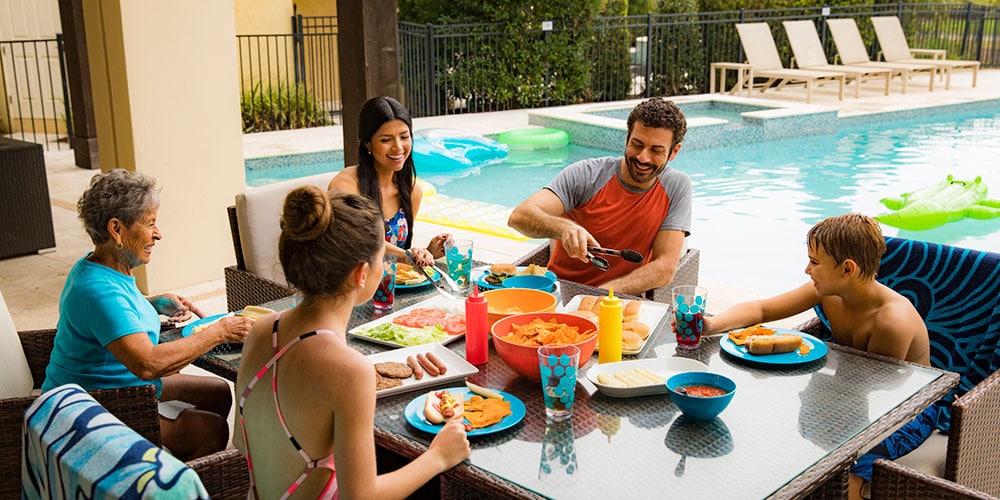 1/5

Ocean Florida own luxury family villa holidays in Kissimmee
A generous approach to family villas in Kissimmee means Ocean Florida give you heaps of space as standard then add in lots of extras like themed kids' bedrooms, en-suite bathrooms, cinema rooms and games rooms, secluded sun terraces, landscaped gardens and – because it's Florida – private pools.
Great locations are a given, and finding a good balance of family-friendly and luxuriously indulgent is clearly another Ocean Florida priority. Most villa communities are gated and several also have 24/7 security, for a little more peace of mind. And on the fun side of things, families can look forward to resort-style swimming pools, playgrounds, splash parks, lazy rivers and full-on mini waterparks, restaurants and Tiki bars and even golf courses, sailing lakes or nearby nature reserves.
And you don't get to be the UK's leading Florida villa specialist unless families are delighted with their choice of holiday home. Ocean Florida keep a steady 98% approval rating by making sure they describe every villa in detail, then letting you see inside to get a feel for the place before you decide. And if you're unsure about anything, you only have to call and speak to a Kissimmee expert, which is just about anyone on the Ocean Florida team.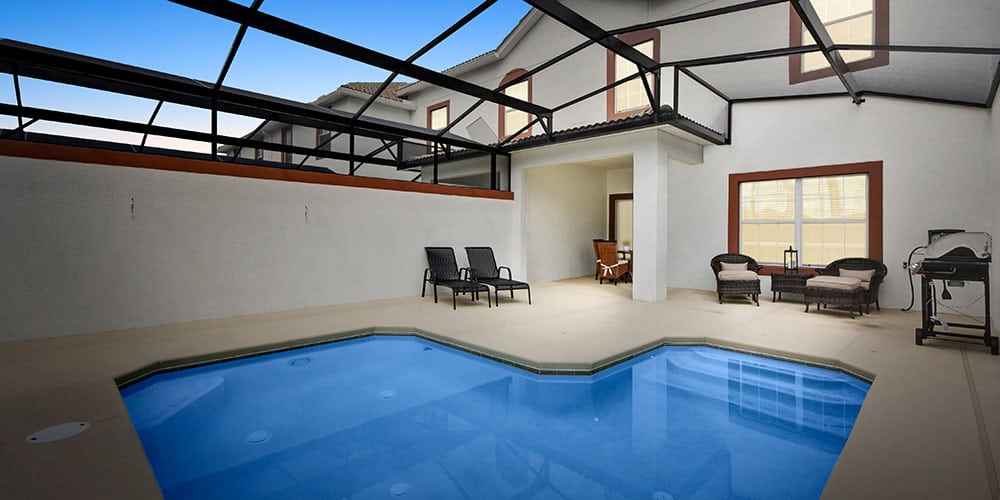 2/5

ChampionsGate Signature Villas by Ocean Florida, Kissimmee's exclusive Ocean Florida villa resort
ChampionsGate Signature Villas are entirely dedicated to Ocean Florida holidays. Every Signature Villa here is enormous and complete with a private pool, spa and a games room, as well as outdoor dining patio and family BBQ. The entire community's peaceful and very select, yet only 25 minutes drive from Kissimmee's theme parks and no distance at all from Old Town Kissimmee or outdoor adventuring in The Everglades.
Secure, gated villa community dedicated to Ocean Florida holidays.
A range of 5, 6, 8 and 9 bedroom Signature Villas.
All villas are detached, with a private pool, spa and a games room.
Each 8 or 9 bedroom villa has a cinema room.
All bedrooms have flat screen HDTVs and en-suite bathrooms.
Villas have air-conditioning throughout and free WIFI.
A thoughtful Signature Welcome Pack is included in every villa.
Resort pool, splash park, lazy river, pool bar, clubhouse
Less than 25 minutes from Universal Orlando Resort.
Close to Interstate 4, the direct route to Kissimmee's theme parks.
The entire resort is gated so villa guests have exclusive access to its swimming pool and splash park, lazy river, restaurant, Tiki Bar, clubhouse, fitness centre and tennis and volleyball courts.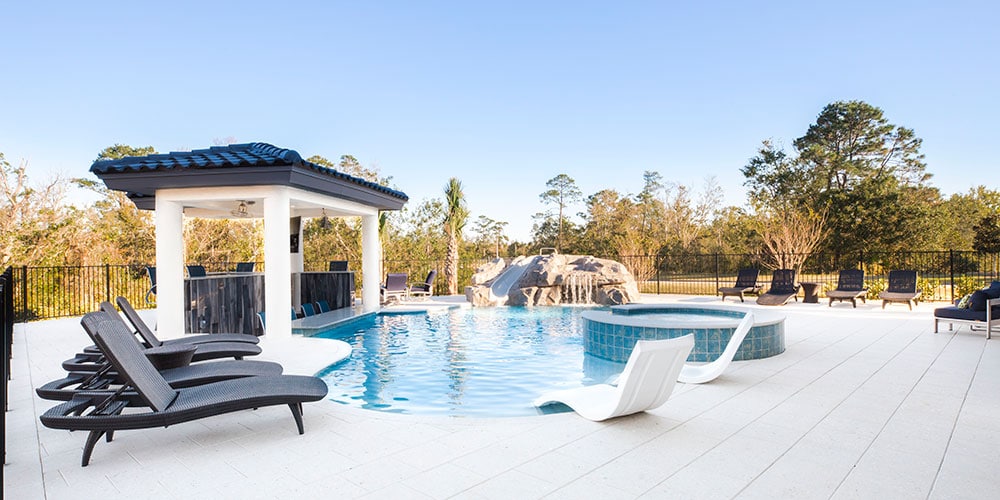 3/5

A villa resort with mega waterparks and three PGA golf courses
Reunion has all the advantages of a Kissimmee luxury resort combined with the freedom of a villa holiday and works for all shapes and sizes of family. Villas range from one to 12 bedrooms, all have private pools plus heaps of space. And larger ones come with grand outdoor dining terraces, games rooms and home cinemas. Then there's the resort itself:
2300 acres of landscaped tropical grounds.
Three PGA golf courses designed by Jack Nicklaus, Tom Watson and Arnold Palmer.
Five acre waterpark, 11 swimming pools, six Hydro-Grid tennis courts, lazy river, fitness centre, spa and on-site bike rental.
A choice of six restaurants and a Resort Clubhouse.
Close to Central Florida attractions – Walt Disney World's Resort, fireworks can be seen from Reunion.
20 minutes from Discovery Cove and SeaWorld Orlando.
30 minutes' drive from Orlando International Airport (MCO).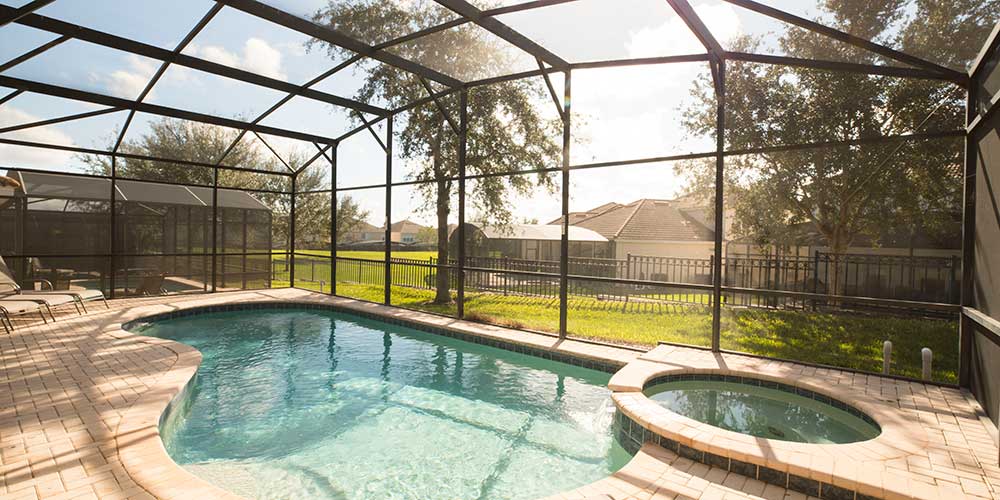 4/5

Fabulous villas minutes from Walt Disney World Resort
Staying close to Central Florida's legendary theme parks definitely makes life easier with kids and you don't get much closer than Windsor Hills. It's one of the nearest Ocean Florida villa communities to Walt Disney World Resort and brilliantly family-friendly right down to having a 40-seat cinema on-site along with a lagoon-style swimming pool, waterslides, plus tennis and basketball courts. Each five and six bedroom villa here has its own private pool and the community's gated 24/7.
Minutes from Walt Disney World Resort, Discovery Cove and SeaWorld Orlando.
Secure villa community, gated 24/7.
Choice of 5 or 6 bedroom family villas with private pools.
Lagoon-style resort pool, waterslides and hot tub.
Kids playground, resort clubhouse, tennis, basketball and sand volleyball courts.
40-seat cinema onsite, plus games room and fitness centre.
Just over an hour's drive from Florida's east coast beaches.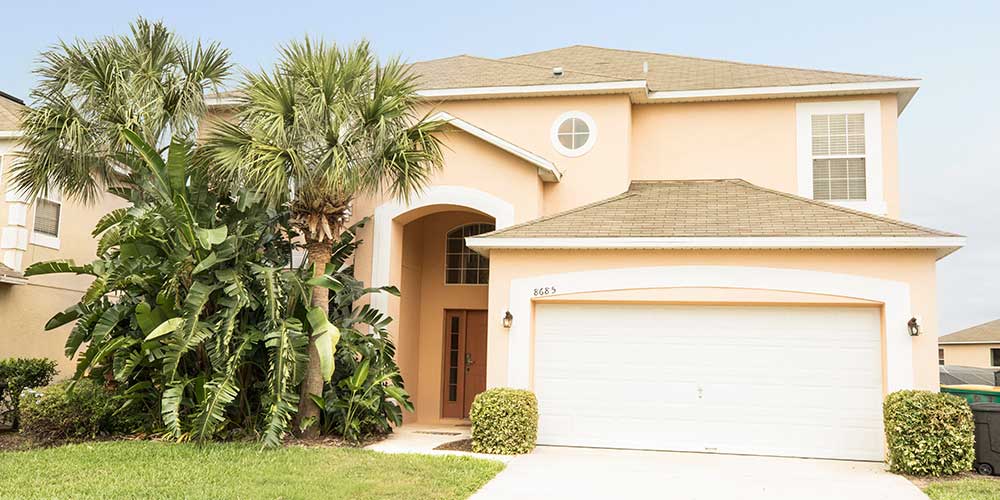 5/5

Emerald Island, the conservation-conscious villa resort
The 300 acre conservation area all around Emerald Island Resort means this charming villa community certainly lives up to its name. But Kissimmee major attractions are just a short drive away too, so you've a great balance of peaceful nature and plenty wild thrills, which just about sums up why families love Florida holidays in the first place.
Choice of 4, 5 and 6 bedroom villas with private pools.
Secure gated community surrounded by 300 acre conservation area.
Beautifully landscaped resort grounds and nearby nature trails.
Two resort pools, fitness centre, sauna, spa and resort clubhouse.
Tennis, basketball and sand volleyball courts.
Children's play areas, games rooms, cyber café and Tiki bar.
Just off Highway 192, a short drive to Walt Disney World Resort.
20 minutes' drive from SeaWorld Orlando and Discovery Cove.
Over the past 12 years Ocean Florida have taken over 250,000 people on unforgettable Florida holidays. They were named 'Best Holiday Company to the USA' at the British Travel Awards 2018 and are second to none when it comes to all-round remarkable family villa resorts in Kissimmee.
So whether it's your first time holidaying in the Vacation Home Capital of the World, or you already know what makes Kissimmee so marvellous, visit Ocean Florida and find out how they always manage to make one of Florida's best family holiday destinations even better.