Sponsored Content
Only one place can officially call itself the Vacation Home Capital of the World® and that's Kissimmee Florida. It's the epicentre of all Florida theme parks and major attractions, Central Florida's gateway to The Everglades and home to the legendary Walt Disney World Resort. It's also location of choice for the most incredible collection of Ocean Florida family holiday villas – where else would find the UK's #1 independent Florida specialist being the best of the best?
But exceptional villas are just part of what makes Ocean Florida family holidays to Kissimmee so popular. Great value scores high too, especially as all their holidays include return UK flights and most have superb deals on ticket prices for just about any Florida attraction. A dedicated Ocean Holidays Welcome Centre in the heart of Kissimmee is another nice touch. And you're definitely in luck if your family isn't a cookie-cutter size or shape, because Ocean Florida are expert on multi-gen holidays and larger than average families, and they have some truly vast villas in the most amazing resorts all over Kissimmee.
And since we're back to Kissimmee villas again, maybe it's time to take a look at a few of the latest amazing villa resorts from Ocean Florida: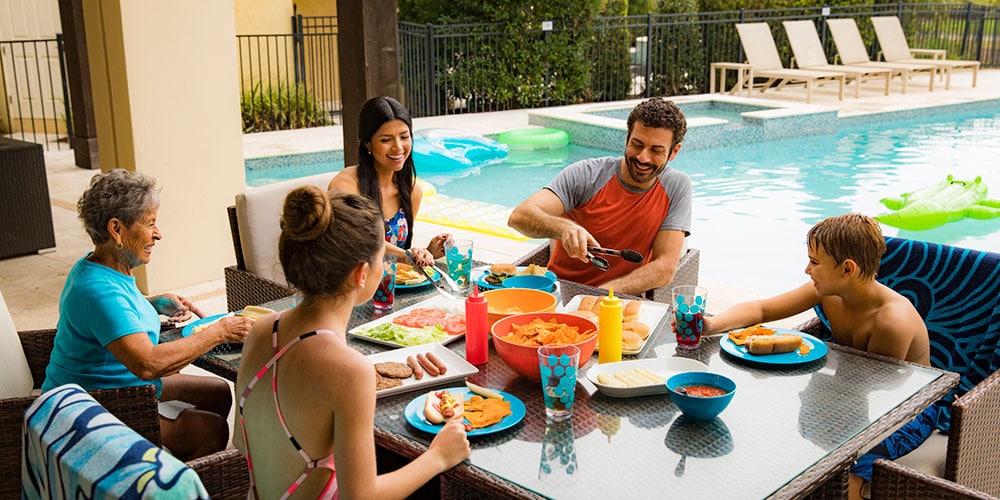 1/5

Ocean Florida own luxury family villa holidays in Kissimmee
A generous approach to family villas in Kissimmee means Ocean Florida give you heaps of space as standard then add in lots of extras like themed kids' bedrooms, en-suite bathrooms, cinema rooms and games rooms, secluded sun terraces, landscaped gardens and – because it's Florida – private pools.
Great locations are a given, and finding a good balance of family-friendly and luxuriously indulgent is clearly another Ocean Florida priority. Most villa communities are gated and several also have 24/7 security, for a little more peace of mind. And on the fun side of things, families can look forward to resort-style swimming pools, playgrounds, splash parks, lazy rivers and full-on mini waterparks, restaurants and Tiki bars and even golf courses, sailing lakes or nearby nature reserves.
And you don't get to be the UK's leading Florida villa specialist unless families are delighted with their choice of holiday home. Ocean Florida keep a steady 98% approval rating by making sure they describe every villa in detail, then letting you see inside to get a feel for the place before you decide. And if you're unsure about anything, you only have to call and speak to a Kissimmee expert, which is just about anyone on the Ocean Florida team.