Sponsored Content
All-inclusive family holidays at Hard Rock Riviera Maya are perfect for kids of all ages, from Angelina Ballerina loving five year olds to YouTube generation teens. The lively, free-spirited atmosphere that's always been part of the Hard Rock formula works wonderfully for fun-loving families. And an easy going atmosphere means parents can relax, because best behaviour doesn't take priority over having a fantastic time, every minute of every day.
So if you thought Hard Rock was better suited to grown-up holidays, let Hard Rock Riviera Maya convince you and the kids otherwise in 2017.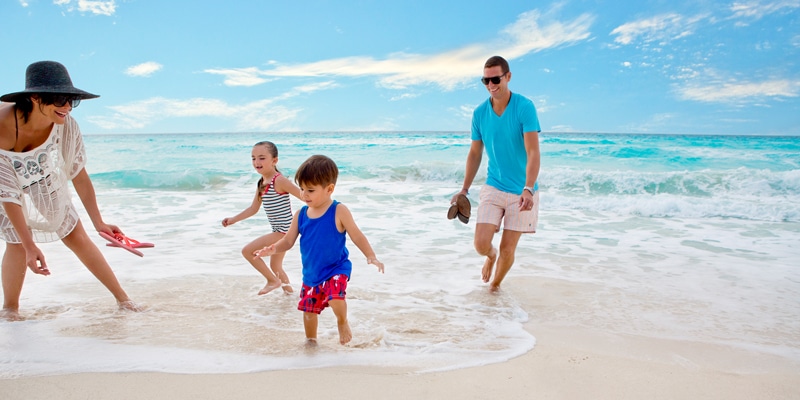 Hard Rock play family-friendly on Riviera Maya
As any great band will tell you: building a new fan base doesn't mean alienating the existing one. Following that rule to the letter, Hard Rock have divided and conquered in their new resort on Mexico's year-round sunny and stunning Riviera Maya.
Heaven's the adult-only zone where grown-ups can be themselves without risking the cold, disapproving stare-down of a five year old.
And Hacienda is the place for kids to be kids; hone their mega-star egos with masses of good old-fashioned spoiling; and learn to craft the OTT backstage riders of the future with Hard Rock's indulgent all-inclusive treats.
Miniature megastars meet Little Big Club
Old people (anyone over 13) can so ruin the vibe of a good gig, but there's little or no risk of that at Little Big Club. This is the Hard Rock home of Angelina Ballerina, Bob the Builder, Barney and Thomas the Tank Engine and it's strictly four to 12 year olds only. Busy with character breakfasts, live shows, endless activities and non-stop events, kids won't miss you for a minute.
But don't feel too sad: that distant sound is the siren call of Rock Spa, the largest in the Caribbean and technically part of adults-only Heaven. But while the kids are away doing their thing, you more than qualify and nothing soothes parental abandonment issues like a Synchronicity Massage or Wrap Remix.
The Cavern Teen Centre for chillin' and other good stuff
Teens might be a bit young to get the rock reference (unless they're serious musos) but no one over the age of 13 isn't up for the Cavern's all-out, night and day cool. Squashy sofas, members-only mocktail bar, chill-zones and game-zones, old school pool and baby-foot, ridiculously banging sounds and just the right hint of Hard Rock memorabilia to keep it real: think The Beatles by Warhol and you're on the right track.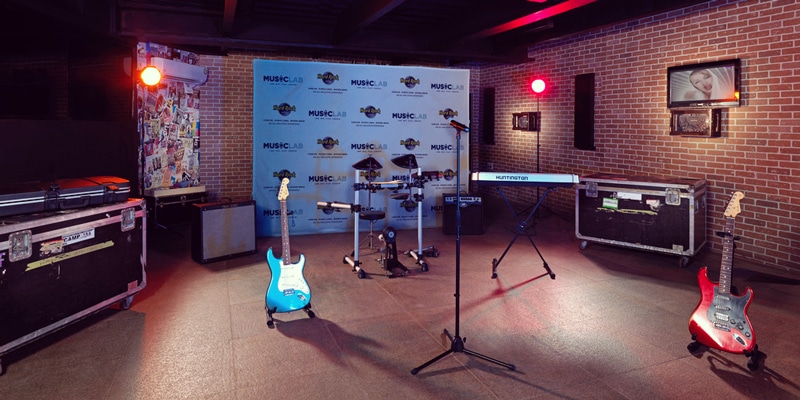 Souvenirs are so last five minutes, Music Lab is right now
Planning to hit Riviera Maya's cute markets and interest kids in some artisan crafts? Good luck with that. Because you've some serious competition from the ultimate souvenir, courtesy of Music Lab.
Forget keeping your over 12s out of the business and on the straight and narrow. Once they've jammed with the band and tried out their Superstar DJ training wheels, there's no going back.
And, since instant gratification is the lifeblood of any wannabe megastar these days: finished tracks and performance are auto-uploaded to YouTube. Try and beat that with a repro Aztec Amulet.

Hacienda is pool cool and beach wild 
You can't have a resort on Riviera Maya without a slice of pure white beach, transparent Caribbean seas and a whole raft of fantastic water sports. Hard Rock might be mavericks, but even they wouldn't break that rule. So expect beachy, beautiful and every detail from cloud soft sun loungers to snorkelling taken care of, and naturally, year-round sunshine's a given too.
Hacienda Zero Entry Kids' Pool takes the party to another level entirely with slides and chutes, wild water features and non-stop music. Poolside snacks are on tap so kids can just float by and order-up, it's the all-inclusive way. And if you want to play together, the enormous family pool has water activities every day, a pool bar and it's Hacienda too: splash as much as you like, you rule the waves here.
There are several hundred more sleeps before Woodward Riviera Maya opens in autumn 2017, but if kids can hold out until then to holiday Hard Rock, it promises to be worth the wait. Try to imagine a full-scale BMX and skate park with hip-hop in its DNA, cheerleading tuition,monster trampolines, dry ski and snowboarding slope and a Digital Media Camp for good measure. That's what's in store so far. But Woodward's a Hard Rock invention and, going on past experience, reality's likely to far exceed even those wild expectations.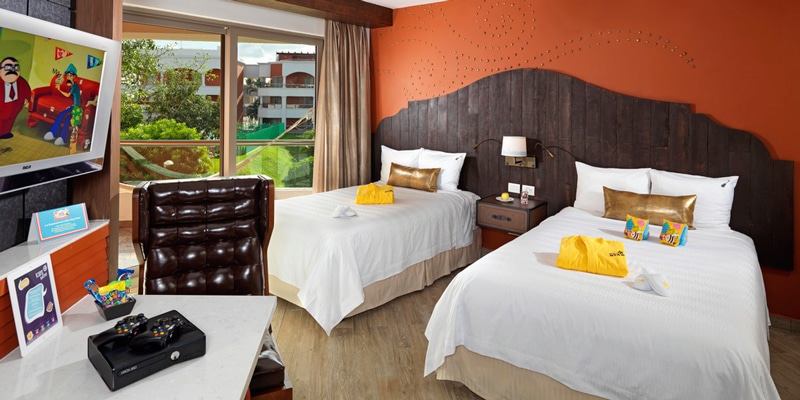 Eat, Sleep and, tomorrow, rock harder than ever
Sleeping and eating are as important in the Hard Rock mix as having pretty much endless fun. In fact the philosophy here is: you can't have one without the other two.
No one goes hungry at Hacienda, day or night. From pool snacks to pizza on the beach, hot Mexican traditions to fresh breakfast buffets, there are seven different family-friendly restaurants to choose from. And when the day's been too long and too tiring, kid-centred room service menus are perfect fillers if going down to dinner just isn't going to happen.
But eating in your own space isn't too much of a hardship. Hacienda Deluxe Family Suites have two interconnecting bedrooms and sleep up to six. Games consuls, movies and music have the entertainment covered. So kids can hop into cute robes and slippers, snuggle down on fluffy soft, star-quality beds and just chill. After all, even divas need downtime and nobody understands that better than Hard Rock Riviera Maya.
Now you know Hard Rock is the perfect hotel for families with children of all ages, why not find out more about the fantastic all-inclusive offers BA Holidays are rocking in Riviera Maya for 2017?
British Airways flies direct to Cancun three times a week. To find out more and to book your holiday visit ba.com/hardrock