Sponsored Content
Dreaming of some really warm winter sun, but not in the market for ultra-long-haul flights or spending a small fortune in the southern hemisphere?
The Bradenton Area, on Florida's balmy Gulf Coast, is under 10 hours flying time from the UK, and basks in so much warmth during winter, daily weather reports tend to stick with; 'sunny and delightful', temps round about 25˚, and a big, yellow circle (that's the sun, in case you'd forgotten).
The local character is almost as generous as the weather. Short of throwing you a parade, this area couldn't be more welcoming, and just about everything, from cute beachfront holiday homes to only-in-Florida adventures, is very affordable – or costs nothing at all, in some cases.
What more temptation do you need, apart from sunshine, beaches and savings? The Bradenton Area Convention and Visitors Bureau are leaving nothing to chance this winter. So take a look at their top ten great value attractions and see if they can win you over to the idea of a family holiday on Florida's gorgeous Gulf Coast.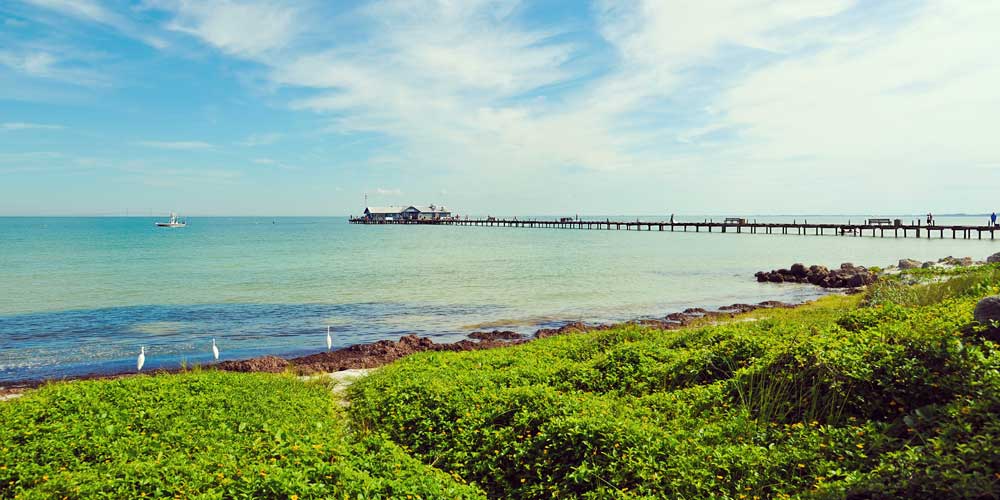 1/10 

Seven nights on Anna Maria Island, from £799pp, including flights
Florida has over 10,000 barrier islands round its remarkable coastline. Needless to say, quite a few of the loveliest are on the Gulf Coast, and one of the loveliest of all is Anna Maria Island in the Bradenton Area.
If you're looking for a touch of quaint, trimmed with white sand beaches, criss-crossed by nature trails, and liberally dotted with seafood restaurants, cute shops, and sweet waterfront homes, this is the place. Hardly anyone drives here, bikes are the way to get about, and giving kids complete freedom is almost an island rule. Plus, you can see for miles and miles, since overdeveloped is a dirty word on Anna Maria, and not a single building is more than two storeys' high.
Seven nights on Anna Maria Island, in a

three bedroom villa

, including UK flights, and based on four adults and two children sharing, from £799pp.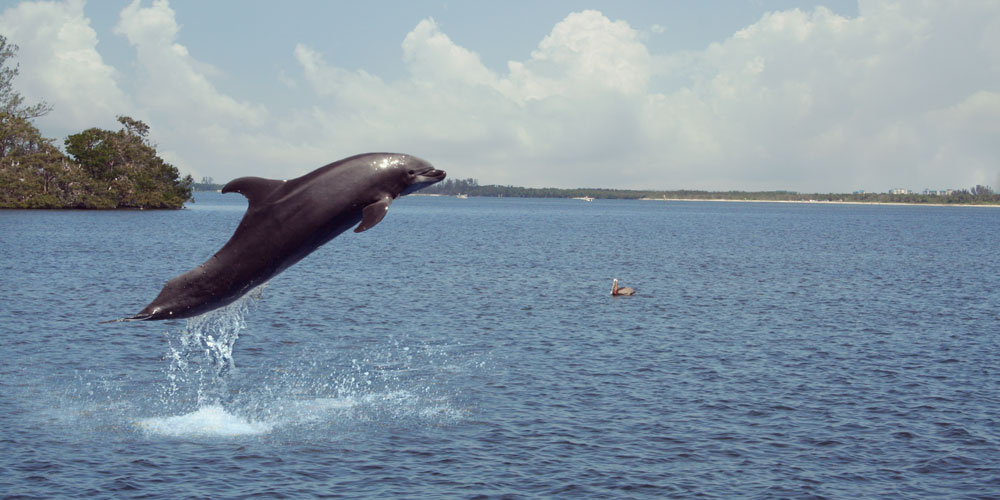 2/10 

Catch Bradenton's best dolphin cruise from just £15
There's a 95% chance of spotting dolphins on a Paradise Boat Tour, and if you're unlucky enough to be in the disappointed 5%, you're welcome to sail again, free of charge.
Naturally, playful cetaceans are the biggest draw. Although you've a good chance of seeing hordes of other wildlife too; even elusive and endearing manatee make the occasional appearance (this is Manatee County, after all). The tour's highly entertaining, and expert narration keeps everyone alert to potential sightings, and at just 90 minutes long, it even holds the attention of younger kids; under threes sail for free.
Find out more about

Paradise Boat Tours

and Gulf Coast dolphins.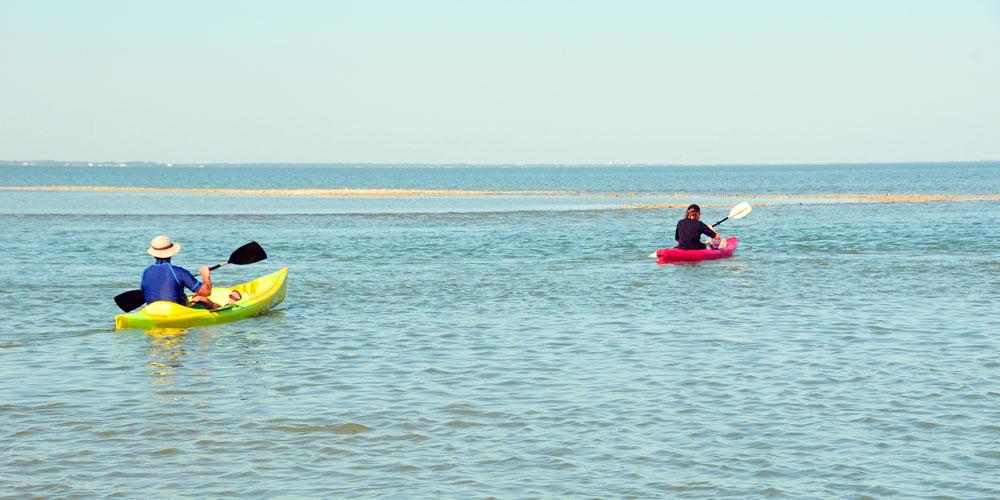 3/10

  Guided kayak tours round Anna Maria Island from £41
Ever wondered what a rookery looked like, how mangroves got their mysterious reputation or where dolphins like to feed? Wonder no more. A half-day guided kayak tour reveals all of those secrets, and much more, in the warm, tranquil waters round Anna Maria Island, just west of Bradenton.
Even novice paddlers are welcome on this family adventure; full instruction is given before anyone sets out, and you're in the company of local experts for the entire four hour tour. Plus, it's an easy-going pace, since you're gliding through seas where motors are forbidden: probably one of the reasons why there's so much to see.
Pick up island attitude on a

Beach Bums

guided kayak tour.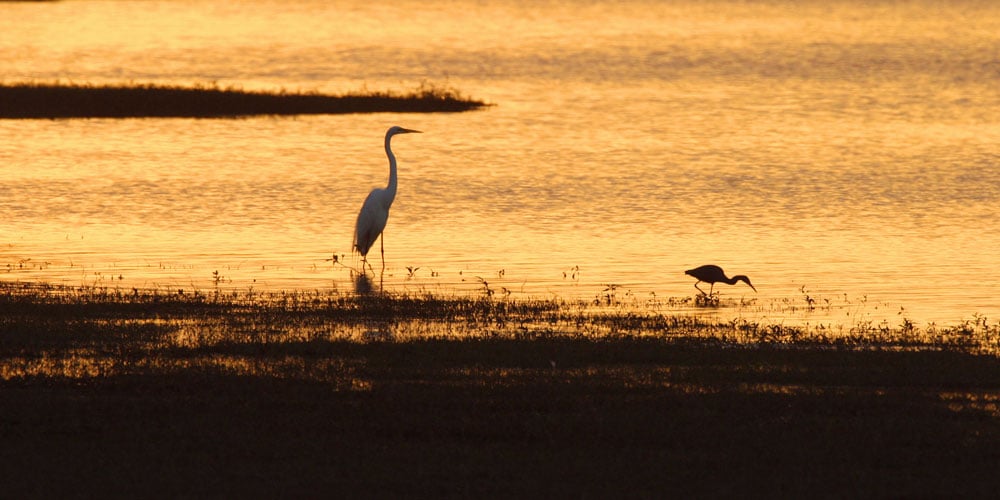 4/10 

Try Bradenton's #1 family activity for free
Robinson Preserve covers over 600 acres of wonderfully wild salt marsh, less than 20 minutes drive from Downtown Bradenton. Top local territory for canoeing and kayaking, hiking, walking and fishing, it's also the number one family favourite in Manatee County.
Climb to the top of the 53 foot high observation tower for a view of Tampa Bay. Go visit historic Valentine House: 120 years old, gingerbread-gorgeous, and moved to Robinson Preserve by boat. Or keep quiet, watch the water, and see who's first to spot the famous Jumping Mullets. Take as long as you like, Robinson Preserve is free for all.
Find out why

Robinson Preserve

is best loved by families.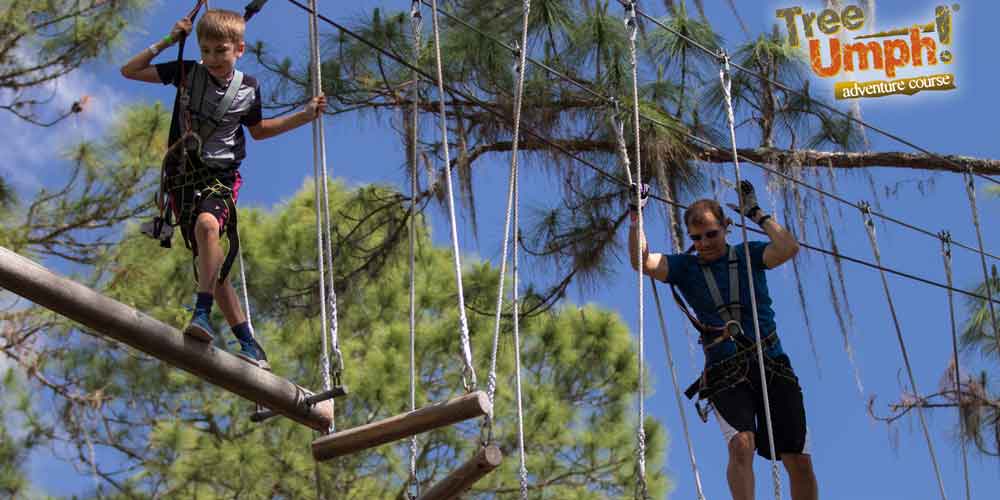 5/10 

High flying aerial adventures for as little as £20
In the Bradenton Area they grow mighty tall trees, and TreeUmph takes complete advantage of every inch of them with an aerial adventure course that's the next best thing to actually flying.
Extreme ziplines, suspended bridges, soaring towers, and giant leaps of faith are ready to challenge extremists. But kids as young as seven can put their nerve to the test here too; safety comes before thrills, and the course is designed to suit specific age groups and abilities.
Have a look at how

TreeUmph

makes Florida's forests even more fun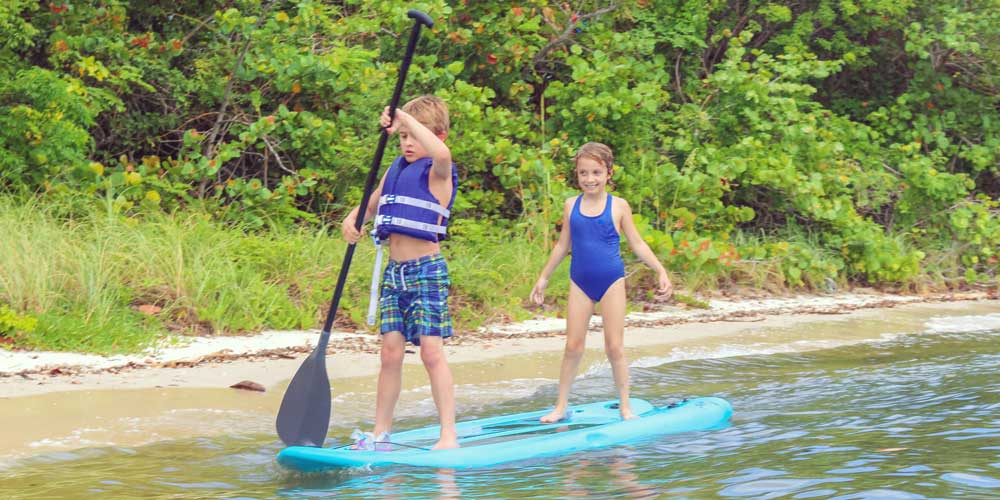 6/10

  Fun family paddleboard lessons from just £38
Only the toughest types take to paddleboards come winter in the UK. In the Bradenton Area, SUP is a year-round activity, because the sun's always up, and the water's lovely.
Grab a board, pick a partner (or two) and learn the sport, that's never as easy at it looks, from the friendly team at Salty Buddha. If you already know your stuff, they rent paddleboards too. Or you can do as the locals do, and take an SUP morning yoga class: more of lie-down-and-stretch paddleboard experience really.
Learn about

Salty Buddha

SUP classes for families and kids.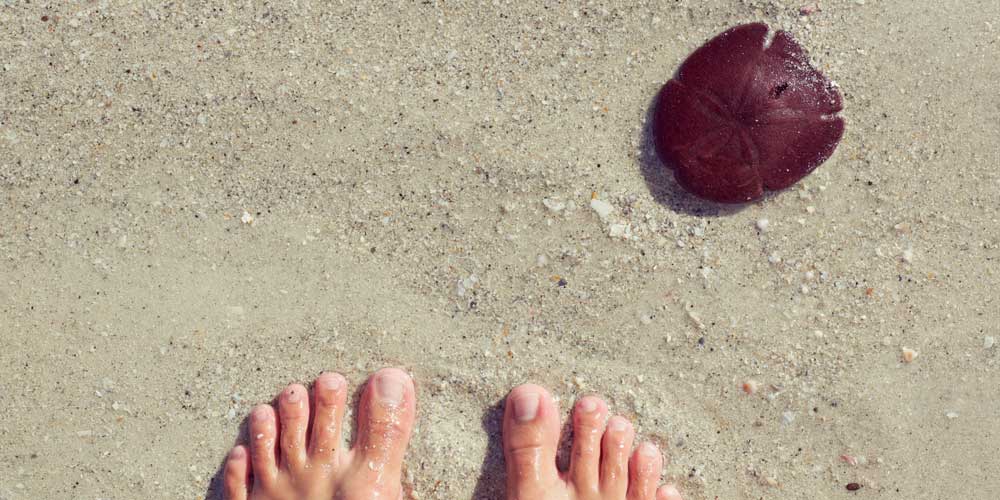 7/10 

Paint a sand dollar on Anna Maria Island for only £12
The Shiny Fish Emporium is one of the most perfectly at home shops on delightfully retro Anna Maria Island. Step inside and it's like another world, all ice-cream colours, pretty cupcakes, cute gifts and time-stood-still tranquillity.
Take the kids along for a visit one afternoon and let them choose their own sand dollar and decorate it with the help of the friendly Shiny Fish team. Not only will they have an entirely original holiday souvenir, they'll also learn about the local eco-system, and the fascinating role played in it by Phylum Echinodermata (AKA sand dollars).
Have a browse round the

Shiny Fish Emporium

on Anna Maria Island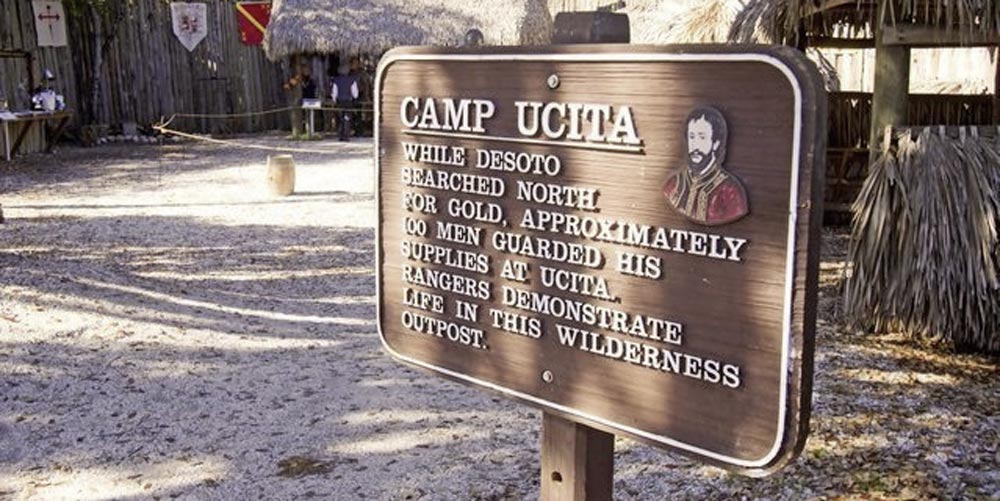 8/10

 Time travel back 500 years in De Soto Memorial Park
Spend a day at Camp Uzita in De Soto Memorial Park and kids can learn about early US history in a fun way, they'll never forget.
Designed to replicate a 16th century Native American village, right down to the chickee huts, Uzita immerses visitors in an experience of traditional life as it was back in 1593; when Hernando De Soto's expedition first made landfall in Tampa Bay.
Park rangers in period costume demonstrate everything from making dug-out canoes to operating the bellows in a fully working forge. Kids can see how food was cooked, dress up in authentic conquistador armour, use historic tools and take part in lively and entertaining interpretative events. You'd be happy to pay for this great day out but, as well as being amazing, Camp Uzita is also totally free.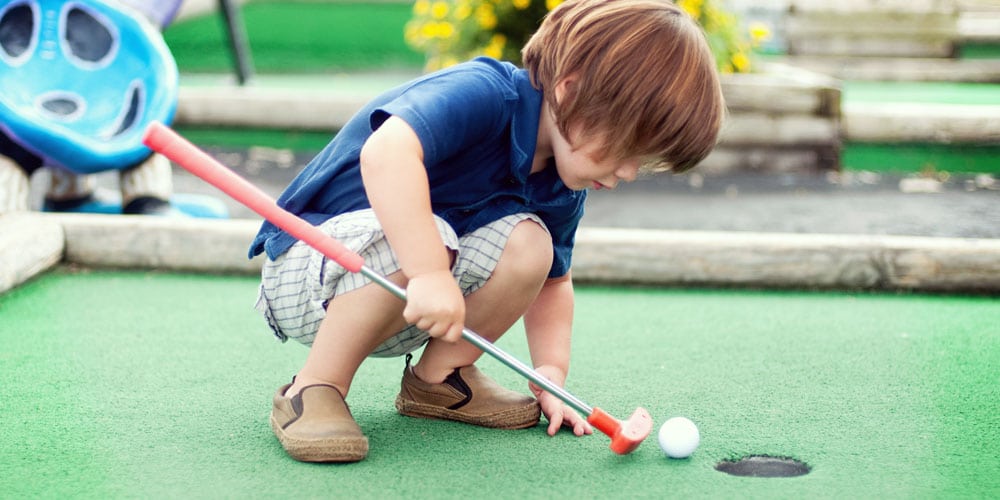 9/10

  Play 18-holes of crazy Florida golf for just £6
Can you really visit Florida and not play a round of golf? If you don't know one end of a club from the other, avoid championship courses, and head straight for 18-holes of crazy good fun at either of The Fish Hole courses in the Bradenton Area.
These are quite probably the prettiest miniature golf courses you'll ever have played, certainly some of the sunniest: the misters are welcome, even in December. Young golfers should watch out for ponds of giant koi carp, they're not water hazards; and keen gardeners can try not to be distracted by lush, tropical planting. Apart from that, it's game faces on, and may the craziest win.
Find out more about

The Fish Hole

miniature golf for families.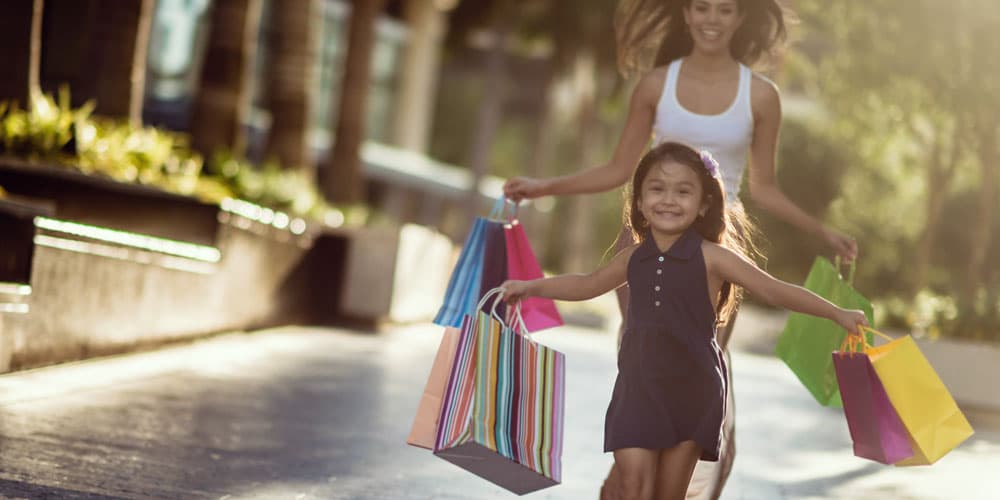 10/10

  Bag serious bargains at Bradenton's designer outlet heaven
Everything you've ever heard about Florida's fantastic outlet malls is absolutely true, and proven perfectly at Ellenton Premium Outlets. Less than 20 minutes from Downtown Bradenton, over 130 designer and brand stores in one pretty townscape defy you not to find great value, on a minute-by-minute basis.
Understandably, younger kids might not be entirely seduced by the idea of a day's shopping. But their needs are well covered with fun places to eat, squares to hang out in and cool child-size retail temptations. Teens, on the other hand, won't need any persuasion to spend hours browsing in designer heaven.
The Bradenton Area Convention and Visitors Bureau are local experts on everything under the sun, from holiday rentals to outdoor activities, festivals, events, and travel. So have a look at some of the other ways they can help you plan a great value family holiday on Florida's Gulf Coast this winter.