Sponsored Content
Seychelles family holidays are an enormous adventure for kids. Discover exciting activities in The Seychelles Islands that are made for children. You'll be surprised.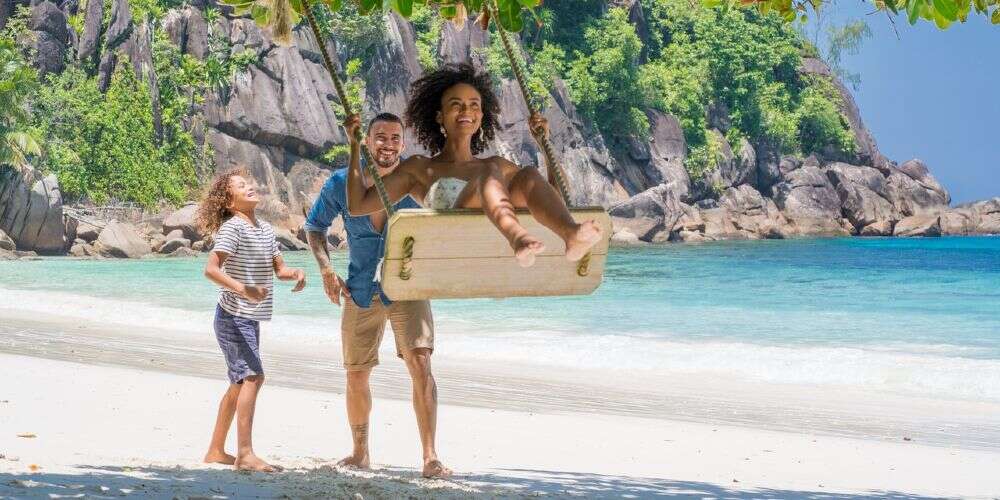 There's a lot to love about Seychelles family holidays
There's a lot to love about The Seychelles Islands, full stop. It's one of earth's most beautiful archipelagos and kept that way thanks to an extraordinary commitment to conservation: over 50% of the country's land and ocean is protected.
There are never any crowds. It's just south of the equator, so the weather's wonderful most of the time. And families can look forward to exactly zero jetlag – there's only a three to four hour time difference between the UK and the Seychelles.
Kids love the freedom here – not to mention the giant Aldabra tortoises. And parents are almost always amazed by just how much there is to see and do.
Everything from ziplining and island hopping to scuba diving and snorkelling fits into Seychelles family holidays. Even resort kids' clubs here are incredibly imaginative, outdoorsy and big on sharing local culture. So if you're still thinking 'honeymoon islands', just take a look at why kids fall head over heels for the Seychelles.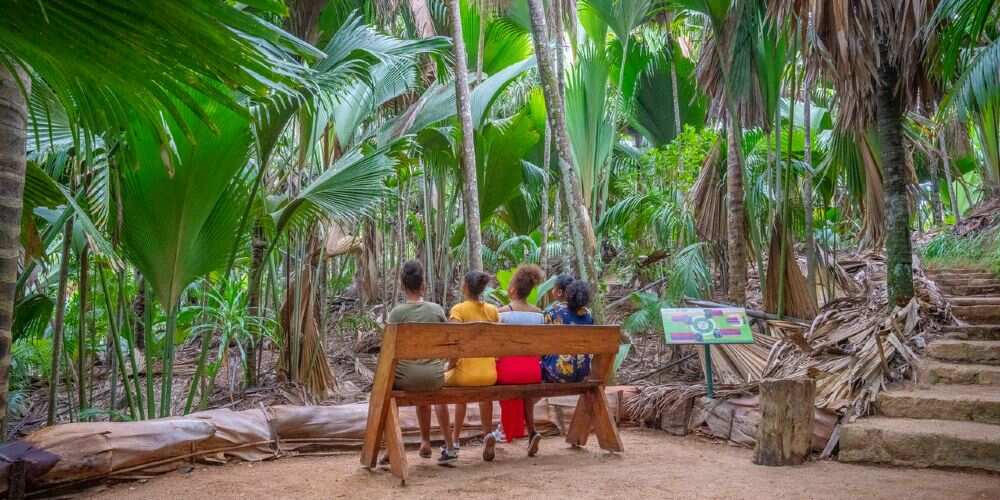 Vallée de Mai is an unforgettable experience for kids
Visit Vallée de Mai and you quickly understand why it was once thought to be the Garden of Eden. The truth's possibly more exciting, especially to kids. Because Vallée de Mai is where the largest nut on earth grows in a forest of enormous Coco de Mer palms.
It's also one of the smallest natural World Heritage sites which means astonishingly lovely, unspoiled and easy to explore. Trails are well marked. You can set your own pace. And the promise of seeing vast Coco de Mer nuts is thrilling.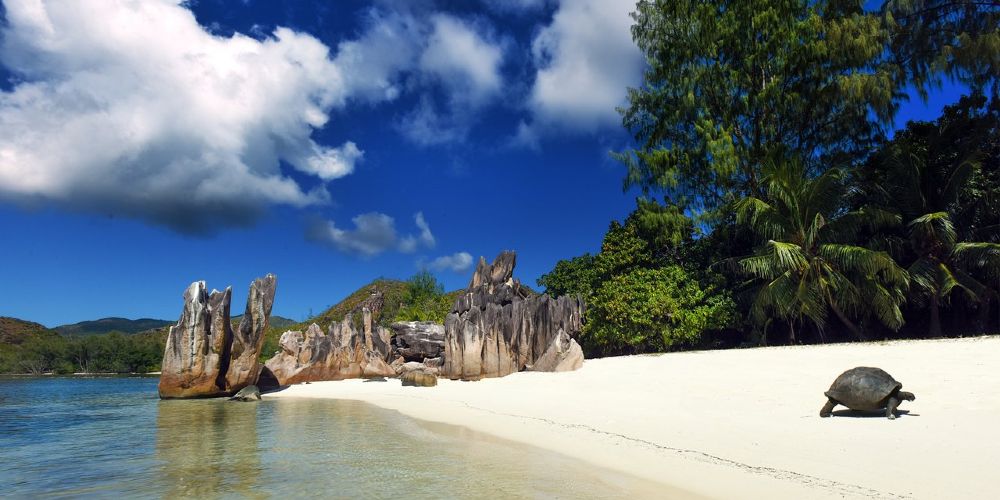 Island hopping on Seychelles family holidays
The Seychelles has one of the best island hopping experience in the Indian Ocean. And so many islands are accessible to families and unforgettable adventures for kids. You'll find unbelievable castaway islands. And of course there are several where you may just want to stay all holiday long. But even more invite you for the day and getting to them is as much fun as arriving.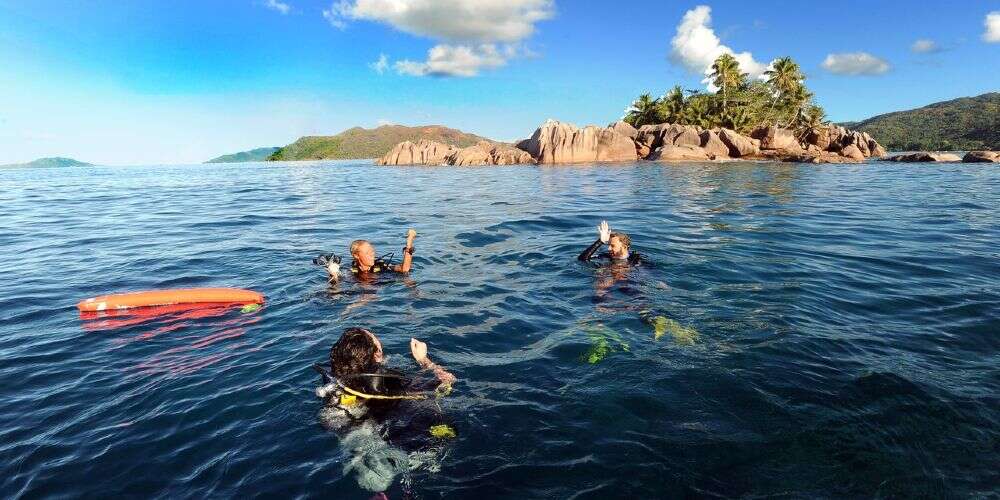 Kids love on, over and underwater adventures in the Seychelles
The Seychelles is an iconic archipelago: beautiful, conservation conscious and populated by some of the world's most remarkable creatures.
It's also in the Indian Ocean. Balmy water temperatures mean snorkelling expeditions can last for hours. Semi-submarines let families explore underwater without getting wet at all. There are spectacular places to swim. Totally transparent kayaks to sail. And it's a world leader when it comes to diving. So if kids are keen to learn, this is the perfect place to start.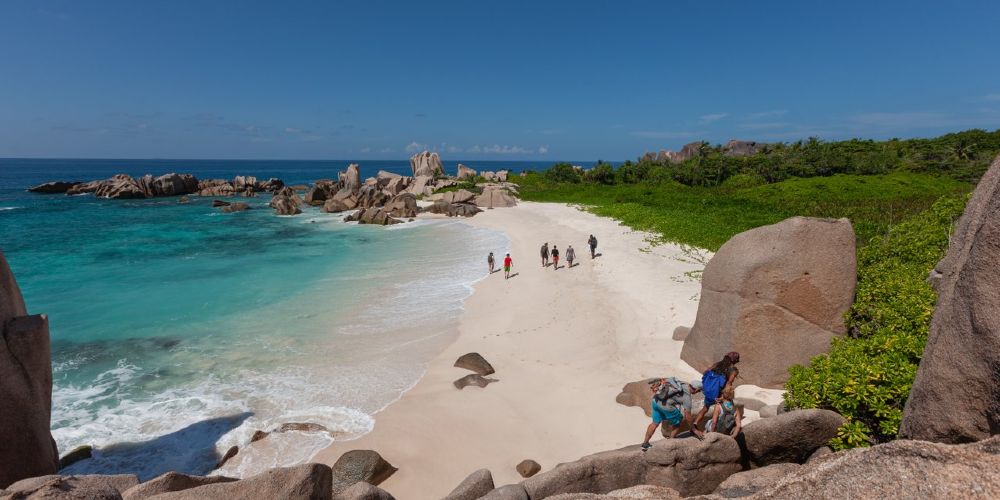 Seychelles walking trails are made for families
The Seychelles practically invented the concept of Indian Ocean walkations. And as you'd expect, somewhere as natural and unspoiled as this does have plenty of hikes that are more like expeditions. But there are also  paths and trails which are ideal for family walks and even just a gentle stroll with younger kids.
If you're on holiday with teenagers, a hike to the top of Morne Blanc on Mahé is an unmissable adventure. The well marked trail takes in everything from plantations to spectacular cliffs. Wildlife is a constant companion on route. Listen out for Gardiner Frogs, at only a centimetre long they're the world's smallest, but compensate by being very loud. And the views from the summit are just spectacular. Younger kids don't have to miss out on hiking adventures. The Anse Major trail on Mahé is a lovely coastal walk and easy enough for most little legs.

Add forest ziplining into Seychelles family holidays
It's tempting to spend every minute of Seychelles family holidays on the beach or in the water. That's before kids discover ziplining.
The amazing forests on the north west coast of Mahé are naturally designed for high flying adventures. Just add ziplines ranging from 85 to 120 metres long. Eight lines in all sail through the treetops here, they soar over immense granite boulders, come good on stunning views and mostly always run under a flawless blue sky.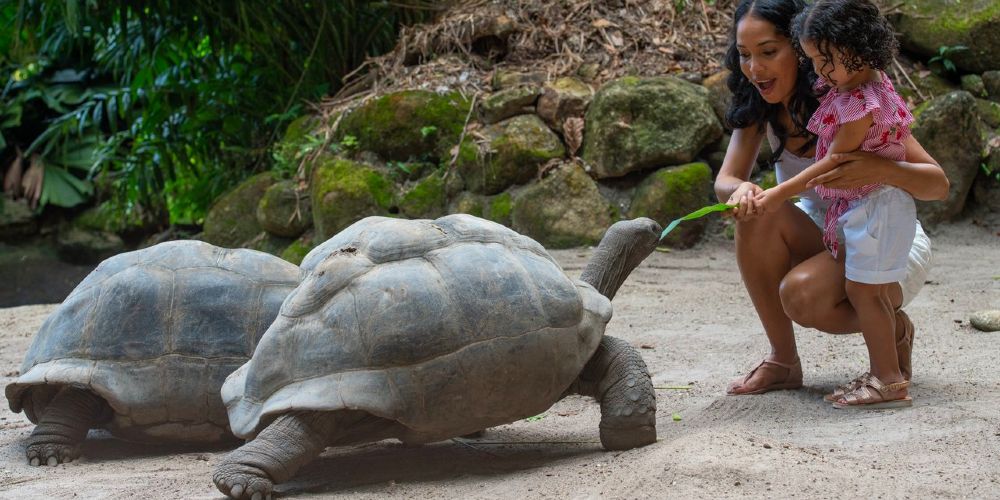 Get up close to wildlife all over the Seychelles
If you need a hint of how remarkable the wildlife is in the Seychelles, just take a look around.
Apart from 13 species of birds found nowhere else in the world, the country's home to giant Aldabra tortoise. Incredible marine life's in permanent residence. And several species of sea turtles nest here.
Wonderful creatures live in places as easy to visit as botanical gardens. And there's even an entire reserve dedicated to protecting a single rare bird species.
Visit Veuve Special Reserve on La Digue to see Black Paradise Flycatchers.
Sail to Aride Island Special Reserve for amazing colonies of seabirds.
Curieuse is the island for hundreds of Aldabra tortoise.
Meet fruit bats and Gardiner frogs in Seychelles National Botanical Gardens.
Snorkel with wonderful marine creatures off Cerf Island in Ste Anne Marine National Park.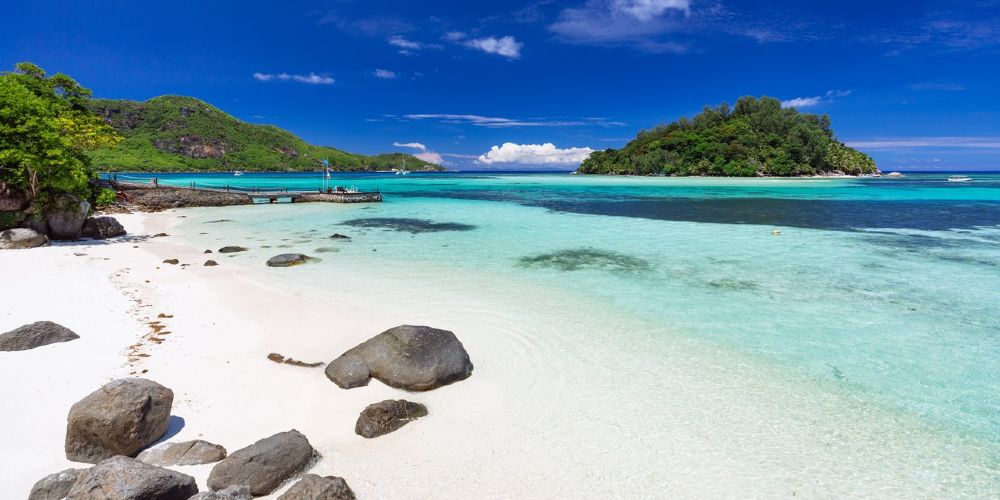 Beaches are everywhere on Seychelles family holidays
The Seychelles has more beaches than you'll ever see in one holiday. Mahé alone has over 60 paradise stretches of white sand.
Legends like Anse Source d'Argent on La Digue are instantly recognisable. But take a forest trek with kids on Mahé and little known beauties like Anse Capucins reward your efforts.
Anse Lazio on Praslin is another beach worth a journey.  And if you want wild, head for Anse Lascar on Silhouette. It's one of only a few named beaches on the island and wonderful to explore with older kids.
Ready to start planning your family holiday? Visit The Seychelles Islands for more inspiration on everything from places to stay to the best islands for kids and even the most beautiful beaches.