Sponsored Content
Tempted by a Mauritius holiday with free kids clubs and a selection of free water sports? Then just wait until you hear about the beaches at Beachcomber luxury resorts in Mauritius. There are eight resorts to choose from. You can take your pick from family suites and rooms or villas and apartments. And several also offer all-inclusive packages for families too. More than tempted now? Read on.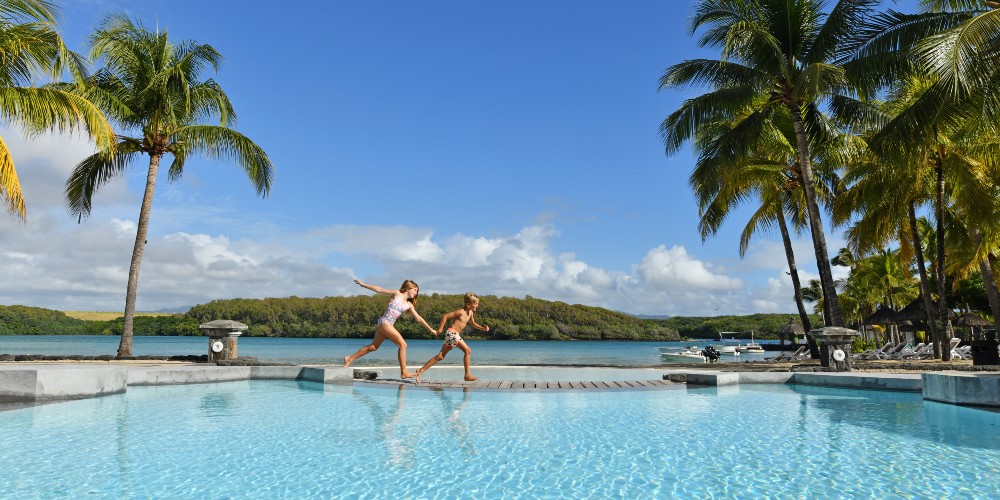 Beachcomber was the first hotel company to arrive in Mauritius. That's why each of their resorts enjoys a prime location, fabulous beaches and acres of unspoiled gardens. Mauritius is a wonderfully safe and easy-going place for children and Beachcomber resorts are proud to be some of the most family-friendly on the island. Apart from free kids and teen clubs, all resorts are known for their gentle, swimmable seas. Every one features at least one beautiful, private beach as well as incredible pools and remarkable views. Nothing is too much trouble for the friendly staff and if you venture further afield, you'll find that easy charm comes naturally to Mauritians in general.
If you like the idea of an all-inclusive Mauritius holiday, quite a few resorts offer very generous packages. And did we mention the free water sports? Worth repeating really since even such thrills as water skiing are complimentary for adults, and kids.

How Beachcomber Tours makes a Mauritius holiday luxurious and family friendly
The best kids clubs in Mauritius are found at Beachcomber resorts and they're free on family holidays.
Of course, each one has its own personality but all eight have a lot in common too. For a start they're warm and nurturing environments where 3 to 11 year olds are encouraged to be creative, have fun and make new friends. The caring and well trained staff are experienced at looking after all age groups and broad ranging activity programmes are both exciting and educational. So, don't be surprised if you end up taking home an expert little Mauritian chef, a passionate Sega dancer or a kid with a brand new water sport skill.
Several resorts also have teen clubs which give older children a little more independence, space to hang out and make friends, as well as offering the chance to try land and water sports or just play video games, if that's more the mood.
Under threes and babies are treasured on holiday too, which means you can completely relax. Don't even think about packing all the usual equipment, Beachcomber Tours are way ahead of you on that front. Everything from bottle warmers and car seats, cots, high chairs and mosquito nets is available on request. Plus, the skilled chefs are delighted to prepare fresh, gourmet baby food for the youngest guests at each resort.
Meanwhile, eating with older kids is easy thanks to early dinner times along with a wide choice of child-friendly dishes. Although if you do want to eat at a grown up hour occasionally, babysitting services are also available at all resorts.
Royal Palm Beachcomber Luxury: a Mauritius holiday with the luxury of private pools and butler service
It's easy to see why Royal Palm Beachcomber is one of The Leading Hotels of the World. In fact it was the first hotel in the Indian Ocean to be accepted as a member of this very prestigious 'club' and it doesn't take membership lightly. Luxury here is all about freedom and relaxation. So it might come as a bit of surprise to discover that Royal Palm is also incredibly family friendly. Not only are children treated like honoured guests, the best kids club in Mauritius is at home here and even the youngest enjoys the extraordinary ratio of three staff to each guest.
As well as stunning, tempered swimming pools, the resort also features a fabulous spa and gives you access to Mont Choisy golf course. The resort offers four of the finest restaurants in Mauritius. But if that's not enough choice, you can always head to lively Grand Baie which is just a short walk away.
Although you might be tempted just to stay put, as Royal Palm Beachcomber sits on a stunning white sand beach and days spent doing nothing much by the Indian Ocean are the essence of a great Mauritius holiday too.
Family accommodation here takes luxuriously spacious to a new level. The two-bedroom Presidential Suite opens on to the beach or gardens, and comes with its own, private terrace. Or  if personal service appeals, choose the two-bedroom Royal Suite and you have the added pleasure of your own plunge pool and a butler.
Victoria Beachcomber Resort & Spa: an all-inclusive Mauritius holiday on the island's idyllic west coast
The ease of an all-inclusive Mauritius holiday is just one of the many reasons families love Victoria Beachcomber. Perfectly beachy, it has a laid-back atmosphere which appeals to younger kids just as much as it does to teens. And true romantics will love the spectacular sunsets from every one of the three restaurants.
All-inclusive family holidays are also available here and include all meals and drinks during your stay. There's also a range of complimentary land and water sports, and you can choose between spacious family rooms sleeping up to four and large family apartments.
Victoria Beachcomber is another resort with a kids club and a teens club, so it works for all ages and couldn't be better for mixed age-group families. The outdoor beach cinema is a particular treat for children, big and small. There are Sega dance lessons to burn off some energy and video games for just playing. And if you want to stretch your horizons, the resort is close to both Grand Baie and Port Louis for easy days out.
Shandrani Beachcomber Resort & Spa: the luxurious resort surrounded by Blue Bay Marine Park
The lovely south coast of Mauritius is the place to find just a little more sun and perfect snorkelling conditions. It's also home to Shandrani Beachcomber, surrounded by 70 acres of tropical gardens and the protected waters of Blue Bay Marine Park: even more enticement for underwater exploring.
This relaxed and quietly lux resort has no less than three beaches on which you're welcome to laze. Although a wide range of free water sports could tempt you off the sun lounger.  But, for the ultimate in do-nothing-relaxation try the stunning resort spa. If freedom to do that sounds unlikely on a family holiday, it's possible here thanks to another excellent kids club.
If your children are younger, two bedroom Family Apartments set on the ground or first floor are a great choice. Alternatively, if you want a little more space, the Deluxe Family Apartment also has two bedrooms and sleeps up to five. Plus, it adds two full size bathrooms into the equation, which is good news for teens.
Trou aux Biches Beachcomber Golf Resort & Spa: tucked on a beautiful beach between Grand Baie and Port Louis
A spectacular all-suites resort, Trou aux Biche Beachcomber sits on probably the finest stretch of beach in Mauritius. Handily enough, especially for older kids, it's also within easy reach of fun Grand Baie and the colourful island capital, Port Louis.
The location alone is wonderful, but it's the choice of accommodation that really makes this an ideal resort for families. Stunning Beachfront Suites come with with their own plunge pools. But there are also two and three-bedroom villas, all close to at least one of the resort's six swimming pools.
Again the kids club is exemplary, creative, joyous and cocooning for children aged between 3 and 11. However, Trou aux Biches also features a teen club, so older kids can hang out with new friends, try water sports, play without having to be cool and generally enjoy a little bit of independence on their Mauritius holiday.
Of course, nearby Mont Choisy Le Golf along with the luxurious resort spa and beach, means there's little chance of bored parents here either.
Dinarobin Beachcomber Golf Resort & Spa: a Mauritius holiday with your own, private villa
Almost nowhere on the coast of Mauritius enjoys the same otherworldly peace as the Morne Peninsula. This is where you'll find Dinarobin Beachcomber, and if you were tempted to stay put all holiday, no one could blame you.
The resort's combination of tranquillity and fun is a perfect mix for family holidays. Younger children love the safe, creative and nurturing play-all-day atmosphere of the kids club. Endless water sports – many of them complimentary – have immense teen appeal. And parents, with a little more free time than usual on their hands, are free to play too. So enjoy a round of golf with some of the world's greatest views or simply indulge in some spa time.
Every one of the spacious family suites is set in gorgeous gardens just seconds away from the resort's five pools. However, if you want even more space to call your own, Dinarobin Beachcomber also offers a choice of elegant four bedroom villas, each with its own private pool.
Paradis Beachcomber Golf Resort & Spa: spend your Mauritius holiday surrounded by mile after mile of beaches
It's no exaggeration to say that Paradis Beachcomber is one of the best resorts in Mauritius. Its exquisite location right on the tip of the Morne Peninsula is unrivalled for sheer take-your-breath-away views. Beaches here seem to go on forever and again rank as some of the best in Mauritius. Then simply add sunshine, of which there is plenty, throw in some calm Indian Ocean waters and this is as close to heaven as it gets.
If golf is your thing, an 18-hole course is on-site at the resort. Although free land and water sports might also tempt you to try something new on your Mauritius holiday.
Paradis Beachcomber features four restaurants, with a further four available at nearby Dinarobin Beachcomber. So, there's little chance of anyone getting bored or going hungry here. And don't hesitate to book one of the Beachfront Family Suites. More like apartments in size, they feature two bedrooms and a safe swimming beach at the door.
Canonnier Beachcomber Golf Resort & Spa: an authentic Mauritian atmosphere in a unique location
Set in the north of the island, Canonnier Beachcomber shares an historic peninsula with an ancient lighthouse, ruins of a fortress and some interesting old cannons. The atmosphere here is as authentically Mauritian as the location. Wonderful views of the northern islands will leave you breathless. And just wait until you see the lovely spa built into the branches of a Banyan tree.
By complete contrast to the history all around, the resort itself is sleek and contemporary. The fresh interior design theme is reflected in family rooms and apartments too. Although you may spend more time outdoors here than anywhere else. The gardens are a wonderland for exploring and children love the cascading pools. A choice of free land and water sports will thrill older kids. And naturally the beach here is calm, white and trimmed with swimmable waters.
Mauricia Beachcomber Resort & Spa: the fun family resort with lively Grand-Baie on the doorstep
Made-for-families Mauricia has its own 'village' of self-contained apartments as well as large swimming pools and run-free gardens. It's a particularly sociable resort and a perfect choice for younger children as they have both the fun of a great kids club and lots of new friends.
Another plus for families here is the carefree all-inclusive package which includes all meals and drinks during your stay. Of course the kids club is free too and you can also enjoy a range of complimentary water sports on the resort's pretty beach.
Naturally, when your kids are off playing and being cared for, you have more time to yourself to enjoy the spa. Or better yet, take advantage of the babysitting services and relax over a romantic dinner in one of the resort's waterfront restaurants.
What to see and do with your kids on a Mauritius holiday?
Now you know how impressive Beachcomber resorts are, you may find it hard to believe you'll have time to explore Mauritius. However, if you change your mind, here are just a few experiences to try.
The 100m high Chamarel Waterfall is the tallest on Mauritius and a spectacular sight from above. Although, if you're with older kids, you might want to hike down to the base and swim in its pool. Top holiday adventure for outdoorsy teens.
Close to the waterfall, you can also see the world famous 7 Coloured Earth. This vast area of sand ranges in shades from brown, blue and green to violet, purple, red and yellow. To see it at its most astonishing, time your visit for the sunniest part of the day.
Spend a day in Port Louis. The vibrant capital of Mauritius is the place to wander round traditional markets, try street food, visit museums and meet the charming locals.
Take a tour of Sir Seewoosagur Ramgoolam Botanical Garden. One of the most visited sites in Mauritius, older kids will be amazed by the outsize tropical plants and younger ones will have fun spotting the wildlife.
Go on a catamaran cruise to the outlying islands, many offer snorkelling and dolphin spotting as part of the fun.
Head into the deep on an underwater scooter or submarine adventure from Trou aux Biches.
See we told you a Mauritius holiday with Beachcomber Tours was irresistible. Find out more about family holidays at Beachcomber Tours or call 01483 445 610 and speak to a Mauritius expert.