Sponsored Content
You and your children will have travelled a fair distance to get to this island paradise, so it's important that your number one priority – your hotel – delivers. Mauritius has set the scene for you with its beaches, warm waters and lush interior but if the hotel pool, clubs, sports and entertainment aren't up to much you'll be in hot water with your kids. So what is there to consider? What part of the island is best? Where will everyone be happy?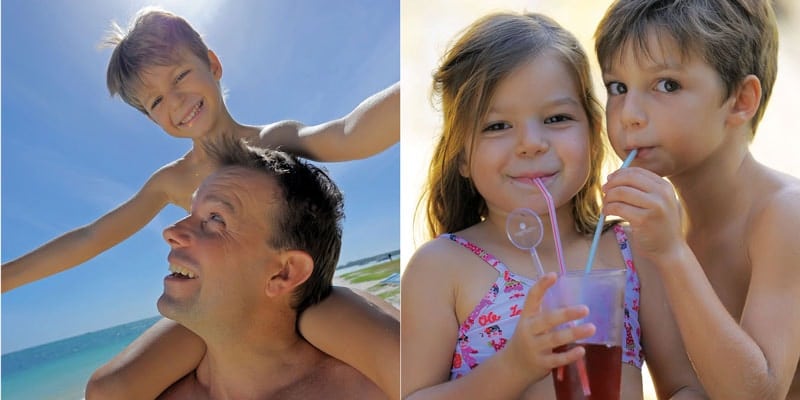 There's no 'wrong' part of the island; the south, broadly, tends to be more rural with the north, home to the capital Port Louis and the northwest famous for the buzzing Grand Baie. We're looking at Beachcomber Resorts & Hotels, renowned for going that extra mile when it comes to family holidays. So what makes them stand out from the crowd?
✔︎ Child rates going up to 17 years
✔︎ All-inclusive packages that incorporate sport
✔︎ Free kid's clubs for 3 to 12-year olds – unique to each hotel
✔︎ Highly trained, caring staff
✔︎ Thoughtfully arranged accommodation – villas, connecting rooms
✔︎ Flexible babysitting by qualified staff
We're throwing the spotlight on three Beachcomber properties that each have something different to serve up at the family table.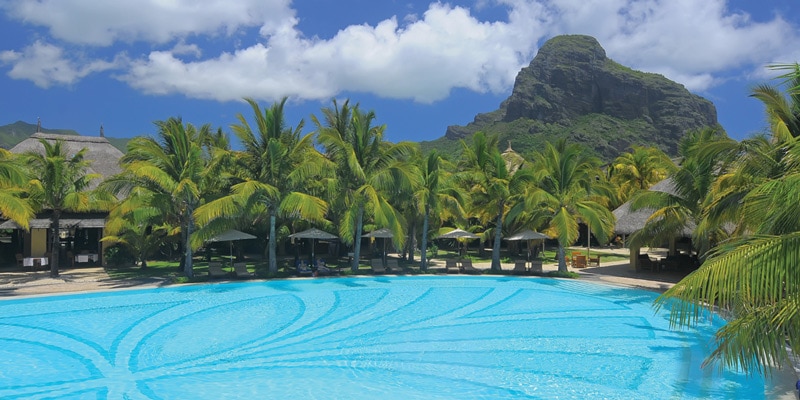 1/3  

Paradis Beachcomber Golf Resort & Spa

Up there with the finest hotels on the island, this outstanding family hotel lies on the southwestern tip known as Le Morne peninsula in the lea of the mountain of the same name. Summed up at first glance  with golf course and lagoon, it has several kilometres of glorious white sand beach. Delve a little deeper and you'll uncover a naturally secure environment for your youngsters to explore. There are all types of accommodation to meet all types of family unit; large rooms when you want them to share with you, connecting when they can be next door or in one big villa that gives you oodles of space and privacy as well as a chef and valet if you'd like them. On arrival you'll notice that your suite is prepared with complimentary baby-care facilities such as a changing table and bottle-warmer. Out and about your children will uncover a club with its own pool, discover workshops that investigate nature, food and culture, and creative workshops to stimulate their imaginations. Amongst the superb range of sports and activities that the whole family can do together, is a full-service dive centre that will teach you all from scratch.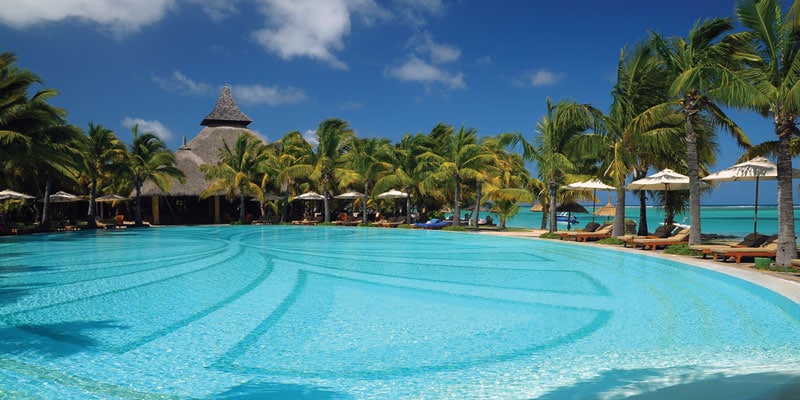 2/3

 Shandrani Beachcomber Resort & Spa

If you like a super-short transfer to your hotel then Beachcomber's Shandrani, with a 10-15-minute drive, couldn't be better. It is situated in the south and renowned for its top-notch water sports, the majority of which are included in the price. Unlike many hotels that offer this facility, Shandrani takes it seriously; they have a well thought out process for the whole operation – from finding out about what's on, to booking in, to getting on the water. They also take care to employ staff with the right skill set – staff who not only know their sports but enjoy teaching – the sort of people who get satisfaction from seeing a child stand up on water-skis for the first time.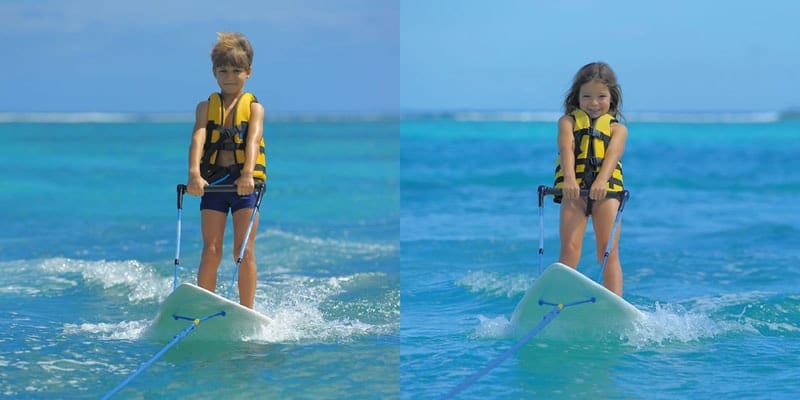 For families with teens or younger this property could hardly have more to do. Every water sport you can imagine – several beaches, tennis, volleyball (the guys coaching this just love a mixed match), and a 9-hole "pitch and putt" par 29 golf course. There are activities each day that the whole family can join in or if your little ones are between 3 & 12 they can head off with their new friends to the Beachcomber kid's club where crab-hunts, dancing, painting and all sort of fun stuff is organised. If you're after a romantic night just the two of you, ask the concierge to organise a babysitter one night – there are several great a la carte restaurants that warrant a lingering visit.
Most rooms take at least one child and there are family suites with two bedrooms and two bathrooms to make life just perfect. This is one chilled, happy, well-balanced resort which really knows and looks after its families.
3/3  

Trou Aux Biches Beachcomber Resort & Spa

[youtube id="XmUvyTSVkdg"]
For some romance
Beachcomber's luxurious, romantic Trou Aux Biches has a few tricks up its sleeve when it comes to pandering to families. Just because you have children shouldn't mean you can't seek out those exotic locations with endless beaches and fine candlelit dining. After all, you're part of the family too.
Accommodation here gives you all space. Space to play, to relax and importantly, space to be yourselves. Their generous family suites and luxury villas, many with private pools, set you all up for a thrilling, carefree holiday.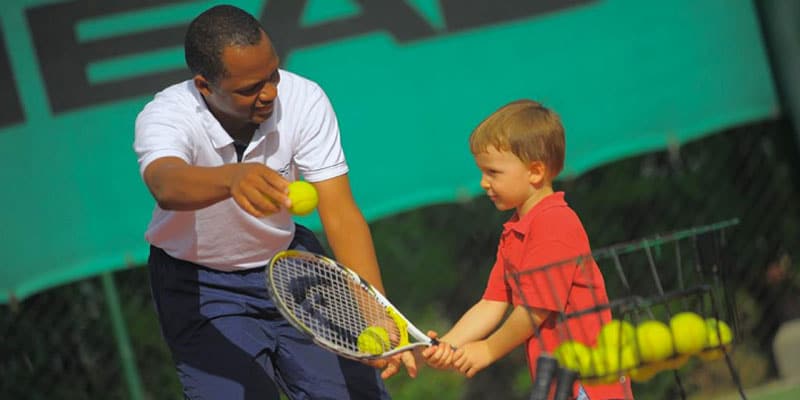 Altogether
There are fabulous activities to enjoy together as a family, especially if you are all reasonably sporty – whether you know it or not! Tennis is a prime example and you can take lessons if you like.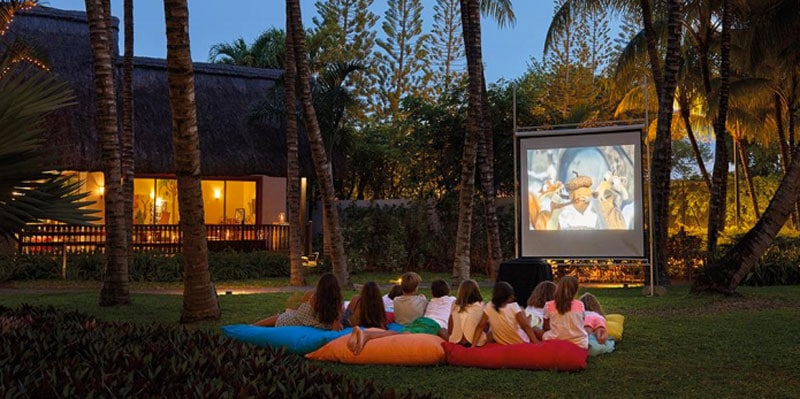 All ages
Trou aux Biches understands that a child at 3 is as far from a 13-year old as is humanly possible. That's why it has a club specifically for teens – providing a great setting for them to socialise, discreetly supervised, naturally.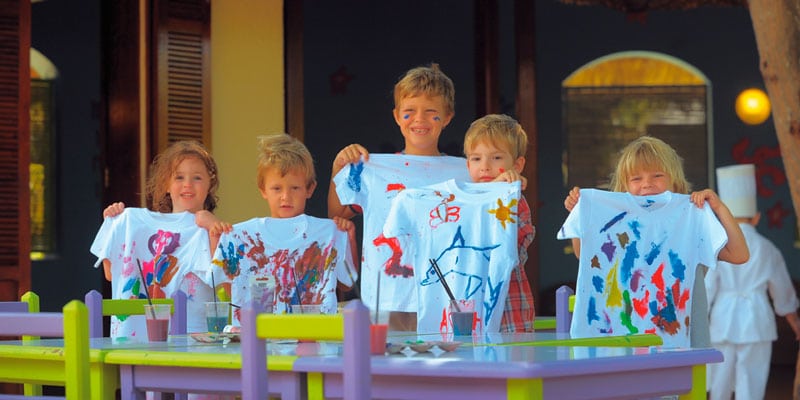 Kids
Close to the main area you'll find a bright, appealing, spacious club for 3 to 12-year olds, complete with its own splash pool, wooden deck and buffet – play is hungry work. This contemporary facility follows the hotel's signature style with its thatched roof, coconut trees and distinctly tropical vibe. It can be hot, so there are dedicated, quiet nap areas so your little tykes can take a rest whenever they like. The programme of activities changes daily and the hotel's charming staff create a magical rotation of games and activities that include: bike rides, glass bottom boat trips, snorkelling, Wii games, tennis, water-skiing, sailing and windsurfing. Their imaginations are challenged with pirate hat making and adventures on the high seas!, clay modelling for creative minds and Sega dancing that teaches them moves as well as Mauritian folklore.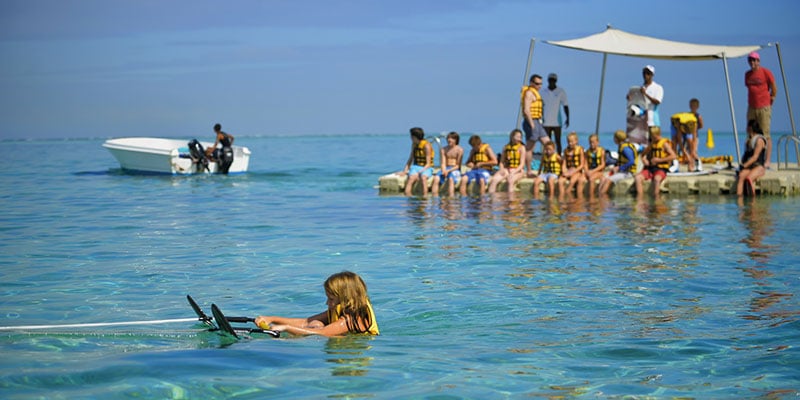 Out and about
The children are also taken to local attractions such as the aquarium visit where they will learn all about the fish that live in Mauritian waters.
Beachcomber around the island
All Beachcomber resorts have individual characters and unique facilities for younger visitors. If you are looking for a luxury hotel in Mauritius, the chances are there's a fit for you – and for your children.