Sponsored Content
Why is Mauritius on every family wish list these days? The Indian Ocean is strewn with mysterious and lovely islands, you can't move without bumping into an archipelago, and great chunks of the world's mightiest continents sit with their toes in these blue-green waters. But, if you think it's all about sun and sea, you might be surprised.
Obviously a coastline that's 150km round, scattered with sugary white beaches and protected by the world's third largest coral reef, has plenty of appeal. But, according to the family travel experts at Away Holidays, the island's lush, jungle-y interior is just as much of a draw; not to mention its astonishing volcanic mountains, fascinating history and Creole culture; pretty towns and villages, heaps of fun activities and the undeniable attraction of size: you can drive north to south on Mauritius in just under two hours.
It's also one of the easiest Indian Ocean islands to reach, with Air Mauritius who operate four direct flights per week from London Heathrow departing on either Wednesday, Friday, Saturday or Sunday. With Air Mauritius you can pre-book your seats, once your booking is confirmed. This is free of charge and very useful when travelling with a family.  They also offer a range of onboard entertainment, a choice of delicious food and amenity packs onboard for both economy and business class passengers plus children's activity packs.
So that gives you a hint of why you keep hearing about how perfect Mauritius is for families. But if you need more convincing, have a look at another few of Away Holidays very persuasive reasons for putting this particular Indian Ocean island high on your own holiday wish list.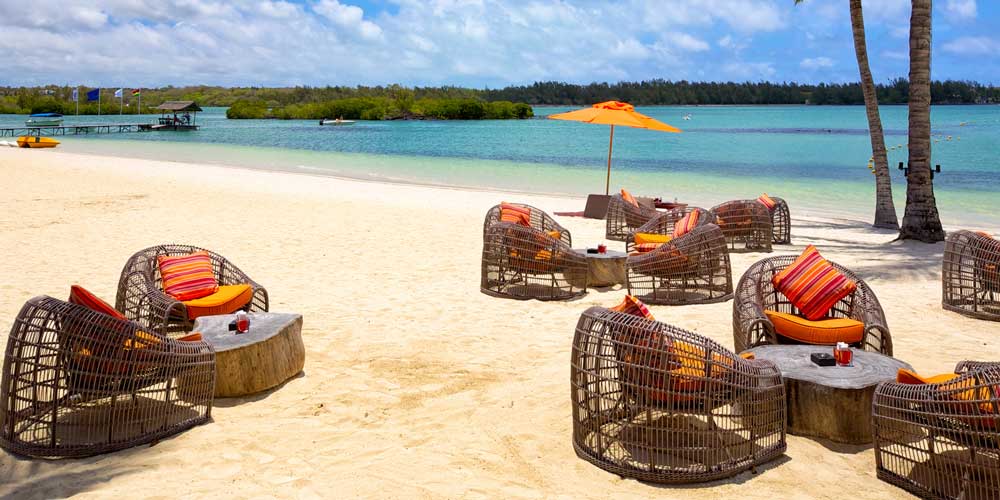 1/4 

Mauritian beaches really are amazing

There isn't a single stretch of coast on Mauritius without a beach to brag about. From the long shores of legendary Flic-en-Flac in the west to Belle-Mare's powdery, sugar-white coves to the west or Morne Brabant's southern surfing legends, only the island's optical-illusion lagoons are more spectacular than its beaches.

Naturally, some spots are better than others, and that prize is almost always claimed by the beautiful north, which also just happens to be where you'll find Grand Baie: liveliest resort town on Mauritius and the one families love best of all.
Stay in Grand Baie at Mauricia Beachcomber Resort & Spa; close to gorgeous beaches like Mont Choisy, wonderful for water sports and outdoor activities, and just 20 minutes from Turtle Bay Marine Reserve.
2/4 

Take your pick of wonderful national parks

For all its neat size, Mauritius packs in a lot of environmental protection, and has no less than three national parks, more than enough to satisfy the spirit of adventure in most kids.

Pretty Bras d'Eau in the north east is where to head for rambling round ancient ruins and chance sightings of the rare and colourful Day Gecko. Or, to respect island sailing traditions, take a cruise round the archipelago park of Islets.

But if you only have time for one national park, make it Black River Gorges down in the south. Almost 17,000 acres of untamed forest and home to macaques, echo parakeets and fruit bats, it contains over 300 different species of plants and trees too, and sounds almost as wild as it looks. Don't be put off exploring; several great hikes are well-marked, graded in order of difficulty, and one or two are even easy enough for littler legs to manage.
Kids stay and eat free at Tamassa all-inclusive resort in Bel Ombre, just 20 minutes from Black River Gorges National Park. If you can tear kids away from all the resort activities, UNESCO World Heritage Le Morne Brabant is just to the west, and the rainbow rocks of Seven Coloured Earth are nearby too.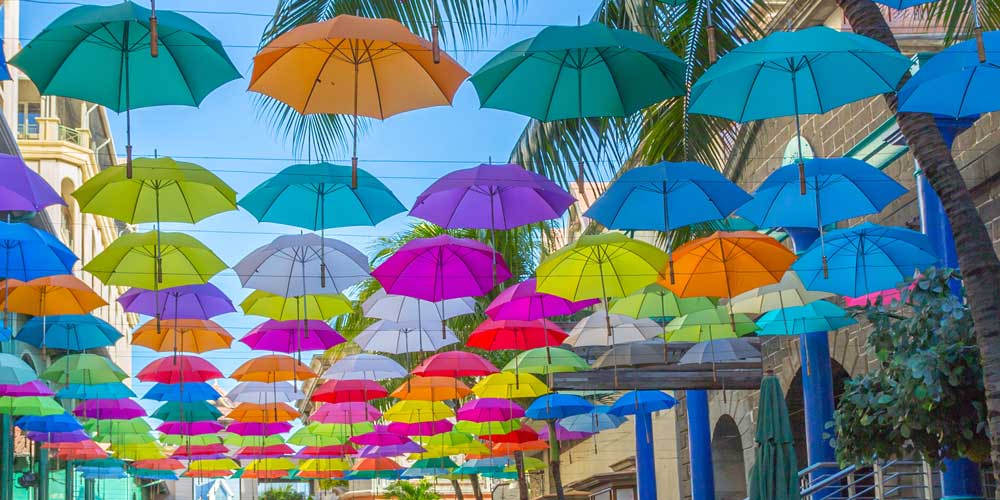 3/4 

Tour the island heritage, town by town

Port Louis won't charm you with quaintness, but as far as Mauritian history goes, it's a great place to start. Check out Fort Adelaide for astonishing views, don't miss Aapravasi Ghat's fascinating insight into the island's Indian heritage, and make time for traditional Creole culture at the city's lively Central Market.

Even if you don't stay in Grand Baie, you have to visit for the fabulous water sports, exciting dolphin cruises, beginner diving, beach activities, excellent shopping, and some of the best restaurants on the north coast.

And if you want to see the true heartland of Mauritius, head inland in the direction of Trou aux Cerfs, the island's most famous dormant volcano, and hit the local towns here. Quatre Borne and Rose Hill are bustling, busy and good fun to explore, and Curepipe is the one for stunning mountain views, Creole architecture, and coolest breezes, when Mauritian temps start to creep upwards of 33˚ in December and January.
Grand Gaube is one of the most authentic fishing villages on the island's north coast, it's also home to Lux* Grand Gaube. This recently redesigned five-star resort echoes the peaceful charm of its neighbour, but works family holidays to perfection with masses of water sports, beautiful beaches and innovative kids clubs.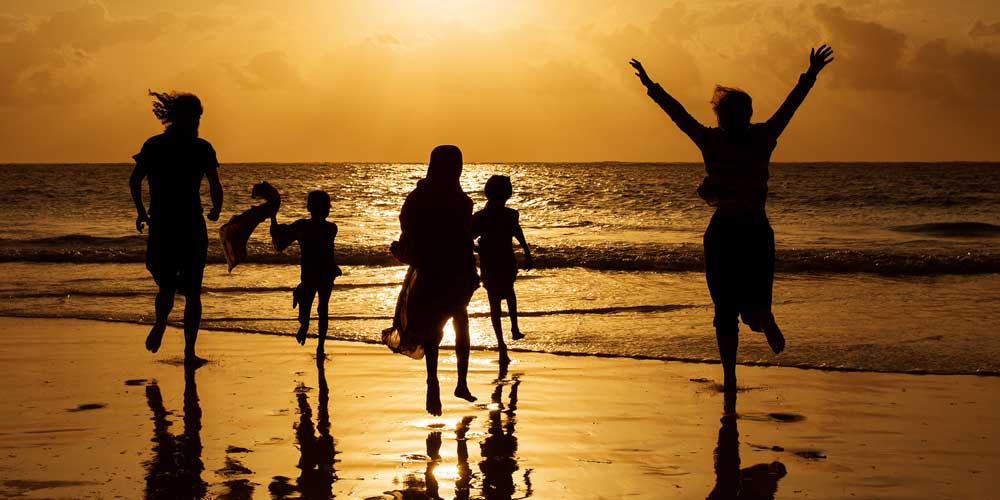 4/4

  Five amazing family adventures on Mauritius
Casela World of Adventures, Cascavelle
If kids are up for swimming with dolphins, going on a 1500 animal strong wildlife safari, riding camels, tobogganing and ziplining too, this 250ha park is one of the island's top family days out, with good reason.
La Vanille Nature Park, Rivière des Anguilles
Amazingly enough, this friendly nature park is home to the world's largest collection of giant tortoises, and it's worth a visit for feeding time alone.
Kiteglobing, Bel Ombre
One of the island's top kitesurfing centres and highly recommended for first timers, their fast progress lessons for kids are a bit of a local legend.
Aquaventure, Belle Mare
Mauritius is a brilliant island for experienced divers. But kids as young as seven don't need any scuba skills to head underwater in Aquaventure helmets. They can walk on the seabed, eyeball exotic marine creatures, and it's all thrilling and perfectly safe too.
L'Aventure du Sucre, Pamplemousses
Once more prized than gold, sugar is intrinsically linked to the history of Mauritius. This fantastic interactive museum lets kids explore everything from the island's grand plantation houses to the nitty gritty of cane harvesting and the industry's sweet, and not so sweet, myths and more.
Now you know why families think Mauritius is perfect, have a look at Away Holidays' great offers on the island's best family holidays – it's summer there right now, the sun's shining and temperatures are warm to hot, what else do you need to know?