Sponsored Content
Are UK kids really, 'Generation Inactive'? According to research published by the Active, Healthy Kids Global Alliance* in November 2016, UK children's activity levels have dropped by over 65% in the past 30 years; pre-schoolers spend more than four hours a day staring at a screen; the average five year old will eat their body weight in refined sugar in a year; and fewer than 22% of kids in England, Scotland and Wales meet the minimum requirement of one hour's exercise daily.
The slow creep of bad habits has been almost unnoticeable, but the long term health effects are potentially catastrophic. Don't fret too much. The good news is: it's never too late to change and kids are remarkably resilient. Plus, exercise and healthy eating are an easy sell when they come carefully disguised as fun.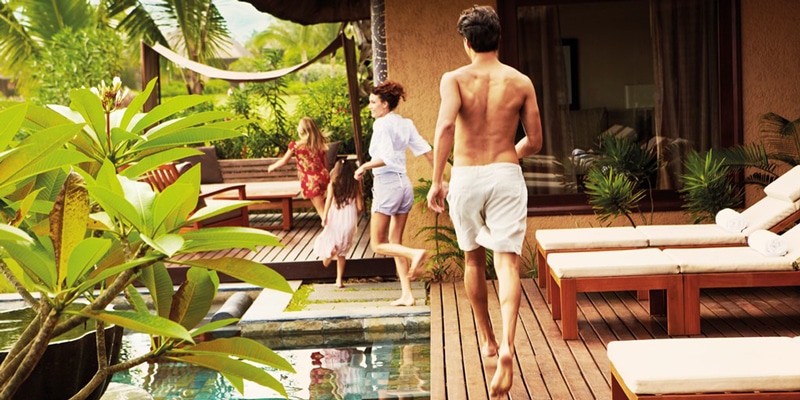 Shanti Maurice does healthy with a playful touch
Fun isn't a skill anyone needs to improve on at Shanti Maurice on the gorgeous, unspoiled south coast of Mauritius. The boutique hotel with a mindful approach to family holidays is a natural at encouraging kids to eat well, play hard, learn fast and experience every minute of the day as a fresh, new and active adventure. Obviously, year round sunshine helps and private beaches, glorious countryside and the Indian Ocean don't hurt either. But you work with what you've got and if that just happens to be a little pocket of paradise, all the better.
Shanti Maurice healthy lifestyle holidays are such an easy fit kids don't notice the good stuff because they're too wrapped up in having the time of their lives. Who knew salads were interesting? Children who've donned chef's whites, picked and prepped greens from the resort vegetable garden and tasted Mauritian sunshine in every bite of their own beautiful creations, that's who. Learning the ways of the juicer is the neat next step for little raw gourmets and just what's needed after child-shape morning fitness sessions and ridiculously moreish Yoga for Kids.
It's never too early to get the yoga habit
Seasoned practitioners won't need to be told twice about the benefits of getting children interested in yoga early. It builds confidence, improves concentration, calms, centres and relaxes. It also exercises every bit of young bodies safely and gently. And, with the right start it's one of those rare passions to last a lifetime – not a bad habit for kids to pick up.
The friendly Shanti Maurice team introduce kids from age five to yoga's playful side with easy first poses, team games and lots of laughter. There are adult classes too, but you might find partnering your young yogi is a holiday memory you want to make.

Les Petits Dodo Kids Club
Yoga for kids is included in the colourful and creative Les Petits Dodo Kids Club activity programme. Fresh-every-day fun is the rule for 3 to 12 years olds here and since kids are learning as much as playing, you can have some me-time with a clear conscious. Unless you want to join in for traditional Sega dance classes, crab hunting, star gazing expeditions, sand sculpting competitions, night walks in the jungle garden or Creole cooking classes. All plenty entertaining, but probably not quite as idyllic as a few hours in the stunningly tranquil Nira Spa or letting go of your good intentions completely with a fat book and a long drink by the pool – just a thought.
Who said teens were tough to please?
Happy contented teenagers are the best all-time travelling companions: they have boundless energy, a fresh take on just about everything and when they get enthused, there's no off-switch. Bored teenagers are another story altogether and not one you'll be hearing much of at Shanti Maurice. Between beginner's yoga classes, estate bike tours, paddle boarding lessons, line fishing, beach workouts, kitesurfing, wave riding and nights out at the movies under star-filled Mauritian skies, teens won't have a single second spare for boredom. In fact, you might have to book in advance if you want to spend any time with them at all.
Discover Mauritius' adventurous south coast
Of course you could always lure them on island adventures which aren't in short supply. Spectacular Black River Gorges National Park, home to fruit bats and macaque monkeys and echo parakeet, is one of the resort's nearest neighbours. Dolphin cruises at Tamarin Bay and Les Vanille Nature Park's giant tortoise collection are nearby too. And a day out hiking, horse riding, mountain biking and eco-exploring round Domaine des Sept Vallees is another legendary south coast experience minutes away from Shanti Maurice.

Eat what you want, it's all home-grown, fresh and irresistible
Stars beachfront restaurant introduces kids to the tastes of Mauritius, temptingly refined for little palates, and mixes in lots of comforting favourites like spaghetti and home-made burgers. Beachy barbecues and fun entertainment are signatures at the Fish Shack. La Kaze Mama has fabulous Mauritian home-cooking with a laid-back family atmosphere. And, if you want the night off, book a babysitter and join the grown ups for cocktails in the easy-going Rum Shed.
A tranquil haven to call your own
Calm and privacy are holiday essentials and the essence of Shanti Maurice's individually designed one and two bedroom family villas. Tucked into 36 acre tropical gardens they're a perfect retreat with secluded courtyards, private pools, outdoor rain showers, pretty pavilions and 200m² of thoughtfully planned living space indoors.
So if it's time to buck the UK inactivity trend and introduce kids to some very good habits, you'll find Shanti Maurice has perfected the knack of making healthy lifestyle holidays as much about fun as feeling better and better every single day.
Find out more about healthy lifestyle family holidays at Shanti Maurice in Mauritius
*Active Healthy Kids Global Alliance research and health network encompasses 38 countries from six continents covering 60% of the global population.