Families headline at new Hard Rock Hotel Maldives
What happens when an idyllic Indian Ocean archipelago invites Hard Rock Hotel to come stay and play?
You don't have to wait long to find out. Hard Rock Hotel Maldives opens this summer at the heart of Emboodhoo Lagoon, The Maldives' first 'integrated resort destination' just 15 minutes by boat from Malé International Airport – if you're wondering what an 'integrated resort destination' is exactly, more on that later.
For now, take a look at how rule-breaking Hard Rock Hotel has managed to harmonise perfectly with paradise in The Maldives.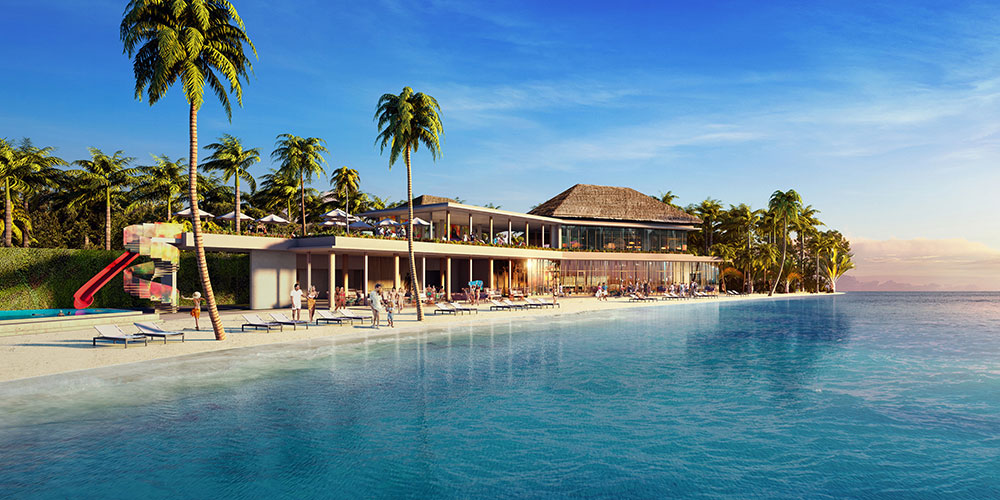 1/4 

Hard Rock's lux-loaded take on family holidays
Hard Rock are genius when it comes to selecting hotel locations and Hard Rock Hotel Maldives is no exception.
Set on its own coral island the hotel's also a masterclass in cool contemporary design. Think regal beach cabanas and sleek overwater villas; fresh takes on traditions like thatched roofs and wooden walkways; heaps of astonishing original art; restaurants woven round remarkable views, and of course, plenty gorgeousness effortlessly supplied by enormous white sand beaches and swathes of lush, jungle-like forest – not forgetting a generous share of iconic stately palms.
Sounds idyllic? It is. But it's also great fun for families and packed with potential for adventuring and exploring. You can be as sporty or arty as you want, learn something new every day, make your own personal playlist, sign up for Rock Om and practice yoga whenever the mood takes you or discover the divinely indulgent Rock Spa while kids are off whooping it up at the hotel's fantastic kids clubs.
And the kids clubs at Hard Rock Hotel Maldives are truly fantastic. Just prepare to feel a little abandoned occasionally, unless you can compete with a ridiculously fresh line-up of activities and the sheer energy of Roxtars – the amazing crew in charge of everything from brilliant beach games to aerial acrobatics, DJ sessions and self-defence classes, water sports or just about anything else likely to excite Hard Rock's youngest VIPs.
Roxity Kids Club – indoor, outdoor and all-round playtime for four to 12 year olds under the supervision of Hard Rock's handpicked Roxtars crew.
Teen Spirit Club – as cool as 13 to 18 year olds like to think they are and up for as much fun as they really are.
All-day eating feeds kids when they're hungry with Pan-Latin treats at The Elephant and The Butterfly, big breakfast buffets from oceanfront Sessions, snacks at the Swim-Up Pool Bar or feasts from iconic Hard Rock Cafe.
Innovative and beachy Rock Spa soothes you in chic cabanas with Indian Ocean views – book a Jam Session for kids at Roxity or Teen Spirit and indulge, guilt free.
The Sound of Your Stay programme lets you and the kids curate the unforgettable soundtrack to go with your holiday, all holiday long.