Find awesome mountain adventures in Catalonia this autumn
If Catalonia isn't on your family holiday wish list for this autumn you could be missing out on one of Europe's truly great adventures, as well as a high chance of sweet weather, plus direct UK flights to Girona, Reus or Barcelona that take as little as two hours, and come with surprisingly low airfares, even during October half-term.
---
Catalonia's lovely Mediterranean beaches are the big draw in summer. But autumn's definitely the season for mountains and rivers, hiking and biking in untamed landscapes, exploring quaint villages and towns, taste-testing fantastic local cooking and discovering new and uniquely Catalan adventures.
And you don't even have to think about what autumn adventures work for families in Catalonia , because the Catalan Tourist Board has already worked that out. So when you see a Family-Friendly Adventure Holiday label on any destination or attraction, anywhere in the region, you know it has passed a rigorous certification process and meets exceptionally high standards of excellence.
At the moment almost 30 areas across Catalonia are Family-Friendly Holiday destinations, many just made for autumn adventuring. Like Pirineus-Noguera Pallaresa in the north west of the region, recommended for its mix of Pyrenean drama, immense natural parks, world famous rivers and wild family fun. Is it right for your family? Have a look: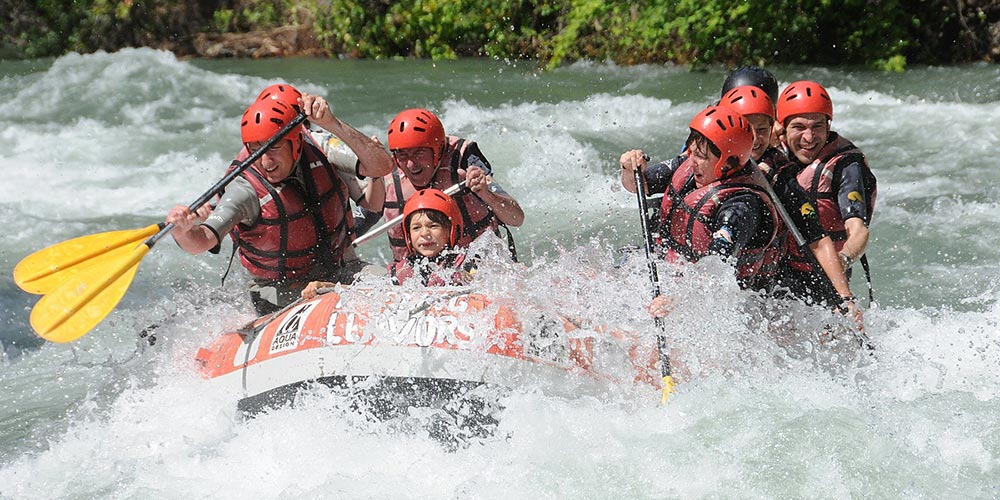 1/5

Noguera Pallaresa River, Europe's white-water legend
The river that Pirineus-Noguera Pallaresa takes its name from is the second largest in Catalonia, one of the three top in Europe for white water sports and this summer it played host to the ICF Canoe Freestyle World Championships for the first time.
Rafting season runs until mid-October, but if you miss that don't be too disappointed. The river's still open in autumn for extreme kayaking (or the lazy, meandering kind), as well as canyoning and the crazy excitement of hydro-speed. It's also a bit of a fly-fishing legend or, if you don't want to get wet at all, there are plenty of lovely walks from Sort or through Alt Pirineu Natural Park with mighty Noguera Pallaresa as a main feature.
Take a closer look at family water sports in Pirineus-Noguera Pallaresa