Sponsored Content
If Catalonia isn't on your family holiday wish list for this autumn you could be missing out on one of Europe's truly great adventures, as well as a high chance of sweet weather, plus direct UK flights to Girona, Reus or Barcelona that take as little as two hours, and come with surprisingly low airfares, even during October half-term.
Catalonia's lovely Mediterranean beaches are the big draw in summer. But autumn's definitely the season for mountains and rivers, hiking and biking in untamed landscapes, exploring quaint villages and towns, taste-testing fantastic local cooking and discovering new and uniquely Catalan adventures.
And you don't even have to think about what autumn adventures work for families in Catalonia , because the Catalan Tourist Board has already worked that out. So when you see a Family-Friendly Adventure Holiday label on any destination or attraction, anywhere in the region, you know it has passed a rigorous certification process and meets exceptionally high standards of excellence.
At the moment almost 30 areas across Catalonia are Family-Friendly Holiday destinations, many just made for autumn adventuring. Like Pirineus-Noguera Pallaresa in the north west of the region, recommended for its mix of Pyrenean drama, immense natural parks, world famous rivers and wild family fun. Is it right for your family? Have a look: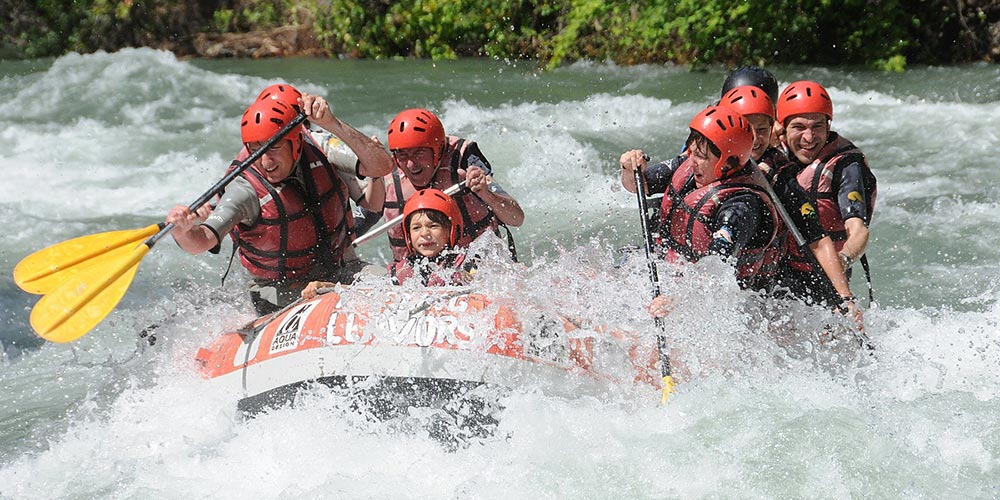 1/5

Noguera Pallaresa River, Europe's white-water legend
The river that Pirineus-Noguera Pallaresa takes its name from is the second largest in Catalonia, one of the three top in Europe for white water sports and this summer it played host to the ICF Canoe Freestyle World Championships for the first time.
Rafting season runs until mid-October, but if you miss that don't be too disappointed. The river's still open in autumn for extreme kayaking (or the lazy, meandering kind), as well as canyoning and the crazy excitement of hydro-speed. It's also a bit of a fly-fishing legend or, if you don't want to get wet at all, there are plenty of lovely walks from Sort or through Alt Pirineu Natural Park with mighty Noguera Pallaresa as a main feature.
Take a closer look at family water sports in Pirineus-Noguera Pallaresa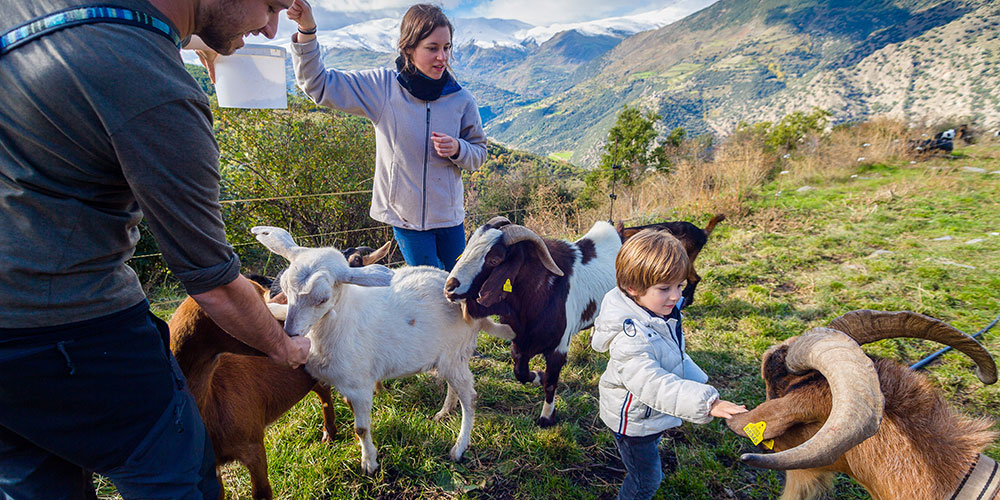 2/5

Over 100 enchanting villages to explore this autumn
Pirineus-Noguera Pallaresa is scattered all over with charming towns and villages. You can even take a hamlet-themed hike through Coma de Burg Valley in Alt Pirineu Natural Park. And several places are Family-Friendly Holiday certified for their easy-going atmosphere, fun activities and kid-perfect approach to everything from accommodation to adventure parks.
It's said you can hear the rushing of La Noguera Pallaresa River everywhere you go in pretty Llavorsi. So no surprise to find the village is a fantastic base for family water sports. It's also the place for high-rope courses at Parc d'Aventura and guided family treks packed with autumn colour and wildlife sightings. Or if you feel like exploring, go see the other six villages in the Llavorsi area. They're all a great excuse for a walk and not short on intriguing sights like the communal bread oven in Baiasca, Montenartró's 'shepherd school' or the romantic ruins of Sant Romà de Tavèrnoles: sneaky history lessons for kids.
Sort is the capital of Pallars Sobirà and the modern capital of white-water sports, thanks to its prime spot on La Noguera Pallaresa. It's a lively little town, likes a festival and looks particularly pretty in autumn. Don't miss the atmospheric historic centre for a sense of why the Earls of Pallars picked Sort as the heart of their medieval fiefdom.
Take a closer look at the towns and villages of Pirineus-Noguera Pallaresa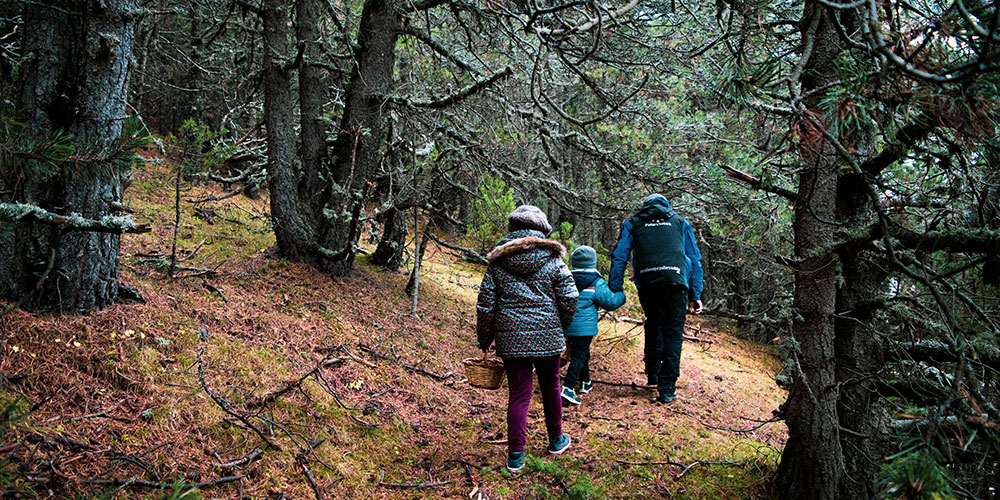 3/5

Alt Pirineu, Catalonia's largest natural park
Alt Pirineu is less than 15 minutes drive from the centre of Sort. The largest natural park in Catalonia it's home to the region's highest mountain, Pica d'Estats, and to legendary Virós Forest – an enchantment for younger kids, especially if they catch sight of a rare Capercaillie or chamois.
The park also has well planned, multi-stage MTB routes and thrilling forest roads to challenge the wildest of mountain bike fiends. Autumn is lovely for walking, the views are spectacular and dozens of signposted trails are graded from super-easy rambles to seriously daunting hikes. You can even go kayaking and canoeing on La Noguera Pallaresa River here. Or take kids up to the high pastures and explore the atmospheric abandoned hamlet of Noarre where Pyrenean shepherds used to spend their summers.
Take a closer look at Alt Pirineau Natural Park in Pirineus-Noguera Pallaresa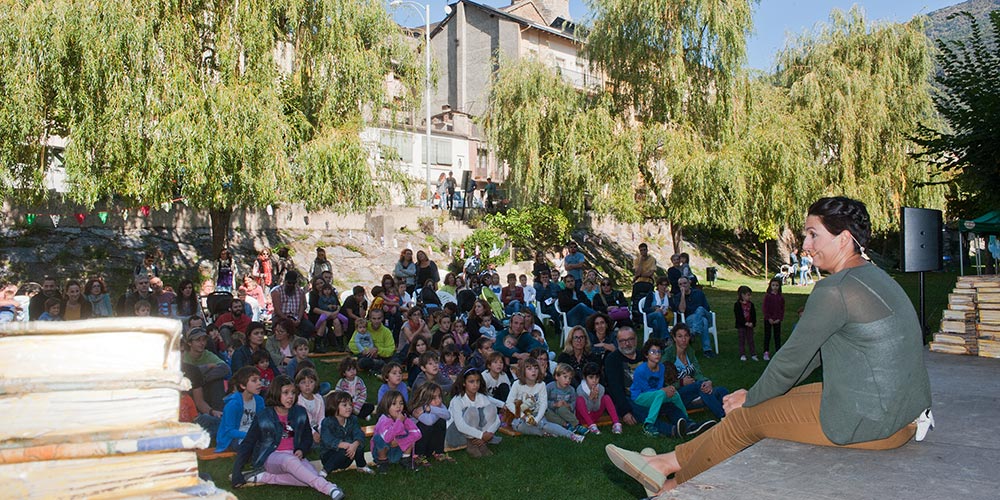 4/5

Family-friendly fairs and festivals for autumn
Catalonia's legendary Falles (Fire Festivals) not only have their origins in Pirineus-Noguera Pallaresa, they hold UNESCO World Heritage Intangible Culture status here. You'll have to wait until next Summer Solstice for those particular festivities, but there are still plenty of celebrations, fairs and markets, as well as heaps of family activities, all through autumn.
Sort Autumn Fair in early November is a huge event, brings together artisan producers and farmers from all over the Pyrenees and lets you try some of Catalonia's finest food, at source.
If you're around in October, the autumn fair in Llessui is an ancient local tradition that's been revived over the past few years. The warm community atmosphere and food laden stalls make this another great family day out, and it's only 20 minutes drive north of Sort.
Take a closer look at family events in Pirineus-Noguera Pallaresa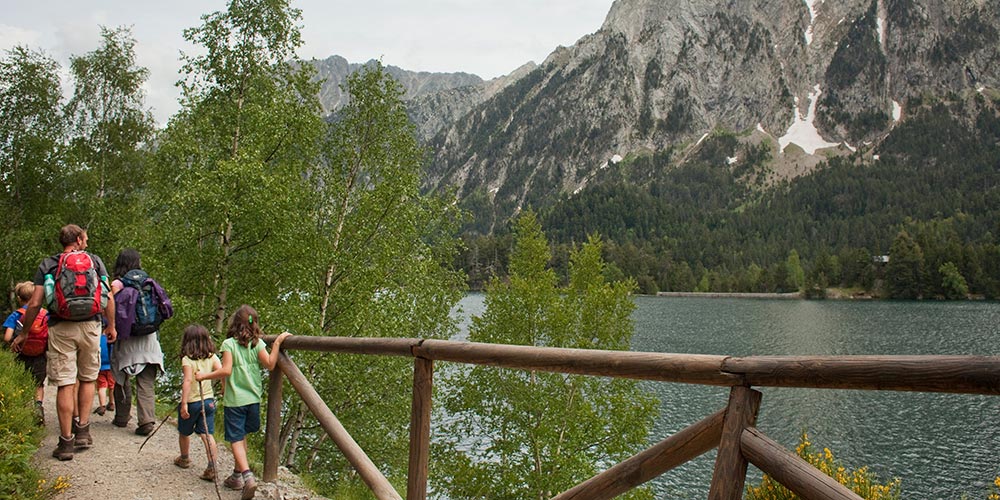 5/5

Aigüestortes i Estany de Sant Maurici National Park
Catalonia's only National Park is nothing short of spectacular and autumn is the perfect time to explore the mysterious forests and valleys or take a look at the glacial lakes – there are 200 to choose from.
Sightings of legendary peaks like the Encantats or Amitges Needles are great reasons to lace up boots and stride out with kids. Hike up to Portarró d'Espot with energetic teens and a 360˚ view of the entire park rewards your efforts. Littler legs might be better suited to ground level walking, but easy, well-marked trails are still lovely and don't feel like a compromise.
And if you just want a quick trek, there are several trails signposted on the Aigüestortes Plateau that take between 20 and 30 minutes – the views are still stunning.
The lowdown
Where
Pirineus-Noguera Pallaresa is in The Pyrenees in north west Catalonia.
How to get there
Direct UK flights to Girona or Barcelona take from two hours year round.
Sort is approximately three hours' drive north of both Barcelona and Girona Airport.
Ready for your family adventure in Catalonia this autumn? Start planning with a visit to the Catalan Tourist Board (ACT) for information on Family Adventure Holiday labels and all the glorious autumnal destinations where you'll find them.