Sponsored Content
Sunshine and siestas are at the centre of laidback life in Spain, making it the perfect place to escape a hectic home life. With 17 different regions, you and your family can return to Spain many times and still not experience all it has to offer. Encompassing the Canaries which sit just off of Africa's north-western coast, the Balearics to its east, and the mainland, Spain's varied landscapes offer something for every family.
Private villas provide freedom, flexibility and privacy to help you make the most of what each destination has to offer. Plus, with the delight of a private pool and plenty of space, a villa is an obvious choice for families.

1/7

Villa Elefante Tia, Costa Blanca
Why Costa Blanca?
Costa Blanca enjoys turquoise waters, miles of white sandy beaches, and sunny climate. Visitors adore the ease of its family-friendly amenities and the relaxing atmosphere in Costa Blanca makes it a home away from home.
Nestled within the small hillside community Elefante, Villa Elefante Tia enjoys spectacular views from its large balcony across its own private pool and mountain backdrop. The outlook makes Villa Elefante Tia a Best of James property, notably set apart due to this extra special wow factor.
Sleeping eight people in the four bedrooms, this tastefully decorated property has plenty of rooms to accommodate a large family. Fitted with everything needed in a home away from home, Elefante Tia has a fully equipped kitchen and air conditioning in the lounge and the twin bedroom.
The outside area is the properties highlight, with an inviting private pool surrounded by well-kept gardens. There is plenty of space for the children to run around and play games whilst you relax, providing an ideal place to enjoy the warm sunny days.
When you can tear the children away from their pool, take a family walk up the mountain in Montgo Natural Park and enjoy the spectacular views from the top. There is also a choice of water parks, museums and theme park in driving distance of the villa. Local amenities can also be found within a short drive to the lively Arenal promenade packed with shops and restaurants is only a ten minute drive away.
Price
Stay for seven nights in Villa Elefante Tia from only £636 per person† including villa and flights departing on 13 August 2016 from Manchester. Based on eight sharing.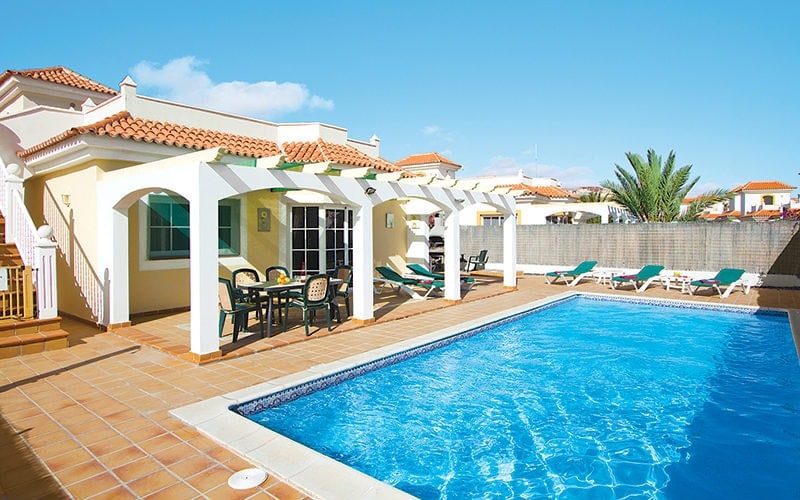 2/7

Villa Fairways, Fuerteventura
Why Fuerteventura?
Fuerteventura boasts the very best of weather more commonly found in tropical destinations. Its huge sand dunes make the landscape look like a scene from a movie set. One of the best things about Fuerteventura for families is the indefinite activities and attractions on offer to keep kids of all ages entertained.
A firm favourite for family holidays is Caleta de Fuste on the east of the island, which is home to El Castillo (or the Castle) dating back to 1743. Watch the children look on with wonder as they discover El Castillo was built to defend against pirates! A easy stroll from the castle is the large Playa del Castillo beach, the ideal place to try the abundance of water sports on offer. If your children are more interested in wildlife than water sports, the opportunity to see the dolphins and turtles which frequent the island's shores is guaranteed to be a holiday highlight.
Villa Fairways
Just a short drive from the Caleta de Fuste centre is Villa Fairways, where you can enjoy some down time between family activities and days out. Comfortably sleeping 8 in its 4 bedrooms, the detached Fairways has the independent feel of a villa holiday with its private pool, while being situated on the picturesque Caleta de Fuste Golf Resort.
The property's living area is spacious, equipped with DVD player, flat screen TV plus satellite. Outside features a spacious terrace and built-in barbecue for family meals so you can dine alfresco with the incredible local fresh produce on offer. The nearest supermarket is only 2.3km and the beach 4km away, easily reached in a short drive.
Price
Stay for seven nights in Villa Fairways costs £645 per person† including villa and flights departing on 20 August 2016 from Gatwick. Based on eight sharing.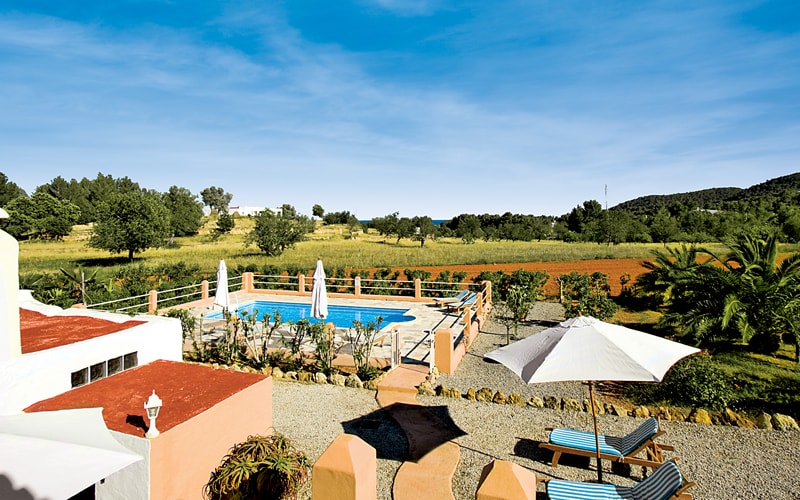 3/7

Villa Cana Marina, Ibiza
Why Ibiza?
Gone are the days when Ibiza was just a destination for partying. A more accurate reflection of Ibiza visitors today are young families enjoying the tranquil settings on the quieter sides of this picturesque island.
Horse riding, water parks, playgrounds and water sports are on offer on many of the famous beaches. Take a boat ride to explore numerous other parts of the island including Ibiza Town, Figueretas, Portinatx and San Antonio.
Especially popular with families is the incredibly charming southeast coast resort of Santa Eulalia. Delight in traditional tapas in Santa Eulalia's top rated restaurants before taking a stroll along the promenade in the warm evenings. Crystal clear blue waters and white sands line the coast on the incredible beaches, but the biggest attraction is the friendly welcome from the local people who make every effort to ensure you enjoy your stay in this quaint location.
Villa Cana Marina
Just on the outskirts of Santa Eulalia sits farmhouse style Villa Cana Marina. This recently renovated property has the wow factor with its original features and smart interior. Villa Cana Marina sleeps eight people and its stunning gated swimming pool gives parents peace of mind. If you can persuade the children to get out of the pool, they also have table tennis, a flat screen TV with satellite, plus DVD and CD players to keep them entertained. Lush gardens surround the villa providing plenty of outside space to play and relax.
Price
Stay for seven nights in Villa Cana Marina from only £776 per person† including villa and flights departing from Gatwick 23 July 2016. Based on eight sharing.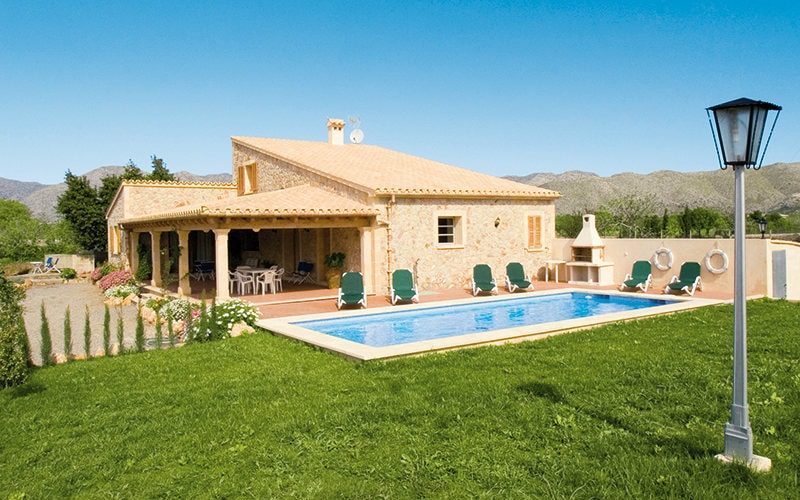 4/7

Villa Aumadravet, Mallorca
Why Mallorca?
Costal trails, culture and history, together with contemporary restaurants, shopping, and the incredible beaches keep visitors returning to Mallorca year after year. From the busy marina seaside resort of Alcudia which offers families both day and evening entertainment, to Cala d'Or which is home to coves and a nature reserve, Mallorca captivates all ages.
For a self-catering private villa holiday in Mallorca opt for the scenic town of Pollensa. The weekly Sunday farmers market is a real family occasion, where you can pick up some great local produce such as fruit, vegetables, cheese and olives to enjoy al-fresco back at your villa. Both children and adults alike will look on with wonder as the cobbled streets come alive with colour as the stall holders set out their clothes, jewellery and other traditional trinkets on market day. When you have finished shopping, find a spot to enjoy an afternoon refreshment and treat in one of the many cafes littering the winding streets.

Villa Aumadravet
Nestled in the countryside, Villa Aumadravet is just a short distance from the picture perfect Bay of Pollensa, sleeping six people in three bedrooms. Ideally placed between old town Pollensa and Puerto Pollensa, you can immerse yourself in all Mallorca has to offer from this property. It is easy to see why Aumadravet is a Best of James villa, with an attractive pale stone exterior and modern furnishings. The spacious open plan interior provides plenty of room for a family to enjoy rather than being cramped into one hotel room. A shady terrace leads directly onto an inviting pool area and lawn.
Price
Stay for seven nights in Villa Aumadravet from only £870 per person† including villa and flights departing on 20 August 2016 from Manchester. Based on six sharing.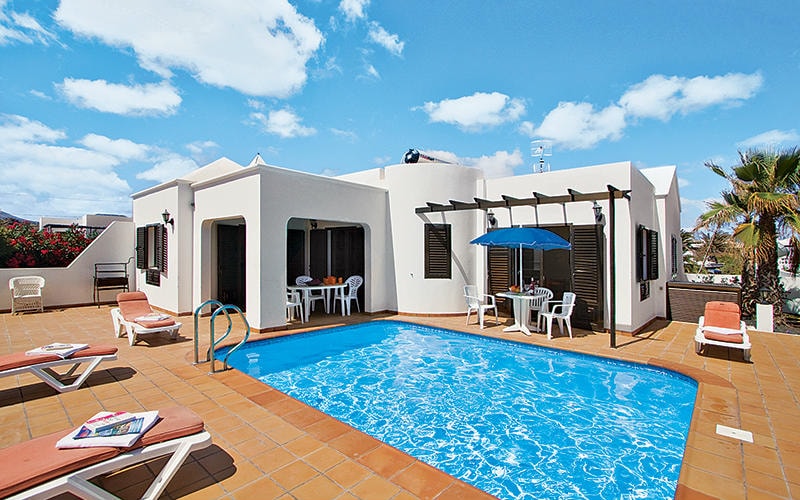 5/7

Villa Benjamin, Lanzarote
Why Lanzarote?
Lanzarote is the perfect holiday destination whether you are travelling with teenagers or toddlers. Family time is a top priority for locals, so taking your children to dinner will be a breeze as the restaurant owners welcome you all with open arms. It's even possible to holiday in Lanzarote in October half term with temperatures still reaching the mid-twenties.
The leisure facilities entice families to Lanzarote, and the sheer volume of things to do means you will never be bored. Take catamaran excursion out to sea where the kids can get involved with the crew, drive a jet ski and snorkel while you relax. Horse riding for all ages is on offer across the island, plus there are a selection of theme and water parks for fun filled days out. The fabulous natural caves on Lanzarote are the longest volcanic tunnels in the world, a unique experience for all of the family.
The bustling resort of Puerto del Carmen is the most well-known destination on the island, a convenient base to explore all Lanzarote has to offer. The children are sure to want to take in the live entertainment taking place in the harbour, while parents can take their pick from restaurants serving tasty dishes.
Villa Benjamin
Although you might not need to even leave your villa if you opt to stay in Villa Benjamin, just 0.8km from Puerto del Carmen. Villa Benjamin is equipped with its very own games area, consisting of a pool table and table tennis. Coupled with a great entertainment system of satellite TV, DVD player and CD player, the children will never be bored in this home away from home. Sleeping ten across in the villas five bedrooms, it is ideal for two families holidaying together. Modern and roomy inside this property is decorated to a high specification. The highlight however is the lovely private pool area, a prefect size for a family that can be enjoyed all to yourselves.
Price
Stay for seven nights in Villa Benjamin from only £831 per person† including villa and flights departing on 14 August 2016 from Stansted. Based on six sharing.
6/7

Villa Binibeca, Menorca
Why Menora?
Enjoying beach life in Menorca is easy, with spectacular silver-sanded and gently curving bays which lend themselves to this postcard worthy destination. Often regarded as the most family friendly of the Balearics, Menorca's picturesque and tranquil setting guarantees a stress-free holiday.
Menorca enjoys a well-kept coastline, clean countryside and walking routes ideal for families who enjoy the outdoors. Pack a picnic and set out to discover some of the beautiful scenery on offer.
Villa Binibeca
Located ideally in Binibeca Vell, famous for its pretty white box shaped houses, is Villa Binibeca 55b, sleeping six in its three bedrooms. With a homely feel, the villa incorporates a family sitting room equipped with Satellite TV and DVD player, and a kitchen dinner.
If you don't want to cook inside, the built in barbeque and shaded terrace area are perfect features to help you make the most of the outside space. Outside also boasts your own private pool within the properties grounds so you don't have to share it with anyone else. Binibeca 55b also has the advantage of being only a fifteen minute walk from the sandy bay of Binibeca Nou, all in all the perfect situation for an enjoyable family holiday.
During your stay, take a train journey to Punta Prima to discover the areas amazing beach with fine white sand and shallow waters ideal for the little ones. Costal road car journeys are a must in this area of Menorca so you can stop off and explore at leisure.
Price
Stay for seven nights in Villa Binibeca 55b from only £686 per person† including villa and flights departing on 5 August 2016 from Stanstead. Based on six sharing.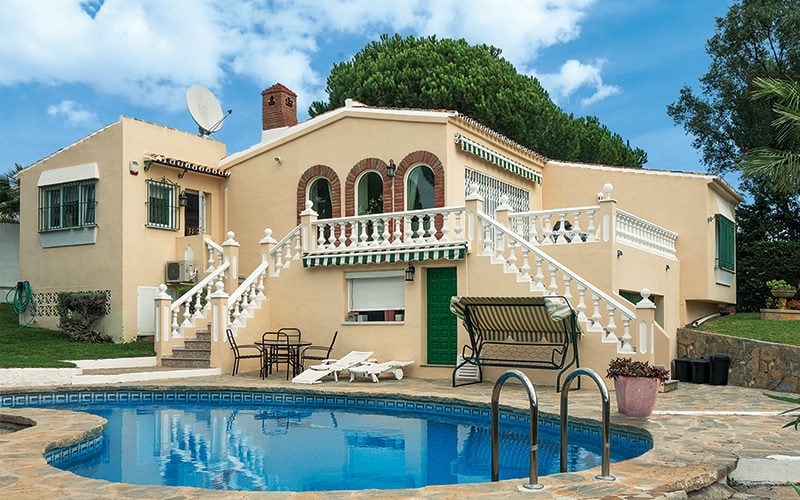 7/7

Villa La Ardilla, Costa del Sol
Why Costa del Sol?
With the longest coastline in Spain, it is no wonder families flock to the Costa del Sol. Beaches here are beautiful and sun-drenched, while the mountainous backdrop makes for exceptional scenery. When you tire of the beach, there are endless things to do for families.
Choose from water parks, zoos, wildlife attractions, the fantastic sea life centre, or even the crocodile park. Museums, theatres and old towns like San Pedro de Alcantara offer a more authentic experience, while you can find a more modern atmosphere in fashionable spots like Marbella.
Villa La Ardilla
To make the most of all the Costa del Sol has to offer, Villa La Ardilla is the ideal base to explore from. Located in the heart of the region, Ardilla sleeps eight across its four good sized bedrooms. There is even an annex so grandparents or teenagers can enjoy their own space.
The property's extensive grounds provide a peaceful and relaxing setting where your family can make use of its attractive private pool. You'll also be close to La Cala de Mijas, so the bustle of restaurants, supermarkets and nightlife are just a short distance away. For those summer afternoons spent building sand castles, the beach is only a 0.4km walk, while Marbella and Puerto Banus are roughly fifteen minutes' drive.
The portable barbeque and covered terrace area are ideal for al-fresco dining, while the interior of the one level property is modern with a spacious open plan lounge and dining area with plenty of seating.
Price
A seven-night stay in Villa La Ardilla costs £811 per person† including villa and flights departing on 20 August 2016 from Manchester. Based on six sharing.
With James Villas, you can enjoy free car hire, airport parking, and a welcome pack* when you book your 2016 James Villas holiday by 8 February. Plus pay only £100pp low deposit*. For more details on this offer visit:  jamesvillas.co.uk
James Villas has over 2500 handpicked villas across more than 50 destinations, and can arrange all of your holiday extras including flights, cots, highchairs and more at the time of booking.
†Prices correct at the time of writing this article and are subject to availability. Based on villa and flights.
*Subject to booking conditions and availability. Terms and Conditions apply.