Sponsored Content
A blissful break being waited on hand and foot is a daydream most parents indulge in from time to time. Strangely enough, kids seldom feature in this particular fantasy. Because everyone knows, the minute you add one or more children into a holiday, it won't be the grown-ups enjoying hot and cold running attention.
Between keeping noise levels down at bedtime, wrangling over-excited five year olds by the hotel pool, apologising for tantrums at the breakfast buffet, wrestling phones off teenagers in the resort restaurant and 24/7 sun, sand, sea and surveillance, family holidays can be hard work, for grown ups.
Kids will be kids — that's why families rent villas. And the difference between running interference for two weeks solid and having complete freedom, isn't the only reason to opt for home over hotel according to the UK's top holiday rental experts, Villa Plus.
1/7

 More space to spread out and relax

One of the major advantages family villas have is space: there's just more of it and it's all yours. Snuggling up in a hotel room's fine when kids are tiny. But, once they get past the pinned to your side permanently stage, it doesn't take much for comfortably cosy to turn crowded.

Kids don't travel light either. Factor in the can't-live-without toys, a wardrobe of just-in-case clothes and all the bits and pieces they accumulate like fluff on Velcro, the majority of them could justify a villa for their personal luggage alone.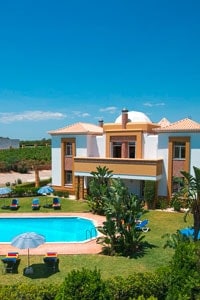 Villa Quinta Riad Alamos, Algarve
This stylish Moroccan-style 5 bedroom, 5 bathroom villa has a touch of class throughout with a large private pool and stunning views across Portugal's rich countryside and vineyards.
Activities nearby: Located in Guia, the home of piri piri chicken, enjoy great restaurants, shops and beach only a few miles away.
Great for kids: Free WiFi, pool & table tennis tables and a huge, heated swimming pool.
Sleeps: Up to 11
Price per week: Villa only from just £89 per person per week"
2/7

Sharing a holiday with friends

Sharing a villa with another family has all sorts of benefits, especially with older kids in tow. Get the age groups right, add friends into the mix and you can almost leave teenagers to do their own thing.

Pulling this one off and keeping everyone content hinges on choosing the right villa. Let go of the reins a little in the decision making and give kids some input. You'll still have the last word, but factoring in a few child-size deal breakers nearly always makes for a happier holiday.
3/7

 There's no such thing as an average family

The idea of an average family is as ridiculous as 0.5 of a child. But hotels are still bent on attempting to squeeze two adults and three kids into a room – a bit like trying to get a pop-up play tent back into its bag.

Villas are designed for real families not statistics. You've the choice of as much room as you need and you decide how to fill it. Gardens give you even more to play with. And you always have the option of some quiet space – try getting your hands on that in a 'junior suite'.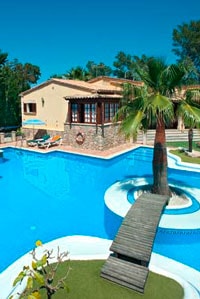 Villa Los Pinos, Majorca
This 3 bedroom villa boasts an amazing, large private pool which is an ideal place to have lots of fun and enjoy the Majorca (Mallorca) sunshine
Activities near by: Villa Los Pinos is located in the area of Gotmar in Puerto Pollensa (Puerto Pollenca) and is a short walk to the popular beach and array of shops, bars, cafes and restaurants.
Great for kids: Swimming pool! Who wouldn't love a private pool, with a bridge, palm tree and waterfall?
Sleeps: Up to 7

Price per week: Villa only from £209 per person per week
4/7

 A private pool to play in any time you like

Most resorts have separate kids pools. Just what you want: hot afternoons sitting at the edge of a glorified bathtub trying to spot your child in a seething mass of borderline hysterical under 8s. There isn't a parent on earth doesn't recognise that scenario.

Rent a villa with its own pool and not only is it kid-friendly for your kids and yours alone, it's there whenever you want it too. So, you might not be up for 20 brisk laps before breakfast, but if you fancy a midnight dip after everyone's tucked up for the night, there's absolutely nothing and nobody stopping you.
5/7

 Villa holidays fit individuals perfectly

Renting a villa lets you build your own holiday. It's a completely unpackaged option so choosing where, when and what is down to your own, individual preferences.

Budget might be priority, so custom design round that. You might have a mind's eye dream house you've always wanted to live in for a little. Or the hinge could be as simple as the perfect, shady terrace with a view. Villa permutations are pretty much endless and you don't pay for anything you don't want, because they aren't a cookie-cutter package deal.
6/7

Big family holidays without tears

A holiday with extended family can be fantastic fun and not just for kids. But pulling off a dream break that doesn't end with stony silence on the flight home is a bit of an art. Renting a large villa with some escape room makes the chances of success infinitely higher.

People can do their own thing, you've the freedom to be together when you want to be and there's always the option of taking five when tensions are brewing – and they do, even in the closest knit families.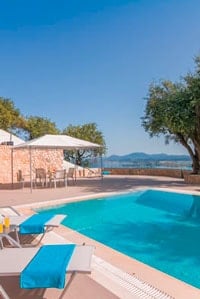 Villa Athiri House, Corfu
Stunning views over the North East coast of Corfu, a large swimming pool, stylish and spacious interior.
Activities nearby: With a number of resorts dotted along the beautiful North East coast within a short drive, and the more traditional inland areas of the island also easily accessible by car, it is a great spot for the adventurous!
Great for kids: The beach is only a short ride away, but with loads of free added extras, who wants to leave?!
Sleeps: Up to 10

Price per week: Villa only from £120 per person per week
7/7

 Families can live like locals for a little

The best family holidays are ones where you really experience a place, make your own memories and come home with a million and one stories that begin with, 'remember when….'.

Little things like shopping for dinner at a morning market, choosing wine at the village bodega or discovering a tiny, tucked away cantina you all love, are part and parcel of a villa holiday. And no matter how much a resort promises 'authenticity', it almost certainly won't deliver. That type of individual experience is impossible to manufacture and never one-size-fits-all.