Sponsored Content
Multi-gen family holidays in Greece are amazingly easy to do. There's an endless supply of cultured, beachy and fun places to choose from. And the challenge of keeping everyone happy just doesn't come up when there's so much diversity in almost every destination. In fact the only challenge you might face is making a shortlist. Fortunately Visit Greece is expert at matching families and destinations, and here's their pick of where's incredible for multi-gen family holidays in Greece this summer and next.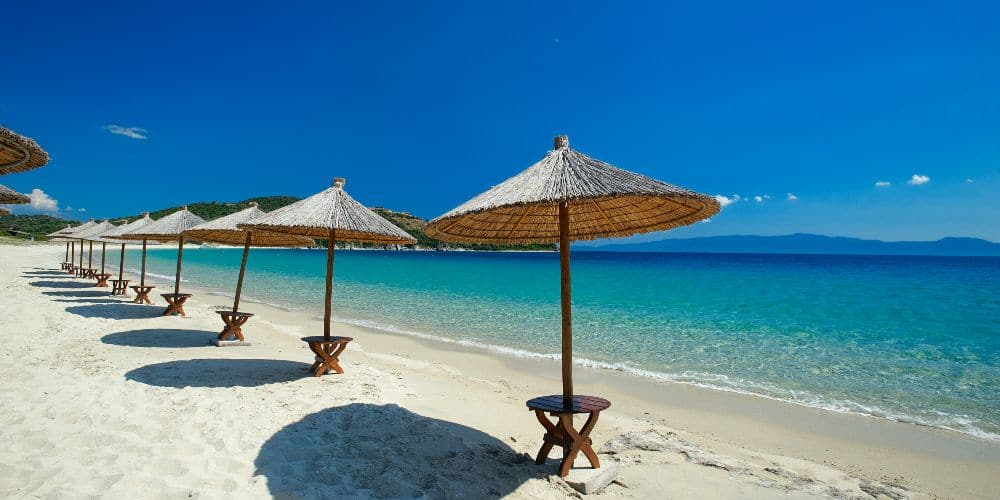 Halkidiki
The forked Halkidiki Peninsula in northern Greece is extraordinary. And perfect if you're looking for a multi-gen family holiday destination that's outdoorsy and adventurous; big on beaches and water sports; entertains; subtly educates and even fits mind, body and soul soothing into the mix. The area's also very scenic, famous for its lush Mediterranean forests, long views over the Aegean and impressive mountains. Plus, on the practical front, direct UK flights to Thessaloniki take just over three hours and the Halkidiki Peninsula is an easy drive from the airport.
Why Halkidiki works for multi-gen family holidays in Greece
Halkidiki can trace its human history back 200,000 years. Kids love the area's myths and legends. And everyone likes exploring ancient sites like the city of Olynthus or Stagira – birthplace of Aristotle.
Halkidiki is great for water sports like windsurfing, kitesurfing and diving. Aegean cruises make for unforgettable family days out. And if you want to walk, hike or cycle. Halkidiki's mountains are accessible from foothill rambles with younger kids to technical climbs and exhilarating bike trails.
The Halkidiki coastline runs for an astonishing 300km and is once again Greece's Blue Flag champion, with a total of 96 beaches now awarded the prestigious eco-label.
Visit in summer for family-friendly art events like the Sani Festival which brings together visual and performing arts, and the annual Kassandra Festival where many theatrical performances and concerts take place in the ancient Siviri Amphitheatre in western Halkidiki.
A day out at Aristotle's Park in Western Halkidiki is perfect for multi-gen families as it combines art, history, natural beauty, wonderful walks and fun activities for kids.
A wine making region, Halkidiki's also known for its fantastic olives, fragrant local honey and excellent seafood.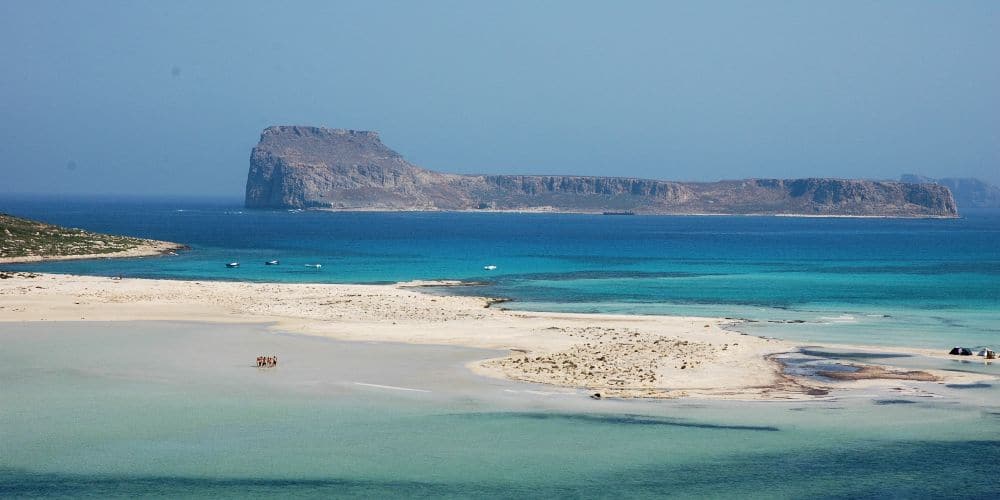 Crete
The largest of the Greek islands, Crete wins multi-gen family holidays hands down on practicalities alone, with both its international airports (Heraklion and Chania) having direct UK flights for seven months of the year. Because the island's bigger than average, there's plenty of choice when it comes to picking a perfect base. Though it's easy to get around so even if you opt for a less touristy area like Lassithi, you're still within easy reach of Heraklion's waterparks and big sporty beaches. Speaking of beaches, some of Europe's loveliest are in Crete and even in the height of summer, finding a quiet cove all to yourself is easier than you'd think. If you're up for some history -real or mythical – this is where to see the Minoan Palace of Knossos; Spinalonga Island, and the Cave of Zeus. And if you want to know even more, don't miss Crete's best kept secrets on multi-gen family holidays.
Why Crete works for multi-gen family holidays in Greece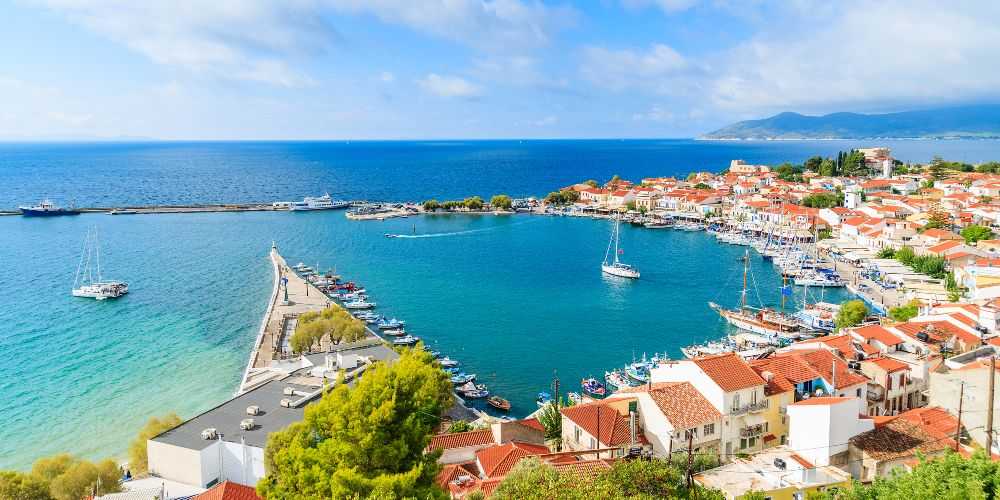 Samos
Haven't discovered Samos yet? A memorable multi-gen family holiday could be just the excuse you need to get to know this gorgeously green Aegean island. It sits in the eastern Aegean Sea, so the weather's spectacular if you want to make the most of beaches. Just be aware there's a lot to get up to here and it's likely even the most passionate sunbather will be tempted to explore. The Greek philosopher, Pythagoras, was born here and the island is scattered with impressive classical monuments, archaeological sites and even dinosaur relics. The local wine is so prized it justifies a Wine Festival each year in August – Samos Muscat is particularly celebrated. Sporty families can get up to anything from hiking and mountain biking to beach volleyball. And the island's easy mix of serene natural beauty, lively towns and fascinating history ticks just about every box on the multi-gen list.
Why Samos works for multi-gen family holidays in Greece
Samos is home to two World Heritage sites: Pythagoreion and Heraion – the largest Temple of Hera in the ancient world.
The Mytilinioi Palaeontology Museum collection contains bones of rare Megatherions and Samotherions excavated on Samos.
The Eupalinos Tunnel, considered to be one of the most important feats of Ancient Greek engineering, can also be explored on Samos.
Glyfada Lake and Alyki Wetland are where to spot flamingos and pelicans. Head to the dramatic Karlovassi Waterfalls for the coolest spot on the island.
Visit in July and August for the Wine Festival at Vathy. One of the best places to try Samos Muscat – you only buy one glass and it's refilled as often as you like.
Vathy, Kokkari or Pythagoreion are good bases for a lively multi-gen family holiday. If you want to savour the island's famous serenity, choose Marathocampos, Kerveli or Mykali.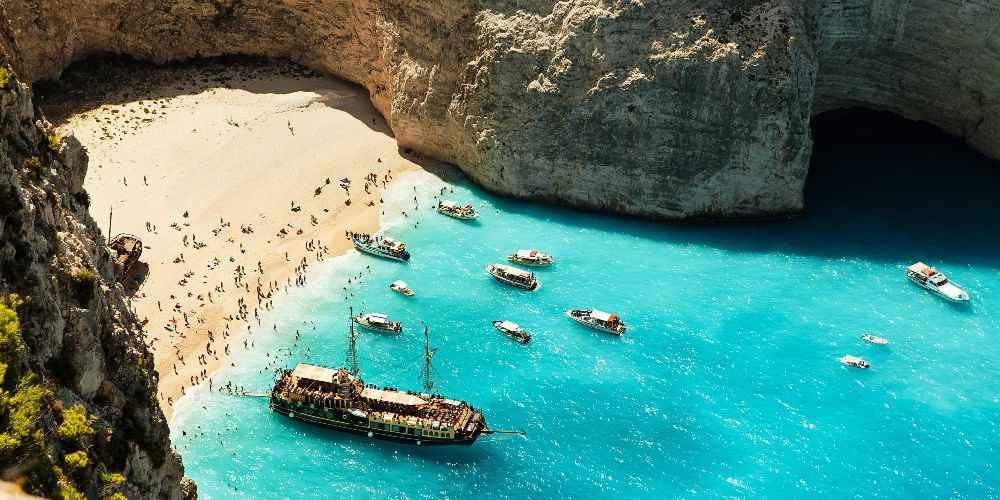 Zakynthos
The third largest Ionian Island, Zakynthos is a nature lovers paradise. Not only do over 7000 species of wildflowers flourish here, it's also home to Zakynthos Marine Park and produces some of the finest olives in Greece. Spectacular beaches are something else for which Zakynthos is very well known. You'll probably recognise Navagio, where a shipwreck sits on pristine sands which seem to be encased in soaring cliffs: it's one of the most photographed beaches in Europe. Historic churches, pretty towns and villages, and the graceful island capital – also called Zakynthos – give plenty of scope for days out. If you simply want to stretch your legs, climb a hill or paddle a board, there are water sports, activities and wildly beautiful countryside to satisfy just about everyone's outdoorsy cravings. And as far as easy multi-gen holiday travel goes, direct UK flights to Zakynthos take just over three hours.
Why Zakynthos works for multi-gen family holidays in Greece
Legendary Navagio Beach is on the north coast and involves a fun sail to get there. Alykes and Tsilivi are excellent beaches for water sports. And pretty Gerakas is the beach for paddling waters, silken sands and nesting Caretta-Caretta Turtles.
If you only see one of the island's historic churches – there are several – make it 16th century Aghios Markos in Zakynthos town: the belfry is an exact replica of Saint Mark's in Venice.
Take a cruise round Zakynthos Marine Park to spot dolphins, rare monk seal and learn about the reserve's outstanding conservation work.
Intriguing Zakynthos town is well worth some time. Make a point of climbing to the top of Bohali Hill here, then reward yourself with a rest at a café, a long cool drink and one of the best views on the island.
For two very different sides to Zakynthos' past, visit the Post Byzantine Museum in the island capital then spend some time investigating the Venetian Castle on the edge of town.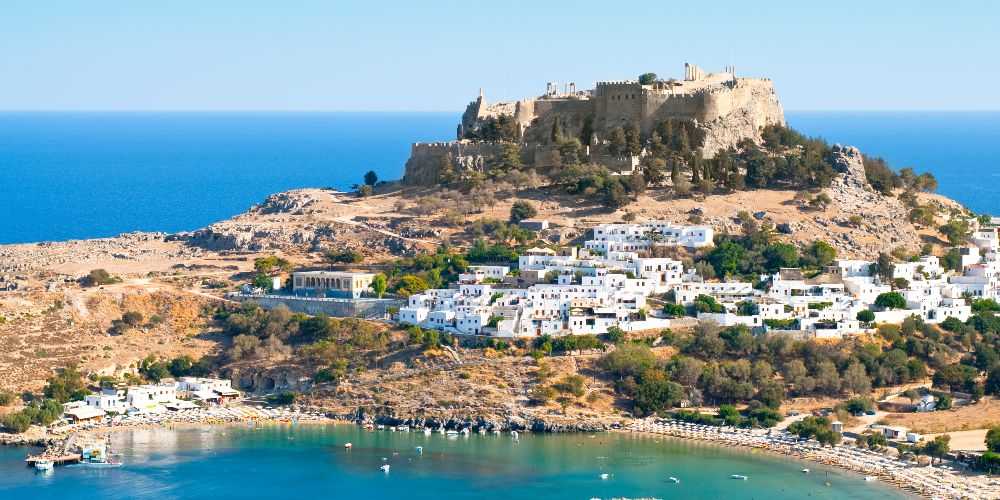 Rhodes
It's impossible to describe Rhodes as anything but magnificent. The largest of the Dodecanese Islands it has one of the best preserved medieval centres in Europe at the heart of thrilling Rhodes town. Ancient history punctuates the stunning coastline where the likes of Lindos Acropolis and the Castle of the Knights of St. John gaze across the Aegean. Visit in summer to catch clouds of mesmerising Panaxia in the fairy tale Valley of the Butterflies in the north. Walkers will enjoy wandering round over 40 characterful villages scattered across the island. Kids love the waterparks and water sports – snorkelling and surfing are big here. Many beaches proudly fly Blue Flags. And if all that isn't quite enough to tempt you to Rhodes, the local wine wins awards, chefs do sensational stuff with fresh seafood and if you haven't tasted Melekouni or Mantinades, you're in for a sweet treat.
Why Rhodes works for multi-gen family holidays in Greece
Direct UK flights to Rhodes take from just under four hours between late April and early November.
Rhodes' medieval Old Town is one of the most visited World Heritage sites in Greece and as much fun for kids as it is fascinating for parents and grandparents.
Great for walking and cycling, there are even well marked trails between each of the island's 42 traditional villages – you might not see them all on one holiday; only the perfect excuse to come again.
Rhodes has fantastic beaches around its Aegean coastline. And family favourites like Afantou, Kallithea, Ixia and Mikros Gialos are among over 40 on the island which have been awarded Blue Flags.
Don't miss the Lindos Acropolis and leave time to stroll around Lindos village where charming whitewashed houses and quaint little streets mingle with beautiful Byzantine Churches.
Everything you need to make holiday plans is at Visit Greece from insider views on destinations to the ideal accommodation for larger families, travel tips and inspired ideas to transform your dreams into unforgettable multi-gen family holidays in Greece.