Sponsored Content
The joy of a luxury Corfu family holiday is back at MarBella Corfu this summer, along with exciting new kids' activities and the option to add a stay on the enchanting Epirus Coast into your Corfu family holiday mix.
Summer at luxurious MarBella Corfu is always magical, but this year it's more tempting than ever. Not only is there up to 25% off your all-inclusive Corfu family holiday right up until October 2021, the new MarBella Elix in Parga is also offering up to 25% off all-inclusive stays this year. Plus families now have the option of combining both hotels and experiencing the joy of Corfu and the enchanting Epirus Coast, all in one holiday.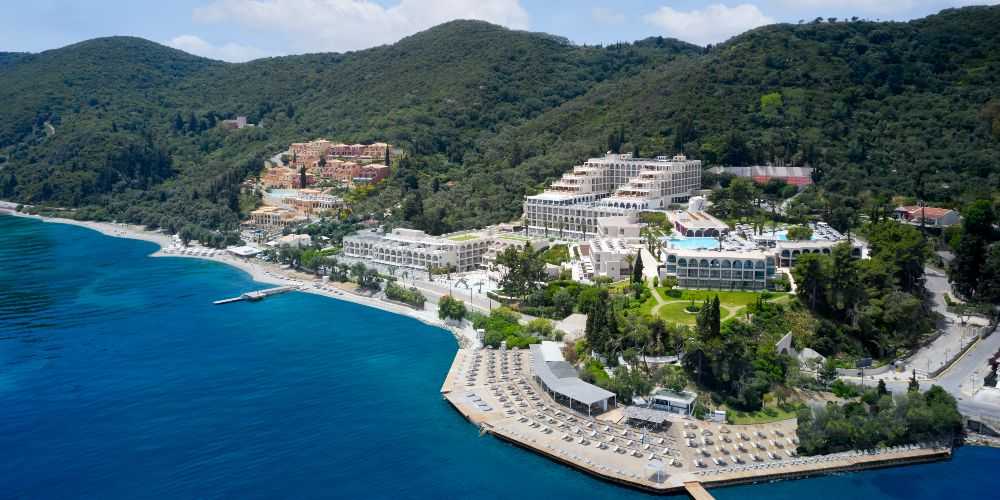 MarBella Corfu restores the joy of a Corfu family holiday
MarBella Corfu has been at the heart of wonderful family summer holidays on the south coast of Corfu for 50 years. It was also the first five-star hotel on Corfu to re-open for summer 2020 and at the forefront of introducing contactless check-in; on-site access to rapid PCR tests and to upgrade its already excellent mobile app to allow guests to remotely arrange anything from spa treatments to a day out with kids in Corfu Town.
In 2021 the focus for family summer holidays is firmly on activity-rich fun for children at the brand new Adventure Club; more free time for parents thanks to peace-of-mind-childcare in partnership with Worldwide Kids; fantastic water sports from paddleboarding to guided snorkelling tours; fresh inspiration on the food front at the new Deck Bar & Grill beach restaurant, and an incredible menu of experiences designed to allow families to explore both Corfu and the neighbouring Epirus Coast, all in one holiday.
Add new MarBella Elix to your Corfu family holiday
Only the most spectacular location could have persuaded the MarBella Collection to expand beyond Corfu after more than 50 years. And the Epirus Coast is all that. If you aren't familiar with this part of northern Greece, it's probably because Greek families like to holiday here and tend to stayed a little hushed about its loveliness. But the new MarBella Elix hotel is clearly in on the secret, as it now sits above a golden sand cove on the Epirus Coast, close to the charming town of Parga and almost no distance at all from Sivota –  a famously undeveloped haven of gorgeous beaches, lagoons and bays, home to the only fjord in Greece and just a slim stretch of the Ionian Sea away from Corfu.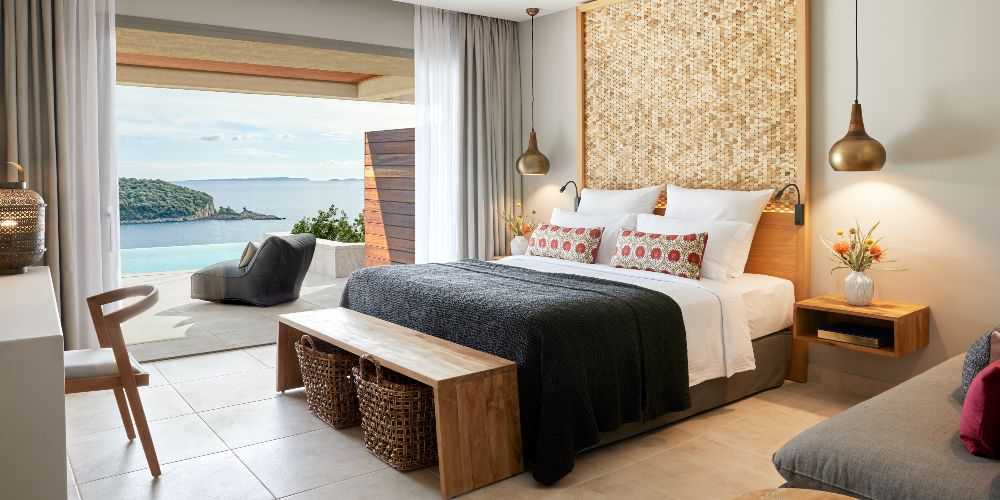 An elevated position gives the hotel amazing views and also means a funicular is in play for quick trips down to the private beach: one of many, many features at MarBella Elix which seem designed for extra kid-appeal. Although it's clear the design of the hotel itself was inspired by the natural beauty of its location, because it fits perfectly with the surrounding landscape of lush, green forest, bluest seas and sun-burnished sands.
Like the other exclusive hotels in the MarBella Collection, MarBella Elix feels refreshingly secluded. So it's all the more surprising to find direct UK flights to Preveza take just over three hours and the hotel's less than an hour's drive from Preveza Airport. A very relaxed start to any holiday with kids.
The perfect combination of hotels for summer 2021  
Both MarBella Corfu and MarBella Elix offer a choice of spacious family rooms and suites with private balconies, terraces, sea views, one or two bedrooms and even the option of your own private swimming pool.
Adventure Club by Explore the Outside is a highly original take on 'children's clubs' at MarBella Elix. Designed for kids from age four right through to teens, its focus is on outdoor activities and includes everything from sailing adventures to snorkelling safaris.
Creativity is at the heart of kids' club activities at MarBella Corfu and this year young guests can look forward to anything from pottery classes to robotics. Kids clubs and creches at both MarBella Corfu and Elix are managed by Worldwide Kids
As well as hotel restaurants and bars ranging from beachy grills to American diners, this summer MarBella Collection is also hosting pop-up culinary events as part of their 'Greek Chefs Abroad' series – chef Yiannis Kioroglou will be hosting the next event between 10 and 12 September 2021.
Sunbeds and luxury service define the flawless beaches at both MarBella Corfu and MarBella Elix. But if you want a break from lounging, water sports range from SUP and sailing to guided family snorkelling tours.
MarBella Elix is certified 'Bike Friendly', so tours through the local countryside with the hotel's resident nature guide are another fun activity for families.
As well as beautiful beaches, MarBella Corfu has a saltwater and freshwater pool, plus a Splash Pool with slides and chutes for kids.
The freshwater infinity pool at MarBella Elix comes with a side of stunning Ionian Sea views.
MarBella experiences make a Corfu family holiday unforgettable 
This year more than ever, family summer holidays are about treasuring every moment of time spent together, creating memories and enjoying new experiences. And if their range of extraordinary family activities are anything to go by, both MarBella Corfu and MarBella Elix are completely in tune with that mood this summer.
New to MarBella Corfu this year, Tennis Academy by Active Away offers complimentary taster sessions for kids, pro-coaching, tournaments and fun family events. Be aware, views from the hotel courts are distractingly gorgeous.
Private guided tours from MarBella Corfu are a fun way for families to explore Corfu Old Town and the rest of this remarkable island.
Discover the secret of Corfu's 'Governor' olive oil on a tasting tour of the groves and estate where it's produced.
Take a private day cruise from Corfu around the Ionian islands of Antipaxos and Paxos – home to the world famous Blue Caves.
Let MarBella Elix arrange a guided family kayaking expedition along the legendary Acheron River in Epirus.
While kids are off having fun at Adventure Club treat yourself to some soothing spa time at MarBella Elix new couple's suite.
Take a sunset sail from MarBella Elix to the enchanting town of Parga on the Epirus Coast.
To rediscover the joy of a Corfu family holiday this summer visit the MarBella Collection and find out about all-inclusive stays at MarBella Corfu with up to 25% off until October 2021, plus reductions of up to 25% on all-inclusive family holidays at MarBella Elix in September and October 2021.