Sponsored Content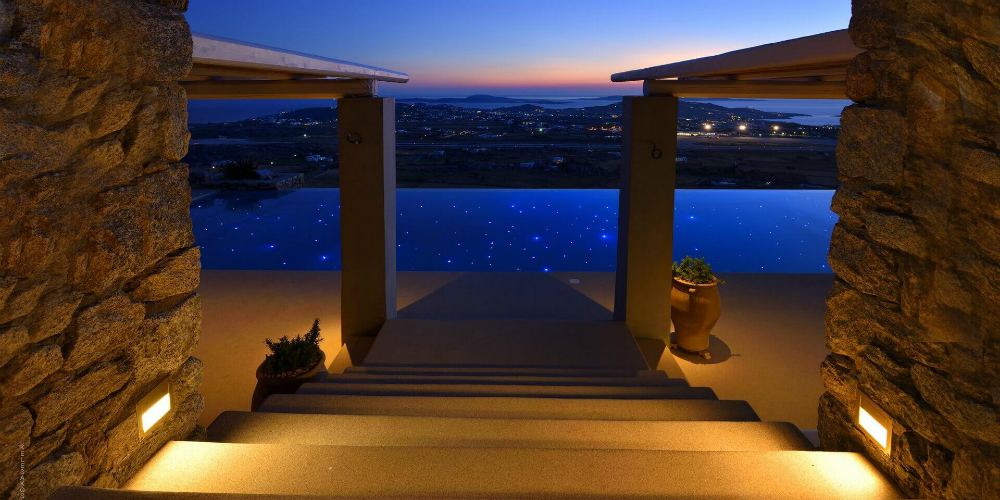 It truly is of little surprise that Kounoupas is a favourite year-round refuge for A-lister celebs and Hollywood stars – undoubtedly one of the most luxurious locations in the Greek island of Mykonos, it provides the perfect setting for a pampering retreat, offering exquisite dining, vibrant nightlife and mind-blowing panoramas of the Aegean Sea. 
Accommodation options in Kounoupas boast precisely the VIP experience that you would expect from such a sumptuous location. Blending harmoniously with the unique topography of the 'Island of the Winds' and featuring elements from traditional Cycladic architecture, the following exclusive mansions provide a wealth of amenities and modern comforts, irresistible seascapes, and services that fulfil the wishes of even the most discerning guests.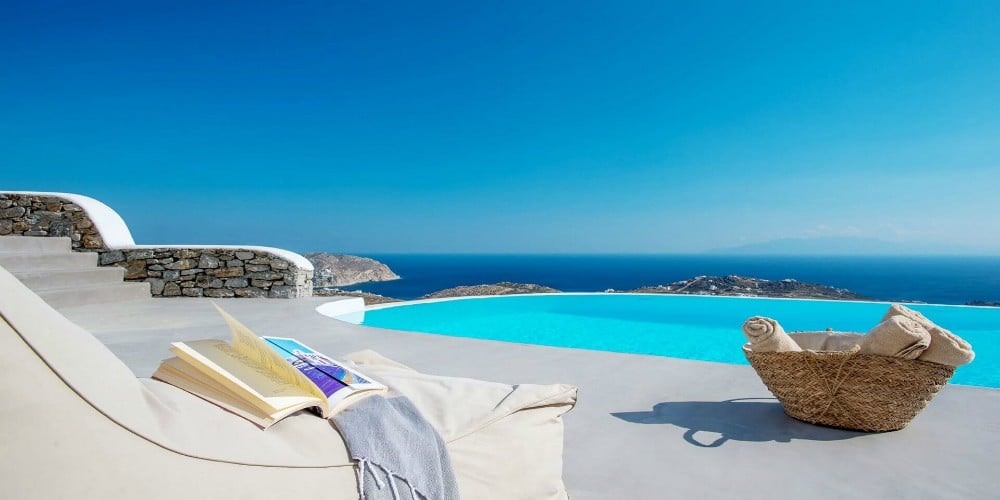 Villa Blast – Hypnotising magnetism
With six well-appointed en-suite bedrooms overlooking the sea and the swirling of the cobalt shades of the Mediterranean sky, Villa Blast is set up to treat you like royalty. Spread across 450 square metres, it impresses with its cubic-shaped construction, the whitewashed walls, the arched doorways, the rocky details, the minimalistic style, the elegance, and the many options for fun, pleasure, and satisfaction. From an infinity pool and outside lounge areas that make you feel as if part of the clouds and the ocean to little nooks for utmost romance and privacy, you have it all. Showered by ample natural light and offering private terraces, a built-in BBQ, and a plethora of complimentary services, this enchanting property can, indeed, be referred to as an earthy slice of heaven. 
Villa Adele – Petite and gracious
Small and as sweet as candy, Villa Adele is the perfect getaway for those who like the idea of enjoying their morning cup of coffee from their very own balcony or the many outdoor areas that provide ravishing seascapes and the most romantic sunsets. Ultimate privacy, tranquillity, and serenity and all ensured in a chic and modern environment where vaulted ceilings, handmade wooden furniture, ancient Greek-style elements, an olive tree garden, a massive infinity pool with a spa-like waterfall, and plenty of facilities contribute to memorable holidays. An exquisite villa of unspeakable charm and grandeur set on a hilltop that can easily make you feel you are gradually becoming one with the beautiful natural cosmos that surrounds you. Ideal for couples and small families in search of a luxury abode that delivers the Mykonos allure in the most gratifying way.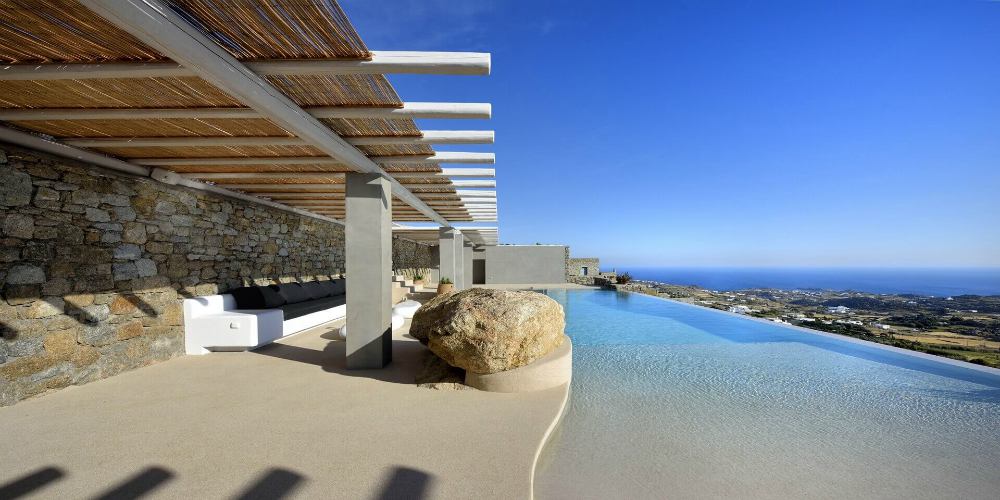 Villa Avril – Divine majesty
The sole purpose of this sumptuous mansion's existence is to provide maximum comfort and unique experiences to its guests. Designed to cater to the needs of up to 12 people, Villa Avril is an architectural pearl that speaks of the traditional Cycladic appeal through its magnificence. Six lavishly appointed bedrooms, each featuring its own luxury bath, enchanting views, a teardrop-shaped infinity pool with jacuzzi, comfy outdoor dining and sitting areas, a fully equipped kitchen, and roomy indoor spaces for relaxation and composure are some of the things you can expect to help pamper your senses. For larger groups of people, Villa Avril can be rented as a combo unit, along with the adjacent Villa Annabelle, and provide abundance in every aspect possible. 
Mykonos is an intriguing and beguiling blend of delights. Renowned for its diversity and cosmopolitan nature, the queen of the Cyclades offers a wealth of reasons to make it your desired summer destination. What's more, charming Kounoupas is definitely a region worth exploring, especially if you are fond of waking up to heart-stopping views of the shimmering Aegean Sea and the cloudless Mediterranean skies. And let's be honest – who doesn't?
About Kinglike Concierge
Founded by a family of real estate professionals with nearly half a century of combined experience, Kinglike Concierge is a top-tier luxury property rental agency in Mykonos offering high-end services to a VIP clientele. Their portfolio counts hundreds of well-appointed villas in Mykonos , mansions, and combo units to suit the needs and requirements of every guest. With a mission to provide the most complete and satisfying experience, the company also pampers with concierge services that include everything from personal butlers and VIP reservations to helicopter rides and yacht tours.